The 5 Best Cymbal Bags & Cases (2023) – Keep Your Cymbals Safe
Whether you're a pro drummer that's touring nonstop or just a hobby player that needs to take your cymbals to another studio every once in a while, you know that quality cymbal bags and cases are essential to preserving your cymbals.
With all the possibilities out on the market, you can easily get lost in the woods and wonder which bag is perfect for you and your needs.
We recommend the SKB Rolling Vault as the best cymbal case. If you're on a budget, we recommend the ChromaCast CC-CPB-BAG-20.
In this list, we made a selection of the best 5 cymbal bags and cases out in the market today, so you can narrow down your search and maybe choose one of these items for yourself. So, to try and shorten this as much as possible, we present you with our list of top 5 cymbal bags and cases out there.
The 5 Best Cymbal Bags and Cases 2023
Let's compare them in more detail: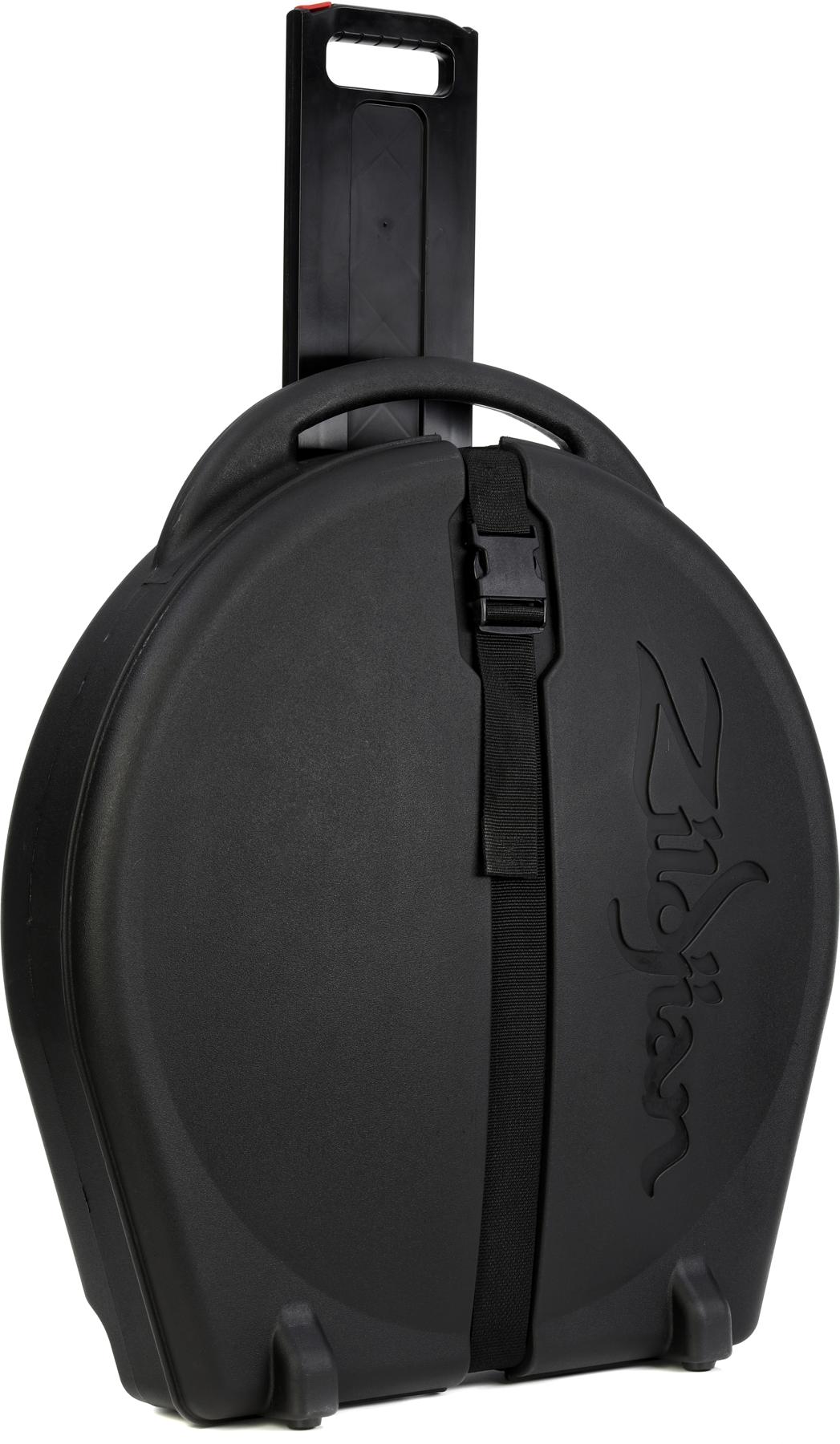 Another one of the high-end cymbal bags, this Zildjian 24" Rolling Cymbal Vault is a perfect cymbal bag that you can get your hands on. The same concept as the previous one, this bag is made out of hardened plastic and it can store up to 10 cymbals, depending on their size and shape.
It has a built-in screw on which you can place your cymbals and with which you secure them once you close the case. Also, it features a strap-on as protection from opening and it has wheels so you can walk with your cymbals comfortably and without having to manually carry them around.
Same as the SKB's rolling vault, this is a heavy–duty, super high–quality product that is meant to do great jobs for decades, and it does just that. So, if you need something to be sure that is going to keep your cymbals safe during transport, this is a bag you will need.
To get down to the low-price side of affairs, here we have another great, simple, and most of all cheap bag. ChromaCast CC-CPB-BAG-20 is a simple-looking bag, that will provide your cymbals with protection if you don't need anything too sturdy and heavy-duty.
It provides you with one 20" bag, which can house up to 5 cymbals but without any dividers, and has a huge front pocket in which you can put anything else you need with you (sticks, metronome, etc.). It has a small shoulder strap to help you with carrying and of course, handles
As far as the complexity of this bag goes, it's really simple. This is the kind of bag you need if you need to take your cymbals somewhere every once in a while or just to simply store them somewhere nice and cozy.
Of course, you shouldn't expect anything special at this price, but this is just a sweet little quality bag that will fulfill your every need if you're an amateur or just a casual hobby player.
If you're looking for a mid-range price and high-quality bag that will keep your cymbals safe and take them wherever you need them then look no further than this one.
Zildjian 22″ Gig Cymbal Bag is a sweet, affordable bag that has space for four large cymbals in the main compartment, up to 22", and up to three 15" cymbals space in a pocket on the front. It has back straps so you can wear it as a backpack as well as normal handles.
The bag is made out of carbon nylon and has reinforced the bottom. As it is a middle class in both price and quality, there is some difference to pricier, high-end models, most importantly that there is no inside padding of the case.
But, if you're looking for an affordable cymbal bag that will store your cymbals and let them travel with you safely, this is a great buy for you, and you should look no further.
Another one of the budget options on our list, Pro Tec's HR230 cymbal bag is a high-quality, low price bag that will provide you with the high-quality simple service you need, no questions asked.
Same as the previous one, it has one main 23" pocket, without any dividers, which can house up to 5 cymbals, and a front pocket in which you can keep some smaller cymbals or drum sticks and so on.
This bag is made from nylon fabric, which means it will hold any tears and is durable, and it has soft (although thin) interior padding as well as puncture–resistant PVC bottom of the bag. If you need a simple and sturdy little case to bring your cymbals with you on smaller distances and you need it to be cheap then look no further than this baby here.
And now moving on to the heavy-duty stuff – Pro Tec's HR230 Rolling Vault is a high-end monster of a bag that is sure to give the best available protection to your cymbals where ever you need to take them. This case is made out of hardened plastic, which is sure to keep your cymbals safe from any outside harm.
Also, it comes with a built-in screw on which you can put your cymbals and also 5 padded dividers to protect each cymbal, making them stay in their place. Also, the great thing about this bag is that it has wheels and a walking handle so you can move cymbals much easier than having to take them everywhere on your back.
Of course, all of this comes at a price, as this is, of course, a higher-end product. But, if you are serious about keeping your cymbals safe and you do a lot of traveling, this is a must-have for you, as it is guaranteed that it will keep your cymbals safe and all of the cases are super high quality made.
Why you should buy a cymbal bag?
Cymbal bags are often overlooked, but they can play a crucial role in protecting cymbals (and cymbals are generally quite expensive). Proper storage and protection of these delicate instruments also make transportation a lot easier for these.
Should You Get a Hard or Soft Cymbal Case?
Hard cases will provide the most protection for your cymbals, but they're larger, heavier, and they tend to be more expensive. Soft bags are generally much lighter to carry around, but they don't offer as much protection.
This means that if the bag is dropped, the cymbals inside are more likely to get damaged. They are also generally cheaper than hard cases.
Is It Worth Spending Money on a Cymbal Case?
If you're a serious drummer then spending money on quality cases is almost always worth it, simply because your cymbal collection will generally be quite expensive and should be protected.
If you have a budget set of cymbals or play more casually, then of course you can save money by buying a cheaper cymbal bag.
What to look for in a Cymbal Bag?
A cymbal bag has to have a few key features in order to get the job done right. You want as many additions as you can get. A good cymbal bag is defined by not only the exterior look but by internal dividers that can safely store your gear.
I would recommend you opt to purchase a cymbal bag with additional accessories that you would want in a gig bag. You want space as well as a good diameter for around 22/24-inch cymbals. That way, you can even place smaller cymbals like crashes, or even splash cymbals.
Quality is another factor to consider. You want a good quality cymbal bag, whether they are hard cymbal cases, or just a high-quality cymbal bag, in order to safely tuck away your cymbal kit without the worry of it tearing.
How should Cymbals be stored?
It is not enough to store cymbals in a bag. You should bear in mind that your cymbals are more likely to be damaged when mounting or storing at home. That is why there are certain things to remember.
When you do store them in a cymbal bag for transport or just at home, be sure to close the zipper well as to allow as little humidity to get through.
When taking them out, or when mounting them, be sure to lay them flat on the floor and not titled or next to a wall.
When storing them at home, be sure to leave the cymbals in a bag preferably and in a room-temperature location, as to not be susceptible to humidity as much. Maintenance is also crucial to the longevity of the cymbal so take good care of them.
Conclusion
We hope that we have helped you with choosing the right bag for yourself. Of course, there are big differences even between models that are on this list, but we hope that everyone will find something suitable for themselves. Besides, there are a lot of other options on the market, but we think that these five are the best the market has to offer at the moment.
If you need a further recommendation, as a budget option we recommend the ChromaCast CC-CPB-BAG-20.
This bag is one of the cheapest, if you have basic needs and just need a bag to take your cymbals across town, it will do the job perfectly, and there is really no need to spend an extra amount of money on some more expensive options.
As for the pro option, we recommend the SKB Rolling Vault.
SKB is known in the drummers casing business as a high-end, high-quality company that puts out really great products and this case is no different than the others. It does come at a higher price, but it will offer you anything you might ever need from a cymbal case, from protection to size, to maneuverability.