The 10 Best Electronic Drum Sets 2023 – Buyer's Guide and Reviews
Electronic drum sets have improved a lot in recent years. Professional sets have reached a whole new level of quality, while budget kits have become very playable.
There have been welcome improvements to entry-level electronic drum sets, with mesh heads and better drum modules coming as standard. Though you still have to choose wisely!
After reviewing many different sets, my top pick is the Roland TD27-KV2 because it includes the best snare and ride cymbal pad that money can buy, it has an amazing module, and its build quality is second to none.
The best affordable electronic drum set is the Alesis Nitro Mesh Kit, which includes all mesh heads and a very decent drum module for this price range.
I wrote this guide to give you a round-up of the best sets available, including both beginner and pro options.
Electronic drum sets are amazing for live performances, quiet practice, recording, and much more.
The Best Electronic Drum Sets (2023)
These four sets are my top picks based on value, sound quality, build quality, and features.
My runner-up entry-level kit is the Roland TD1DMK which certainly beats the Alesis Nitro Mesh kit on quality, but it is more of an investment.
For higher-end kits, my main runner-up is the Alesis Strike Pro SE, which offers an incredible amount of value, as well as one of the best drum modules available.
Please note, the SE stands for 'special edition', which saw major improvements to the build quality of the kit. The original version of the Alesis Strike Pro faced quite a lot of customer complaints about faulty parts. They probably should have just called it something completely different. The SE version resolved a lot of these issues. If you're considering this kit, then make sure it's the SE version!
You can output the audio from electronic drum sets to headphones or a separate drum amplifier.
Cutting through the tech specs
Which type of set is the quietest? What style of drum heads should you go for? What is the best brand? Be sure to read further on in this guide, as it explains everything in plain English!
The Roland TD-27KV2 is my top pick for a number of reasons. It offers a high-quality deep snare pad and a large responsive ride cymbal pad, both of which are the best of their kind in the market at the moment.
The snare works extremely well with ghost notes, rim shots, and side-sticking. Roland massively excels at triggering and modeling technology, and that shines through in this kit.
Pros
Fantastic snare and ride pad.
Great drum module.
Amazing build quality.
Works extremely well as a MIDI controller for VST plugins.
Cons
Stage presence is not great (smaller kick drum pad, pretty shallow tom pads).
A larger floor tom pad would be nice.
The hi-hat stand and snare pad stand need to be purchased separately.
The hi-hat pads are designed to be used with a real hi-hat stand, which replicates the feeling of playing on an acoustic set quite a lot.
The KD-10 bass drum pad is relatively compact, but it's very responsive and works great with double bass drum pedals.
Roland opted for a "quality over quantity" approach to this kit. It doesn't have a particularly good stage presence, but it sounds great and it's amazing to play on.
Also, the module allows you to extend the kit with other drum and cymbal pads.
Not everyone is in the position to rock out with an acoustic kit because of noise constraints. If you're missing the feel of an acoustic kit and don't have quite the budget for the most expensive electronic drum sets, then this is a great option.
It doesn't quite have the stage presence of the likes of the Alesis Strike Pro SE or the Roland VAD Range (more on those later), but if that's not a major issue for you then this is certainly one to consider.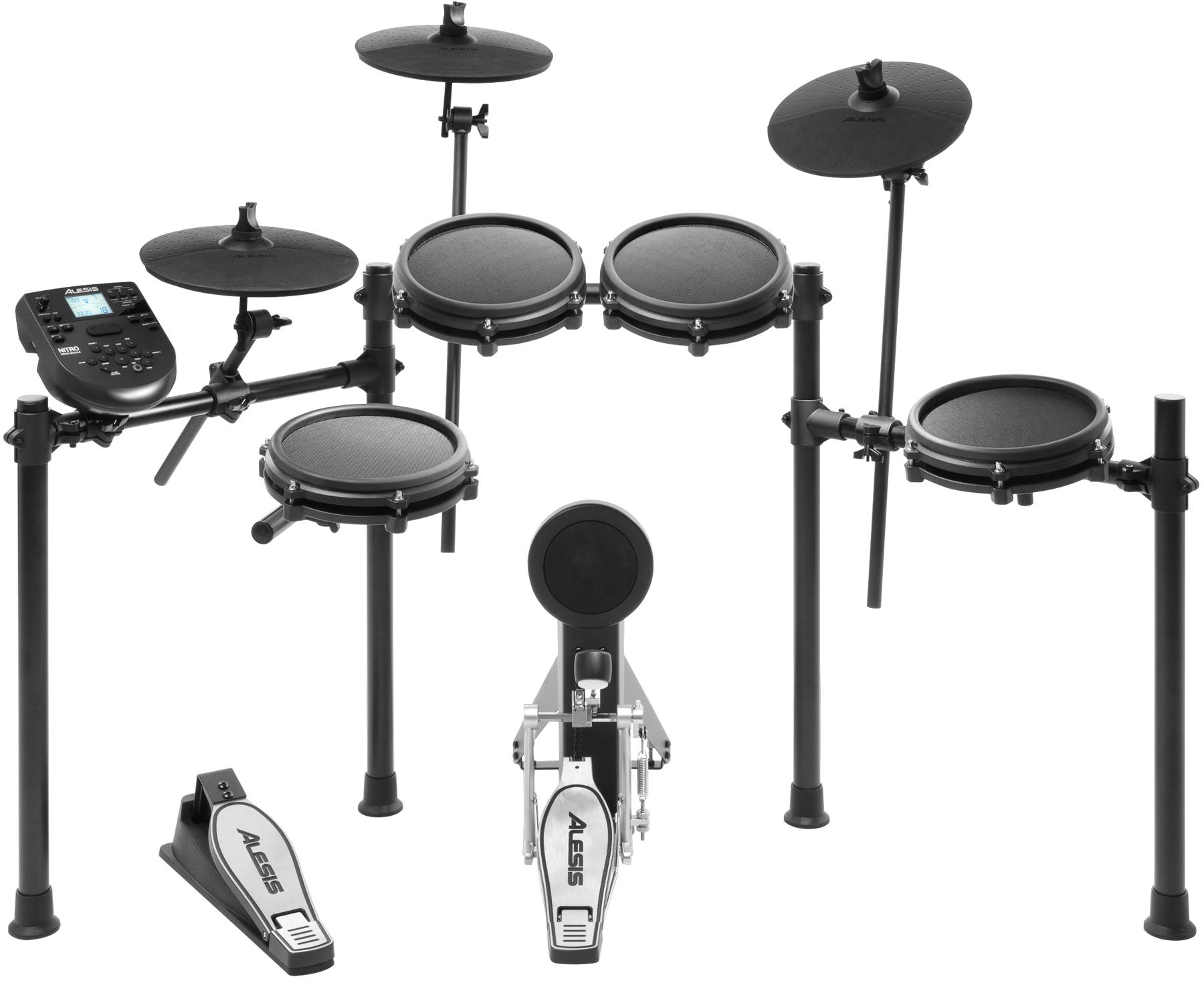 Best Affordable Electronic Drum Set.
The Alesis Nitro Mesh Kit redefined my expectations of entry-level electronic drums, thanks to its all-mesh pads and a very decent drum module
View Price at Sweetwater
View Price at Amazon
The Alesis Nitro Mesh electronic drum set is impressive and it packs a lot of features for its low price tag. When this kit was released, it effectively set a new de-facto standard in the industry for entry-level kits to include mesh heads instead of rubber heads.
I recommend this as the best entry-level electronic drum set for both value and features. It's been my top choice as the best value entry-level kit for quite a few years running. This electric drum set includes all mesh heads for the snare and tom pads.
Pros
Good quality mesh pads
Very decent drum module
Very suitable for beginners and intermediates
Uses a proper kick pad, instead of an electronic pedal
Very affordable
MIDI-over-USB connection
Cons
Relatively small mesh heads (but still playable)
The module lacks the features of higher-end kits (e.g. depth of sound quality, audio processing, and custom sampling)
Drummers can start running to easily be able to transition the motions of playing to acoustic drums. This means that it's quite useful for those that want a quiet practice set.
This kit uses an actual kick pedal and pad, which retains the correct motion of playing a real bass drum. Many starter kits just have simple bass pedals without a beater, which can feel less natural and impede learning.
Alesis made some big plays on the electronic drum set market a few years ago with their DM-6 kit, followed by the Alesis Nitro Kit. The overall quality of these kits was considerably better than many of the other budget e-drum sets I played on, which often felt like playing with clunky toys.
The Alesis Nitro Mesh Kit further added upon this by having all mesh pads for the snare and tom pads, which was a significant improvement in the playability of the set.
You can't go wrong by starting out with this kit.
The drum module is very decent for a set in this price range. That's quite a strong selling point for this kit in comparison to alternative entry-level electronic drum sets. It has 40 different kits and 385 different drum sounds overall. It also has a 'learning mode', which is a great feature that helps you improve your beats and rhythms with varying levels of difficulty.
The drum module also includes play-along music tracks, metronome, sequencing/recording, and MIDI over USB (as well as 5-pin MIDI connections). That ticks all the boxes for an entry-level drum module.
Note: You will need to purchase a drum stool/throne and headphones separately with this unless you buy it in a special bundle.
Of course, the Alesis Nitro Mesh Kit is not perfect by any means. It doesn't quite have the response that you would get from higher budget sets, but it's my top pick out of the budget range currently available.
If you want to see some alternative electric drum sets at a similar level to this kit, I have some alternative options to consider later on in this article, so be sure to keep reading!
Check out my more detailed review here. Alesis also has another entry-level kit, the Alesis Turbo Mesh Kit. The Nitro Mesh kit is superior, but you can also check out our comparison of the Alesis Turbo vs Nitro kits if you want to know the differences.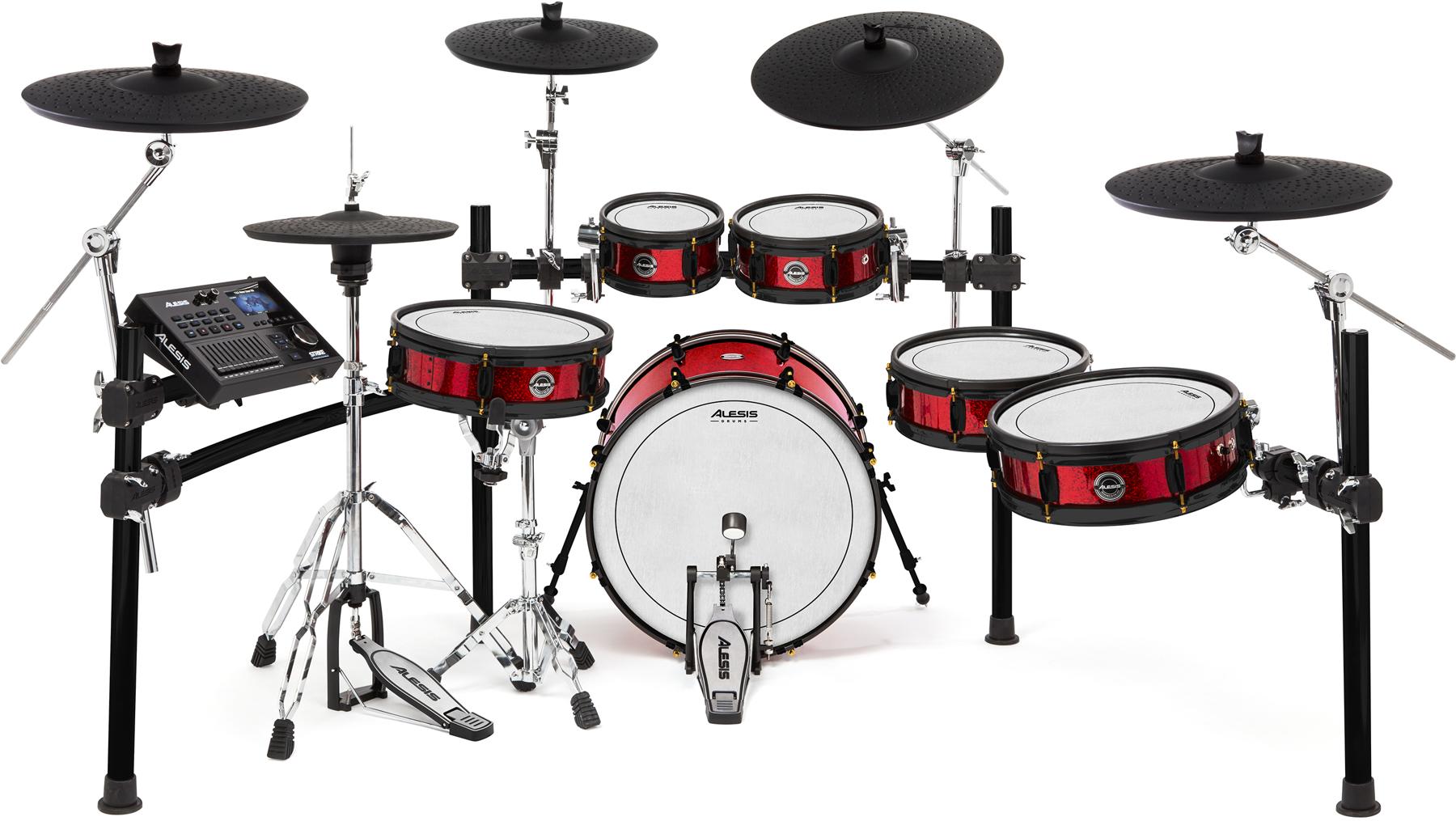 3. Alesis Strike Pro Special Edition
A great value, extensive electronic drum set.
This is an impressive e-drum set that offers great value. Its drum module is one of the best in the industry. The SE edition addressed many of the build-quality issues that the original Alesis Strike Pro faced.
View Price at Sweetwater
View Price at Amazon
Pros
An amazing drum module with custom sampling supported
An abundance of high-quality sounds (136 kits and a whopping 45,000 samples)
Great size and presence
Very nice mesh heads
A large e-drum set at a great price
Cons
Snare/ride/hat triggering is not quite as good as Roland kits
Some build quality issues are still being reported (though it's far better than the original Alesis Strike e-drum set)
The Alesis Strike Pro SE is an extensive set with an absolute ton of features at a far more affordable price than the flagship models of the other big brands.
It comes with real wooden drums, including a 20-inch kick drum. It really has the look and presence of an acoustic drum set.
The Alesis Strike drum module is by far the best they have ever released. It has received a lot of praise in the drumming community. It has very high-quality sounds, 136 kits, and a whopping 45,000 samples. It also has a color LED screen, faders, a mixer, great effects, custom sampling, lots of inputs and outputs, and more!
It has all mesh pads and it works very well with double bass drum pedals. The cymbals feel great to play and the Alesis Strike drum module is one of the best in the industry.
The initial Alesis Strike Pro e-drum set was met with some build quality issues related to its pads. They probably released the Strike Pro too early. However, thankfully they released the special edition version, which resolved a lot of these problems.
The overall sound of this kit is absolutely amazing. I think that the sounds generated from the Alesis Strike Pro module, certainly compete with Roland or Yamaha e-drum sets, which is quite a big statement.
If you want to just go all in and buy a large electronic drum set at a very affordable price, then the Alesis Strike Pro SE is well worth considering. However, there are some cons to this electronic drum set.
Firstly, it does not quite have the build quality that you would expect from a Roland or Yamaha electronic drum set. Also, the snare, ride, and hi-hats don't quite measure up to the likes of the Roland TD27-KV2. That said, you get way more pieces on the Alesis Strike Pro, so it's definitely a matter of preference.
The Alesis Strike Pro SE vs the Roland TD27-KV2
I recommend the Roland TD27-KV2 based on the quality of the snare, ride, and hats. Also, Roland are famous for the build quality of their gear. However, the Alesis Strike Pro is a much larger kit with way more presence and a great module. Drummers are often facing a decision between these two sets. It's really a matter of preference!
The Roland TD-1DMK is an entry-level electronic drum set that could seriously be used as a long-term practice option.
Pros
Great mesh heads
Amazing build quality
Great as a compact practice option
Great with double bass drum pedals (separate purchase)
Cons
Relatively limited module
More expensive than many other entry-level kits
It contains 4 high-quality Roland tunable mesh pads, which are perfect for learning to play on. The drum pad also fits double bass pedals if needed, which is a fantastic benefit.
Roland have really changed their offerings in the last few years, and they have become more competitive in price for entry-level options. All mesh pads used to only be available on their mid-level and flagship kits.
The drum module is very good for starters. It's more limited than mid-level and high-end Roland drum brains, but beginners simply wouldn't need the majority of these extra features.
Roland V-Drums technology is one of the best options for electronic drumming. If you can spend a bit extra, then this set is well worth considering.
Please note that the kick pedal is usually sold separately, so make sure to check this before you buy. If you're looking to buy a double bass pedal with this, then check out the Tama Iron Cobra 200 Double Pedal.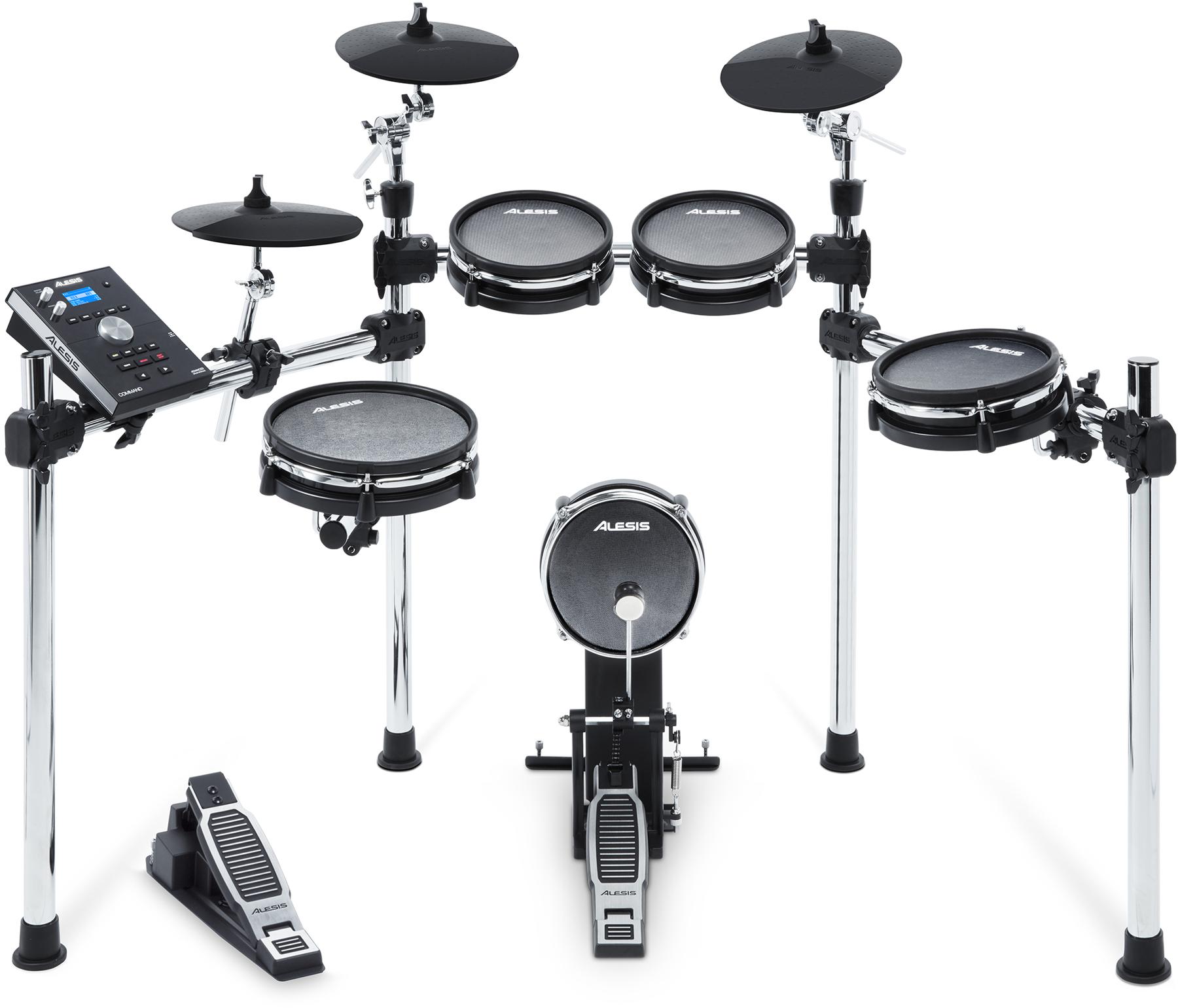 5. Alesis Command Mesh Kit
For those that want to go a step above entry-level kits
This is a very respectable set that has good quality mesh heads, a good module and a large kick drum pad. It works nicely with double bass drum pedals.
View Price at Sweetwater
View Price at Amazon
The Alesis Command Mesh Electronic Drum Set really offers a lot of features and value for its price tag. It really is a significant step up from entry-level electronic drums.
Everything apart from the kick pad and hi-hat pedal clamps into the drum rack. All the drums and cymbals are very comfortably positioned, including the snare drum.
Pros
Good quality mesh heads
Great module
Affordable
Large kick drum pad (good for double bass drum pedals)
Good quality hardware materials
Cons
Hi-hat uses a standalone pedal.
The drum heads (including the kick pad) are tunable just like regular acoustic heads, which allow for a much more real feel when playing. The snare and tom pads are all dual-zone, which adds even more realism.
The drum module for this is packed with features. It allows you to control the type of sound you want, customize your drum kit, control playing sensitivity, and much more. It includes 70 different kits, and the overall features of this module are a big step up from the Alesis Nitro module.
The module also contains a sequencer, which allows you to play along to demo tracks and record your own drum lines.
As you might expect, the kit also has MIDI connectivity so that you can connect it to a PC or other audio equipment to trigger and record external sounds.
This kit packs a lot of value for its price tag. It really is a great option if you are a producer, studio engineer, or a beginner to intermediate drummer.
After quite a long time with Yamaha not releasing new electronic drum sets into the market, they released the DTX-6 series in late 2020. The most affordable option from this range is the Yamaha DTX6K-X.
It includes a TCS head which is the only proper alternative to mesh heads on the market.
Pros
The TCS head on the snare drum is the biggest benefit of this kit.
The module is good, with nice sounds.
Good Yamaha build quality
Cons
A bit pricey for a kit with rubber tom pads
The KP-65 bass drum pad is relatively small
Mounted hi-hat and standalone pedal
TCS heads are textured cellular silicone heads that are designed by Yamaha. They have a feeling of an acoustic drum and they are far less bouncy than mesh heads. They also tend to be quieter than mesh heads.
The Yamaha DTX6K-X only comes with a TCS head as part of the snare pad, the rest come as rubber. This is certainly a disadvantage because I would still recommend that you get a kit with all mesh heads in comparison to a kit with a single TCS snare drum and rubber tom pad combination. However, if your preference is to have a great quality snare pad then this is still an option to consider.
The GTX SIX series also includes a nice module, where you can control effects. The snare and ride cymbal pads are both 3-zone, while the tom pads are single-zoned.
The kick drum pedal is the KP65, which they have had in the market for many years. It's a decent kick tower and would be compatible with most double bass drum pedals.
A great mid-level kit from Roland.
This is a quality kit with all mesh heads, a large snare pad, and a feature-rich module (with sample import).
View Price at Sweetwater
The TD-17 series has really pushed the boundaries on what you can get from a mid-level electronic drum set. A few years ago, a set with these features would have cost double the price.
Pros
Large snare pad
Great quality module
All mesh heads
Sample import
Cons
Mounted hi-hat with standalone pedal
Roland's V-Drums technology really shines in this kit, and it has many features that make it feel like playing on an acoustic drum set.
There are 3 different versions of the TD-17 series (TD-17K-L, TD-17KV2, TD-17-KVX2: check out my more detailed article here to learn more). The TD-17KV2 is great because it has a fantastic snare pad and full-quality mesh pads on the toms.
The drum module is great. It's far upgraded from previous mid-level kits and has more connectivity options.
The big snare mesh pad on this model is fantastic. The snare mesh head is super sensitive and really detects all the nuances of your playing.
The kit includes Bluetooth audio streaming to the TD-17 module. There are also expansion options on the module (you can add additional cymbals, for example)
Compatible with double bass drum pedals (which would need to be purchased separately), the kick drum pad was designed to fit two beaters. So fans of double-bass drum pedals will be happy with this!
If you have a bigger budget to spend, then I highly recommend going for the best version in the TD-17 series, the TD-17KVX2, because it contains very realistic hi-hat pads that you can use with the same type of hi-hat stand that you would use on an acoustic set.
The cymbals are also of better quality. The TD-17KVX2 could seriously be used for intermediate and advanced drummers as their main recording and gigging set.
Yamaha DTX6K3-X is the best model among the newer DTS6 range that Yamaha released in late 2020. It is certainly superior in specs to the other models in this range.
Pros
TCS pads
7.5-inch kick pad

Uses a hi-hat stand

Good module
Cons
Pretty small pads for the price
This set has four TCS silicone pads (a 3-zone TCS snare pad, and three 1-zone TCS tom pads), There are three 3-zone cymbal pads for two crash cymbals on one ride cymbal. It also uses a separate standalone hi-hat pedal.
It also uses a 7.5-inch rubber head for the bass drum pad, which is more comfortable to play.
Overall, the module is the exact same as the DTX6K-X set that I previously wrote about in this article. However, the superior heads and standalone hi-hat pedal on this kit would definitely make for a better playing experience.
If you want a particularly quiet electronic drum set, then this is a really good option. Those TCS heads are very quiet to play and they are less bouncy than playing mesh heads.
If you're really aiming for a very quiet experience, you may need to still put some sort of cushioning or mat underneath your kick drum tower, because those towers can still cause quite a bit of noise, which will be quite noticeable if you live in an apartment or if the set is not on the ground floor of your house.
Overall, this is a very solid electronic drum set in the market by Yamaha. If you're a fan of their sound and of the TCS pads, then this is certainly one to consider.
The best electronic drum set money can buy!
I see the TD-50KV2 as the undisputed champion of electronic drum sets. It offers exceptional trigger technology, amazing large pads, and a fantastic drum module.
View Price at Sweetwater
View Price at Amazon
The TD-50 range is Roland's flagship offering. The previous TD-30 pushed the boundaries of V-drum kits. This one takes it another step further.
Pros
Custom sampling (using an SD card)
Incredible dynamics and sound modeling
Great stage presence
Industry-standard build quality
This is the closest to a real-life acoustic drum kit that you can possibly get while also packing in the benefits of electronic elements that would never be possible with a standard drum set.
This electronic drum set is perfect for both home practice and live performances.
This set comes in a few different versions, namely the TD-50K and a few different variations of the TD-50KV2.
Note: This video includes the full-sized 22-inch Roland kick drum (i.e. which is part of the TD-50KV2 but not part of the TD-50K2 as standard).
The TD-50 drum module is included in all of these variations. This is a top-quality module that enables you to play your own custom samples and multi-track record with your digital audio workstation (DAW) such as reaper, Ableton, Cubase, etc. This makes it fantastic for pro drummers that are serious about their craft.
The toms and some cymbals are larger on the TD-50KV2 compared to the TD-50K. The KV variation also has a more solid rack, but both of them are very sturdy.
You might also come across the TD-50KV2 and TD-50KV-RM, which are even more extended versions. These include the fantastic addition of a full-size 22-inch kick drum. This gives the acoustic feel and presence for both practices and live performances. Even if you buy this version, you can still swap the kick drum out with a kick pad for quieter practice so you can have the best of both worlds!
We're just scratching the surface of how great the TD-50 range is here. If you have the budget, then you can't possibly go wrong with this electronic drum set.
10. Roland V-Drums Acoustic Design VAD506
The best-looking electronic drum set!
The Roland's V-Drums Acoustic Design range has the presence of acoustic drums, while offering the range and flexibility of sounds that an electronic drum set offers.
View Price at Sweetwater
View Price at Amazon
The Roland VAD range includes three different models, the best of which is the VAD-506 electronic drum set.
Pros
Looks amazing
Great quality pads and cymbals
Very nice bass drum
Cons
Doesn't include the TD-50 module
Pricey!
This offers full-size wood shells with 1 snare, 3 toms, 3 cymbals, a hi-hat, a full-sized kick drum, and the great TD-27 drum module (though not as good as the TD-50 module).
This set looks absolutely fantastic, and people would be excused if they were to assume that this is actually an acoustic drum set!
The VAD 506 includes the TD-27 module (which is the same type of module from the top pick in this article). Therefore, you know you're going to get good quality with it.
Keep in mind that if you're gonna go for the more affordable VAD sets in this range, then the features and look of the kits may be quite different. For example, the Roland VAD306 comes with smaller shells and cymbals (which I think somewhat misses the mark on the purpose of the acoustic design range). The VAD306 also comes with a TD-17 module, which is still great, but it is definitely not as good as a TD-27 module.
The Roland VAD-506 set is as adjustable as a regular acoustic drum set.
If you're going to go for a high-end electronic drum set, I would still recommend that you get something from the Roland TD-50 range (mainly due to the superior module).
However, if you want to get an electronic drum set that really looks like an acoustic kit, while still having all of the benefits you get from a Roland electronic drum set, then the VAD range is the way to go.
What Are the Best Electronic Drum Set Brands?
Roland is the best electronic drum brand for hardware, triggering, and overall innovation. Yamaha's sets have great build quality, very solid TCS pads, and nice-sounding drum modules. Alesis are very popular for their affordable electric drum sets, but their higher-end sets have started to get quite a bit of attention.
Roland
Roland is one of the powerhouses of electronic drum sets. They are extremely innovative and a joy to play.
Yamaha
High-end Yamaha models are also very impressive. Yamaha's biggest selling point in their e-drum ranges are their TCS pads, which are generally quieter and less bouncy than mesh heads. You will find that people's opinions between Roland and Yamaha brands are a divisive matter of personal preference.
Alesis
Alesis are now taken very seriously in the electronic drumming world with their wide range of kits at different price points, such as the Alesis Nitro Mesh Kit, Command Mesh Kit, and Alesis Strike Pro SE kit. Though they have been releasing drum gear for a long time before that, Alesis even originally released the hugely popular SR-16 drum machine. They are now producing some impressive electronic drum sets at low prices. If you have a lower budget and want to get your hands on a well-built, fully-fledged kit, then this brand is well worth a look.
Other noteworthy brands
Other noteworthy brands include Simmons, KAT Percussion, Pearl, and ATV.
Electronic Drum Head Types
The best electronic drum heads are a toss-up between Roland mesh heads and Yamaha TCS pads. If you have the budget, try to get either of these types of heads for your snare and each of the toms. Even if you have a lower budget, try to get a mesh head for at least the snare pad (the snare drum is the primary drum of the kit, it sounds like a marching drum).
Rubber Pads
Rubber pads are the traditional type of electronic drum heads that have been in use for decades. They are cheap but they provide a relatively poor playing experience in comparison to mesh or TCS heads.
Mesh Heads
The introduction of mesh heads has really revolutionized electronic drum sets. These are synthetic materials stretched over the pad, very similar to how a real acoustic drum is designed.
They contain a very sensitive trigger. As a result, mesh heads are generally more sensitive and allow you to practice rudiments and your drumming dynamics much more effectively.
They also tend to be quieter. Also, if you want a set of mesh heads, but you don't currently have the budget for them, you can buy a drum set with mylar heads initially and then switch them to mesh heads later.
However, not all mesh heads are created equal. High-end mesh pads will generally be a lot better than entry-level ones.
High-end kick towers can also now come with a mesh head. You should only consider this if you have a pretty high budget
Yamaha TCS Pads
The Yamaha TCS (Textured Cellular Silicone) pads are also available on some Yamaha drum sets. These are also absolutely excellent to play. They are quieter and less bouncy than mesh heads. The comparison between mesh heads and TCS heads are a matter of preference for drummers.
Mylar Heads
Mylar heads use the same type of material that is commonly used on acoustic drums. These are much closer to the feel of a drum than rubber heads.
Thankfully, mylar heads have been phased out over the last few years and it's quite rare to see these on newer e-drum sets. They were generally way louder than any other type of electronic drum head.
Since the main reason most people want an e-drum kit is due to their quietness, I think that the inclusion of mylar heads on electronic drum sets completely missed the mark!
Quiet Practice with Electronic Drums
If you're looking for the quietest electronic drums, check out sets with Yamaha TCS silicone heads. These are generally the quietest, but it is a trade-off because Yamaha sets have not provided the best value over the past few years due to a lack of new models being released. Otherwise, mesh heads are your next best option.
The kick pad usually makes the most amount of noise on any e-drum kit. If this is a big concern, then consider getting a set with an electronic trigger pedal instead of a kick tower.
How loud are electronic drum sets?
Electronic drums are not silent. If you're living in an apartment, you may still need to take steps to reduce the amount of noise, such as using carpets, and perhaps even hitting the drums more lightly (which obviously isn't a popular option!)
They are far quieter than acoustic drum sets. There is simply no comparison between these. However, they are not completely silent, and the amount of tapping and noise varies between kits.
Acoustic drums can be incredibly loud. They even reverberate quite a lot despite muffling techniques such as using blankets or rubber coverings to put over drum heads and cymbals.
This can be a big problem for families, neighbors, and the drummer's hearing. With acoustic drums, you may need to invest in soundproofing, which is very expensive and may not be sufficient enough for some living situations.
Electronic drum sets are a much better solution. You can hook up headphones directly to the set so only the drummer can hear the sounds from the module. If you want a quiet electronic drum set, never go for mylar heads!
How Electronic Drum Sets Work
Electronic drum sets are composed of the following: a drum module (also referred to as the "brain") and drum pads.
Each of the drum and cymbal pads connects to the drum module. You can then use the drum module to:
Choose your sounds: You can choose what type of drum kit, percussion set, or other musical sounds you want to use. Some modules will allow for individual customization and adding your own samples.
Control volume: You can use the module to control your volume. Some modules allow you to change the volumes of individual instruments.
Sensitivity and layers: With sensitivity settings, you can control what force is required to trigger your sounds. Some pads can be very sensitive and allow for dual layering, so when you hit a pad lightly, it will trigger one sound and trigger another when it is hit harder.
USB ports, MIDI, and audio connections: If you plan on using your module to connect to a computer, interface, or other instruments, then make sure to check what type of connections are available.
An audio out signal will allow you to connect to an amplifier or audio interface for performance and recording. MIDI and USB connections allow you to send your music note data to audio software, opening up a whole world of sound production possibilities.
Patterns and practice modes: Practice modes and preset patterns of drum beats can be really useful learning tools.
AUX Input: Many modules include an AUX input option that allows you to play backing tracks through the module (so you can play along to music).
Custom sampling: Some more high-end modules include the capability to load your own samples directly onto the module.
Audio over USB: This is a feature that's only included in mid-range to high-end drum modules. It allows you to transfer the audio signal from the drum module directly to the PC so you can record it without using an external audio interface. Otherwise, USB connection is often limited to MIDI transfer.
Most decent drum modules will include all of the above features. Make sure to check the specs when buying to ensure you are getting what you need!
How are electronic drum sets powered?
Electronic drum sets need to be plugged into a wall socket. Any battery-powered electronic drum hardware tends to be small modules and devices (like roll-up drum kits!)
Electronic Drum Accessories
When buying an electronic drum set, is everything included?
Electronic drum sets often require a few extra accessories, such as headphones, an amplifier, a drum stool, and sometimes a bass drum pedal. Stores sometimes offer "bundles", which will include most of these, so make sure to read the product descriptions carefully before buying.
If you do not live on a ground floor, then a carpet or rug may be useful underneath. This is also particularly useful to stop your kick drum pad from moving.
Electronic Drum Sets Amplifiers or Drum Monitors
An amplifier is a must if you plan on playing with other musicians or want to play without headphones.
Unless your electronic drum set includes an embedded amplifier (only a few entry-level ones have these), then you will need to connect the drum module on your set to an amplifier using an audio cable.
If you need to pick one up, make sure to check out my guide on drum set amplifiers.
Also, for those that are missing the physical response from playing their acoustic drums—you can buy a "Buttkicker," which sends the electronic bass drum vibrations up through your drum stool (this actually exists!).
This may sound comical to some but completely reasonable to others 🙂 Tactile feedback and groove are everything to drummers, and this can help get a drummer in the zone.
How can I connect my electronic drum set to amplifiers/speakers?
You can connect an electronic drum set to an amplifier using a standard audio jack, which is generally inserted into the back of your drum module.
Headphones for Electronic Drumming
Make sure to check if headphones are included with the electronic drum set when you are buying it. If not, then I would recommend that you read my short guide on the best headphones to buy for e-drumming.
These are one of the most important accessories for e-drums.
I have used a pair of these for years, and they have served me very well! Also, they have great isolation of up to 22dB, so they are also great for protecting your hearing on acoustic sets too.
Alternatively, be sure to check out my article on the best in-ear monitors for drummers.
Drumsticks for Electronic Drumming
Any standard drumsticks work for electronic drum sets. If you are not sure what type of drumstick to buy, then I would recommend starting with a 5A size with a nylon tip.
Wooden tips can start to splinter after a lot of use. This can cause damage to your drum heads. If wooden drumsticks are all you have at the moment, then you should not worry too much. It is the long-term effect of damaged wooden sticks that can cause damage.
The Vic Firth 5A American Classic is a hugely popular model, and I still use it for most of my playing today. For me, they are just the right spot in weight and length to allow for speed and power in my drumming.
They are also very well-matched and balanced. This is something that can not be said for many cheap drumsticks! Well-balanced sticks mean that strokes from both hands will sound the same if used consistently and with good technique.

I highly recommend the Vic Firth 5AN American Classic (Nylon) to start with. There are a very large variety of other sizes to choose from. You could go with 7A for a lighter stick or 5B for a slightly heavier one. For more information about drumsticks and how to choose, check out this article on Modern Drummer.
Drum Stool/Throne
A friend of mine had to quit drumming because of problems with his lower back. This was a major blow to him, and years later, and countless dollars spent, he is still trying to rehabilitate to no avail.
The cause was related to poor sitting and ergonomics when drumming. The key to improving your posture while drumming is to get a good drum throne. I cannot stress this enough!
A really good option is the ROC-N-SOC Lunar Throne.
An unfortunate part of drumming is that good drum thrones are quite expensive. However, don't be fooled into choosing a garbage product. Please don't just use a regular stool or seat for drumming. They are simply not designed for drummers, and they will cause pain and damage and slow you down a lot. Check out this article on Modern Drummer to learn more about drum thrones.
Kick Pedal
Some electronic drum kits require a separate purchase of a kick pedal, and others will include them in the price. If your electronic drum set does not include one, then the Tama Iron Cobra Pedal would get you off to a great start.
If you're interested in playing with a double kick pedal, make sure to read my separate article on this subject.
How to Record Electronic Drums
Many electronic drum sets include the option for some sort of basic recording and playback.
In addition to this, if you want to record electronic drums to your computer, you can do this in two ways. Every time you hit a drum pad, it triggers the drum module to produce a sound. If your set has audio-over-USB functionality then you can just connect it directly to your computer.
Alternatively, you can hook in external audio jacks into the drum brain, which can be connected to your computer via an audio interface. The audio can then be recorded into recording software on your computer.
You can either record the audio directly from your drum module, or you can send MIDI notes to your DAW (e.g. Ableton Live, Garageband, etc), which can trigger drum VSTs or drum samples. This is particularly useful if you want to use your e-drums to produce music. MIDI also contains data for velocity, so you will also get different levels of sensitivity in the notes from your playing.
Latency could be a problem depending on your setup.
We've got a really useful step-by-step guide on the different options (Read here: how to record electronic drums).
How to get the best sound from your electronic drums
MIDI triggering is the best approach to get the best sound quality when it comes to electronic drums.
The best drum VSTs still certainly outperform even the best electronic drum sets from Roland, Yamaha, or Alesis.
Therefore you could get a good mid-range kit with high-quality triggering, such as a Roland TD-17 or Roland TD-27, and connect this via MIDI to a drum VST. This would result in some of the best-sounding electronic drum tracks that you can get.
Can I add custom samples to my kit?
This depends on the drum module (also known as the "drum brain") that comes with your electronic drum set. Some models allow for the import of WAV file samples.
MIDI capability is also a standard feature of electronic drum sets. If your model does not allow the loading of custom samples, then you could potentially trigger sounds from your computer.
Learning to Play Drums on an Electronic Drum Set
Electronic drum sets are a great option to learn to play drums. Electronic drum sets are a low-volume solution, and they often have features such as an onboard metronome, recording capability, and built-in coaching.
If you are a beginner, practicing your beats and fills can be very beneficial on these. To be a great drummer, you need practice. Drummers will generally find it much easier (and diplomatic!) to practice for long periods of time with their electronic drumming because of the lack of noise.
Practice sessions can be done in the early hours or after work or school in the evenings.
The electronic vs acoustic debate is very much a matter of personal preference. However, there is nothing stopping you from switching between the two later on down the line. You can also combine both into one particular set.
Electronic kits can also allow you to record your practice. This can be of tremendous benefit to your playing. It can really pinpoint inconsistencies in your playing and help you to identify problem areas.
Some electronic drum sets come with practice modes. Practice modes can do wonders to help a drummer stay in time and practice beats and patterns. These are both foundations for becoming a good drummer.
I know of some great drum teachers that now teach on electronic kits and send the student a recording of the class afterward. Read my guide on how to play drums for more information.
How can I learn to play the drums?
There are a wealth of video tutorials and lessons online. Check out our review article on Drumeo, one of the best online drumming resources.
Of course, you should definitely consider eventually getting a local drum tutor. They can help you to hone your skills and identify weak spots. However, they can be quite expensive. Depending on your budget, they can be used in combination with other lessons.
Some people decide to go it alone when learning an instrument. However, it is quite easy to stop progressing after you reach an intermediate stage if you go this route.
Using an Electronic Drum Set for Live Shows
Electronic drum sets are a much more convenient option when playing live shows. The module can hook up directly to a PA system without the need to set up mics or do extensive sound checks.
However, acoustic drums are still overwhelmingly the main preference amongst drummers for live shows. The look, sound, and overall feel of an acoustic set is superior when it comes to live performances for most genres.
That said, the music world is quickly changing. Modern drummers are often adapting hybrid setups, which combine both acoustic and electronic elements.
High-end electronic drum sets are also becoming much more of an option because they really have the presence of an acoustic drum set on stage.
The main disadvantage that electronic drum sets usually have in comparison to acoustic kits is their cymbals, it's very difficult to replicate the overall depth of sound that an acoustic cymbal generates.
However, improvements in triggering technology are starting to bridge the gap, in particular with direct source pickups for metal cymbals.
Electronic drum sets are no longer just toys, entry-level kits, or limited to a small segment of music genres. The best electronic drum sets do an amazing job of replicating the feel and response to playing behind an acoustic kit.
Even the slightest drum hit can be detected with extremely sensitive mesh heads. Also, most electronic cymbals have sensors that can detect when the drummer is "choking" the cymbal to stop it from ringing.
You can also use drum triggers that you can attach to your acoustic drum set. So when you hit your drum, it will actually produce an electronically triggered sound. Some drummers are now opting for this option if they want an electronic sound while retaining the presence of a big acoustic drum kit.
Setting up and packing down an acoustic drum kit can be a nightmare when you have to do it a lot. Sound checks take a long time, and it can be a lottery with the sound engineer on the night as to how the drums are going to sound in the final mix.
Electronic drums do not have this problem. You turn up to a show, the sound engineer will connect a lead or two to your drum module, and away you go!
For concerts with limited space, many drummers usually opt for a Cajon (also known as a box drum). You could alternatively opt for an electronic drum pad.
Electronic drumming is innovating at a pretty fast rate (read this wiki here to find out more about the history of electronic drum sets).
There is one area that electronic drum sets are far superior, which is my next point…
Many Different Sound Options and Samples
Electronic drum sets allow you to experiment with a large variety of different drum and percussion sounds. Most sets allow you to customize your set to put any sound on any pad.
If you or a friend is savvy with music production, some electronic sets will also allow you to sample your own sounds.
If you own an acoustic drum kit, you could record this and sample the sounds onto your electronic pads. Instead of regular tom-tom drum sounds, you can replace them with 80s power ballad-style drum sounds (here's a link to those if you're getting nostalgic!).
The sky's the limit. Having such a range of sound opportunities means that you're much less likely to get bored, and your one kit will suit a variety of musical situations.
Protect Your Hearing
Playing on an electronic set either part or all of the time means that you're not always exposed to the loud volume of acoustic drums.
The damage that your snare drum, cymbals, and a bass drum can do to your hearing is quite substantial.
If you play acoustic drums, you must use hearing protection. It doesn't matter how young you are, your hearing is incredibly important. Once it's gone, it's gone forever.
Also, it is important to note that hearing damage doesn't just come as hearing a lower volume; it's often associated with tinnitus. Tinnitus is a pretty common condition where missing hearing receptors in your ears make your brain think you are hearing a constant noise.
If you always wear earplugs when exposed to loud music, it will do wonders to protect your hearing.
In fact, when going to concerts, I always wear a cheap pair of musician earplugs. The ones I wear are Alpine MusicSafe Pro earplugs, and they are really good at maintaining a clear sound while filtering out damaging sound frequencies.
I would highly recommend checking out the following website on Tinnitus if you need to learn more about how to protect your hearing as a musician.
How does this affect your electronic drumming? Just make sure to have the volume at a reasonable level on your headphones or amplifier.
Are electronic drum components compatible with each other?
E-drum technology is relatively standardized. Many pads and pedals will work with drum modules from another manufacturer. This mixing and matching can be very useful in order to get the best and most personalized experience.
However, as a word of caution, you should research thoroughly if you are planning to do so. Not all devices are fully compatible with each other. For example, hi-hat pedals can be an issue as these can be triggered differently across different manufacturers.
Summary
I hope this guide has given you all the information you need to know in order to pick the best electronic drum set for your needs.
Recommended budget electronic drum set: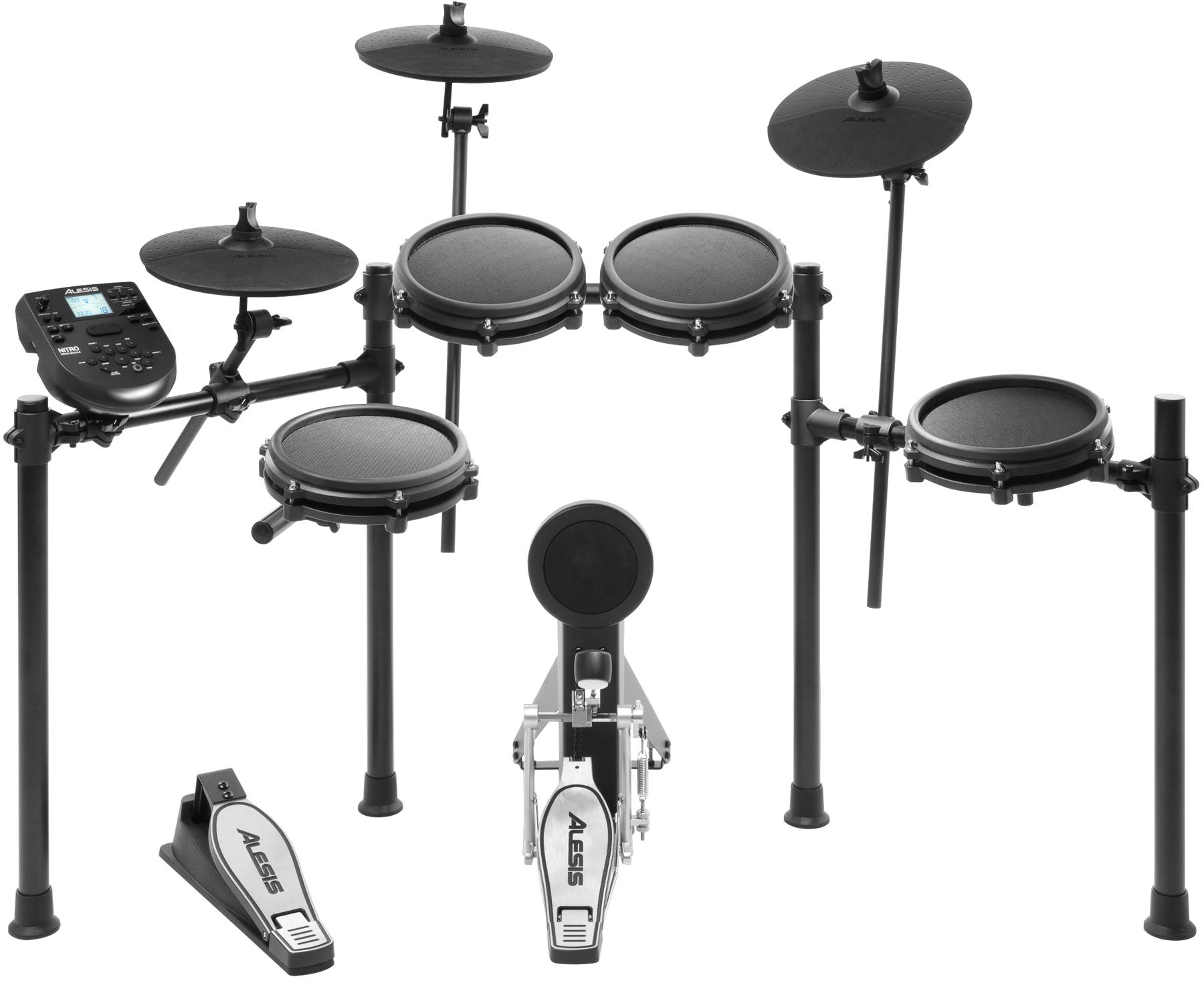 Best Affordable Electronic Drum Set
The Alesis Nitro Mesh Kit redefined myexpectations of entry-level electronic drums, thanks to its all-mesh pads and a very decent drum module.
View Price at Sweetwater
View Price at Amazon
I have chosen this model as it's a great, affordable option for all levels of drummers. At this price, it really packs a lot of punch and has a lot of impressive features. Check out my more detailed review on the Alesis Nitro Mesh for more information.
Its mesh heads for snare and toms put this in a different league when it comes to entry-level electronic drums.
Recommended pro electronic drum set:
This is our top choice for those on the lookout for the best professional electronic drum set. The feel and response of this set are as close to acoustic drums as you are going to get. The module is fantastic and the build quality is top-class, which I have come to expect from Roland.
Keep in mind, there are a few different models within the TD-50, so make sure to choose the one that suits your budget and needs.
Electronic drum sets are a great option whether you are a seasoned drumming pro thinking of going digital or a complete beginner looking to buy your first set.
Electronic drums open up so many opportunities for practice and playing compared to acoustic drum sets. They open up the drummer to a wide variety of drum and percussive sounds.
If you are interested in learning about combining your acoustic drums with electronic drums, then check out the following article which goes through your options.
We've also written a detailed article on the best drum pads and best kids drum sets.
That's my round-up of the best electronic drum sets, as well as a buyer's guide to make sure you know exactly what you need to buy. Do you have any questions that weren't covered in this article? If so, write a comment below!