The Alesis Nitro Mesh is one of the most popular entry-level electronic drum sets around. This review discusses the pros/cons and features of the kit to help you figure out if it's for you!
I have been pleasantly surprised at the quality of the Alesis Nitro Series. As noted in our original Alesis Nitro kit review, I expected it to be low quality before trying it in person.
Pros
The mesh heads are great for a set in this price range
Good quality drum module
Very suitable for beginners and intermediates
Uses a kick pad, instead of an electronic pedal
Very affordable
Cons
The mesh heads are smaller than more expensive kits, but they are still playable
Rack adjustability
The Alesis Nitro Mesh Kit is an upgraded version of the 'Alesis Nitro Kit', with mesh heads instead of rubber ones for the snare and tom pads.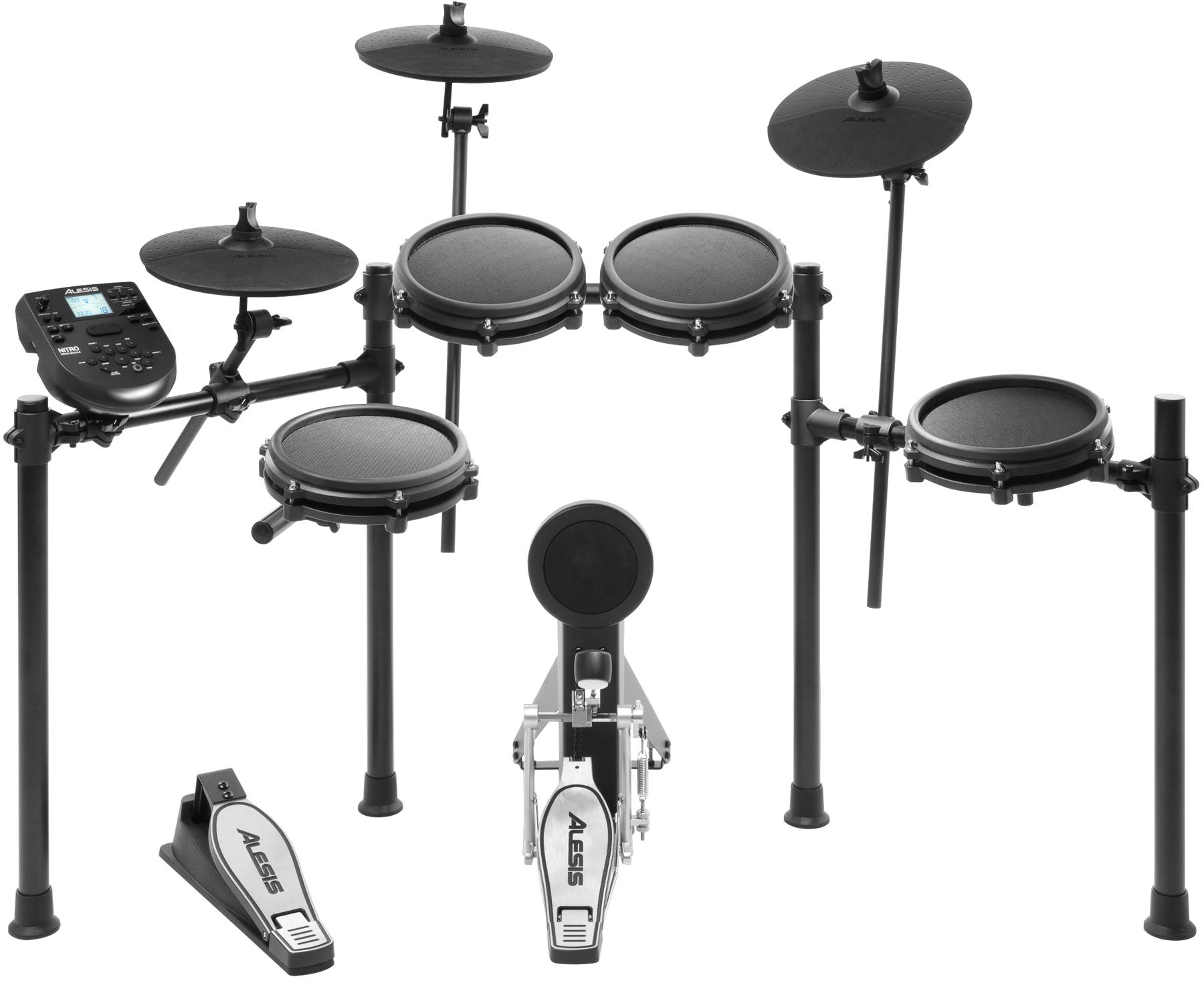 Key Features of the Nitro Mesh Kit
The new Alesis Nitro Mesh set comes with a familiar overall design:
Drum Pads, Cymbal Pads, and Hardware
There are eight drumming elements, including drum pads, a kick pad, and cymbal pads.
There is an 8" dual-trigger snare and 3 single-zone tom pads (also 8-inches in diameter). These are not massive pads, but they're still pretty easy to play on.
The cymbal section consists of three familiar pads – crash cymbal with choke, hi-hat, and ride cymbal. The hi-hat comes with reasonable foot control. It doesn't use an actual hi-hat stand, but you could really expect that with a kit in this price range.
All three cymbals feature 10 inches in diameter.
These are all mounted on a four-post aluminum stack.
Technically, the kick tower would work with some double bass drum pedals, as long as you're able to get the beaters quite closely together. Though the triggering might not be as sensitive.
The kit usually comes with drumsticks, which are ok quality. Though I'd recommend to checking out our article on the best drumsticks and picking some of these up (or just get a pair of Vic Firth 5As, it's difficult to go wrong with those!).
Tunable Mesh Heads
One of the most important novelties that come with this kit are the new heads for the snare and tom heads.
These heads include a more natural feel than cheaper rubber heads.
The mesh heads are a major upgrade to traditional rubber heads, but they do offer a more bouncy feel than regular drums.
They are also tunable, which means that you can customize rebound and sensitivity. This is very much a matter of preference for drummers, so it's great to have the option to tweak it how you want.
These heads are also quiet, which is a great benefit when practicing in a house or apartment.
These mesh heads are quite similar to the heads on higher-end Alesis products. However, the main difference is that the pads are smaller. That said, they're still very playable.
The Alesis Nitro Drum Module
This kit uses the same Nitro module. So you will know what to expect if you've already tried out the Alesis Nitro kit.
It's a decent module. It's easy to use and allows for easy drum kit switching and recording.
It has preset songs that allow you to drum along to, though they're not particularly impressive!
The module is MIDI compatible, which enables you to connect the kit to your computer for external sample triggering and recording. You can connect the kit to a drum amp or PA for practicing and live performance.
Recording
Most electronic drum kits include some sort of recording feature (though how they do it can vary quite wildly!). Moreover, there are three ways of recording with this unit.
Recording on the Nitro Module: The first way would be the simplest one. Just hit the "rec" button on your module and record your playing. Though you can't export sounds caught in this way, it is a great tool for listening to your playing, hearing mistakes, etc.
Using the Audio Output: The second method would be via audio output. Just connect the module with some recording device and you'll get pretty decent sound quality. It is a very simple method. Even your smartphone could work.
MIDI: Finally, there is a good old MIDI conversion. This module offers a lot of connectivity, so you can use either MIDI in/out or a USB port. Just find some recording software and use your electronic drums as MIDI triggers.
For more information, check out our article on how to record electronic drums.
Common Questions
All these specs sound very nice, but let's go through some common practicality issues:
How loud is the Alesis Nitro Mesh Kit?
The Alesis Nitro Mesh Kit is a pretty quiet electronic drum set. The mesh heads do not cause a lot of noise. However, the kick tower can cause some vibrations, which could potentially be an issue if you live in an apartment or need to keep the noise down a lot.
If this could be an issue, then you could consider getting a 'beater-less' pedal. The Alesis Turbo Mesh Kit includes a beater-less pedal.
Is this drum kit suitable for kids?
Yes, this is a budget kit and designers from Alesis appreciate the fact that most beginners are youngsters. Pretty much all kids over seven years should be able to play this kit, especially if we consider that drumming pads are adjustable.
If you have a younger kid, then check our guide on the best electronic drum sets for kids for more information.
Storage
The Alesis Nitro Mesh Kit is quite compact, including the aluminum racks and foot pedals. So, you shouldn't have any problems storing it. It can also be collapsed in and stored in a corner of the room while not in use.
Does the Alesis Nitro Mesh Kit work with Double Kick Pedals?
In general, two beaters from double kick pedals should be able to fit, but they will probably be quite close to the edge of the playing surface.
This depends on your model of double bass drum pedal.
Please keep in mind, that you might not get as much sensitivity from your hits, as the beaters will be further towards the edge of the pad.
Should I get the Alesis Nitro Mesh Kit or the Alesis Nitro Kit?
Get the Alesis Nitro Mesh Kit. The mesh heads are better than the rubber heads on the Alesis Nitro Kit.
Final Verdict
The Alesis Nitro Mesh Electronic Drum Set delivers very decent quality with some much-improved mesh head surfaces compared to previous models.
Of course, it probably won't satisfy the needs of very advanced players apart from their basic practice.
All in all, it's another move from Alesis to make quality electronic drum sets much more attainable for beginner and intermediate players.
If you're looking for a good quality budget electronic drum set, then you should certainly consider the Alesis Nitro Mesh Kit.
Images – Courtesy of Alesis