Roland VAD506 vs Roland TD-27KV – Which is Better?
The Roland VAD506 and the Roland TD-27KV are two impressive electronic drum sets that share the same TD-27 module. The VAD506 offers better stage presence, while the TD-27KV is a more compact, practical, and more traditional-looking e-drum kit.
This article compares the two kits in real terms.
Key Differences Between Roland VAD506 and Roland TD-27KV
Looks and feel: The Roland VAD506 is a hybrid drum kit that offers the same functionality as an e-drum kit while having the stage presence and feel that's closer to that of an acoustic kit.
Roland TD-27KV is more compact: The more conventional e-drum kit, the TD-27KV, would be a better choice if you have limited space and require your set to be more portable.
Drum hardware: All of the pads on the TD-27KV except for the snare and hi-hat are mounted on a four-post rack, while with the VAD506 all the cymbals and tom pads are mounted on cymbal stands and clamps.
Price: The VAD506 tends to be a lot more expensive than the TD-27KV, due to its higher-end shells and hardware.
Key Similarities Between Roland VAD506 and Roland TD-27KV
The drum module: The brain behind both of the e-drum kits is the TD-27 drum module.
Sounds and kits: Both of the e-drum kits come with 728 professionally recorded sounds and 100 different kits, 45 of them being customizable user kits.
The pad material on both is mesh: Mesh heads provide more rebound when playing. Also, they are tunable which means you can loosen or tighten them depending on your playstyle.
Integrated audio interface: The drum module on VAD506 and TD-27KV has an integrated 28-channel USB audio interface which comes in useful for recording or mixing for live performance.
Pros
Build quality: Roland is known for making e-drum kits with amazing build quality. The VAD506, as well as the TD-27KV, are no exception here.
Easy to use drum module: The TD-27 drum module is simple to use, versatile and allows you to customize drum sounds.
Bluetooth connectivity: Both of the e-drum kits offer Bluetooth connectivity that allows wireless audio streaming from your phone, tablet, or laptop.
Built-in coaching tools: Onboard coaching functions that help you develop and keep track of your progress.
Effects and customized drum sounds: The TD-27 drum module has controls and editing options that allow you to create your own kits for any given situation. Also, it comes with a pad compressor, pad equalizer, microphone simulation as well as a lot of multi-effects.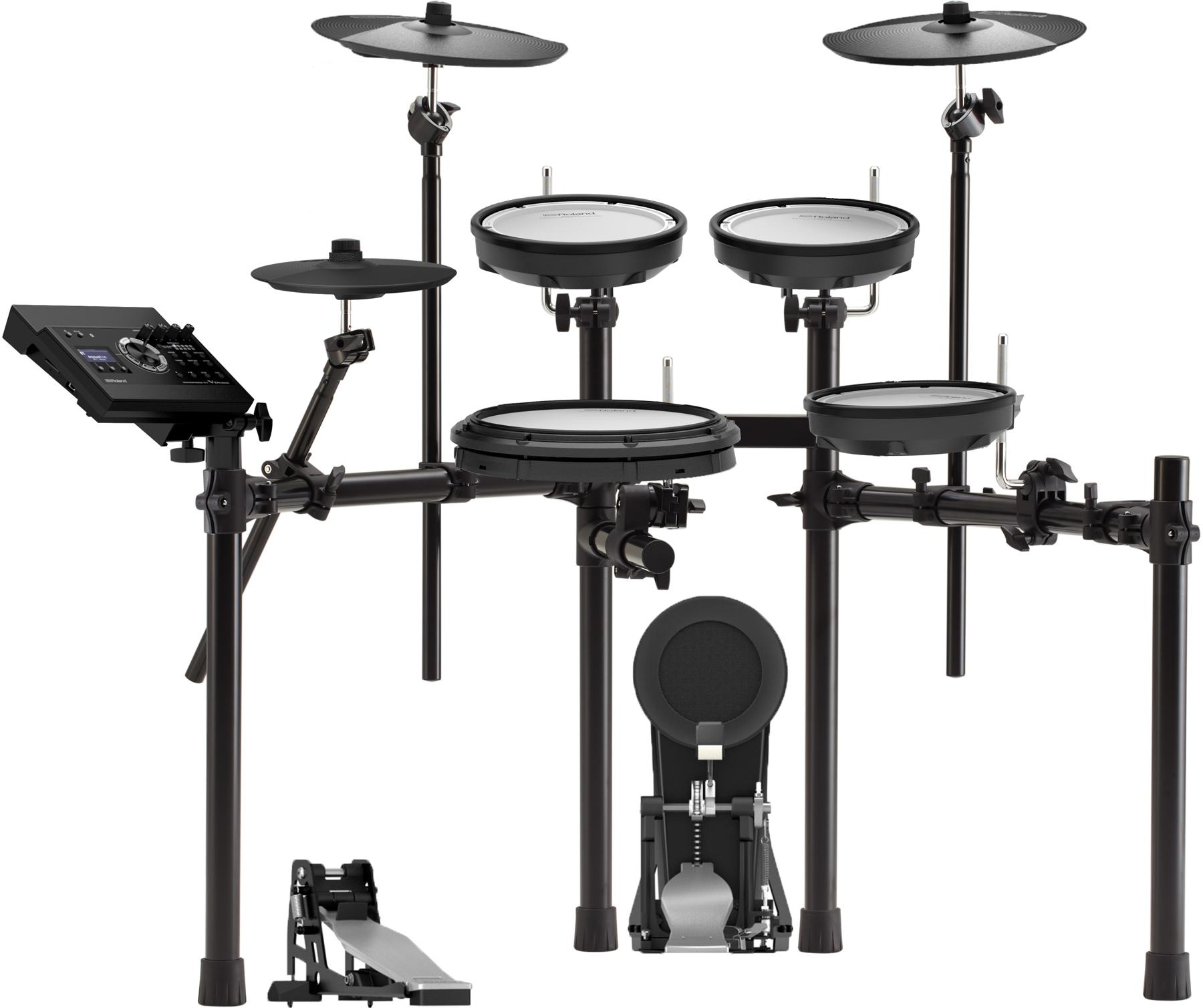 Cons
Price: Although the Roland VAD506 is an impressive kit, it doesn't offer great value for money. While it comes packed with a lot of features, it's only worth it if you are looking for a pro-grade, high-quality e-drum kit.
The uninspiring stage presence of the TD-27KV: While amazing for studio recording or home practicing, the TD-27KV is missing the stage presence that the VAD506 captures.
It's unfortunate that Roland didn't include the TD-50 module on the VAD506.
Roland VAD506 – Price Comparison
Roland TD-27KV – Price Comparison
The Roland TD-27 Drum Module
The Roland VAD506 and Roland TD-27KV come with the TD-27 drum module which has a great build quality and is easy to use. It has plenty of sounds while also supporting custom sampling. It's loaded with professionally-recorded sounds but you will still get better sounds using high-quality drum VSTs.
The TD-27 comes with a metronome, Bluetooth, and onboard recording, all of which come in handy while practicing.
As for MIDI connectivity, it has standard 5-Pin MIDI connectors as well as MIDI over USB that can be used for recording audio over USB straight into your DAW of choice.
Sounds
The TD-27 drum module has 55 factory kits and 45 user kits that you can customize using the 728 sounds that are built into the module. You can also import custom samples via an SD card.
Kick
The kick on the Roland VAD506 is a full-sized 20" kick drum, rather than a 5" kick tower on the Roland TD-27KV, and that comes with the benefit of having a better feel while playing it. It also looks much better and has a better stage presence than the kick tower on the TD-27KV.
Snare and Toms
The pad configuration on both of the e-drum kits is quite similar. They both come with the 14" inch PD-140DS stainless steel snare and three toms. The Roland VAD506 has 10" and 12" toms, and a 14" floor tom that are full-depth wood shells. The TD-27KV on the other hand has three 10" lightweight tom pads.
All of the tom pads are dual-zone and have tunable mesh heads. The snare on the other hand is triple-zone and supports both rim-shots as well as cross-sticking.
Cymbal Pads
The Roland TD-27KV and the Roland VAD506 have two crash cymbals, a ride cymbal, and an acoustic-style hi-hat.
The ride cymbal of both of the drum kits is 18" and has three triggers. The TD-27KV has smaller crash cymbals: 12" and 13", while the VAD506 has 14" and 16".
Alternatives
Some of the more budget-friendly alternatives for these e-drum kits are the Roland TD-17KV and roland vad306 which are a step down from their respective lines of e-drum kits. It's worth noticing that the TD-17KV and the VAD306 come with a TD-17 module, which is a relatively inferior, but still very capable, drum module model.
Also, another e-drum kit worth mentioning here is the Alesis Strike Pro Special Edition which comes with a great drum module that is easy to use and has much more sounds and kits.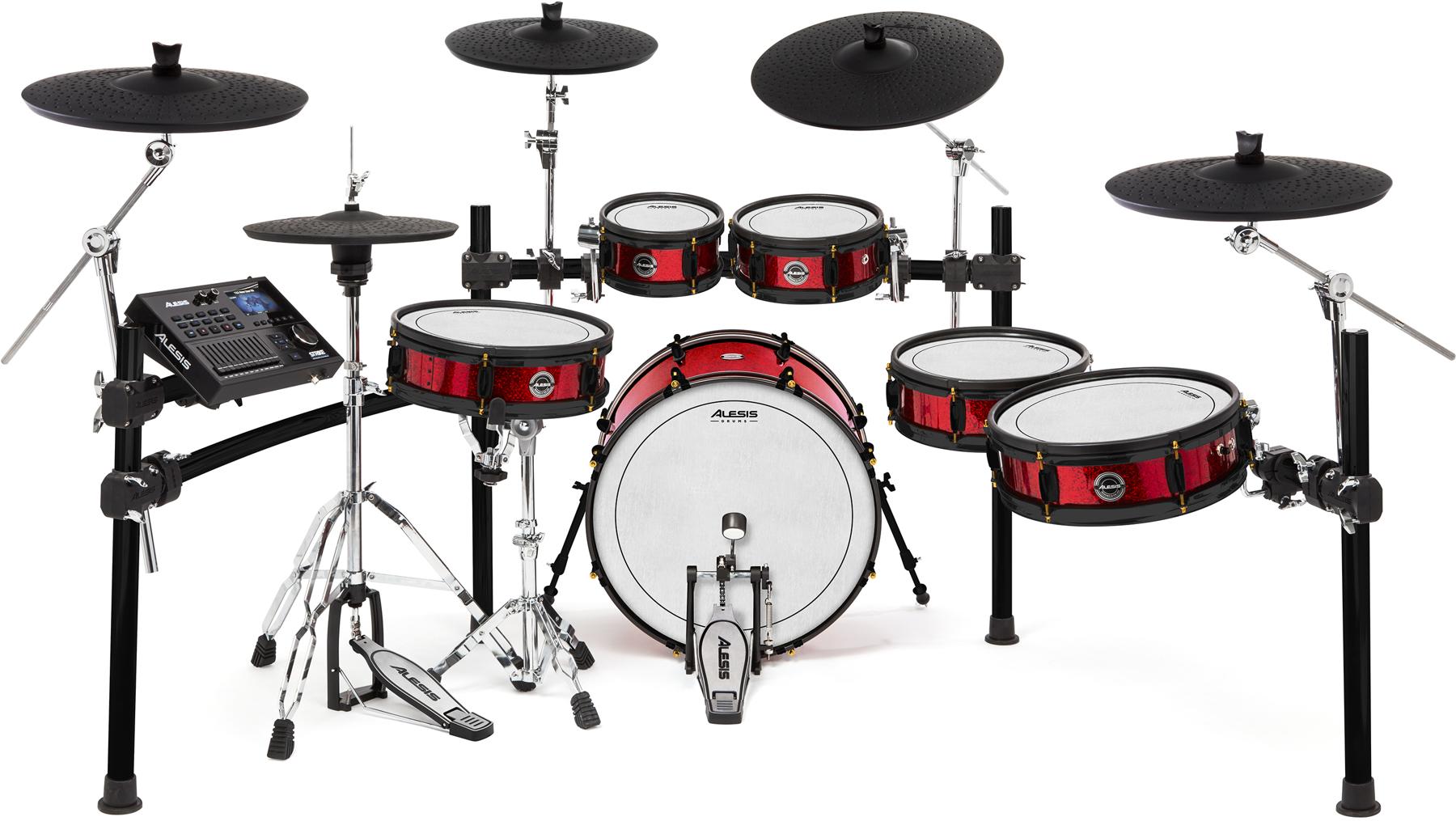 What's The Difference Between Roland VAD and TD Drums?
The TD series of e-drum kits is more focused on specs and don't prioritize the overall looks of the kits, while the VAD series stands for 'V-drums Acoustic Design' and are built mostly to have a great stage presence while maintaining the quality and features all of the Rolands' e-drum kits.
Conclusion
If you are looking for a professional e-drum kit, packed with amazing professional features, the VAD506, and the TD-27KV are probably on your list. While both kits are amazing in their own way, there is a right choice for you. If you are looking for a more compact drum kit, that can easily fit into apartments and is great in-studio, then the TD-27KV is a great option. If you need a stage presence for live performances, on the other hand, you can't go wrong with the VAD506.