The 10 Best Electronic Drum Pads 2023 – A Drummer's Guide
This article takes you through the best electronic drum pads currently on the market. These are extremely versatile electronic instruments that can add a new level of sound to your set.
These pads can be used to extend your current setup or they can act as standalone instruments.
There are 3 types of electronic drum pads: sample pads (where you can load your own sounds), percussion pads (only internal sounds), or all-in-one electronic drum pads, which are more casual options that are meant to be used as a compact e-drum set.
You can connect sample pads directly to an amplifier or PA system because all sounds are generated internally. Alternatively, you can connect headphones to them.
My top pick is the Roland SPD-SX Pro. It's the long-awaited follow-up to Roland's previous industry-standard sample pad. I consider it the best despite stiff competition from Alesis with their Strike Multipad.
The best affordable electronic drum pad is the Alesis SamplePad Pro, but it does have a few quirks, so make sure to keep reading to see if it's for you!
I have personally used many different electronic drum pads extensively. Although high-end drum pads can carry a large price tag, they tend to be significantly superior to entry-level pads.
However, more competitive options are coming available and I have included the best affordable pads that are currently available.
If you are looking for drum pads for beat-making, then check out our alternative article on MIDI drum pads.
The Best Electronic Drum Pads (2023) – At a Glance
I am going to tell you the strengths, weaknesses, and purposes of each. I will also do my best to compare important features across models.
Do percussion pads look cool live? Yes! Especially if you are a DJ or producer, some spectators can get a little bored if you're standing behind a laptop or standard sampler. Using electronic pads with drumsticks on stage can really spice things up and add a whole new dynamic of sounds to your performances.
Most percussion pads can also communicate via MIDI to other digital instruments or DAWs (Digital Audio Workstations) such as Ableton Live. This opens up a world of possibilities!
The long-awaited Roland SPD-SX Pro sampling pad is finally out. This greatly builds upon the previous industry standard SPD-SX.
The SPD-SX has increased inputs for pads and triggers and finally includes the ability to add a hi-hat or expression pad, so you can easily turn this into a mini electronic drum set.
This is a far more modern piece of kit that's really easy to use while also having a ton of features for you to explore when you want to.
The stock kits also sound really great on this, so this pad is immediately usable even if you don't want to load custom samples.
It's very easily usable in the dark due to the backlit features and lighting around the pads, which you can customize.
Pros
Outstanding build quality
1550+ in-built samples and sounds
9 responsive pads
Massive 32 GB internal memory
Supports up to eight external individual triggers or pads, and one hi-hat or expression pedal input, and one footswitch input.
Improved software for easy editing
Advanced crosstalk performance and pad sensitivity
You can lock in what sounds you want very quickly using the pad edit knobs, which allows you to quickly change the volume, pitch, transient attack, and transient release of each pad sound without having to delve through the menu. There is also a lot of EQ control while the device also offers a ton of great effects.
The pad also has a Sidechain feature which is really heavily used in electronic music. This could really help get your sound pumping and "gig-ready" without having to run it through a DAW or other external gear.
The 16-step sequencer is a great feature. You can create whatever sequence you want and then assign that to one pad. Then every time you hit the pad it will play the next step in that sequence.
The menu system of this is very nice and it's very easy to navigate between features.
You can record samples directly into the SPD-SX Pro and chop them within the device or within the app. You can also import them as normal using a USB stick. You can also connect it to the SPD-SX app on your computer.
Overall, this is a fantastic sample pad, and this is certainly my top pick for the best electronic drum pad in the market. It's not likely to be topped any time soon in my opinion.
This product promises so much at a much lower price point, making digital drum pads a lot more accessible to people with a lower budget. It is packed with features, and some drummers like this pad quite a lot (which is why I've included it), but it is let down in two main areas: crosstalk issues and switching time between kits.
The SamplePad Pro was the first sample pad I owned. I bought this product for a few reasons. The first was because it allows for lots of extensibility with external pads. Therefore, you can make your own mini electronic drum kit out of it. Secondly, you can load your own custom samples on it. It has some really desirable features that you would want from more expensive models. Lastly, the price point. This model is considerably more affordable than many other options.
Pros
Lots of extensibility for extra pads and pedal
Very good features
Custom sampling
MIDI capability
Affordable
Cons
Cross-talk issues
Some sensitivity issues
High switching time between kits (can be impractical on stage)
It can actually be a decent option if you're using it for basic one-shot sampling. You could load custom samples and have it as a pretty affordable secondary instrument. It has quite a lot of features for a pad in this price range.
I used the SamplePad Pro in live performances, and to be honest, it wasn't too bad. However, it is let down in two main areas: crosstalk issues and switching time between kits.
This is a very affordable pad, but if you're looking for a top-end drum sampler, this won't fit the bill. When compared to the high-end sample pads on this list, the pad sensitivity is not great, switching between kits takes a surprisingly long time, and the cross-talk issues can certainly hinder how you would use this on stage.
Crosstalk Issues
The crosstalk issues mean that if you have the pads set to medium or high sensitivity, then hitting certain pads can trigger other ones. This might be bad for one-shot samples, but it's far worse if the pad unexpectedly triggers a pad with a long sample or you're using it as a MIDI trigger for something else.
In my case, the crosstalk issues were limited to 2 or 3 pads. I remember one of the top-corner ones was particularly bad. A firmware update helped this somewhat. However, you may need to lower the sensitivity on some of the pads if you are still having issues.
Therefore, I would have reservations about using this pad with long samples (e.g., bass lines, chord progressions, etc.), as crosstalk could incorrectly start or stop these.
Verdict
This can be an affordable option to get into electronic sample pads if you don't have enough money to spend on the higher-priced items on this list. If you are picky about the sensitivity of your strokes, this could be an issue.
Cross-talk can also be an issue, but you can decrease this a lot if you lower the sensitivity on one or two problematic pads. However, it never fully solved the problem for me.
Check out my more detailed review of the Alesis SamplePad Pro.
Note: Alesis also has a smaller version of this, known as the SamplePad 4.
Check out the video below to see the Alesis SamplePad Pro in action: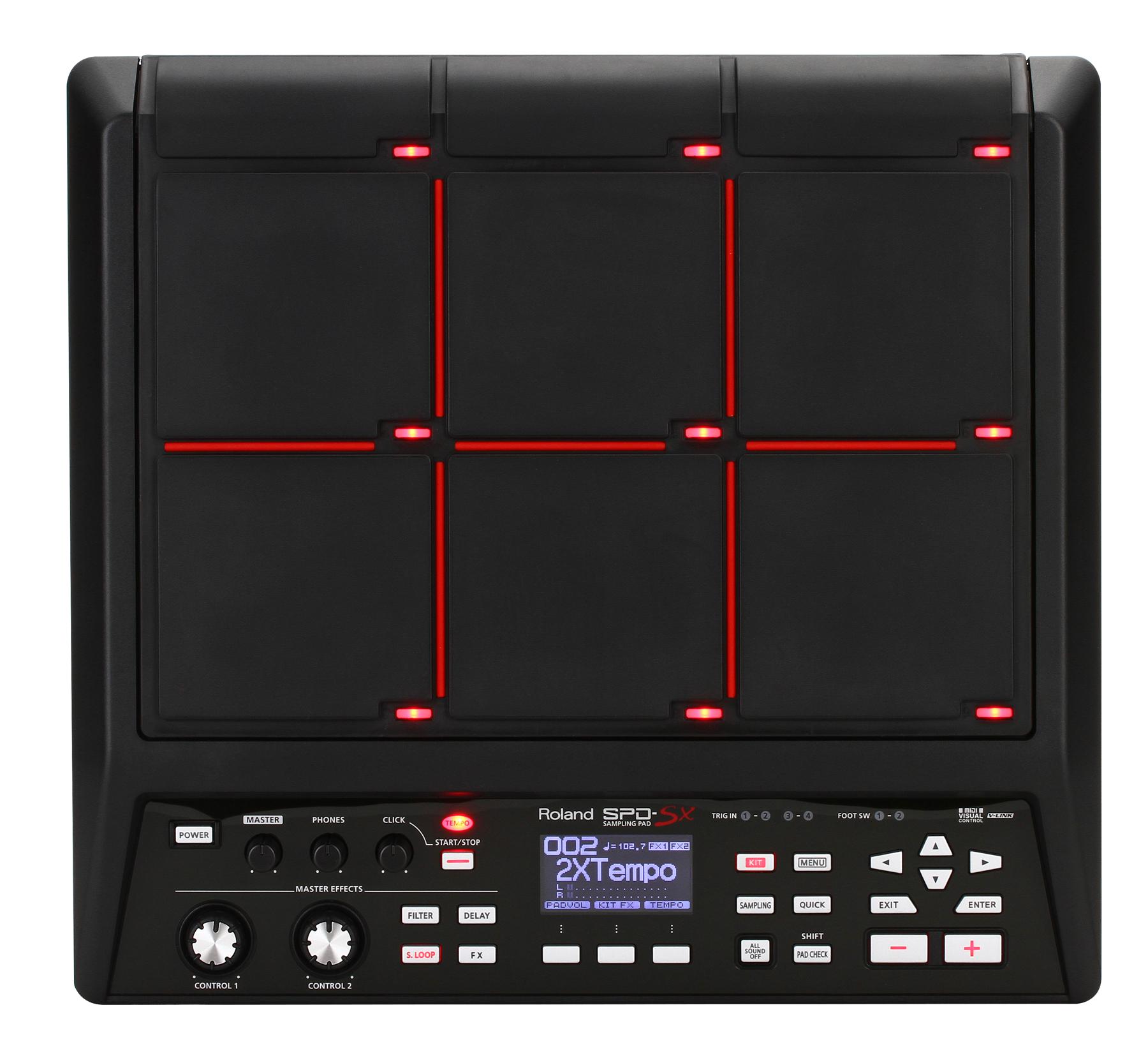 The Roland SPD-SX has been an incredibly popular sample pad since its release. It is an ultra-reliable sample pad that is great to play, easy to use, and has plenty of storage capacity.
Pros
Ultra-reliable, great build quality
3 options to load custom samples
Plenty of storage space
Easy-to-access effects
Very good pad performance
Cons
A bit expensive
Not as many features as the SPD-SX Pro or the Alesis Strike Multipad
Doesn't include rich phrase looping like the Roland Octapad
The SPD-SX pad has been on the market for over 12 years and it has certainly stood the test of time, which is a good reason why this is still the go-to pad for countless pros around the world. The SPD-SX was a follow-up to their hugely popular SPD sample pad.
Roland has also brought out the SPD-SX SE. The SE stands for "special edition", and it has 4 times the amount of internal memory. All other features are the same.
You could definitely make the argument that the newer Alesis Strike Multipad (not to be confused with the budget Samplepad Pro model) is superior to the Roland SPD-SX solely based on its better features and interface. That said, I still opt for the SPD-SX solely because it's an incredibly reliable, functional, and easy-to-use sample pad.
3 Ways To Load Custom Samples
The SPX-SX is great for drummers that want to play custom samples and expand their own set-up, as well as for DJs and producers looking to add more triggered sounds into their performances.
There are 3 options to add custom samples onto the Roland SPD SX. You can use a USB stick with sample files and load them on. You can also drag and drop samples directly via your computer using their Wave Manager software when you connect to it via a USB lead.
Another great feature is that you can also just sample sounds directly onto the SPD-SX via its audio input. Therefore, you could very quickly capture sounds from a microphone, phone, or other instruments without any setup on your computer.
The SPD-SX allows you to load samples as one-shots or you can loop them.
Build Quality
The main reason I choose the SPD-SX over cheaper options is its build quality and pad triggering technology.
With cheaper alternative products, you can get crazy cross-talk between pads. An example of this is hitting one pad, and another one triggers. This can be a problem for drum sounds, but it is much worse if a wrong sample is triggered in the middle of a performance. If you are serious about incorporating a sample pad into your setup, then this is a great option.
Effects
This pad also has some really nice effects built in. It does not have a massive amount of options here, but what's available is very nicely put together. There are two control knobs and four different effects: filter, delay, s-load, and FX.
These really allow you to tweak and modify samples on the fly. Its simplicity allows you to quickly and easily keep track of what's going on without overcomplicating things too much.
Features
The Roland SPD-SX supports up to 4 external pads (either 2 dual-zone pads or 4 single-zone pads). You need to get a splitter if you intend to use more than 2 external inputs.
This device has 4GB of internal memory, allowing for 720 minutes of samples. (The SE edition includes 16GB of internal memory). You can also expand the memory using USB storage.
Therefore, the total storage here should definitely be sufficient for your needs. Limited storage can be a problem with some samplers. I ran into this with the Korg Electribe sampler, which has a surprisingly limited amount of custom sample storage.
The SPD-SX also works very nicely as a MIDI controller to send trigger samples and send MIDI messages to DAWs such as Ableton Live, Logic, etc.
Disadvantages
Roland instruments are generally not cheap, and this also holds true for the SPD-SX! Unfortunately, the price of their sample pads may be outside your budget. That said, you get what you pay for, and they are very well-known for their exceptional hardware and build quality, so their equipment tends to last a very long time. Roland instruments also tend to have very good resale value, as it's a very well-respected brand.
Another disadvantage is that you cannot create phrase loops on the fly with the SPD-SX like you can with the Roland Octapad.
So, should you buy the SPD-SX or the SPD-30 Octapad? It depends on your needs. They are both built for different purposes and perform beautifully. As a drummer, I prefer the Octapad solely based on its live performance options. If you need custom sampling or use it as more of a secondary instrument, then the SPD-SX is a no-brainer.
Additionally, the SPD-SX looks a little bit dated in comparison the SPD-SX Pro and the Alesis Strike Multipad. However, the SPD-SX is still a great pad and it's still great fun to play.
The Strike MultiPad represented a big move into the high-end sample pad market for Alesis. It's very impressive and it's the most feature-rich sample pad currently available.
This pad is quite a step up from their SamplePad Pro, but it's quite a bit more expensive. The pad includes better playing velocity-sensitive surfaces, much better sampling features, looping, and a lot of different effects. It has a lot of memory and contains very cool LED lights.
Pros
Most feature-rich pad available
Large 32GB internal storage
Very nice interface
Well built
It has the richest screen interface of any electronic drum pad on the market. There's a lot to navigate through, but you can certainly get the hang of it once you give it a bit of time.
The Strike MultiPad can be used for on-the-fly changes to effects and sampling. It comes with a lot of built-in samples, as well as having the easy option to import your own.
You can also record audio directly into this sampler, which can be adjusted on-screen using knobs to control where to start and stop the loop.
It even has a performance looping function, which is quite nice, but it certainly doesn't match Roland Octapad's phrase looping (likely because it would overcomplicate the interface on the Strike Multipad far too much to do so).
It's quite exciting to get this amount of features on a standalone unit without having to connect to a laptop.
The Best Percussion Pad Available
A pad made for drummers and percussionists and built like a tank. Its fantastic phrase looping feature, extensibility options, and MIDI connectivity make this a very strong option, despite the pad not supporting custom sampling!
View Price at Sweetwater
View Price at Amazon
The Roland Octapad SPD-30 is one of my most loved electronic instruments. It has lots of great internal sounds and its 'phrase loop' feature has the best live sequencing features of any electronic drum pad, making this great for live performances. Its extensibility options allow you to easily add pads and pedals and turn this into a mini drum kit. It's also one of the most reliable pieces of music gear I've ever owned.
If you're looking for great sounds right out of the box that are easy to arrange into your own kits then this is the option for you.
I've dropped this instrument and it's even been rained on multiple times! The build quality of this device was definitely strong enough to take it. It's never crashed in 5 years of me playing it, and I've never experienced any type of cross-talk issues.
Keep in mind that it doesn't support custom sampling. You cannot load your own samples on this device. However, you can use it as a MIDI controller, and even if not doing so, there is a variety of sounds and effects that you might be able to do without custom sampling. There are a lot of built-in sounds and you can rearrange them to create your own kits, but the styles of them can vary quite significantly.
Pros
Exceptional phrase looping feature
Extensibility
Very sensitive pads
Very high build quality
Easy to use
Good effects
MIDI-over-USB or via MIDI 5-Pin
Cons
No custom sampling
The screen and menu system are now a little dated
Effects cannot be tweaked on-the-fly like on the SPD-SX (apart from some basic controls in phrase looping mode)
The number of effects that can be applied to the current kit at one time is very limited.
The internal sounds are quite varied and made for vastly different styles of music
Extensibility
The Octapad has much better extensibility options compared to the SPD-SX. You can connect up to 5 external sources (including a hi-hat controller).
I regularly make a mini-electronic kit out of this with a kick pedal, hi-hat pedal, and snare mesh head. A ride or crash cymbal pad would also be a great option.
Phrase Looping
The next main selling point of the Octapad is its 'phrase loop' sequencing, which is an amazing live performance tool. You can loop 3 separate instruments (kits, synth sounds, percussion instruments, etc.) with options to delete, mute, pause, etc.
Although you are limited to 3 instruments, you can swap them out on the fly. I started using it a surprising amount of times in my shows!
Like many electronic instruments, the starting and stopping of these phrase loops can be MIDI triggered. Therefore you can use it in conjunction with other samplers and devices.
If you want to trigger your own custom samples with the Roland Octapad, you'll need to use it as a MIDI controller and trigger samples externally (such as using a DAW on your laptop). I often use this as a MIDI controller to trigger Ableton Drum Racks, but I know that's not an ideal option for everyone!
Check out the video below to see Craig Blundell demonstrate the Roland Octapad SPD-30 in action:
The Octapad SPD-30 is a percussion pad. It is built for drummers and percussionists that want to go digital or add electronic sounds to their acoustic set-ups. It is an investment and costs much more than entry-level models. However, the Octapad is leagues ahead of these cheaper options, in my opinion.
In addition to playing my hybrid kit for bigger shows, the Octapad has been a great option for me to play in small venues with very little hassle.
The Octapad SPD-30 is far superior to the previous Octapad model that was produced in the late 1990s (the Octapad SPD-20). Check out my in-depth review of the Roland Octapad SPD-30 for more information on this.
As of 2023, the Octapad is getting a little dated in terms of its interface, but there is still no other electronic drum pad that offers phrase looping/sequencing with the level of control that this offers.
Touch-Sensitive Sample Pad
This is a rugged, well-built sample pad from Yamaha that has very nicely sensitive pads.
View Price at Amazon
The Yamaha DTX-Multi 12 is a sampling pad that can most closely be compared to the Roland SPD-SX. It has 3 extra pads than the SPD-SX and a huge inventory of sounds to choose from. This model has the potential to replace your drum kit and allows you to load custom samples—something well worth considering.
Pros
Touch-sensitive pads (great for playing hand drum samples)
Good extensibility
Good build quality
Cons
Very limited internal space
Interface is a bit dated
I think the biggest advantage of the DTX-Multi 12 are the ultra-sensitive pads. If you are into hand drums like djembes or congas, this is pretty much the only option amongst the percussion pads I am presenting to you. The pad surface can seem a little soft when playing with sticks. This is totally a matter of preference, though.
You can also add up to 5 pads externally. There are 3 inputs, but 2 of them are dual inputs, where you can input dual-zone pads or split them out to two separate single-zone pads, each through the use of a splitter.
This can make for a compact electronic drum set. Make sure to do your research when choosing external pads. Kick pads and drum pads are pretty universal, but this is not always the case for hi-hat controllers.
The DTX-Multi has only 64MB of internal memory for loading custom samples. I see this as the biggest weakness as it is quite limiting. Compare this to the 4GBs of internal memory that you get in the Roland SPD-SX. The user interface for this model can also take a lot of getting used to. The menu system is a little clunky and difficult to use. There are a lot of features, but it seems to come at the price of usability.
This is a solid contender as both a sample pad and percussion pads. I prefer the feel and features of the Roland Octapad SPD-30 for my own use or the Roland SPD-SX for onboard sampling. However, this can serve as a great alternative.
Check out the video below to see the Yamaha DTX-Multi 12 in action:
These PylePro drum pads offer something quite different from the ones previously mentioned.
This is a lower-priced option designed for drum practicing and casual use. It has plenty of sounds and includes foot pedals and built-in speakers, so you are ready to jam out of the box.
Pros
Built-in speakers

Affordable
Easy to use
Cons
Only good for casual use
Sound quality is not great
Pedals are very basic
These can serve as great gifts to beginner drummers and those that don't have dedicated drum sets to practice on. They're also a lot of fun to play.
The pedals are not great, but they work well for basic playing.
It also has MIDI connectivity, which enables you to connect it to audio software to play. It also has audio outputs that allow you to connect to headphones or external speakers.
The Nord Drum 3P uses a completely different approach to how it creates sounds. This is a drum synthesizer, meaning that all of the drum sounds are created through synthesis instead of samples. This means that you can get a whole layer deeper in terms of sound modeling and sound design.
Pros
Great sound design options
High-quality effects
Uses analog-modeled synthesis
MIDI capability
Kick pad input
Cons
Doesn't support samples
Limited input outputs for external pads
Would not work in as many genres as sample-based pads
This is particularly useful for those that want some electronic drum tracks and sounds with great depth. If you've used any synth-based drum machines before, then you will have an idea of the level of effects and sound shaping that will be possible.
Just check out this video below which really shows how amazing you can get the Nord Drum 3P to sound.
It includes many of the sound design parameters you would expect from a synthesizer, such as noise and tone-shaping, mix, and effects.
You can assign these on a pad-by-pad basis and copy settings between pads. Because it uses synthesis, it has extremely low latency. If you want to go in-depth into your sound design then the Nord Drum 3P is one of the best options out there.
The sound sculpting capabilities of this drum synth could really help improve your creative workflow, as everything can be done directly on the device, without having to edit sounds on your DAW and importing samples.
It has standard audio and headphone outputs, MIDI in and out, and one external kick input. It doesn't have a hi-hat input or the capability to add other external pads.
Of course, this pad won't be for everyone; its lack of sampling makes this a little bit more niche in comparison to the Roland SPD-SX or the Strike Multipad. However, it's certainly worth considering for those that want a playable drum synth with great sound sculpting.
The Best Compact Electronic Drum Pad
Each SPD::One pad performs a basic, individual function (kick, percussion, electro, or WAV), but it does so very well in an easy-to-use, minimalist fashion.
View Price at Sweetwater
View Price at Amazon
Roland's range of SPD::One pads were created for those that only need a small number of functions and one playable pad surface. If you feel like an entire MultiPad would overcomplicate your setup too much, then this might be worth considering.
Pros
Very easy to use
Minimalist and compact
Light
Very good build quality
Cons
Very limited features
Only one pad
Quite pricey
Only the WAV version supports custom sampling
Differences Between SPD::One Versions
The SPD::One comes in four different types Electro, Percussion, Kick, and WAV pad. The first 3 have a small number of internal sounds to choose from, and the WAV pad allows you to load your own custom samples.
SPD::ONE Electro is for drum sounds
SPD::ONE Kick is great for use as a stomp box (playing with your foot)
SPD::ONE Percussion is for percussion-focused sounds (no surprise there!)
SPD::ONE WAV is for loading your own samples.
The version that you should go for very much depends on your needs.
If you want to get the one that offers the most flexibility, then the SPD::One WAV is the best option, but you do need to do a bit of work in order to import the sounds with the correct file naming.
If you want easy-to-access internal sounds of the device, then the Electro, Kick, and Percussion versions are all very worth considering.
Features
The Kick, Electro, and Percussion versions all have the same 4 types of knobs.
Instruction selection
Tuning
FX (choose between reverb and delay mix)
Volume
The SPD::One WAV is quite different. The first knob also allows you to change sample sound, but the other knobs are for phones level, mix (between click and master), and master balance.
You also cannot change the actual type of way the sample is played on the pad directly, you need to alternate and change the file name. For example, if you want to load a sample as a one-shot, then you need to add "_m" to the end of the file name before loading. So it takes a little bit of work to make sure you get this right before you import the samples onto the SPD::One, but once you get this all up and running, then it's very easy to use, and a very minimalist option.
I think that the SPD::One has a very good selling point. Lots of musicians do not want to overcomplicate their setups too much, and many already have effects pedals and lots of other pieces of gear working at once. They may want to simplify things a little bit to make sure that things will work properly on stage and that they get no surprises. The SPD::One is a reliable, minimalist pad that works nicely for basic needs.
The Alesis SamplePad 4 is a scaled-down and more affordable version of the Sample Pad Pro. This is another pad that offers a whole lot of promise, but it also has very similar pros and cons to the Alesis SamplePad Pro.
Pros
Affordable
Decent amount of storage space and sounds for its price.
Easy to use
Cons
Some crosstalk issues
Pad responsiveness not amazing
Only includes four pads
Differences Between the Alesis SamplePad Pro and SamplePad 4
The SamplePad4 has a lower number of pads, lower internal sounds, and lower storage capacity. You load custom samples in the same way, and many of the other settings are all quite similar to the SamplePad Pro.
If you're going for something quite compact and minimalist, then this might not be much of a problem for you.
Crosstalk Issues.
There have also been other crosstalk issues reported with the Alesis SamplePad 4, similar to the SamplePad Pro. However, it is very playable on the basis that you decrease your sensitivity to the lowest level.
This means that you can certainly trigger samples quite reliably from this device, but you will definitely not be able to play with the same level of finesse you would get from a more responsive pad.
If you want a pad for basic function, and if you want something that has more features than the Roland SPD::One, then the Alesis SamplePad 4 is certainly one to consider.
Other notable mentions
Although they did not make the final cut for this article, there are some other decent options for electronic drum pads. The KAT Percussion KTMP1 is an entry-level option that includes 4 pads. It is a little limited in its features, but I do rate this one highly in terms of value for money.
The Roland Handsonic is a great high-end hand percussion pad that contains internal sounds for many different styles of music. I did not include it in this article as the device is suited to a smaller number of musicians.
The Yamaha DD75 is also a popular electronic drum pad.
Yamaha DD75 Portable Digital Drums
A Good-Quality Tabletop Electronic Drum Pad
An all-in-one pad good for casual playing. It includes foot pedals, it's also compatible with better hi-hat and kick pedals (requires an upgrade).
View Price at Amazon
The Yamaha DD75 is a good quality, all-in-one tabletop model.
This is quite similar to the Pylepro Tabletop drums we listed previously. It's mainly designed for casual practice and playing, though it could also certainly be used as a decent MIDI controller for proper recordings.
It's a nicely compact electronic drum pad with headphones and auxiliary input jacks.
Pros
Built-in speakers
Includes foot pedals
Good build quality
Nice internal sounds
Supports battery power and AC power
Headphone and aux-in jacks
Cons
The pedals are not great
Not a great long-term option for practicing drums
It also has battery operation which is very handy, and you can take this on the move without the need for AC power. However, for battery mode, it requires 6 type C batteries, which are not particularly cheap. So if you wanted to play on battery power a lot, it would probably be worth looking into getting rechargeable batteries instead of disposable ones.
It has a nice and wide array of kits and genres, which are included in the internal sounds.
Similar to the Pylepro Tabletop drums, this also includes built-in speakers, so you don't necessarily need to use headphones or a separate set of speakers. Though don't expect top audio quality from the built-in speakers!
The pedals that come with this are not particularly good, they are more like pretty clunky footswitches, but they are usable for basic use and you can upgrade to a better kick tower and hi-hat pedal if you want (Yamaha pedals would be your best bet, particularly for the hi-hat pedal).
If you want to get a good quality tabletop electronic drum pad from a great brand, then this is certainly a good option to go for.
Although for more professional or stage use, it certainly does not compare to the Yamaha DTX-Multi 12.
Common questions about electronic drum pads
Do I need an amplifier?
It depends on how you plan to use your electronic drum pads. You can connect the audio outputs to an amplifier or PA system via instrument cables. Most drum pads also include a headphone input.
How do I load my own samples?
If your drum pad has the capability of loading custom samples, this is generally done via a USB drive or SD card.
Check the specifications of your device before loading samples. Some require specific formats and bitrates (e.g., 16-bit WAV files).
What's the difference between high-end and low-end pads?
The number one difference is build quality. You can see a notable difference in sturdiness and quality in higher-end pads. This can make a big difference when gigging regularly. As mentioned previously, low-quality pads can trigger cross-talk and other unwanted problems.
On-board sounds of higher end pads are generally of much better quality. Another major difference is both the features and speed of the device, particularly with regard to switching kits while loading external samples.
How do I record my electronic drum pad?
If you want to record your electronic drum pad on your computer, then you will generally need an audio interface. You connect the outputs from your pad to the inputs on the interface via instrument cables. The interface usually connects to your computer via USB.
You can also connect most electronic drum pads to computers and other music gear via MIDI. Therefore you can trigger drum sounds from music production software instead of using the on-board sounds on your drum pad.
Can I connect other e-drum pads to my sample pad?
Check the external inputs of the pad. You may be able to connect other e-drum and cymbal pads, such as rubber or mesh pads directly. Some devices also include a specific input for a hi-hat pedal, which you can use the open/close functionality of the hats.
I usually recommend adding a kick pad if possible.
Verdict
My top pick as the best electronic drum pad is the Roland SPD-SX Pro. It's the long-awaited follow-up to Roland's previous industry-standard pad. I consider it the best despite stiff competition from Alesis with their Strike Multipad.
The best affordable electronic drum pad is the Alesis SamplePad Pro, but it does have a few quirks, so make sure to keep those in mind if buying.
As well as this, the Octapad SPD-30, SPD-SX, Alesis Strike Multipad, and Yamaha Multipad are high-end options that are very suitable for touring and performances. The all-in-one options are for more beginner and casual use.
If you have any comments or questions on any of the pads in this article, then please write a comment below. I promise to answer every comment!
Thinking about buying a full Electronic Drum Set?
Electronic drum sets can be a lot more reasonably priced than you might expect. Check out our updated buyer's guide and reviews for the Best Electronic Drum Sets. They can help replicate the experience of playing an acoustic kit far more than electronic percussion pads.
If you are just starting to learn drums, then I would highly recommend getting one of these. Alternatively, we've written an article about the best drum machines, which is also worth checking out.