The 7 Best MIDI Drum Pads (2023) for Beat Making and Music Production
MIDI drum pads are great for quickly making beats and triggering one-shot samples in a much more enjoyable way than using a keyboard and mouse! They are essential pieces of equipment and are great for both live performances and studio use.
Thanks to rapid technological progress, MIDI drum pads aren't as expensive as before and can be found in every home studio. They also feature map buttons and knobs to control almost any feature on your DAW software using MIDI mapping.
My top recommended MIDI drum pad is the Akai Professional MPD218. This is an extremely popular and well-priced MIDI drum pad option.
My second recommended MIDI drum pad is the Korg nanoPAD2. This is a compact and affordable MIDI drum pad with an X-Y touchpad.
Please note: If you're looking for a standalone product, then check out our article on the best drum machines. Alternatively, If you're looking for a standalone sample pad that acts as its own separate instrument, then you should check out our popular article on electronic drum pads. Sample pads are generally MIDI-enabled, so they can perform the same features as MIDI drum pads.
The 7 Best MIDI Drum Pads (2023)
Let's compare these in more detail.
The Akai MPD218 is a well-built and well-priced pad that is very nicely sized and has a lot of MIDI routing options. There are 16 pads with fantastic velocity sensitivity, as well as six control knobs that you can assign to practically any MIDI parameter on your digital audio workstation.
Pros
Velocity-sensitive pads
Portable and compact design
Excellent value for money
Included software
Cons
A bit flimsy and light in design
Prone to accidental pad triggering
Some buttons allow you to switch between 3 different pad banks, so you can effectively have different MIDI routing for each bank, which will allow you to get a lot of versatility from this part; you could set these up as separate drum kits and switch between them whenever you want.
You can use different presets by holding the Prog Select button and also switch between different control and pad banks. The 3 control banks allow you to switch between different MIDI routing settings for your control knobs, which could then control different effects.
This MIDI drum pad offers great value if you're looking to get something that's on a pretty affordable budget. If you don't need all of the frills of flashy LED screens and extra options, then this is my recommended option.
The Korg nanoPAD2 Slim-Line sports compact dimensions, great hardware quality, sensitive pads, and basic but reliable functions.
Pros
Superb value for money
X-Y touchpad
Compact and slim design
USB-powered
Cons
No assignable knobs
XY pad might not be for everyone
This model represents the second generation of the super-compact nanoPAD series. The evolution of this device lasts for a full decade, and the new version comes with some upgrades, especially in hardware.
This device now comes with 16 pads instead of 12, which was the case with the original model. The Korg nanoPAD2 Slim-Line is a pretty good deal. It is a perfect tool for your home studio, especially if you are a beginner and don't want to spend a lot.
You can see the full review of the Korg nanoPAD2 if you're further interested. Its XY pad is also very cool for playing scales and arpeggiators. All in all, a great, budget-friendly option to consider.
The Ableton Push 2 is a very sought-after MIDI controller for Ableton Live users. It is used to great effect in conjunction with Ableton Drum Racks, as well as having a mountain of other features!
Pros
Great integration with Ableton Live
High-res, full-color TFT display
Superb sensitivity of the pads
Low-latency
Cons
MIDI over USB only
Lacks Arrangement View editing
Pricey
The pads are nicely sensitive, and they work very well for creating drum beats. For example, in Timberland's Masterclass videos, you can see him using the Ableton Push 2 to create some cool beats on the fly.
Ableton Push 2 is a great way for you to create beats without having to look at your laptop – this can really get you in the zone when creating music.
If you're looking for a fully-featured MIDI controller that works as a drum pad, and effects controller, and allows you to trigger scenes via the Ableton Session view, then this is certainly worth considering.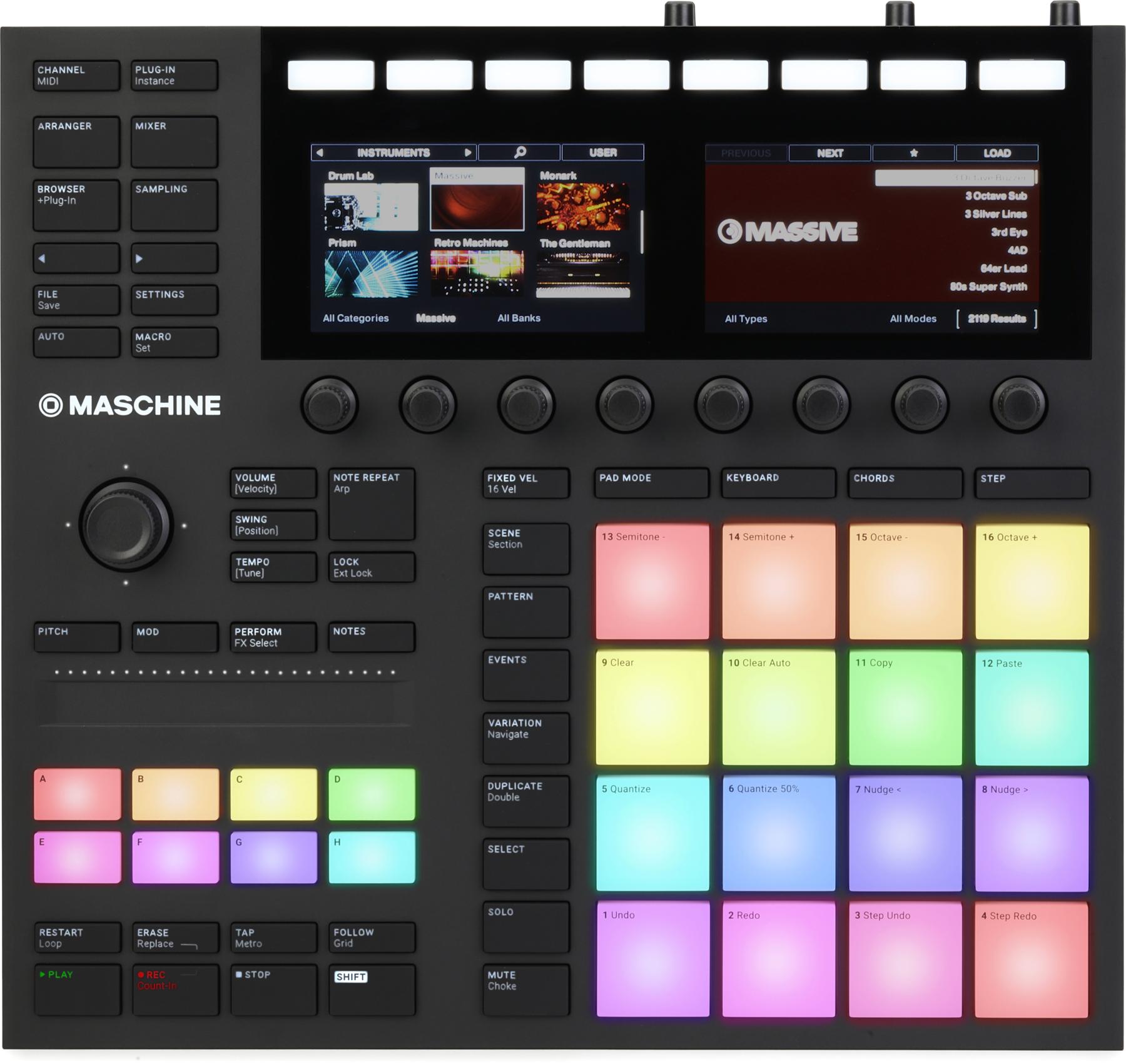 The Native Instruments Maschine MK3 is a mega MIDI drum pad with two high-quality LED screens which allow you to browse and alternate between different kits without having to look at your laptop.
Pros
Touch-sensitive, large pads
Very aesthetically-pleasing design
Good plugins and software included
Superb build quality
Cons
A bit of a steep learning curve
Pricey
There are a ton of controls on this device. The 16 pads can be used for drum sounds, but they can also be used to create bass lines, melodies, and chord progressions with scale lock-in, so you don't even need much knowledge in music theory to be able to create great music.
This allows you to create stabs and could help you create music in a much more fluid way without having to have a separate keyboard or go to your laptop.
The MK3 can be USB-powered, so you do not need AC outlet power for it to work. Though, if you want to make the controls brighter, you can use an AC power outlet.
This is a higher-budget and high-quality device. For people that like the Maschine MK3 workflow, this could be a great option to consider.
Akai also has a strong competitor in the small, budget-friendly segment of MIDI drum pads. For those who enjoy a compact, easy-to-use, and simplistic design, the Akai Professional LPD8 is a choice to consider.
Pros
Small, compact design
Very easy to use
Affordable
USB bus-powered
Cons
Fairly small knobs
Lightweight build quality
Unlike the Korg nanoPAD 2, this one comes with only 8 pads, which might seem inconvenient to some. On the other hand, there are also 8 rotatable knobs that can be used for every software parameter, so you can get the best of both worlds from a small device.
Speaking of the hardware, the overall quality is pretty good. The pads feature excellent, sensitive velocity, so you can count on plenty of dynamics. There are four programmed banks, and the device is USB-powered, making this drum pad pretty portable.
With the Akai Professional LPD8, simplicity is the name of the game. With a budget-friendly price tag, this is a more-than-decent option.
Another Akai MIDI drum pad on this list, this time it's the upgraded version of the top pick (MPD218) – the AKAI Professional MPD 226. This is a popular choice with an even smoother interface than its counterpart and more controls to tackle.
Pros
Responsive, velocity, pressure-sensitive pads
Great software included
Note Repeat and Full Level
Visual feedback
Cons
Faders are a bit flimsy
External syncing might be an issue
This MIDI drum pad is great for live performances and studio use. It comes with 16 RGB velocity and pressure-sensitive pads, 4 assignable knobs, and 4 assignable faders. The Note Repeat and Full Level functions are still prevalent, and this time, you have a multicolor visual display.
The MPD226 comes with excellent included software like Ableton Live, Akai Pro MPC Essentials, Sonivox, and Big Bang Drums. Not to mention the superb user interface and the easy-to-use nature of the drum pad.
Overall, the MPD226 is an ideal, sweet-spot choice with great functionality, playability, and build quality. For the given price, you'll unlikely find a better option.
Last but certainly not least is the Novation Launchpad Pro MK3. An all-rounder of an option with many features, RGB velocity and pressure-sensitive pads, and a 32-step sequencer. The initial model was excellent, and this one surpasses that with flying colors.
Pros
Standalone sequencer option
Superb design and user interface
RGB velocity and pressure-sensitive pads
Great for live performances
Cons
No faders or dials
A little hard to navigate without a display
The MIDI drum pad has an amazing total of 64 RGB pads, a Chord and Scales mode, and custom modes. The included software is amazing as well. It comes with Ableton Live, AAS Session Bundle, Novation Sound Collective, and more.
The connectivity is superb, with many MIDI inputs and outputs. It also features an Easy Start Tool to get you started quickly. Not to mention the build quality and excellent playability of the drum pad.
All in all, if you're after an all-in-one device, the Novation Launchpad Pro MK3 will not disappoint. Additionally, the price range is modest for a high-value product like this.
What Should You Look When Choosing MIDI Drum Pads?
There are a few things you should keep in mind when choosing MIDI drum pads. Think about your needs. What size drum pads do you need? Do you want extra knobs and controls for effects? What is your budget?
Another important thing to consider is what software or hardware you're going to use this MIDI drum pad with. However, MIDI is compatible with all good music production software, so there's not much to worry about here.
Also, consider things like size and weight. If you want to carry your device from place to place, it should be small enough to fit your bag, not to mention that heavy pads could be pretty inconvenient. Think of the power supply as well. Fortunately, compact MIDI drum pads are usually operated with a USB port, which is a huge benefit for someone who is constantly on the move.
Finally, find a piece that guarantees good playing dynamics. Pads must be sensitive to velocity if you want to express yourself properly.
Summary
Whether you're a hobby musician or a pro, a MIDI drum pad is definitely a piece of equipment that will come in handy. The benefits are numerous for both musicians and producers.
You can count on superior workflow, plenty of practicality, and easiness of use. Above everything, you will have better musical expression, expand your knowledge, and become a better musician. MIDI drum pads don't cost a fortune anymore. So there is no reason why you shouldn't try them, even if your budget is tight!
My top pick is the Akai Professional MPD218, an extremely popular and well-priced MIDI drum pad option.
My budget pick is the Korg nanoPAD2, a compact and affordable MIDI drum pad with an X-Y touchpad.