Roland VAD306 Review (2023) – Is It Worth It?
Pros
The TD-17 drum module is a very decent module with plenty of features
More affordable than other VAD drum kits from Roland
Relatively compact design - easy to transport
Good wood shells with tunable mesh heads
Cons
Comes with smaller shells and pads compared to other VAD kits
It's still not cheap
Does not include the latest TD-50X drum module
The VAD306 is a mid-level drum kit part of the unique line of V-Drums Acoustic Design kit from Roland. Its compact design makes it ideal for use in small spaces and its beautiful wood shells outfitted with tunable mesh heads preserve the aesthetic look of an acoustic drum.
The TD-17 drum module a very decent, though it's not as good as the TD-27 or TD-50X. It still has impressive features and would fit the needs of most drummers.
Key Features
Drum Module
The TD-17 drum module which is inspired by the TD-50, there's a good collection of drum sounds from modern to vintage, with 50 preset kits and more than 300 percussion sounds. Incorporating these sounds with Roland's Prismatic Sound Modeling delivers pretty realistic, smooth, and dynamic acoustic drum sounds.
That said, some drummers still prefer the sounds from other drum modules such as Pearl mimic pro, the Alesis Strike Pro module, or higher-end yamaha modules.
The VAD306 has a built-in Bluetooth that allows you to easily stream music from your laptop or phone without cables. This makes practicing easier and highly-immersive.
Design
The design of the VAD306 is very nice and compact. Though it doesn't look as good as higher-end VAD kits on stage.
Roland VAD306's design is very straightforward yet still very commanding. Its wood shells' shallow design is space-saving, making it very portable and ideal for use in compact spaces and studios.
Outfitted with classic black gloss wrap, VAD306's shallow-depth shells with tunable mesh heads also come with double-braced stands to enhance its acoustic theme and overall look.
Kit Configuration
The VAD306 is a 5-piece wood shell electronic drum set with premium quality specs; 12″ PDA120LS-BK snare, two 10″ PDA100L-BK rack toms, 12″ PDA120L-BK rack tom, and 18″ KD-180L-BK kick with custom chrome hardware and black wraps.
Cymbal pads include 12″ VH-10 V-Hi-Hat, two 12″ CY-12C crashes, and 13″ CY-13R ride with double-braced chrome stands.
The overall triggering and response of all these pads are very solid.
Price
Compared to other hybrid drums available in the market, Roland VAD306 is moderately expensive. But with its impressive features as well as its portability and acoustic aesthetic, the price tag is warranted especially if you are looking for a high-quality mid-level hybrid drum.
VAD306 is well worth considering for drummers who would like to invest in a high-quality drum set, improve their craft and take their drumming to the next level.
Alternatives to the Roland VAD306
The VAD506 is a five-piece kit from Roland's V-Drums Acoustic Design kit lineup with full-size wood shells, 3 toms, 1 snare, 3 cymbals + hi-hat, and kick drum mounted on double-braced chrome stands, and with a dynamic TD-27 drum module.
Just like VAD306's TD-17 module, the TD-27 sound module of VAD506 is also derived from the flagship TD-50. But the TD-27 offers more features and gives you more control especially with tuning, muffling and processing any sound in your kit.
VAD506 also has 14″ Digital Snare and 18″ Digital Ride Cymbal, which are a huge upgrade compared to VAD306's kit.
The TD 27KV2 is a mid-size drum kit from Roland's V-Drums lineup that delivers impressive realistic acoustic drum sounds, thanks to its TD-27 sound module that works extremely well with its 14″ Digital Snare and 18″ Digital Ride Cymbal. The TD-27KV2 is currently top of our list of the best electronic drum sets based on value and features.
Its larger pads and cymbals are very inviting and presents a vast layout while its 14″ x 4.3″ stainless-steel snare and 10″ toms with multi-ply mesh heads provide amazing response and natural rebound. It also has 12″ hi-hat cymbals which are positioned in a real acoustic hi-hit stand for a natural and immersive acoustic drum playing experience.
The Roland TD 27KV2 may lack the acoustic-like aesthetic of the VAD306 but it still delivers immersive sounds and offers a satisfying playing experience to the drummer. Its compact and portable design makes it also easier to set up even in tight spaces or studios.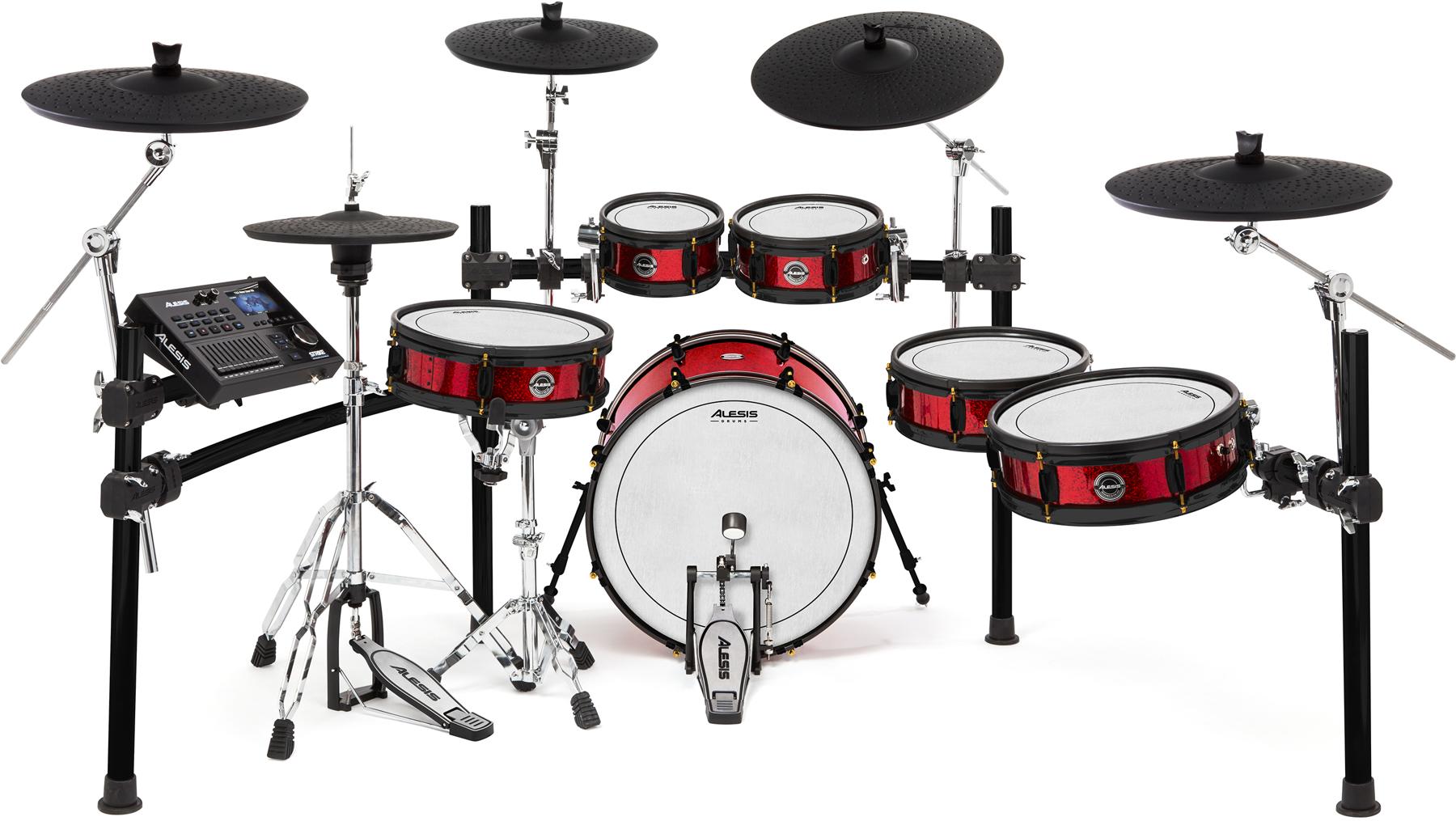 The Alesis Strike Pro SE is a 6-piece electronic drum kit designed with the aesthetic look and spontaneous response of an acoustic drum set. Its powerhouse Strike Pro sound module includes 136 complete drum kits and more than 1,800 multi-sampled sounds which gives you endless options.
You will feel right at home with its hybrid wood shells and tunable mesh heads with incredible responsiveness that gives you the authentic and familiar feeling of playing an acoustic kit.
The kit includes dual-zoned toms, snare, and cymbals and a 3-zoned ride, 14″ snare, 8/10/12/14″ toms, and a 20″ kick, 3 x 14″ crashes, a 16″ ride, and 14″ hi-hats.
The Alesis Strike Pro SE is more affordable compared to the VAD306, and it certainly offers a lot more value in terms of features, but it's still a bit lacking when compared to VAD306's triggering and sensitivity. However, the Alesis Strike Pro SE is still worth considering especially for those looking to own a large electronic drum kit without breaking the bank.
Verdict
The Roland VAD306 is one of the best mid-level hybrid drum kits today with very impressive features and a decent TD-17 sound module that offers high-quality and immersive drumming experience.
Its compact design definitely saves space, making it easier to set up and perform in tight areas. However, it doesn't look as impressive on stage in comparison to other Roland V-Drums Acoustic Design drum sets.
The Roland VAD306 is a great choice for those that have a decent budget and want to get a hybrid drum set that's compact and convenient to set up and move around.