Alesis Surge Mesh vs. Nitro Mesh – What's the Difference?
The Alesis Nitro Mesh and the Alesis Surge Mesh kits are two of the most popular inexpensive electronic drum sets. Both kits are great for beginner drummers and are suitable for professionals looking for a practice kit on a budget. Both offer excellent value for money.
At first glance, both of the kits have a similar configuration and their drum modules look quite similar. Let's look a bit deeper into each set and what makes them different.
Key differences between Alesis Surge Mesh and Nitro Mesh Kit
Alesis Surge Kit has a bigger snare. The drum pads on the Nitro kit are 8", while the Surge kit has a 10" snare pad.
Dual-zone tom pads on the Surge kit. One of the key differences between the two drum kits is that the tom pads on the Surge kit are dual-zone, while the Nitro kit has only single-zone tom pads.
The Alesis Surge kit has a better drum rack. While the build quality of the drum rack is the same on both of the kits, the Surge kit has a drum rack that sits higher, therefore making it more versatile and comfortable to play on.
The Nitro kit has a smaller rubber kick pad. The mesh kick pad on the Surge Mesh kit is better because you can play double bass pedals more comfortably.
Key similarities between Alesis Surge Mesh and Nitro Mesh Kit
Same drum module. Even though they have different names, both sound modules have the same sounds, kits, and specifications in general.
Both have three single-zone cymbals. The ride and crash cymbals on the kits are single-zone cymbals, and the crashes are chokeable.
The Nitro Mesh Kit and the Surge Mesh kit have the same drum configuration. The Nitro and the Surge mesh kits are 5-piece e-drum kits with three cymbals.
Pros of both drum kits
Affordable: Great value for money.
Both kits are compact: The Alesis Surge, as well as the Nitro kit, can fit almost anywhere in a studio, apartment, or practice place.
Great for beginners and advanced players looking for a practice kit on a budget.
Mesh heads: They come with decent quality mesh heads that are becoming the norm for even entry-level kits.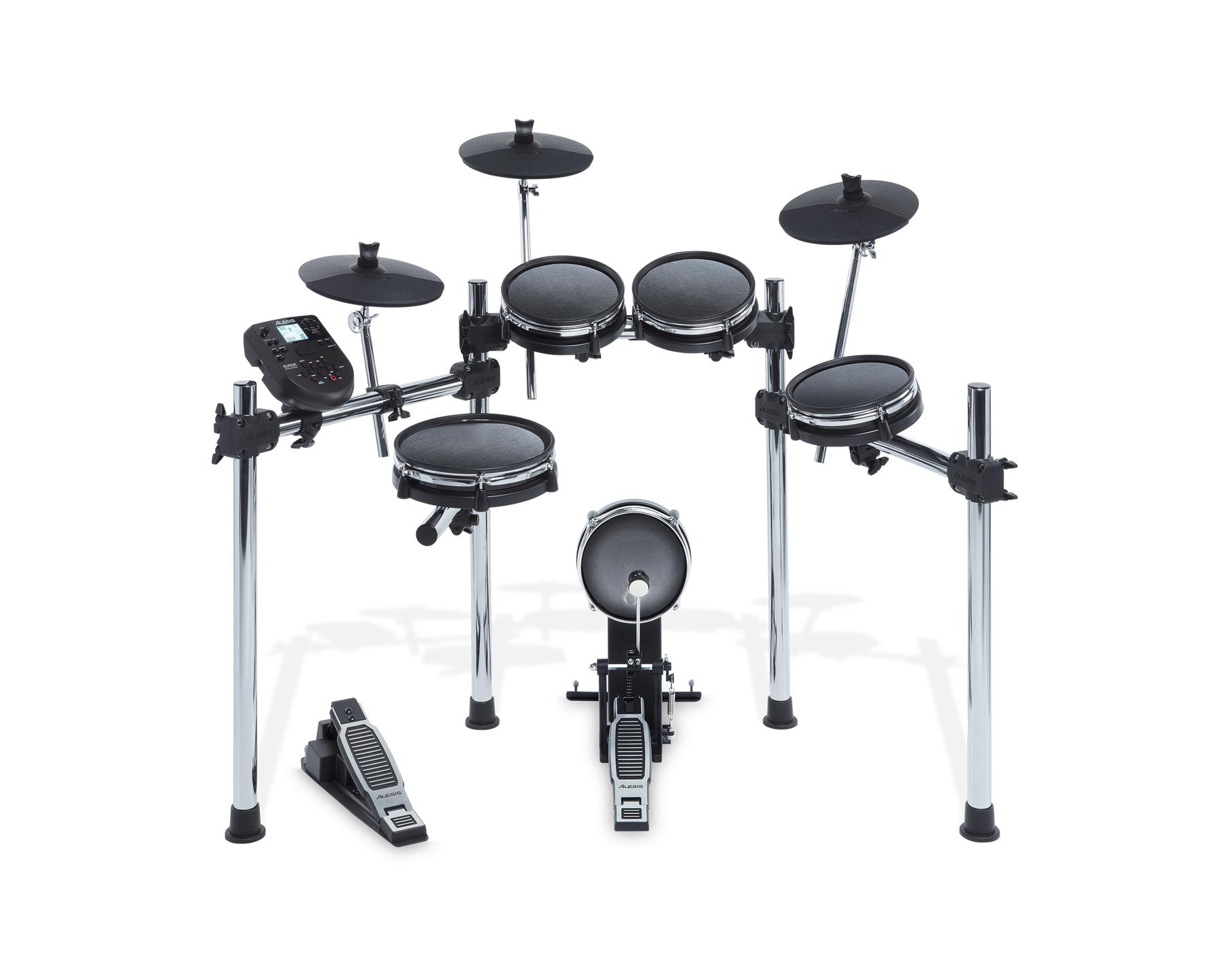 Cons of both drum kits
Relatively limited modules: The drum modules on the Surge and the Nitro kit are practically the same, and although they come with a decent amount of sounds and kits, they lack other more advanced features.
Sensitivity: The trigger sensors in these entry-level e-drum kits are not as sensitive as the triggers in higher-end drum kits, but this is expected.
Both drums have only single-zone cymbals.
Alesis Surge Mesh Kit – Price Comparison
Alesis Nitro Mesh Kit – Price Comparison
Surge vs. Nitro Drum Module
The drum modules in the Surge and the Nitro kits are practically the same, and the only difference is how they look. That's not a bad thing, though. These drum modules have been here for a while and have proven that they are good value for money.
Even though they do not offer any professional features such as custom sampling or high effects and sound editing capabilities, they are great at what they offer, particularly for the given price. These e-drum kits are made to be beginner-friendly and missing a couple of pro features, which is only natural at this price point.
Both drum modules have two main outputs to connect the drum kit to a PA system, and they have a headphone jack as well. You also get two additional pads or cymbal inputs if you want to expand your kit. Both kits have a metronome and onboard recording built-in, which is excellent for practicing and learning new songs.
Sounds
Both sound modules come with 40 kits and 385 sounds to choose from. The sounds that they have are of good quality, and overall the module is of good value. You get nothing more and nothing less of what you paid for.
Kick
The kick pad is one of the most significant differences in these e-drum kits. The Alesis Surge kit has a mesh material kick pad, and the Nitro kit has a rubber pad. This may not seem like a big deal, but the mesh head is a little quieter and has tension rods so that you can adjust the head's tension to better suit your playstyle.
Snare and Toms
The Nitro kit comes with an 8" mesh snare, while the Surge kit has a 10" mesh snare. They are both dual-zone and mounted to the drum rack. Ten inches snare pad feels closer to a traditional acoustic drum set and is considered a better option for the snare pad.
The tom pads are also better on the Surge kit only in one area. The Surge kit tom pads have dual-zone triggers so that you can play both on the head and the rim, while the Nitro kit has only single-zone tom pads.
They both share the same configuration when it comes to tom pads. Three 8" mesh tom pads that are tuneable are a great value in these lower-end e-drum kits.
Cymbal Pads
The Surge and the Nitro kit have one 10" ride cymbal, one 10" crash cymbal, and a 10" hi-hat. The hi-hat is controlled by an electronic hi-hat pedal, which is expected at lower-end e-drum kits.
The only thing that might have been better is if Alesis included dual-trigger cymbals. Instead, both the crash and the ride cymbals have single-triggers. The crash cymbal pad is chokeable, so that's always a good thing.
Alternatives
Some alternative drum kits that share a similar price point as the Surge and the Nitro kit are Alesis Command Mesh Kit, Roland TD-1DMK V-Drums, Millenium MPS-850, and Donner DED-300.
The MPS-850 and the DED-300 are closer to Surge and Nitro in price and features, while the Command Mesh Kit and the TD-1DMK are a little more expensive but offer more features.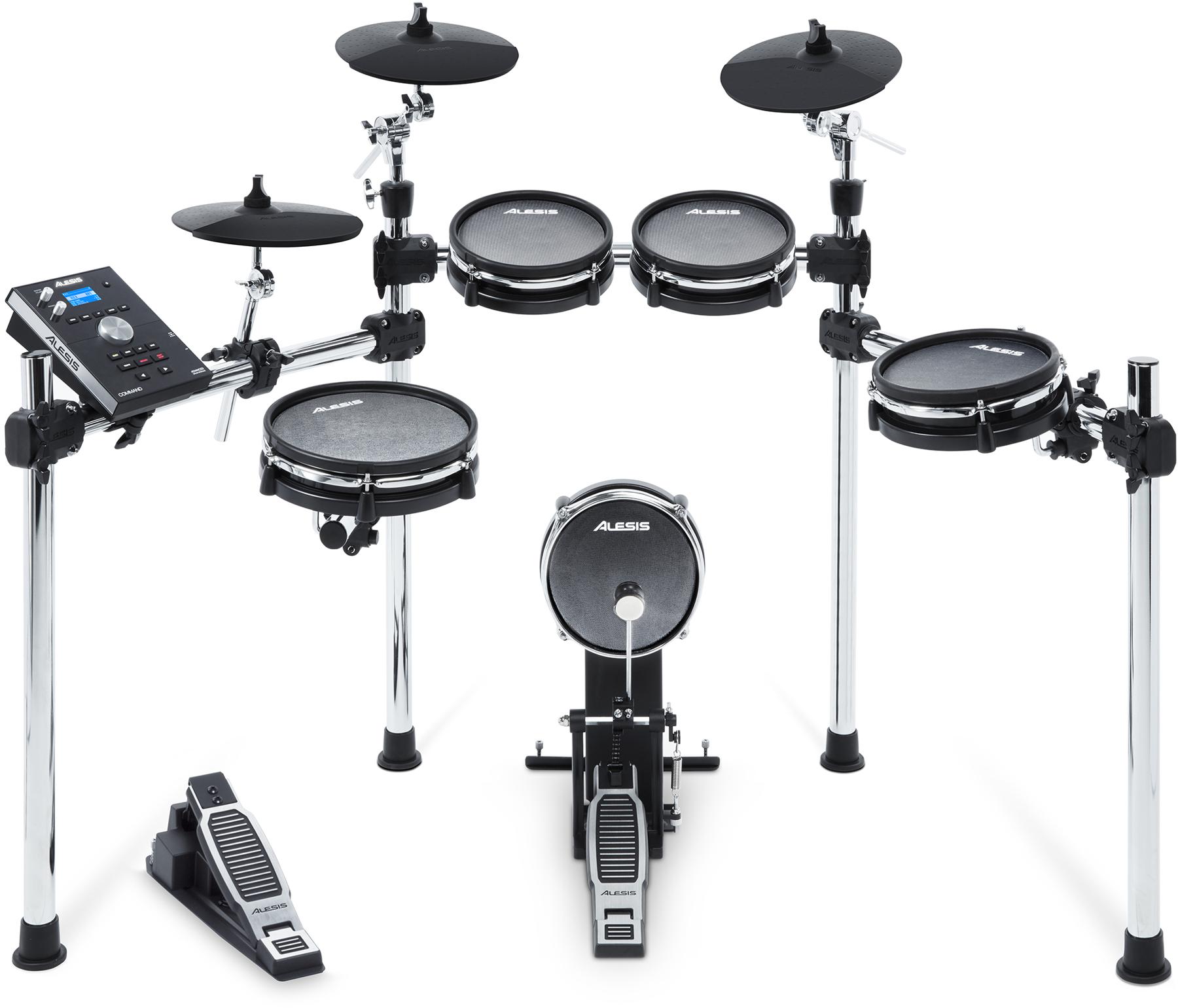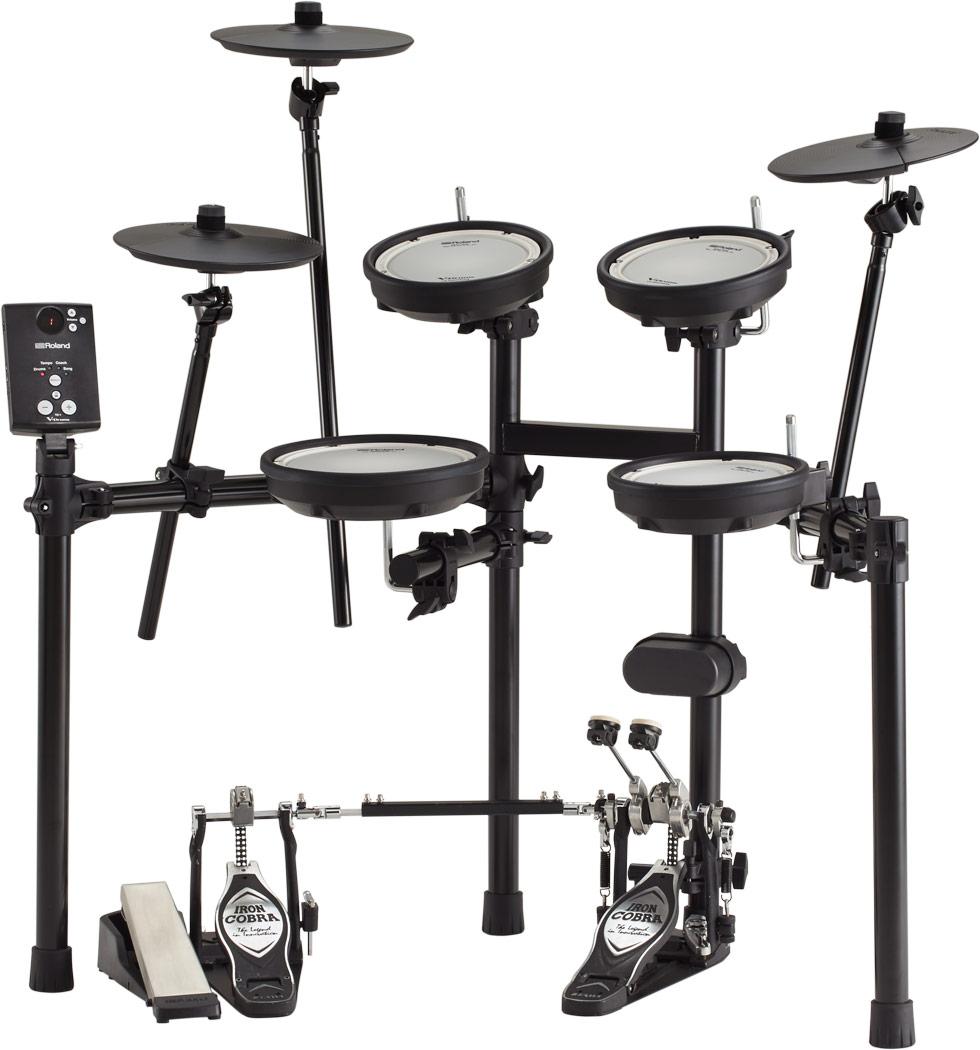 Is The Alesis Nitro Mesh Kit Worth it?
The Alesis Nitro Mesh Kit is one of the best value for money e-drum kits. They are great for beginners and drummers that need to practice quietly. Packed with many sounds and kits, they make it hard to get bored while drumming.
Is Alesis Surge Mesh Kit Good?
The short answer is: yes. The Alesis Surge Mesh kit has all the features that most drummers need for practicing at home. The tunable mesh heads and different sounds and kits are well worth the price.
Conclusion
It all comes down to which one is better for you. You won't make a mistake if you go for either, but one should be better suited for you.
If you are on a budget and price is a concern, look no further than the Alesis Nitro Mesh kit. It has everything that a beginner drummer needs and most things that an advanced drummer might need for practicing.
If you are willing to spend a bit more, then Surge Mesh Kit is the obvious choice. The better kick pad, bigger snare, and dual-zone toms are worth the price difference.