Alesis Command Mesh Kit Review – Electronic Drum Set
You probably remember when the electronic drum set market was only limited to two Japanese giants: Roland and Yamaha. They were the first that created a wide array of potential electronic kits for appropriate customers.
In the last few decades, the electronic drum market exploded and became a battleground due to technological advancements. Finally, you do not have to spare the entire fortune to get a proper e-drum, especially because you can find the ones in the mid and entry-price range.
Alesis Command Mesh Kit
0.00
One of the most emerging brands when it comes to electronic sets is Alesis which will provide you with more than just entry-level sets. Today, it is the third name in the world of electronic drumming which is a fantastic thing that will help you along the way.
Its popularity is happening due to its ability and history of affordable electronic music gear such as SR16 drum machine to 3630 compressor. Today, they can provide you with high-end electronic drums for a decent price tag.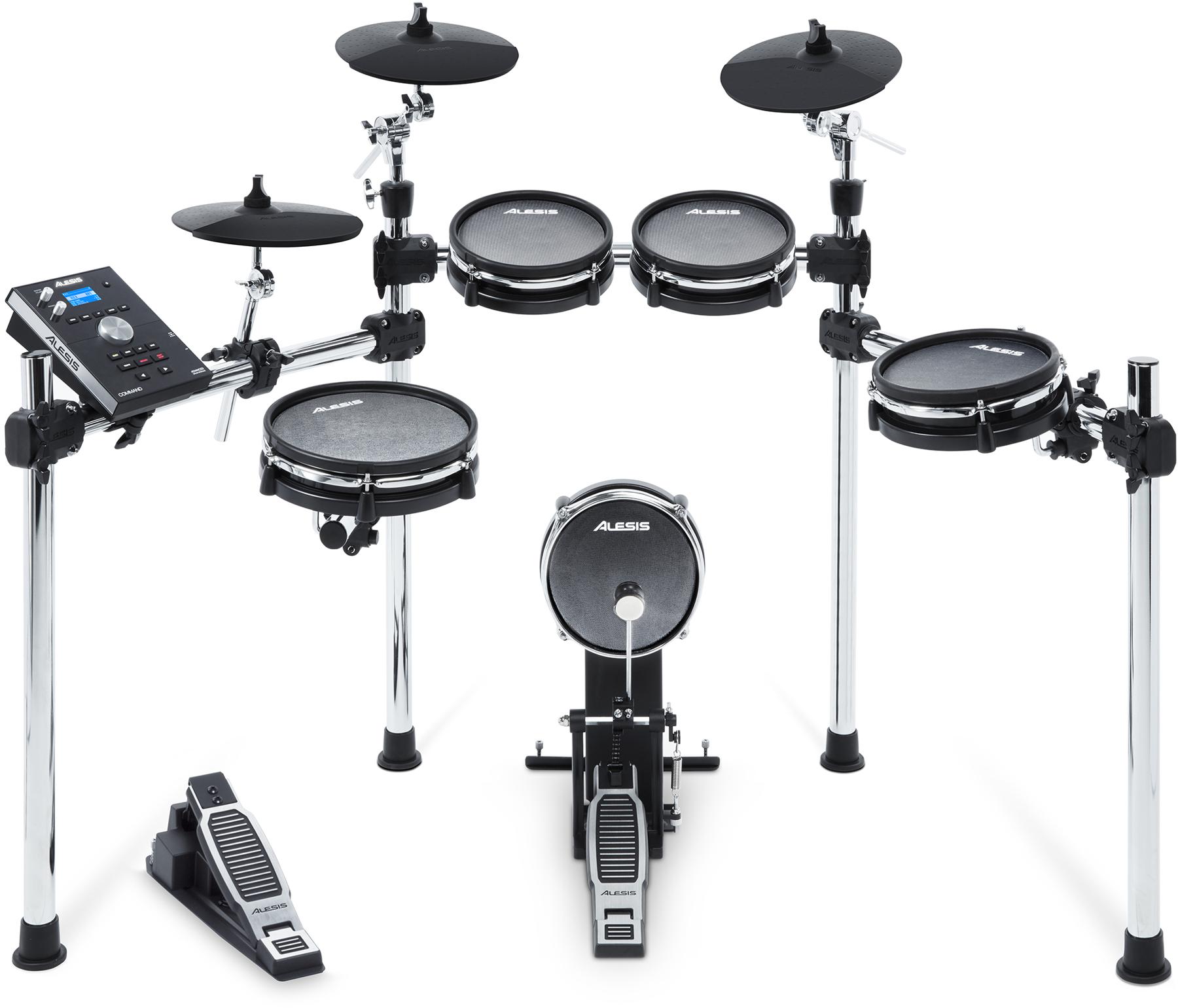 We have to mention Alesis Command Mesh kit that will provide you with a realistic playing experience along the way. Let us see what you will get with this particular drum set:
Construction
It is vital to understand that Alesis Command Mesh electronic drum is a set that sits between two different, previous Alesis sets. The first one is a premium offering, the Strike and the Surge, which will also provide you with all-mesh pads.
It comes with a five-piece plus cymbals kit configuration, which means that it comprises a 10-inch snare pad,8-inch tom pads, and 8-inch bass drum pad that you can use as a mesh head.
Both tom pads and snare contain the dual-zone feature, which means that you will be able to assign a separate sound to the rim and head of each pad. That will provide you with additional versatility and the possibility to generate up to eight voices from these pads.
You will also get ten inches cymbal pads such as hi-hats, crash and ride, as well as a hi-hat controller pedal that you will arrive within the package.
Apart from these things, you will get a thick and sturdy 1-1/12-inches tube rack system, which is similar to ones found in Yamaha and Roland, as well as a bass drum pedal.
You do not have to worry because it features a USB MIDI connection that will allow you to record MIDI data to your computer.
At the same time, it comprises 3.5mm auxiliary input and headphone jacks as well as standard MIDI in/out sockets and expansion pad inputs for additional cymbal and tom pad. You will find on the side module a USB socket that will give you the possibility to connect a memory stick that contains samples or jam tracks.
Sound Features
Similarly, as with other brands, Alesis features a flat pack style kit, which means that you will have to build it as soon as you get it inside. This is an unavoidable moment, and it could be overwhelming for some people, but you will get a photographic guide that will help you.
You can check out this video so that you can learn how to mount it with ease.
The aesthetical perspective is nice-looking, and when we compare it with other models within the price range, you will get a fantastic piece that you can enjoy all the way.
You will also get rotary control in the middle so that you can navigate through preset kits and edit sounds that will provide you the ability to play along.
Each sound and voice that you will get with the kit will be selected by hitting the appropriate surface and adjusting the parameters such as pitch, decay time, volume, reverb, and many more.
Even though it comes with a decent display, when we compare it with others within the price range, you will be able to find the better one. You can control and navigate through it with a slick interface, and tap through the options that you may need.
Have in mind those modules you choose will provide you the overall enjoyment and feel of the kit. You can find a wide array of acoustic presets based on music genres such as funk, rock, jazz, and power style as well.
Of course, you can rest assured because electro standards and presets are also incredible and you can program handclaps, snappy snares, electronic toms, 808 kicks, and many more. It features integrated percussions so that you can play a wide array of styles.
You will be able to control it by connecting it with a mobile device or your Smartphone by using 3.5 auxiliary inputs, or through a USB memory stick. We have mentioned above, that the USB feature will also provide you with the ability to import custom samples.
You should understand that the manual states that this particular function will work only if you use a USB stick that features at least 4GB and up to 64GB. According to some users, sticks below 4GB will not work.
You also have to format it to DOS Fat 32, which is simple to do on your PC. The idea is that all samples you wish to implement have to be in .wav format and mono. As soon as you place the USB stick, you should trigger the samples folder on the screen.
The idea is to select the file and import it inside the module. When you do it, you should scroll to the beginning of the list so that you can assign it to the specific pad you prefer. Even though it sounds challenging to do, you will get used to it as time goes by.
Limitations
The Alesis Command Mesh Kit is an excellent choice for its price tag, but it features some limitations as well. Even though you will get decent features and functionality when you unpack it, the hi-hat controls are springier when compared with other sets on the market.
Even though most people state that a bass drum pad comes with a sturdy pedal that will stand the test of time, mounting hardware is prone to moving after more massive strikes. Therefore, you will have to tighten it securely, so that you can avoid the fiddly sound.
Ranking Factors
The Alesis Command Mesh Kit is a popular electronic drum set, with great feedback overall. For instance, dual-zone cymbal pads are great to have, especially if you wish to enjoy versatile sounds for various styles.
However, you should still be able to think that the primary goal of this kit is to provide you with a decent set that will hit your relevant price point. However, you will not feel that the price tag has compromised the design and functionality.
Therefore, we can easily say that apart from Roland and Yamaha, this is the best brand that will provide you competitive package with unusual sounds and versatility.
Value For Money – 9/10 – According to most previous users, the overall price tag is affordable for the number of features you will get.
Features – 9/10 – Even though it is a basic electronic drum set, the price tag won't affect the number of features and the ability to upload different presets and play along with sounds.
Playability – 8/10 – The main problem is the springy feel of the hi-hat, which means that you will need some time to get used to it, especially if it is your first time.
Sound Quality – 7/10 – You will be able to connect it with your mobile device and PC so that you can upload presets and samples in .wav format.
Final Verdict
As you can see from everything, we have mentioned above; the Alesis Command Mesh Kit is an excellent choice that will provide you perfect alternative to an acoustic drum set especially if this is the first electronic set you wish to choose.
Of course, it comes with some limitations, but when you compare it with other sets within the price range; you can rest assured because you will not make a mistake.
If you have additional questions or experience when it comes to this particular set, feel free to leave a comment in the section below.
Images – Courtesy of Alesis