The 6 Best Alesis Electronic Drum Sets (2023)
Alesis have massively improved their range of electronic drum sets in recent years. They are great for practicing, recording, and performing live. If you're not sure which set you should opt for, this round-up shortlists the best Alesis electronic drum sets that you can get for your money.
The best Alesis electronic drum kit is the Alesis Strike Pro SE Kit. It offers amazing value for this price point and it includes one of the best drum modules in the industry.
The best budget Alesis electronic drum set is the Alesis Nitro Mesh Kit. However, they also have an even more affordable option, which is called the Alesis Turbo Mesh Kit.
The 6 Best Alesis Electronic Drum Sets (2023)
Let's look at them in more detail.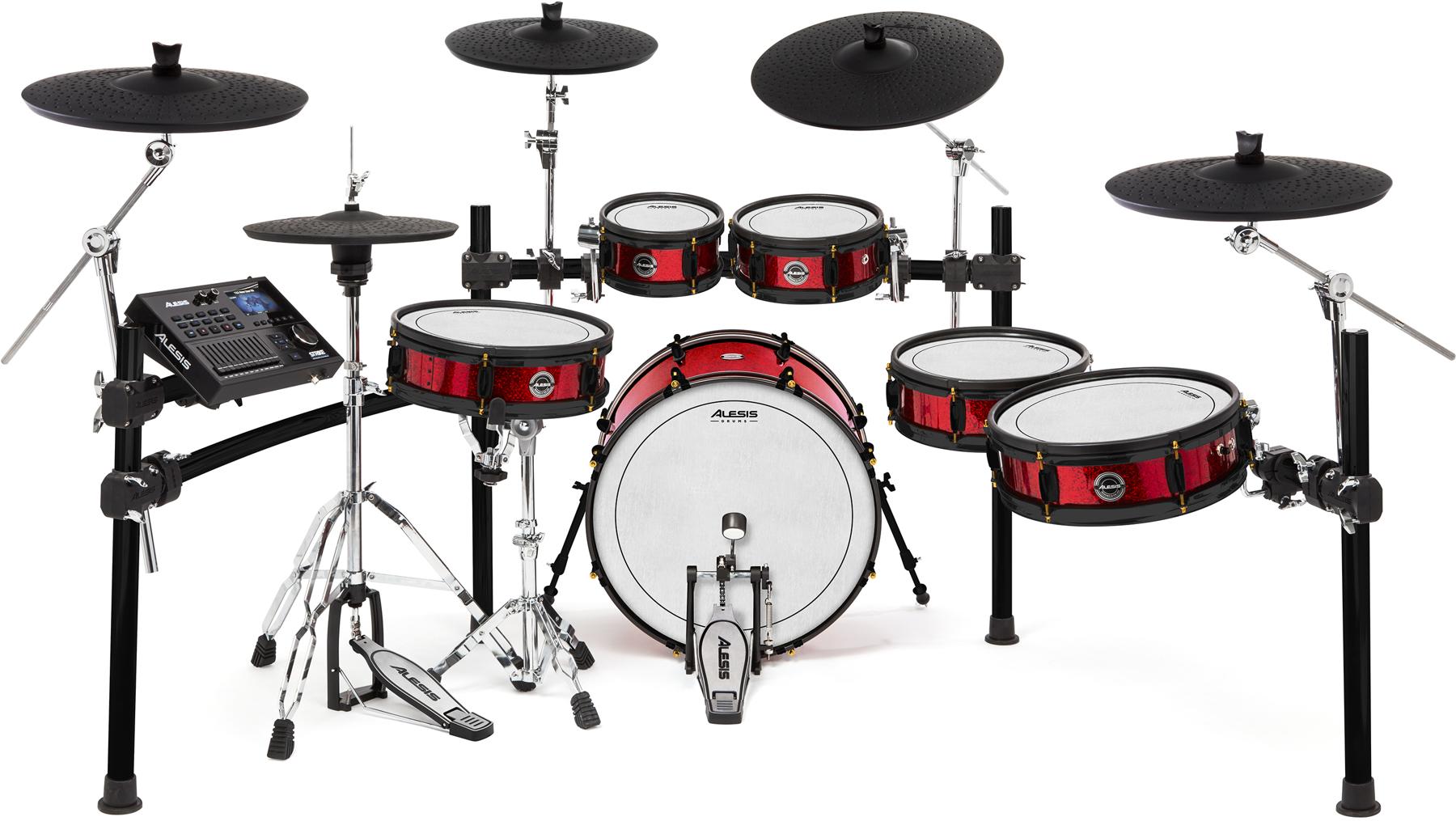 The Alesis Strike Pro SE Kit integrates a snare, a hi-hat, 4 cymbals, and 4 toms, in addition to a 20" kick drum, which is the star of the show. The kick drum closely resembles playing acoustic drums, making the transition much smoother for you.
The SE here stands for "special edition", and it's far better than the original Alesis Strike Pro Kit from the perspective of build quality.
Additionally, the Strike Pro SE comes with a sturdy rack that lets you adjust your set effortlessly, just like how you'd adjust an acoustic drum set.
Pros
Great module
Realistic mesh heads
3-zone triggers
High value for the money
Cons
No hi-hat stand
Build quality is not reported to be as good as Roland or Yamaha (though the SE edition of this kit is far more solid than the original version)
One of the things that make the Strike Pro SE Kit stand out from the crowd is its innovative module. With 45,000 samples forged from 1,800 instruments and 136 custom kits, nothing out there even comes close to what this drum set has to offer.
Moreover, the Strike Pro SE features mesh heads that provide an authentic acoustic drum experience. Oh, and did I mention that the toms and cymbals integrate 3-zone triggers? That's right; these are no longer exclusive to high-end kits, and the best thing about them is that they're quite durable.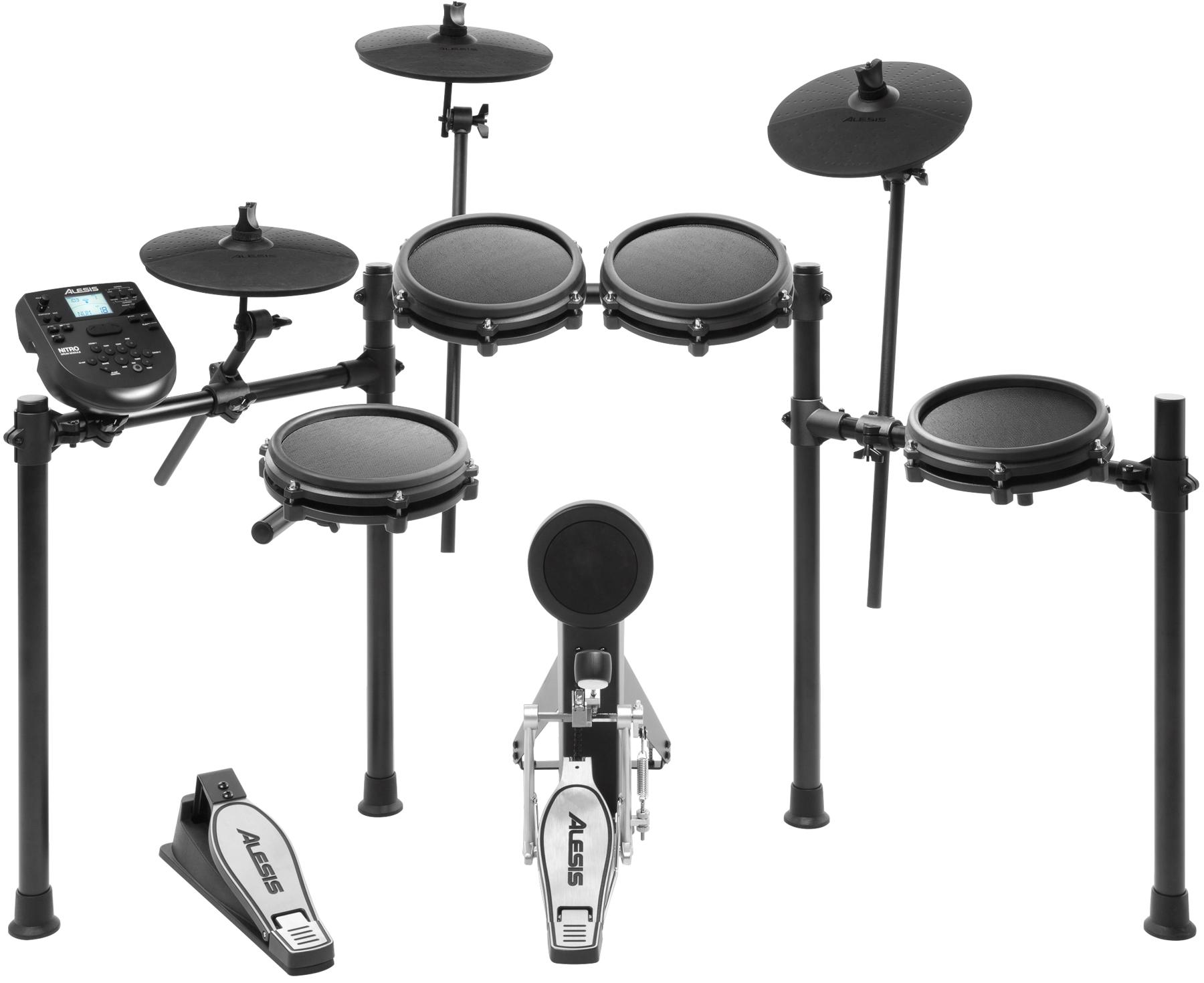 Considering its low price tag, the Alesis Nitro Mesh Kit might seem like a poor-quality electronic drum set. However, this turned out to be far from true.
One particular feature that makes the Nitro Mesh worth buying is the integration of mesh heads for the snare and tom heads instead of rubber ones. These mesh heads feel much more natural and authentic than their rubber counterparts.
Not to mention, the heads are tunable, enabling you to tweak them and customize their sensitivity and rebound. I also like the fact that this set has a real kick pad instead of an electronic one, which adds to its overall feel and performance.
Pros
The module is easy to use for beginners
Tunable mesh heads with a natural feel
Has a kick pad
Budget-friendly
Versatile recording capabilities
Cons
The rack isn't very adjustable
Small heads
The module is considered somewhat basic, which can be a good or bad thing depending on your experience. For beginners, this module is great because it's straightforward to use. It even makes drum kit switching and recording a breeze.
On top of that, the module is MIDI compatible, allowing you to utilize external sample recording and triggering by connecting the kit to your PC. It can also be quite handy when performing live or even practicing since you can connect the kit to a PA or drum amp to spice things up a bit.
There are 3 ways to record with this kit; either by using the module, audio output, or MIDI conversion.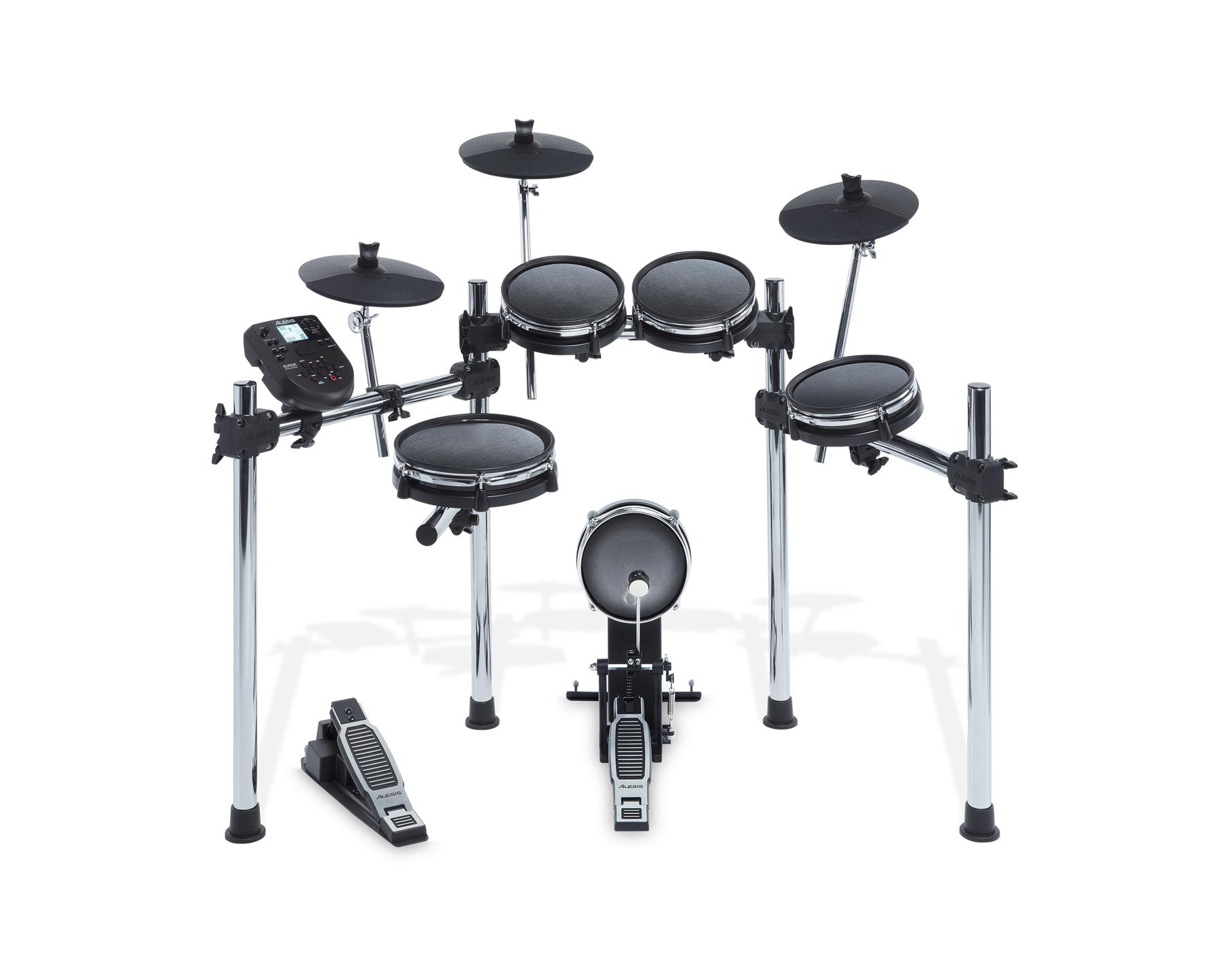 The Alesis Surge Mesh Kit flaunts mesh heads that provide a natural feel and makes playing on them much more comfortable.
One particular complaint from most drummers is how rubber heads strain their wrists. And while rubber heads are generally considered more durable than mesh heads, mesh heads aren't that far behind, even if you're a hard hitter.
The dual-zone pads are very useful for adding extra effects and sounds. Only the heads are dual-zone, though; the three cymbals are single-zone.
Pros
Mesh dual-zone pads
Easy to set up
High quality and lightweight four-stack construction
Plenty of sounds to play with
Cons
Noisy hi-hats
Adjusting the rack can be challenging for taller drummers
The set is pretty easy to set up, thanks to the lightweight four-stack construction. The good news is that the overall hardware quality isn't negatively affected by the lightweight design. The pads and pedals hold their positions pretty well, even if you hit them hard.
It's also worth noting that the module comes with a wide range of software tricks to modify your sounds, with a capacity of 40 presets, 16 user kits, and 24 out-of-the-box presets. In addition, you get a whopping 385 individual instruments that allow you to get creative with your performance.
The dynamics of this drum kit are so-so, but you won't have much of an issue if you're a beginner or intermediate player.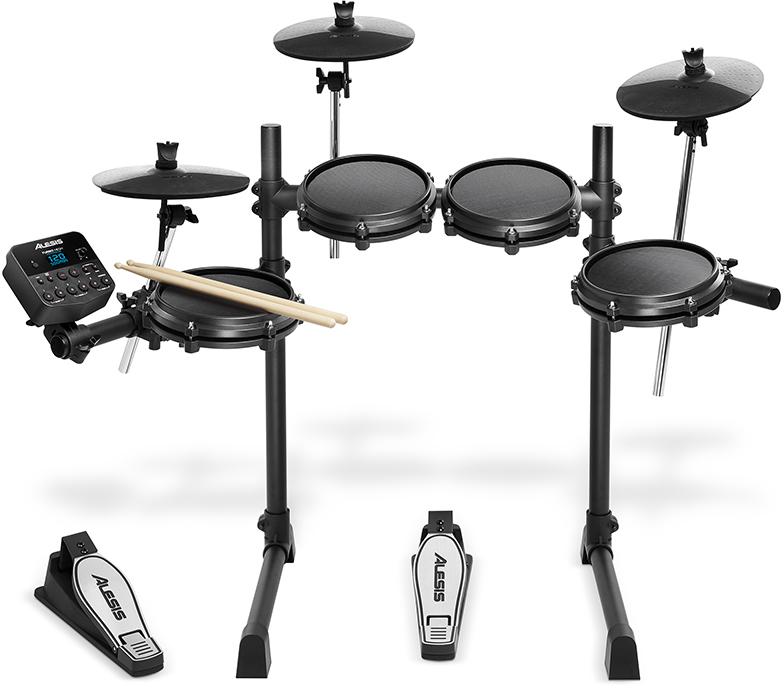 The Alesis Turbo Mesh Kit sports a great module that has 10 different kit presets, in addition to 4 electronic drums presets, 4 different acoustic drum presets, an African/Cuban sound set, and a Chinese sound set.
What's more, the module supports MIDI I/O and ¼" and ⅛" I/O, allowing you to produce a wide range of sounds by programming the processor.
There's an LCD display that houses the digital knobs and buttons, which are easily accessible.
Pros
Excellent module
Uses mesh heads
Coaching feature
Sturdy aluminum rack
The kit itself has a 1×8" mesh snare drum and 3×8" mesh toms, a kick, 3×10" cymbals, a hi-hat pedal, and a durable aluminum rack. And just like many of Alesis' recent models, the Turbo set ditches the rubber heads for mesh heads that not only sound better but also feel more natural.
Another notable feature is the built-in coaching function that utilizes a metronome with a set of different rhythms for you to play along with.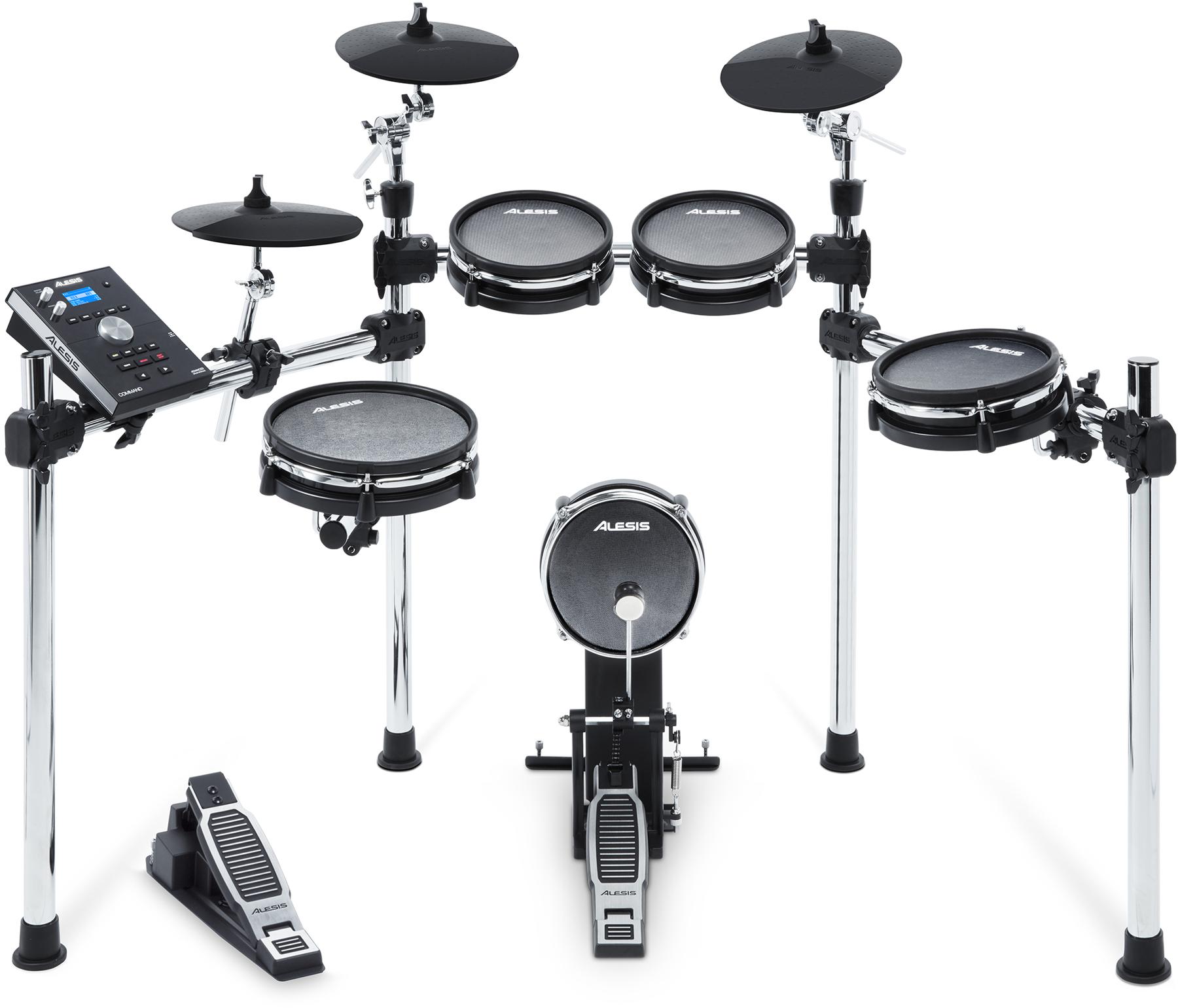 The Alesis Command Mesh Kit configuration encompasses 8-inch tom pads, a 10-inch snare pad, and an 8-inch bass drum pad which also doubles as a mesh head.
On top of that, you can assign different sounds to the rim and head of each pad, thanks to the dual-zone function. This also means that you can produce as many as 8 voices from this setup.
In addition, the kit includes 10-inch cymbal pads that include hi-hats and crash and ride. I'm also a big fan of the robust 1-1/12-inches tube rack system that comes with this set. It reminds me of the systems found in higher-end kits from Roland and Yamaha.
Pros
Uses mesh heads
Dual-zone pads
Excellent tube rack system
Customizable presets
Cons
Springy hi-hats
The bass pedal's mount is not amazing
What's more, the Command Mesh utilizes mesh heads that are 10x better than the rubber ones found in older Alesis models.
As for the module, you'll find lots of acoustic presets from dozens of genres like jazz, funk, and rock. Plus, you get some electro standards and presets that you can customize by integrating snappy snares, 808 kicks, handclaps, and other effects. Percussions are included, too.
The Alesis Crimson Mesh Kit flaunts dual-zone toms that give you more freedom with your sounds. There's a dual-zone floor tom, too. The set also comprises an 8" compact kick drum coupled with a 12" dual response snare that maximizes the playing surface.
Further, you get a 5-piece hub that includes 2 12" crash cymbals, a 14" triple-zone activated ride, a 12″ hi-hat with a detached pedal, and dual-zone floor toms. I particularly like the crash and ride response; it's as close as you can get to the real deal at this price point.
Pros
Real-time recording
Well-engineered module
Dual-zone toms
Mesh heads provide an acoustic feel
The 4-post rack has a quick lock that lets you play freely and hit as hard as you can. It's also worth mentioning that the heads are of the mesh type, which ensures a more realistic feel and better bounce.
Setting up this kit is pretty easy. But even though the L-rods and tom brackets are somewhat adjustable, the snare stand can be restrictive in terms of height adjustment.
The Crimson Mesh's module is jacked up with a wide array of sounds to mess around with. These include 54 onboard kits and 20 user-created patches that comprise 671 sampled sounds.
The icing on top is the live recording feature that makes practicing with this kit a lot more fun.
Are Alesis Drum Kits Any Good?
Alesis makes some pretty capable electronic drum kits, and even though they don't sound that great compared to other higher-end kits, they're a nice choice for beginners and intermediate players.
What Is Better: Roland or Alesis?
Generally speaking, Alesis targets budget-minded musicians who want to get capable electronic drum sets at reasonable prices, while Roland focuses on providing high-quality sets regardless of the price tag.
However, things have changed quite a bit in recent years, with Roland offering some value electronic drum sets and Alesis providing some high-end drum sets.
And while Roland is known for its cutting-edge pad sensitivity and triggering, Alesis offers much more bang for your buck.
Your best bet is to compare individual models based on your budget and needs instead of comparing the two brands since each of them has broad offerings.
Summary
So that was a brief overview of some of the best Alesis electronic drum sets you can find on the market. Almost all of them are affordable, so if you're still testing the waters, this is where to start.
The Alesis Strike Pro SE is hands-down the best Alesis electronic drum set.
Alternatively, you can opt for the Alesis Nitro Mesh if you're on a tight budget. It's super easy to use and comes with a kick pad.
Finally, consider going for the Alesis Crimson Mesh Kit if you have a mid-ranged budget.
Images – Courtesy of Alesis