Alesis Surge Mesh Kit Review – Is It Worth It?
Electronic drums are not just expensive toys for professionals anymore. These days, you can find plenty of affordable kits that work well for both beginners and intermediate players.
A big drawback of these entry-level kits is rubber drum heads. Every drummer prefers a natural feel and sound while playing, even with headphones in their ears. Moreover, rubber can be quite tiring for wrists.
Alesis Surge Mesh Kit
0.00
Alesis came up with a completely new kit, which makes everything much more convenient. It comes with drumheads that closely resemble acoustic kits. These heads are not just made of mesh, but also tunable, which makes the overall feel even more natural.
Other than mesh drumheads, the Alesis Surge Mesh Kit is pretty much a typical electronic drum set, with all essential pieces and a pretty decent module with plenty of sound options.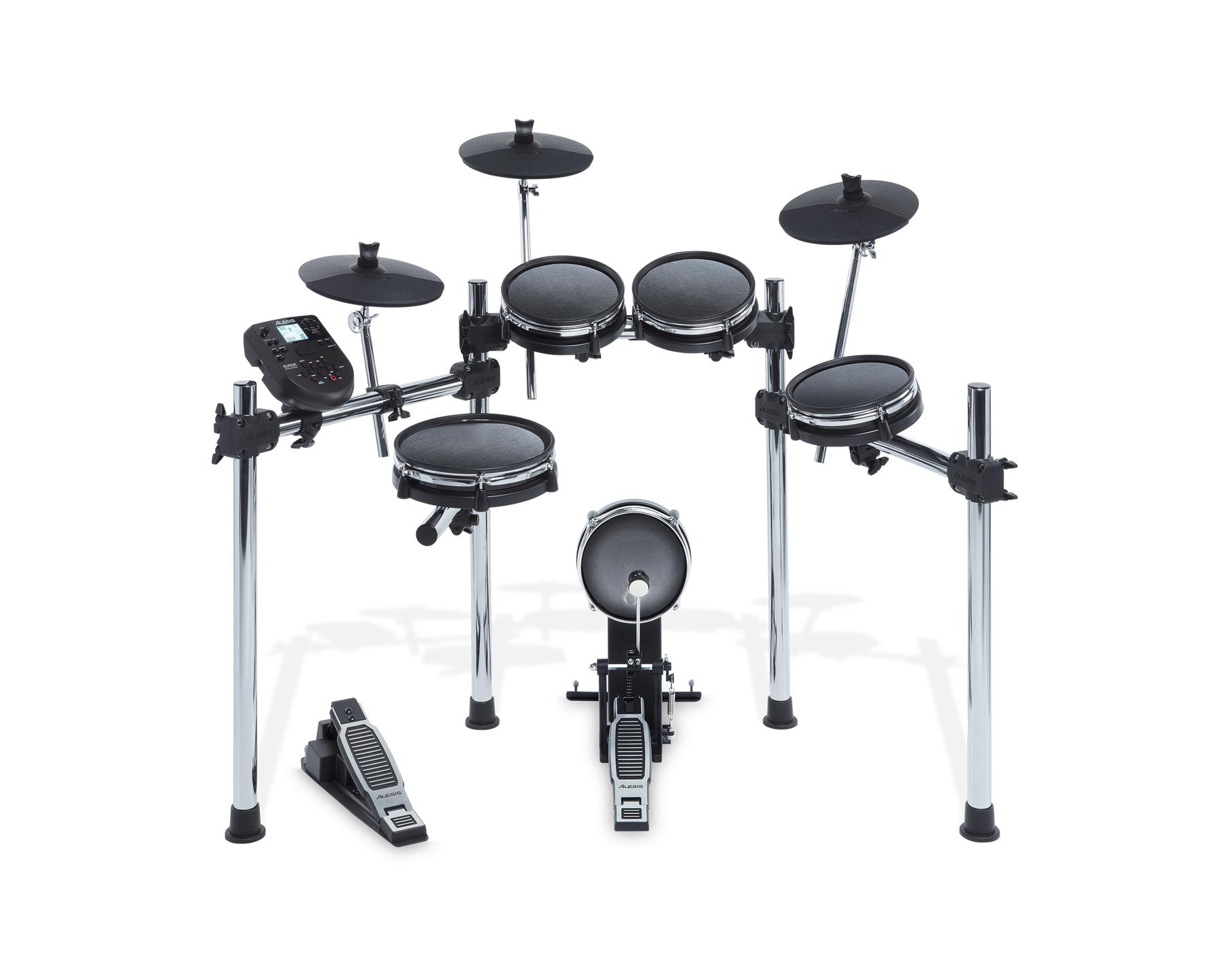 So, let's start with all the features of this interesting kit.
Alesis Surge Mesh Kit Features
As I've already mentioned, this is pretty much a typical entry-level drum set. Other than mesh heads, things are quite typical for this price range. There are eight drumming pads in total. Five of them are mesh heads, while three are cymbals.
That seems like a pretty basic set, which Alesis Surge Mesh Kit actually is. There are one 10" snare and three 8" toms. The kick pad also features 8 inches in diameter. Someone would say it's too small for a bass, but it actually works pretty well, mainly because of pretty sturdy construction.
All five pads are real mesh heads, tunable. Each pad works just like a common acoustic head. So, besides the pitch, you can also set up the rebound and sensitivity, which leaves a lot of space for customization.
Another important thing that has to be mentioned is that all heads are dual-zone pads.
Unfortunately, you get three single-zone cymbals but, to be honest, it would be too much to expect anything more for this price tag.
My impressions about the overall hardware quality are pretty good. This includes the rack as well. The four-stack construction is very light and, more importantly, very easy to set up.
On the other side, it is sturdy enough to ensure almost no movement of any pad. This refers to pedals as well. These two are massive and say in place no matter how hard hitter you actually are.
Module
A module is the brain of every electronic drum set and this one is pretty clever. It is practically the same module that the company uses for the Nitro drum kit, despite it having been re-labeled. This is a good thing since we liked the module from the Nitro kit very much.
The slightly rounded module features a small LCD screen, which is very easy to navigate. There are several buttons around, but things aren't complicated. For more convenient use, the bottom group of the buttons is organized in such a way to correspond typical drum set.
Besides well-designed hardware, the software is quite decent as well. The module has a capacity for 40 presets, 24 out-of-the-box presets, and 16 user kits. Also, there are 385 individual instruments to play with.
Such a number covers pretty much all popular genres of music. You can find various types of drum sets and percussions, but also plenty of electronic sounds, DJ effects, and more. Of course, Alesis engineers paid a lot of attention to beginners, so there are 60 built-in MIDI backing tracks to play along with.
In terms of connectivity features, all the essentials are here. Count on the headphone out, aux in left and right ¼" master outs, MIDI in and out, and USB port. Seems pretty convenient.
Playing Experience
It's not hard to guess that the most distinctive thing about this kit is the drumheads. In this price range, most electronic drums come with cheaper rubber heads. The difference in playing is huge and that's the main advantage of the Alesis Surge Mesh Kit.
I have no doubt that pretty much every drummer would always pick mesh over rubber and the reasons are obvious. First of all, the mesh provides a natural feel, practically the same as acoustic drums.
Also, a great benefit is that you can set the tension. Finally, many drummers complain that rubber heads put far more pressure on wrists, which is critical for anyone who practices for hours.
The only advantage of rubber heads (besides more affordable price, obviously) is durability. They usually last longer, but from my own experience, mesh drumheads are durable enough to stand even the hardest hitters and last for a very long time.
Ergonomics
In terms of ergonomics, the Alesis Surge Mesh Kit is a pretty typical electronic drum set. Dimensions are pretty common, while the whole rack allows lots of adjustabilities. All in all, most people will be able to find a good position, except for those taller ones.
Despite that, all pads feature a lot of travel and can be put in pretty much any position, the complete rack doesn't go too high. Somehow, it always feels too low, which could be frustrating sometimes.
On the other side, pretty much everyone older than 7 years should be able to play it with ease.
Sound Quality and Playing Experience
The thing we liked most about this drum kit is the simplicity of use. The hardware is very easy to set up, while the module seems pretty straightforward and navigates with ease. All in all, it shouldn't take more than ten minutes to prepare for playing.
When it comes to sound quality, the overall impression is pretty good. Keep in mind that this is an entry-level drum kit, so it would be hard to expect the sound we used to get from professional electronic drums that cost thousands of dollars.
Dual-zone pads are very useful, especially if you want to add some extra sounds and effects. Still, a major complaint goes to dynamics. Beginners and intermediate players will find them, okay, but more experienced drummers will notice issues in this aspect. Another weak point is the hi-hat, which delivers too much-unwanted noise.
Still, this doesn't change the fact that the overall sound quality seems good, especially if we consider the price tag.
Pros
Mesh Drumheads – Far better-playing experience compared to rubber heads that are typical for this price range. More natural feel, less wrist tension, and fatigue.
Decent Hardware Quality – Solid and stable rack. All pads are easy to adjust and feel very durable as well.
Lots of Sounds – All the essentials are here. The module features 40 presets, and 385 individual sounds.
Dual-Zone Drumheads – Adds plenty of options, you can assign various kinds of sounds and effects.
Cons
Dynamics – More experienced drummers may lack dynamics in play. Shouldn't be taken as a huge drawback, given the price range.
Rack Adjustability – Taller drummers could struggle to find the perfect position.
Verdict
Alesis has become a serious player on the market of electronic drums and many see this company as a manufacturer that usually offers a great value for the money. This product is not an exception at all. Moreover, it is a perfect example of how this company thinks not just about professionals and their preferences but provides amazing convenience to beginners as well.
You won't find many electronic drum kits with mesh heads in this price range and that is by far the best thing about this product. Other than that, we are talking about pretty average characteristics for the class.
Still, there are more good than bad things. This is a perfect product for beginner and intermediate drummers, but could also serve as an affordable practice kit for professionals.
Simply said – a very good value for the money, definitely worth trying.
Images – Courtesy of Alesis