Alesis Turbo Mesh Review – Is It Worth It?
The Turbo Mesh kit is another addition to the low-cost product range of Alesis. This one is even cheaper and more compact than their hugely popular Nitro Mesh kit.
We're going to explain everything you need to know about the Alesis Turbo Mesh kit in this article.
Alesis Turbo Mesh Kit
0.00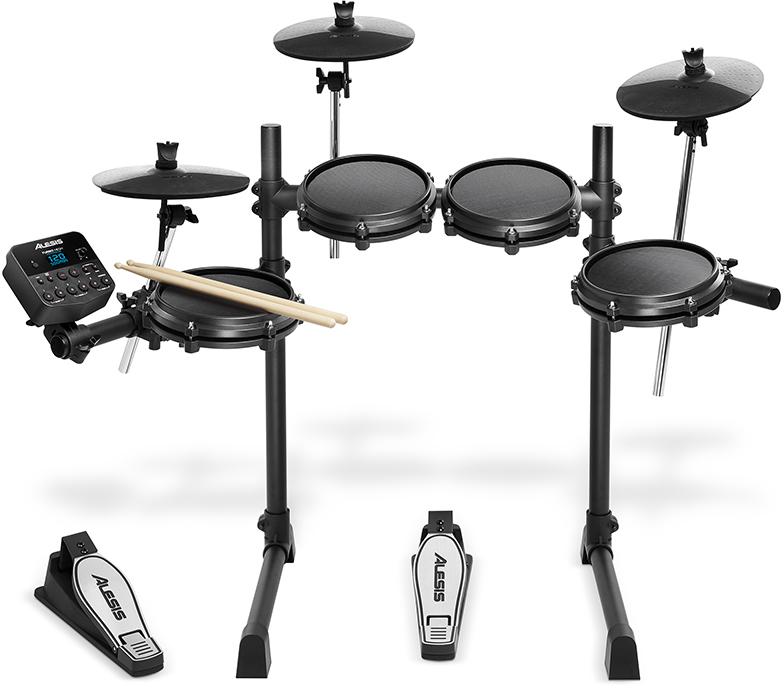 Differences Between the Alesis Nitro Mesh and the Alesis Turbo Mesh
Before we get into the details of the Turbo Mesh Kit, many people will want to get a birds-eye view of the differences between these two kits.
These are not the only differences, but they are the main ones that would influence your decisions on which one to buy:
Usually a cheaper kit, more compact rack, electronic kick pedal (quieter and more compact)
Bigger rack, better drum module, kick tower and pedal (much more realistic and better feel)
Kick Pedal vs Kick Tower: The Turbo Mesh simply has an electronic kick pedal. The Nitro Mesh has a kick tower and you use a standard acoustic kick pedal and beater.
The Rack: The rack on the Turbo Mesh is a bit more compact.
Quietness: The electronic kick pedal on the Turbo mesh makes it quieter than the Nitro Mesh.
Drum Module: The Nitro Mesh has a better module with a greater amount of sounds.
Price: The Turbo Mesh is usually a bit cheaper than the Nitro Mesh.
Here's a nice overview of the kit from GAK:
Kit parts
Inside of the kit you will get a fairly sturdy aluminum rack, 1×8" mesh snare drum and 3×8" mesh toms, 3×10" cymbals, a kick, and a hi-hat pedal. Also, you will get all the cables you need, and the drum module used to provide sound. The kit is well built and you will have no problem assembling it.
The great thing about the heads is that they are made of mesh. Mesh is a stretched material you can find to imitate the skins of acoustic drums. These particular drums even have the option of tuning and setting the tension of the heads.
If you're a beginner, playing mesh instead of rubber drum heads are going to do a lot for your playing development. Inside of all the meshes are one-zone triggers but you can't expect more in this price range.
Even though the kit is adjustable for different-sized players, do bear in mind that the drums are quite small. That is not that much of a problem if you're normal-sized, but if you're tall you might find that this kit is just not big enough for you to play.
Also, bear in mind that kick and hi-hat pedals are effectively footswitches. This accounts for making the drum kit so cheap, but in the long run, you will be better off with a kick drum tower as it has a completely different feel when playing it to the simple footswitch.
Sounds
All of the adjustments aside, the most important part of any drum kit is its sound. Here you will find 10 different kit presets in the module which you can very easily switch between. You get 4 different acoustic drum presets, 4 electronic drum presets, a Chinese sound set, and an African/Cuban sound set. The latter two are interesting as they will give you something different to play with and accommodate different sounds.
The sound of the drums themselves is really good and you will get good feedback on your playing when practicing. Different drum sounds also enable you to try different things and learn something new while playing.
The module also accommodates MIDI I/O and ¼" and 1/8" I/O, so you can easily program the processor to produce different sounds if you wish. This also enables you to use your drums for a lot more than just drumming the basic rhythm.
When looking at the module you will see it has a large LCD display. All of the knobs and buttons on it are well designed and of good quality. The mesh heads are quiet and are good to play on, which is a great bonus!
Player development
This electronic drum kit was developed for beginners and people on a budget. If you're looking for a starter kit, all of the features this kit provides are going to be great assets in your development.
First of all, the module comes with a preset of 30 songs to play along with. It's all easily done since the module has large rubber buttons and it's a no-brainer on how to use it.
Also, the module has its own coaching feature. It will give you different rhythms via the metronome and you must play along with the rhythm the machine is showing.
Conclusion
If you're a beginner looking for a very affordable electronic drum set then this is a decent option. It's a great option for beginners, the size can be adjusted even for kids, and it includes built-in coaching and metronome features.
If you have more money to spend then we would recommend that you check out our list of the best electronic drum sets, as this includes options for all budgets.
Beginners should have no issues with this drum kit as it is easy to use and user-friendly.
It's compact and fairly sturdy, meaning it will take a bit of a beating!
Not a bad option. Alesis are once again making the pricing and features of entry-level electronic drums extremely competitive!
Images – Courtesy of Alesis