Looking to give your kid a head start on playing the drums? Learning the basics of rhythm at an early age can make a big difference to their future drumming skills. Those abilities can also be applied to any other musical instrument later.
The market is now full of junior drum sets that are designed for kids from 3 to 10 years. Although smaller, they usually feature all essential parts that can be found in full-size drum sets.
My pick as the best drum set for kids is the Pearl Roadshow Jr. It's a quality junior drum set from a great brand.
My top pick as the best affordable kids drum set is the Mendini Kids Drum Set.
If you're interested in something different, then check out our guides on the best electronic drum sets for kids and drum sets for toddlers.
Here is a list of some of the best kids drum sets you can find on the market:
The 7 Best Drum Sets for Kids – Our Pick
Let's compare them in more detail:
The Pearl Roadshow Jr. is a great way to start your little one's drumming journey. The kit is a complete set, which includes everything a beginner drum may need.
This one is a 4-piece kit. That means a snare, a rack tom, a floor tom, and a kick drum. It also comes with 10" hi-hats and a 13" crash. For the hardware, there is a snare stand, a hi-hat stand, a boom cymbal holder, a throne, a kick pedal, and even a pair of sticks.
Pros
Complete set for beginners
High-quality shells
Includes good accessories
With this kit, Pearl is also giving a nice sound. The shells are 9-ply poplar and the snare is a standard Roadshow. Roadshow Jr. has a nice glossy finish with a hand-cut 45 degrees bearing shell edge.
For all its features and components, the Pearl Roadshow is a high-quality junior kit that is also decently affordable.
This Mendini 5-piece drum kit is one of the most popular junior drum sets for kids. The affordable price mixed with a decent overall quality makes it such a perfect combination. Thanks to a small 16"x 11" bass drum, this kit sits pretty low, so it is perfect for children under 5 feet.
Pros
5-piece kit with a nice sound
Small enough for children
Great value for money
Cons
The cymbals aren't great
Build isn't too sturdy
The sound and overall quality of this kit are quite good. Of course, you can't expect miracles, but there is really nothing to complain about the snare and toms. On the other hand, the cymbals and hi-hats aren't great, but that is a common issue with all junior drums.
This one includes a hi-hat cymbal and a crash cymbal that's mounted right over the bass drum. Everything is nicely compact but still spread apart enough for a proper drum set configuration.
The drum set is very affordable. This is a 5-piece drum kit, which includes everything you need to get started, including drumsticks and a height-adjustable drum throne.
The Mendini 3-piece set includes an 11-inch bass drum, tom, and snare, as well as an 8-inch cymbal. Drum sticks and an adjustable drum throne are included as well. This is a smaller 3-piece drum set, so it is for younger children, and it comes at a very affordable price.
Pros
Incredibly affordable
Good for children under 5 ft
Cons
Can be too minimalistic for some
Doesn't sound too great
It also comes in different colors, so make sure to check the available options if you are planning to buy it.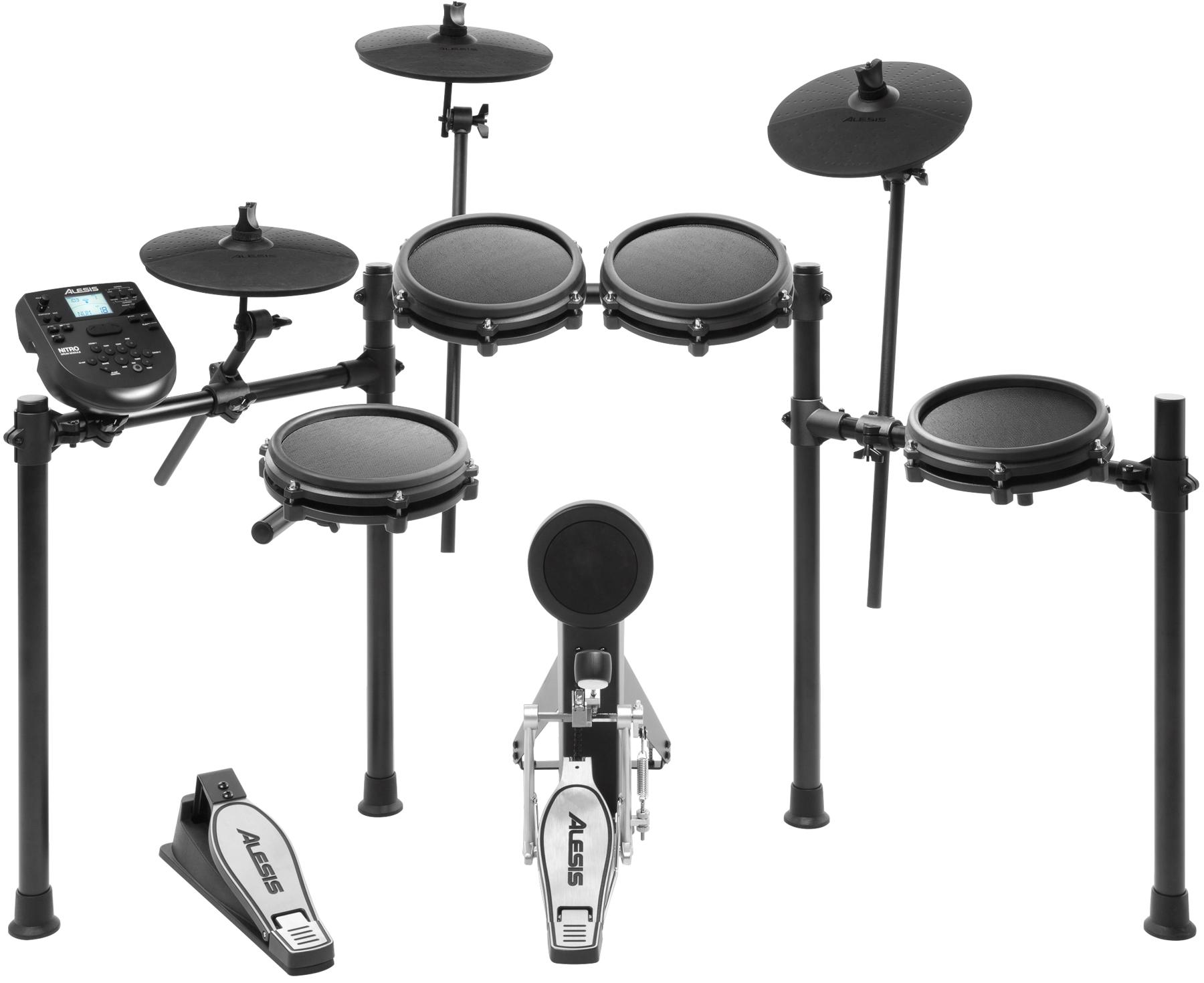 Alesis Nitro Mesh Kit is one of the most popular electronic drum sets around. Electronic drums sets are good for practicing drums without making too much noise.
The Nitro Mesh is an 8-piece kit including cymbal pads. It has mesh heads on the drum pads, which give a nice responsive feel, much like acoustic drums.
Pros
Low-volume electronic set
Durable pads and drum heads
40 pre-set kits to choose from
Cons
Needs an amplifier or headphones (which may need to be purchased separately)
This kit can be ideal for kids as it has everything they need. There are 40-in built drum kits and 60 play along tacks to help players progress. Alesis also offers a headphone with Nitro Mesh, so you can check that out as well.
If you're wondering, yes Questlove from the Roots has helped Ludwig set up this nice starter kit for children aged 4-10. The Questlove Pocket comes with all the love as it is a high-quality, all-inclusive kit. It contains drums, cymbals, accessories like stands, a throne, a drum key, a pair of sticks, and even introductory drum lessons.
Pros
Has everything required to play drums
Looks great
Produces good sound
Cons
Stock cymbals and drum heads are not great
All-in-all, this kit is decently priced given that is sounds good and looks even better.
With all the essential parts of a common drum set, the ddrum D1 Junior one is another great choice for beginners. It is of very good quality, especially in terms of construction and overall sturdiness, so there is no doubt it will last for years.
This is another 5-piece kids drum set.
Pros
One of the more durable kits
Complete kit including cymbals
High-quality finish
The quality of this kid's drum set is great, so if you have a higher budget, then it's worth checking out.
Sometimes it's better to keep things simple, and the RockJam Junior Drum Set is a perfect example. This is an affordable 3-piece kit that has everything an absolute beginner needs. Of course, you can count on common parts of a drum kit – bass drum, snare, and tom-tom.
Pros
Compact drums that can fit anywhere
Comfortable, adjustable throne
All-inclusive drum set
Cons
No hi-hats
Hardware is adequate
A cymbal is included as well and, despite the mounting not looking promising, it actually works okay. The set also includes a decent-quality kick pedal and an adjustable drum throne, which is quite adjustable and comfortable, as well as drumsticks.
Drum Sets for Kids – Buyer's Guide
What are the different types of drum sets for kids? Which one should I buy?
As you probably know, a typical drum set consists of several parts. Although each set largely depends on the drummer's preferences, there is a general rule that a basic drum set includes a couple of toms, snare, and bass drum, as well as a hi-hat and a couple of cymbals.
Logically, things are simpler in drum sets for kids. In general, if you want to get real drums for kids, there are 3-piece and 5-piece kits on the market. The former ones are simpler and perfect for small kids as they are simpler but still resemble "real" drums, enough to learn basic skills. These sets usually include a snare, tom, and bass drum, with a mounted cymbal.
As their name says, 5-piece kits consist of five parts. There are two more toms in the set, as well as a hi-hat. Therefore, they closely resemble a full drum kit, though each part is smaller in order to provide better ergonomics for kids. Naturally, these are slightly more expensive.
I can't tell you which one to buy, but you definitely won't go wrong with any of these types. If you want something that closely resembles full-size drum sets, the Mendini 5 Drum Set is a great choice, as it delivers a good balance between price and quality. The same manufacturer offers a 3-piece set, which is a more affordable option but with the same quality of components.
If your budget or available space is very tight, then check out other 3-piece sets but with all parts on one unit.
What age are junior drum sets for?
Once again, there is no general rule. In most cases, junior drum sets are recommended for kids between 3 and 10 years, but the fact is that height is actually a more important factor. These kits are usually designed for kids under 150cm (around 5 feet). They also vary in terms of drum size. Naturally, 3-piece units are designed for smaller kids, while 5-piece units usually feature a bit larger dimensions, so they stand somewhere in the middle.
Should I buy a drum set for kids or an adult drum set?
Once again, it all depends on your child's age and height. At a very young age, a junior kit seems like a natural choice. On the other side, if your kid is something like 8 or 9, and especially if it is relatively tall, then definitely get a full-sized drum kit instead, as it's a better investment.
Practically, the main difference between 5-piece junior drum kits and "regular-size" drums is size. A bass drum is smaller, as well as snare and toms. All of them have a couple of inches fewer in diameter in order to provide easier reach and more comfortable use. Other than that, things are pretty much the same.
That's why it's much better to pick a full-size drum, as you get far better quality for a price that usually isn't too much higher. In most cases, beginner drums are quite affordable.
Check our list of best drum sets for beginners. There you can find a lot of kits that offer great quality for a very reasonable price.
Can the heads on these drum sets be changed?
In general, the heads on the vast majority of drum sets should be changeable in case they break. You can simply detach the drum head by unscrewing the lugs with a drum key. You can order any replacement drum heads online.
Just make sure they match the size of your drums. Great drum head manufacturers are Remo, Evans, and Aquarian. You may also be able to find cheaper drum heads online.
Can my child learn to play on a kids drum set?
Of course; that's what they're designed for. They're a great way for kids to learn the foundations and then transition to a full drum set once they are tall enough to reach everything!
Can children play on adult drum sets?
You can find many videos online of kids playing on full adult drum sets. Although this is pretty cool, they're often struggling to reach for the pedals and can barely hit the cymbals. An adult drum kit is designed for adults, not kids, so ergonomically they simply are not ideal for kids.
Should I get an acoustic kids drum set or an electronic drum set for kids?
It's really a matter of preference, but here are some clues that might help:
– An acoustic drum set is an ideal option if you really want your kid to get a good feel for how drums sound and react. If given the option of which one is better for learning, then an acoustic drum set would be the best option.
– If your living situation does not allow for much noise, then an electronic drum set for kids might be a better bet for you. Check out our article on this to check out some great options.
What is the sound quality like on these junior drum sets?
The sound quality on all of the options above are pretty good, but you could never expect top-end quality on drum sets for kids. In general, junior drum sets are designed to help kids learn how to play drums, and they're usually quite cheap. What's more important is that they feel like proper drums, can be tunable to alter the sound, and have all of the necessary equipment.
Are drum sets for kids easy to set up?
Yes, drum sets, in general, are actually very quick and easy to set up, despite that they might seem difficult from afar!
For kits that include most drum set elements, the toms are usually attached to the bass drum. The snare drum has its own separate stand. The floor tom usually has 3 standalone legs. The hi-hat cymbals are attached to a standalone pedal.
What are the best kid's drum set brands?
There are many different brands of children's drum sets. Some good ones, to name a few, are:
Gammon Percussion
Mendini
ddrum
Ludwig
GP Percussion
Rock Jam
Pacific Drums
Which brand should you go for when choosing a kids drum set? It's very much a matter of your budget and what type of kit you want to get.
Even if you have a large budget, it still might be best to opt for an affordable model, and then spent more money in a few years on a bigger kit.
Where can my child learn to play drums?
Of course, lessons are by far the best option. The first thing that comes to mind is to find a local teacher. Keep in mind that kids learn differently than adults, so it is important to find someone who is great with kids. Therefore, consider music schools as well, since they are usually specialized in working with youngsters.
Alternatively, you can teach your child a couple of the most basics beats through video lessons online. Beginner online lessons are, in many cases, free.
What about drum sticks?
Drum sticks are usually included with junior drum sets, though there are plenty of options online and can be bought for a few bucks.
Conclusion
As you can see, there are so many options for kids who want to learn to play drums. Today's market offers a lot of products that are adapted to different age groups, which go at a wide price range.
A youth drum set is a great option for kids that want to play real drums, but are not yet tall enough for a full one.
If you're undecided, my recommendation as the best drum set for kids is the Pearl Roadshow Jr.
Mike