The 7 Best Drum Sets for Beginners (2023) – Buyer's Guide and Reviews
This article will tell you everything you need to know about buying a new acoustic drum set for beginners. We go through the best drums sets available to buy for entry-level and intermediate drummers.
Acoustic drums sets are fantastic, fun to play, and they have their place in almost every type of music. Choosing the right one to start with should be done carefully.
My top recommended beginner drum set is the Tama Imperialstar. If you want good quality and excellent-sounding drum set, the Imperialstar will do the trick!
My second recommended beginner drum set is the Best Choice Products 5-Piece Drum Set if you want a more budget-friendly option and an actual entry-level one.
The 7 Best Drum Sets for Beginners (2023)
Let's compare these in more detail.
If you want a solid drum set that includes everything you need, has very decent cymbals, comes from a great brand, and comes at a surprisingly low price tag, it's worth considering the Tama Imperialstar drum kit.
It has a lightweight construction, stable tuning and you can assemble it quite quickly.
I quite like the tom holder systems, which allow for flexibility and allows for easy positioning as well as stability of the drums. The stands and hardware are also made of good quality.
The complete kit features everything you need for a start from hardware, stands, cymbals as well as pedals. The drum shells will provide you exceptional sound as well as balanced dynamics and natural warmth.
Bearing edges are well made to provide you wide tuning range and enhanced sensitivity so that you can enjoy it all the way.
2. Best Choice Products 5-Piece Drum Set
Budget Pick
Good mid-range 5-piece drum set that is suitable for beginners and has a reasonable price tag.
View Price at Amazon
The BCP 5-piece kit is an incredibly affordable entry-level kit to consider. With an excellent price and overall value-for-price ratio, this kit has the optimal size to serve as a good starting point for all.
It comes with a snare, bass drum, floor tom, high-hat cymbal, ride cymbal, bass drum pedal, stool, 2 rack toms, and drum sticks.
Despite its affordable nature, this kit has decent quality construction as well as a good sound capability as long as you use good quality and well-tuned drum heads.
Though keep in mind that the quality certainly isn't as good as the higher-end kits on this list. The cymbals would certainly need replacing if you're planning to gig with this.
Overall, this budget-friendly, entry-level, simplistic, good-quality kit is an ideal choice if you want an all-in-one option.
The Pearl Roadshow is one of the most popular entry-level drum sets available online, and it comes at a fantastic price.
It will provide you with 9-ply poplar shells as well as a covered wrap finish for added durability. Poplar is a standard type of wood that is used for drums within the affordable price range.
This comes with one crash-ride cymbal and a cymbal stand which is made of good quality, as well as a hi-hat stand, which is also a decent quality for an entry-level kit.
If you want to upgrade later on, you could always get a separate cymbal stand and a crash cymbal.
This is a very decent option for an entry-level drum set. If you tune the drums well then you can get good sound quality out of these.
4. Ashthorpe 5-Piece Complete Full Size Adult Drum Set
Great Value for Price
Good Value drum set with Remo Batter Heads.
View Price at Amazon
If you're on a low budget then consider the Ashthorpe 5-Piece as a great option. The quality of the components doesn't match the others in this article, but it does have everything you need to get started right away.
You can find it in both blue and black colors based on your style and preferences. The complete set features a drum throne, good quality Remo heads (which is pleasantly surprising for entry-level drums), drum sticks, cymbals (one hi-hat and one crash/ride cymbal), chain-driven pedals, full-size wood drums, and other hardware you need.
It is an excellent solution for beginner drummers, but if you are planning to use this regularly for gigs, then we recommend that you eventually upgrade the cymbals.
When it comes to sound, you will get an excellent solution for novice drummers, and it will not stand in the way from practicing and learning so that you can upgrade it as time goes by.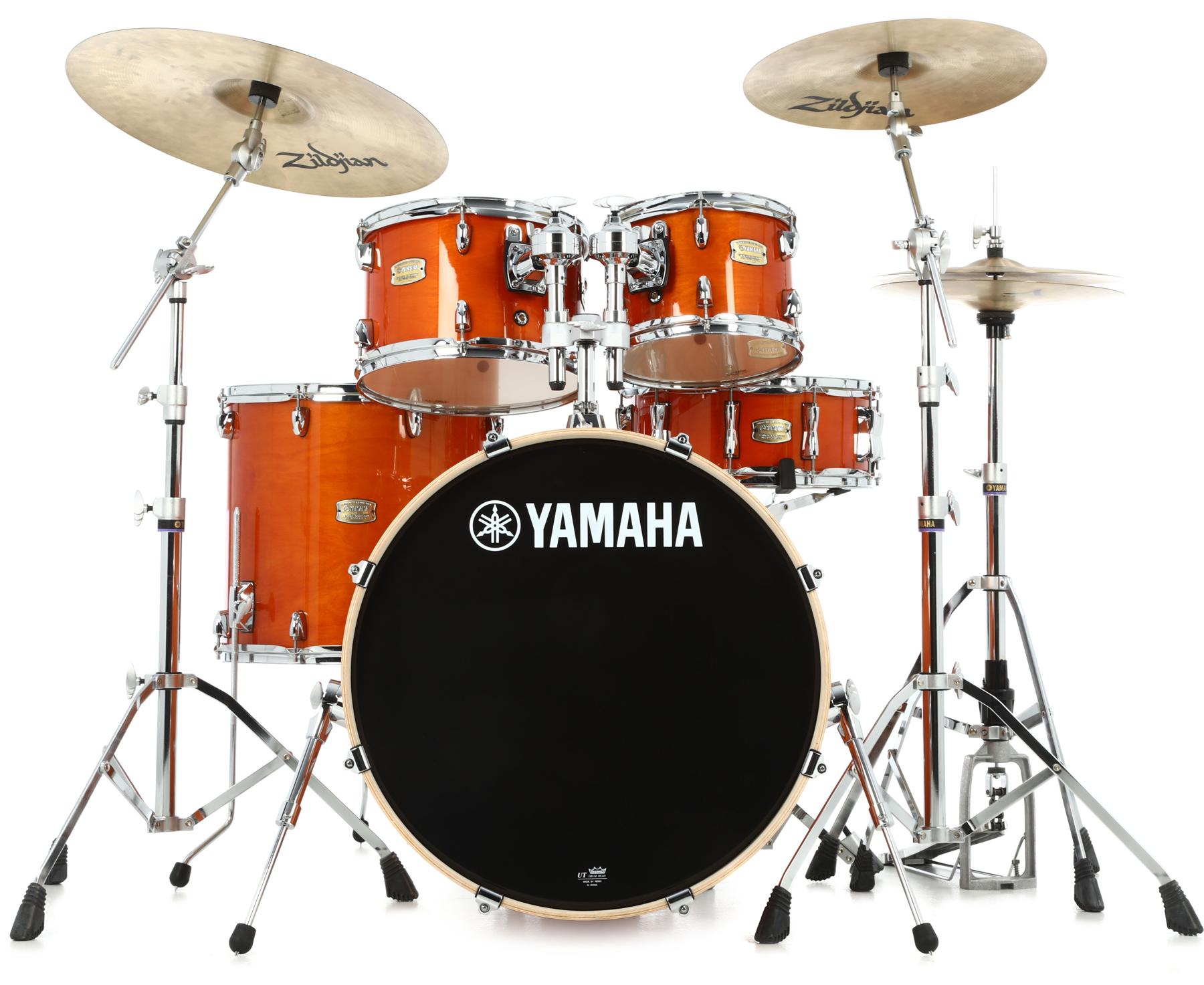 5. Yamaha Stage Custom Birch 5pc Drum Shell Pack
Excellent Shell Pack
(Shell Pack) Very high quality beginner/intermediate drums at a low price, but you need to buy hardware and cymbals separately.
View Price at Sweetwater
View Price at Amazon
If you really want to invest in a quality set of drum shells then check out the Yamaha Stage Custom Birch 5pc drum shell pack. Keep in mind, this doesn't come with hardware and cymbals, so these would need to be purchased separately. Alternatively, if you own another drum set, you could swap out the drums with this shell pack.
It will also provide you with deep and rich sound so that you can get the most out of it. It is great for both novice players and professional drummers. It comes from birch wood, and it comprises a beautiful look that will increase the aesthetical value of this particular kit.
At the same time, birch wood is an excellent solution because it will preserve sound quality and carry out the vibrations necessary so that you can enjoy playing. It is simple to set up, and you will get a manual that is user-friendly so that you can set it and tune it up with ease.
It uses Yamaha Enhanced Sustain System that will add resonance and improve the sound overall.
Check out the above video and see how it sounds! To get a good understanding of whether you want to commit to this purchase.
The Pearl EXX725S/C5 drum set is another set within the long-running Pearl Export series, which has been a well-known name for beginner drums for many years.
It comes with maple shell materials as well as 930-series bass drums and a P930 bass pedal, which is good quality.
It comes with a mahogany finish, which will deliver you a very decent sound. This drum set is available in a few different options so make sure to get the one that suits your needs.
You can also get the drum set with or without cymbals. If you want to get an 'everything included' option, then you should get the option with cymbals. The 'with cymbals' option that we spotted online includes Sabian SBR cymbals. They are decent quality for a starter drum kit (better than most stock cymbals that come with drum sets).
The snare drum also comes with a Remo drum head, which is a big bonus, as these are one of the best makers of drum heads.
The Ludwig Accent series set is of good quality, a complete drum kit that comes with a 22″ kick, a 14″ snare drum, 10″ and 12″ rack toms, and a 16″ floor tom. Of course, hi-hats are included as well.
This Ludwig set is a quality one if you're after a well-rounded kit that is multi-applicable as well as having good sonic capabilities. When the price is concerned, it has a reasonable price tag with a good value-for-price ratio.
While this is still considered an entry-level kit, it has very few drawbacks and every bit of bang for your buck! Check out the setup, it is well worth the consideration.
What does a full drum set contain?
Drum sets might look confusing, but they usually consist of the following items:
Drums
Snare
This is the main drum that sits between your legs. These are usually wider in length than height, and they have 'snares' on the bottom (resonant) head that cause a cracking sound when you hit the drum. The snare is a very important drum in your sets. Drummers often like to upgrade their gear; the snare drum is usually the first one they replace.
Bass Drum (Kick drum)
The bass drum is the most obvious in the set. It is a large drum (often 20″ or 22″ in diameter) with its front-head pointing outwards. It is hit with a bass drum pedal (and something two pedals using double bass drum pedals, we will talk about that later in this article).
Some bass drums have portholes in their front drumhead where you can put a microphone for live performances. You can also put muffling material such as a pillow inside the bass drum to give the sound more punch and decrease the overall volume a little bit.
Toms
Beginner drum sets often have three toms. There are two main types of toms: rack toms and floor toms. Rack toms are usually smaller toms that are often mounted with hardware above the bass drum. The floor toms a wider, longer, and produces a lower-pitched sound.
Cymbals
Hi-Hat
The hi-hat cymbal is one of the most critical parts of any drum set. We are talking about a pair of cymbals that are closed against each other and connected with a foot pedal. They provide a very dynamic sound.
Crash
Crash cymbals tend to be smaller than ride and bigger than hi-hat. The primary goal is to strike them so that they can achieve a glancing blow. Drummers are using it to accent notes and transit from one part of the song to another.
It is common in rock music, especially in loud parts of the song. These are not always found on beginner drum kits, and large ones will have a richer sound and longer sustain than smaller ones.
Ride
When compared with crash and hi-hat, the ride is the biggest cymbals and the fair size that you should get is at least 20-inches in diameter. In most cases, it will be set on the right-hand side, and it is a heavy cymbal that you can play with the tip of a drumstick so that you can produce ping sound, which is distinctive in numerous musical genres (like jazz) and styles.
Many beginner-level drum sets do not feature a crash cymbal and provide one 'Crash Ride' cymbal, which performs both functions. However, the quality of these usually isn't great.
Other cymbals rarely included with beginner drums sets (they can be purchased as extras later).
Splash
Splash cymbal tends to be the smallest one used on a drum kit, and in most cases, it is an addition that you have to make based on your playing style. You can find them in various textures and sizes. It is an excellent solution for making subtle accents, and they are small, so you will be able to place them between two crashes.
China
Chinese or China cymbal is also a perfect addition that you can add to your drum kit. It comes with an up-turned edge, and you have to mount it upside down so that you can hit the bow and get a trashy-crash sound. We can also compare it to a gong, but of course, a much smaller version.
It's not a cymbal, but we have to give a notable mention to the one and only:
Cowbell
You can always place a cowbell in a song, and it will sound great (or possibly, slightly cheesy if used badly!). It is a metal percussion instrument used in Latin-American music, but it is also standard in pop and rock music. The typical place to mount it is to the right of the snare or on the hoop of the bass drum. You can use it as an alternative to riding in choruses.
Hardware/Pedals
Cymbal Stands
The primary goal of a cymbal stand is to support you to a cymbal you wish to use on your drum kit. You can find them in numerous forms such as straight stands; counterweighted boom stands, simple boom stands, multiple boom stands and zero-offset boom stands.
Hi-hat Stand
Hi-hat stand is an essential part of your kit because without it you will not be able to set up the hi-hat. Most of them come with retractable spikes so that you can see minimalist slipping and improve the durability of a hi-hat cymbal. Since the standard hi-hat comes with two cymbals, the stand consists of a mating metal tube as well as a rod, which is supported by a tripod and linked to a foot pedal.
The bottom cymbal is on the top and is fitted with an adjustment screw that will allow you to tilt it. On the other hand, the top cymbal is mounted upon the road and closed against the bottom by creating foot pressure on the pedal.
Snare Drum Stand
The snare drum is often situated between the drummers' legs, which is why it needs a separate stand. It comes with metal construction in which you can fit the snare, but you have to match the sizes. Each snare comes with a compatible snare drum stand, which means that when you purchase a drum set, you will get it within the package.
Bass Drum Pedal
The single bass drum pedal entered the market at the beginning of the 20th century, and it became the central part of each drum kit. The idea is that it features a chain, metal drive mechanism, and belt, and as you press it the mallet will move forward and attack a drumhead. In most cases, the head comes from plastic, the wood of felt, but you can find rubber one attached to the metal shaft.
Tom Brackets
Some higher-end kits come with a drum rack that will allow you to install toms, whereas most are attached to the bass drum via hardware. You will be able to adjust the height based on your playing level and style.
Floor Tom Legs
Since floor tom is standalone, it comes fitted with legs.
Shell Packs vs. Full Drum Sets
You see a great drum set offer online, and you ask yourself "Is this too good to be true?" Check if it is a shell pack. Shell packs contain ONLY the drums.
Full/Complete drum sets contain everything you need to get started:
Drums
Cymbal
Hardware/Pedals
If you're getting your first drum set, then it is highly recommended that you buy a complete drum set. The only shell pack set from our list of recommendations is the Yamaha Stage Custom Birch 5pc Drum Shell Pack, all of the other options above are FULL drum sets.
Recommended Extras
There are a few essential accessories to keep in mind as well:
Get good pairs of drumsticks
Even if your drum set comes with drumsticks, it is still definitely worth investing in a few pairs of decent-quality ones. I generally recommend the Vic Firth 5As for beginners. Check out our article on how to choose a drumstick for more information.
Get a good drum throne
Great posture is a core for both drumming health and performance. Don't just use any old chair lying around, a good drum throne should not be an afterthought. Check out our article on the best drum thrones.
Get hearing protection!
Get custom0fitted hearing protection, or at least pick up a cheap pair of musician earplugs. Musicians' earplugs are really handy when attending concerts too.
Get a practice pad
A practice pad is one of the most important items that every drummer should own. They are a fantastic, quiet way to practice your rudiments and technique. Check out our guide on practice pads to pick the best one for you.
Drum keys
drum keys are necessary to tune your drum set and fasten the hardware in your set. They always go missing! It is worth having an extra one lying around, or putting one on your keyring.
Drum cases
Most drum sets do not come with cases. They can be useful if you are going to move your drum set around and protect your equipment frequently. However, it is optional. You can get away with transporting your drum set to gigs without cases.
Do these drum sets include double bass drum pedals?
Double kick pedals are a very convenient solution to having two kick pedals and beaters without having to carry around two separate bass drums. They are commonly used in metal music, but also feature in many other more complex drumming styles.
Most new sets do not include double bass drum pedals.
If you are on the lookout for one of these, then check out our article on the best double bass drum pedals. It is worth investing some money in a good set of these because cheap ones can be very unsatisfying to play on.
Can I upgrade my kit later on?
The majority of a drum set is replaceable and interchangeable. You can buy more expensive cymbals later and use the cymbal stands that you already have.
Professional drum heads can make a tremendous difference to the sound of the drums. You can fit any brand of drum head as long as they are the correct size. Check out our guide on the best drum heads for more information.
Do I need to tune my drum heads?
Drum heads need to be tuned. Even professional drummers can find it challenging to tune their drums. For beginners, you can follow some videos online to improve the sound of your drum heads.
You can also buy a great little product called 'Moon Gels.' These remove some unwanted overtones of the drum sound. If you are not happy with the drum sound, then those are a great cheap option to check out.
Kids Drum Sets vs. Adult Drum Sets
Can your kid play on a full-sized drum set? It varies based on their height, but in general, they can start playing on a full-sized drum kit from around 9 or 10 years onwards. Younger children may have difficulty reaching the pedals, cymbals, and rack toms.
If your kid were 4-9 years of age, then a junior drum set would be a better option, such as the Mending 5 Piece junior drum set.
Here are some of our other guides that you should check out: best drum sets for toddlers, electronic drums for kids, and kids drum sets.
What are the most common types of wood used for drums?
The most common type of wood for drums is maple, but due to its expensive price tag, people are trying to find other materials that are cheaper than maple. For instance, birch wood is great because it will provide you with high frequencies as well as a good low-end punch.
Check out the others and their characteristics:
Mahogany: You will get warm and rich low end as well as muted highs and smooth midrange. Overall, it is resonant and vibrant.
Oak – You will get a great low-end punch and pronounced mids and highs.
Walnut – The overall sound you will get is a combination of warmth and greatness.
Cherry – This is a sensitive type of wood for drums that will provide you bright sound overall.
Poplar – It comes with a smooth sound, which is highly sensitive and bright.
How to make your drum set quieter?
We can all agree that some popular myths about acoustic treatment and soundproofing can help your drumming since it is one of the noisiest instruments for your family, friends, and neighbors. Therefore, the best way to make your drums quieter is by choosing an electric drum kit.
On the other hand, you can also find low volume cymbals that will reduce the noise, but they are not great for playing with others. You can also find fit mesh drumheads so that you can cut the sound and replace your sticks with hot rods and brushes, but that will affect the playing style.
You can also muffle your bass drum by adding household objects inside such as a blanket. Check out our muffling techniques at the end of this article.
How can I learn to play drums?
Playing drums is not that simple, and you will have to start from scratch if you wish to become the best. Of course, you will not be able to do it overnight, which is why you should let go of that ambition and try to organize your time to play at least a few hours a day.
You can also check out our recommendations on the best drumming books, which will allow you to improve your drumming skills and learn firsthand about it.
On the other hand, you can find online video tutorials that will help you learn basic skills that you can improve afterward with practicing. It is vital to search online for online courses and YouTube videos.
You should also check out our recommendations on online drumming lessons.
The Best Drum Brands
There are a wide variety of quality drum set manufacturers available to buy. I am recommending some great sets, but there is also a wealth of great drum sets available from all of these brands:
Pearl
It does not matter if you are starting to drum or you are a professional because you have probably heard about the Pearl drum set. It is a legacy of drum artisanship that lasts for more than seventy years. They created early innovations such as hybrid fiberglass/wood drums, and are pioneers in percussive tonality. Legendary drummers are Tommy Lee, Chad Smith, and Dennis Chambers.
Tama
Tama is a brand of drum kits marketed and manufactured by Hoshino Gakki, which is a Japanese musical instrument company. They created the most expensive and professional drums from the very beginning, and you will be able to find numerous metal head drummers that are playing this particular brand.
Yamaha
Even though it is widely recognized due to piano production, Yamaha drums are manufactured in two places in Asia and will provide you with high-end professional drums. The vast array of exclusive woods such as oak, birch, and maple will give you the perfect sound and durability.
Gretsch
Gretsch is a brand founded by Friedrich Gretsch in Brooklyn at the end of the 19th century. He created a business that was within his family, and they made both drums and guitars for Broadway.
Ludwig
This is one of the most prominent US brands of percussion instruments that achieved immersive popularity after Ringo Starr endorsed them during the 60s. German immigrants in the USA established it, and they create drum sets that are capable of withstanding heavy kicks.
Mapex
Mapex is a Taiwanese drum brand that produced a wide array of drums such as Horizon, Voyager that use maple and birch based on your preferences. The quality of this series is immersive, and everything features high-end wooden shells so that you can enjoy them all the way.
DW
Drum Workshop is a USA drum hardware and kit manufacturing company based in California. They entered the market by Don Lombardi who created a teaching studio. He used them for private drum lessons and workshops. However, Lombardi, as well as John Good, started making small drum equipment sales to cover costs, and that lead to their prominence.
Sonor
The company is one of the oldest existing drum companies that began back in the middle of the 19th century. They created thick and heavy shells from beech wood as well as furniture-grade woods such as rosewood. One of the most prominent players is Phil Rudd from AC/DC and Nick McBrian of Iron Maiden.
Stagg
Stagg drums are the basic and mid-level and perfect solution for beginner drummers. Of course, you can find luxury models as well, but overall, it is ideal due to affordable price tags. It comes from Belgium, and you will be able to see numerous budget-friendly instruments from drums to guitars and studio equipment.
Premier
Premier drums were responsible for numerous things in the era of music. Even though British people tend to neglect this particular brand, people in the USA consider it a classic. It was started back in 1922 by Albert Della Porta, who was a professional drummer. After a while, it was the standard choice for many drummers, from acts like Genesis to Massive Attack.
An alternative: Electronic Drum Sets
If you need a quieter practice option then electronic drums could be a great option. Check out our article on the best electronic drum sets for more information.
Conclusion
I've have presented you with a comprehensive guide on the best beginner drum sets that you can find on the market. As you can see from everything I have mentioned above, it is not that simple to find the first drum kit you should use.
My top beginner drum set pick is the Tama Imperialstar. The Imperialstar is the ideal choice if you want an all-in-one option!
My budget beginner drum set pick is the Best Choice Products 5-Piece Drum Set. If you're on a tighter budget, this set is a great buy.