A practice pad is a drummer's best friend. However, the usefulness of these pads varies quite a lot based on their volume, versatility, and types of playing surfaces. This guide will help you determine the best one for you.
Our top pick as the best practice pad is the Evans RealFeel Practice Pad. It's great value, while being extremely functional and durable.
Our pick as the best budget practice pad is the Remo Silentstroke Practice Pad. It's a great quality, tunable pad with a quiet mesh drum head
Though, there are some other great options to choose from, including ones that offer a lot of extra versatility. So be sure to keep reading!
The Best Practice Pads for Drummers (2023)
Let's compare these in a bit more detail.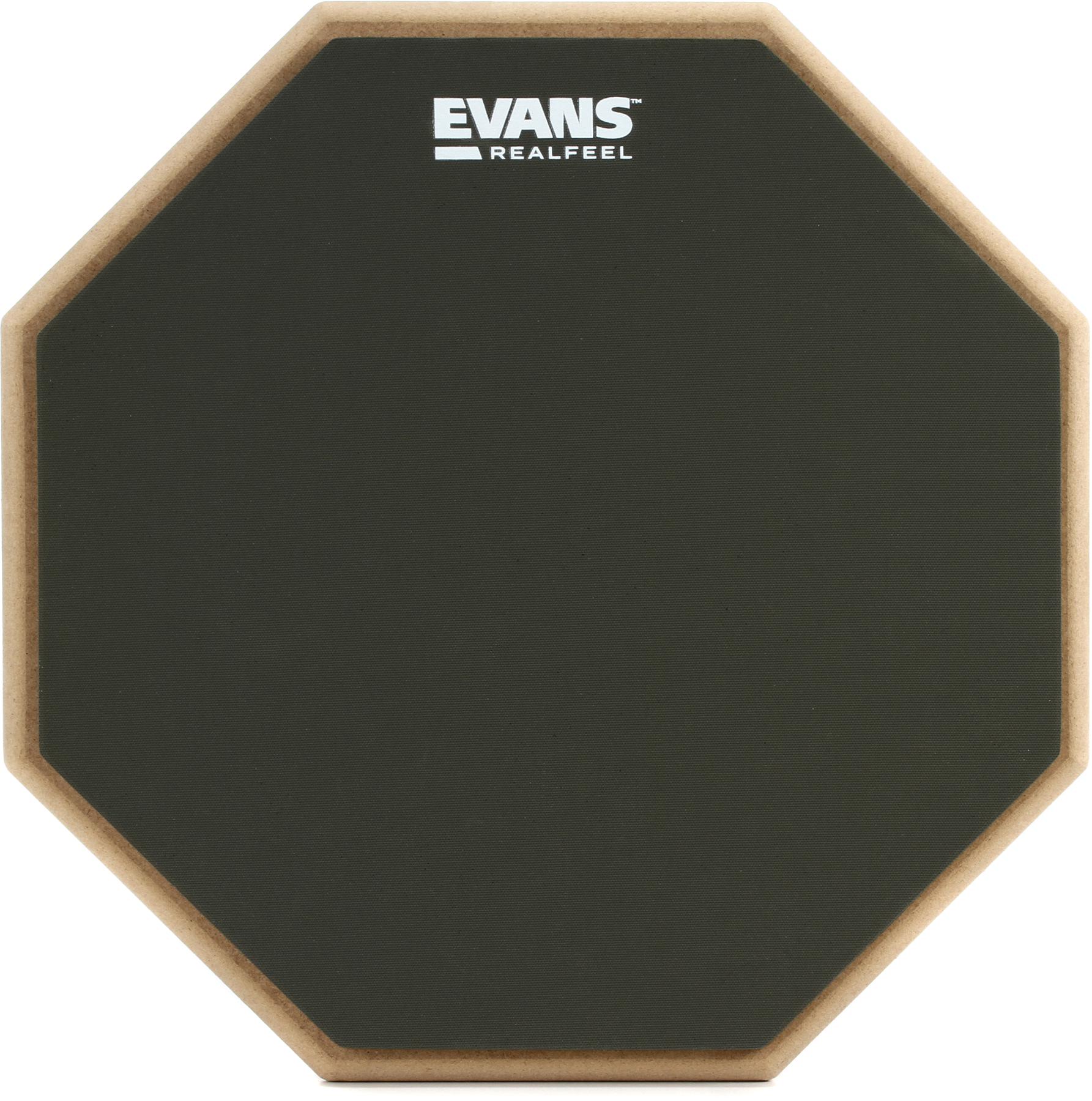 This is a fantastic, durable and quiet practice pad. It comes in multiple versions (including 6-inch, 7-inch, 12-inch).
Pros
Double-sided
Heavy/sturdy (does not bounce around too much)
Great rebound
Available in 3 sizes
Cons
12-inch pad is not mountable via cymbal stand
6-inch version can bounce around a bit unless it's mounted
It may not have the variety of playing surfaces as the Drumeo P4 or Movement Co drum pads, but it still excels as a practice pad that covers the essentials extremely well.
With this pad, you get a large amount of value for a low price tag. The 12-inch is a great option if a bit of extra weight and space is not a problem for you. You also get a lot more playing space for your drum strokes.
Alternatively, if you're looking for something compact, then opt for the 6-inch or 7-inch version. These smaller ones are also a little quieter.
| | |
| --- | --- |
| Size (Inches) | 12 |
| Number of playing surfaces: | 2 |
| Playing surface material: | Natural Gum Rubber, Harder Recycled Rubber |
| Noise level | Low |
| Mounting possible to a cymbal stand | No |
| Includes rim? | No |
For general practicing, this is our top pick as the best drum practice pad.
This pad is double-sided. One side is made of a gum material, which gives solid rebound. This is great for practicing snare and cymbal strokes.
The other side is made from more of a rubber material. This is useful for putting your muscles to work as well as practicing on deeper tuned drum heads that don't give a lot of rebound.
Both of these practice options are very useful, as it allows for practice across different surfaces.
Also, Evans is one of the biggest names in drum head manufacturers.
This drum practice pad is a little different to the previous one mentioned. This one really simulates the bounce of a real drum while being really quiet.
Pros
Tunable surface allow you to vary the level of rebound
Includes rim
Lightweight
Much quieter compared to their standard tunable practice pad
Mountable to a cymbal stand
Cons
Still not completely silent
Only one playing surface
It's also tunable, which enables you to simulate drums of different tension.
| | |
| --- | --- |
| Size (Inches) | 8 |
| Number of playing surfaces: | 1 |
| Playing surface material: | Mesh Head |
| Noise level | Low |
| Mounting possible to a cymbal stand | Yes |
| Includes rim? | Yes |
It's manufactured by Remo, one of the top drum head manufacturers. If you choose this pad, you're going with an exceptional brand (It's also the brand of drum heads I have been fitting to my acoustic drums for years).
Keep in mind that Remo also has a few different models of drum practice pads. Their alternative "Remo Tunable Practice Pad" has a plastic hitting surface which is louder to play on. That one comes in either 8-inch or 10-inch versions. Although it's generally better to have quiet practice pads, louder ones can be useful to improve your dynamics.
The drumeo P4 practice pad consists of four different playing surfaces, and it allows you to quickly switch between surfaces at once. It can help you develop the versatility required to move between different playing surfaces such as a drum set.
Pros
Four surfaces on the pad
Different volume and rebound levels
3 different levels to play on
Replicates the feel of moving around on the kit (a little bit!)
Cons
Some of the surfaces are a bit louder
Distance is still very low between the playing surfaces, so it's certainly not a replacement for a practice kit!
Not mountable via cymbal stand
This is also a very quiet practice pad, so it's useful for drumming practice situations where you can't make much noise.
This drum practice pad was also created by Drumeo, one of the most popular online drum education websites.
| | |
| --- | --- |
| Size (Inches) | 12 |
| Number of playing surfaces: | 4 |
| Playing surface material: | Gum Rubber, Hard Neoprene-Rubber |
| Noise level | Low to Med |
| Mounting possible to a cymbal stand | No |
| Includes rim? | No |
This pad is a little bit more expensive than the others, but you get a lot of value for your price. It's certainly one of the best drum practice pads around.
Check out the video below. It will show not only the Drumeo practice pad in action, but it will also give you a flavor for what you can practice using one of these.
4. Movement Co. Double Sided Practice Pad
Another Extremely Versatile Practice Pad
Rimmed pad with four different hitting surfaces.
View Price at Amazon
The Movement Drum Co. double sided practice pad has been getting a lot of love from the drum community for quite a while. This one is double sided, but it also has a rim as well as separate inserts that allow you to have a much more versatile practice routine.
Pros
Double sided pad with 2 additional inserts
Very versatile
Includes rim
Different volume and rebound levels
Double sided
Cons
Some surfaces not suitable for quiet playing (laminated surface and bottom surface)
Can't play multiple surfaces at once
Not mountable via cymbal stand
At first glance, it seems like a typical two-sided practice pad, but it actually comes with two more inserts, so you get four different surfaces.
| | |
| --- | --- |
| Size (Inches) | 12 |
| Number of playing surfaces: | 4 |
| Playing surface material: | Silicone Rubber, Hard Neoprene, Laminate |
| Noise level | Low to High |
| Mounting possible to a cymbal stand | No |
| Includes rim? | Yes |
The top surface is made of rubber while the bottom is harder neoprene. These offer a different playing feel and a different level of volume (the bottom one is a bit louder).
This pad also includes 2 separate inserts. The conditioning insert makes the pad very quiet and has lower rebound. This is good for improving your strength while also keeping volume down. The laminated surface is much louder and helps you focus on your playing dynamics.
In terms of size, it measures 12 inches in diameter and weighs around 4 pounds, which makes it quite portable.
The pad also includes a rim which makes it feel much more like a drum to play on.
The price may be a little bit higher compared to other drum practice pads, but keep in mind all the versatility you get with this one.
Sometimes, it's best to keep things simple.
After all, practice pads are designed to allow you to practice in situations when you can't use your regular set.
Pros
Good for beginners
Available in 2 sizes
Quite similar to the popular Evans Realfeel 2-Sided Practice Pad
Cons
12-inch version is not mountable to a cymbal stand
Only one playing surface
Practically, all you need is a pad that features a rebound that resembles a typical drumhead. This one delivers it perfectly. The pad features a perfectly balanced design, which provides realistic rebound and overall feel while keeping it pretty quiet.
| | |
| --- | --- |
| Size (Inches) | 12 |
| Number of playing surfaces: | 1 |
| Playing surface material: | Natural Rubber |
| Noise level | Low |
| Mounting possible to a cymbal stand | No |
| Includes rim? | No |
The bottom side features material that prevents the pad from slipping, no matter the surface.
Although it is quite simple, the quality is great.
This is a tiny practice pad that's great for building your accuracy and technique. It's ridiculously compact and easy to mount on a cymbal stand.
Pros
Compact and portable
Great for building accuracy
Good for intermediate/advanced players
Mountable to a cymbal stand
Cons
A bit more challenging for beginners
It's very small!
If you want something that's really compact and you don't want your practice pad taking up too much space in your bag, then this is a great option to consider. You could fit this one in practically any side pocket of a bag!
| | |
| --- | --- |
| Size (Inches) | 1.75 |
| Number of playing surfaces: | 1 |
| Playing surface material: | Gum Rubber |
| Noise level | Low |
| Mounting possible to a cymbal stand | Yes |
| Includes rim? | No |
This pad certainly is not for everyone. I would not recommend this as your primary practice pad. It's probably better as a secondary pad and for more intermediate or advanced players that want to work on their accuracy.
Either way, this is one of the more unique practice pads on this list, but if you think it's your style, then be sure to check it out!
Pros
Built for hard-hitters!
Good for beginners
Strong and durable
Pretty quiet
Cons
Only one playing surface
Not mountable to a cymbal stand
The Vic Firth Heavy Hitter Stockpad is quite similar to the previous Vic Firth single-sided pad we mentioned; however, the focus of this one is on durability and volume control for heavy hitting.
It's particularly good for marching drummers or for those that really want to hit their pad hard!
| | |
| --- | --- |
| Size (Inches) | 12 |
| Number of playing surfaces: | 1 |
| Playing surface material: | Gum Rubber |
| Noise level | Low |
| Mounting possible to a cymbal stand | No |
| Includes rim? | No |
This pad is able to absorb the volume pretty well from very large hits, so it's definitely one to consider if you're looking to play a lot of heavy accents while practicing.
If you think this applies to you, then the Vic Firth Heavy Hitter Stockpad could well be the best primary practice pad for you.
That's our round-up of the best drum practice pads. However, we encourage you to keep reading, we've got some more essential information for you.
Drum Practice Pads – Buyer's Guide
Here are some important points to keep in mind before buying a practice pad:
Portability vs Sturdiness
This may have a lot of bearing on how often you use your drum practice pad. For example, if portability is important for you then I'd highly recommend a smaller pad as it could easily fit in a bag. I often carry around an Evan's RealFeel 6 inch pad while traveling.
If you mostly want to plant your practice pad on top of a snare drum then a bigger one like the 12 inch Evan's RealFeel would be a better option.
This might sound quite trivial at first, but there is quite a big difference in weight and bulkiness between a 6-inch practice and a 12-inch drum practice pad
Portability may come at the cost of sturdiness.
I personally have found that it's a lot easier to just reach for the smaller pad if it's on the side of a couch for example. If getting the smaller pad means you're going to practice more often then go for it!
However, larger practice pads are generally more fun to play on and they are usually more sturdy. If you're hitting a small practice pad pretty hard, then it might move a bit, so you might find yourself adjusting the position of a smaller practice pad quite a lot.
Loudness
Not all practice pads are equal in the scale of noise. For example, the remo tunable practice pad is louder than the others mentioned above.
I often used my pad as a means of practicing when it was too late to play my drum set. Your practice pad is also a great way to work on your rudiments for long and consistent sessions. Doing this on a loud pad could get tedious if noise is a concern.
However, a slightly louder pad also has it's positives. You can hear the difference in your strokes, which can be very helpful in getting your strokes just right.
Mounting the Practice Pad
Determine how you want your practice pod to be mounted. Do you want to mount it on a snare drum stand? Do you want to attach it to the top of a cymbal stand? Or do you want to just play it on your lap? There are a few different options.
Mounting to a Snare Drum Stand
If you want to mount your practice pad on a snare drums stand, then you will need to get a practice pad that suitably large. A 12-inch pad would be suitable for this.
Mounting on a Cymbal stand
Some smaller drum practice pads have the option to mounted at the top of the cymbal stand. This is usually the case for smaller drum practice pads.
This will almost never be available if you use a dual-sided practice pad, because both surfaces will be taken up with areas that should be hit with your drumstick.
Playing on your lap or on a table
If you want to just have your practice pad on your lap or on a table then any size pad will work for you.
Playing Surface Variety
Some drummers want a very basic one-sided pad so they can focus exactly on their practice material at hand.
Others prefer multiple playing surfaces like the Drumeo pad, as it can give them a better workout of varying different playing surfaces.
Tunable practice pads allow you to alter the bounce level of the playing surface, which can better simulate playing an actual snare drum.
If you want the most variety of your playing surfaces, then the Drumeo practice pad is a great option.
Otherwise, there are a few different dual-sided practice pads available.
Starting to Use Your Practice Pad
Rudiments
When you get your practice pad, you should identify what your weak spots are with your drumming. If you have a drum teacher, they may have already hinted at certain parts of your strokes and playing.
If you're unsure, then work through some of the basic drum rudiments, such as single stroke rolls, double stroke rolls, paradiddles, flams, etc. I would also highly recommend practicing with a metronome.
You should quickly be able to identify which ones are uncomfortable or unfamiliar to play. This is especially the case at high or very low speed.
Technique
Practice pads are a great tool to try out new techniques. For example, try out the Moeller technique or perfect your rebound.
It's a great idea to use your practice pad on front of a mirror, as you may quickly spot errors in your playing. If you use the matched grip (holding both sticks the same way), it's easy to recognize discrepancies. I'd recommend that you get good feedback from a drum teacher, and then use a mirror to ensure that you're following the correct directions.
When I initially bought my practice pad, I spent countless hours simply perfecting my stick bounce at very low speed to a metronome. It's amazing how initially difficult it can be to play very slowly. This is also the case for playing drum beats or songs on your drum set. You might be able to play them at their normal tempo, but what happens if you decrease the tempo by 40 BPM? It really makes you ask yourself if you have really learned to play the beat. You can easily start to second guess yourself as there is a lot more space and time to make mistakes.
Your timing – Use a metronome!
The solid ability to stay in time and play at different tempos is your main objective as a drummer. A sure sign of a novice drummer is one who goes in and out of time often while playing.
I highly recommend that you practice to a drum metronome as much as possible while using your practice pad. I have found that improvements in timing can be noticed within a few weeks.
Getting comfortable playing with a metronome actually has two benefits. Firstly, many bands use metronomes for both recording and live performances (e.g. through in-ear monitors), you're at a major disadvantage as a drummer if you can't easily play to a metronome. Secondly, once you practice enough, your ability to stay in time substantially increases.
Some beginner drummers think that drumming to a metronome will make them dependent on it. The truth is actually the opposite of that. A metronome improves your timing and therefore will make you more confident in your ability to stay in time, even without using a metronome.
This improvement in timing will translate to playing on a drum set and playing on other musical instruments.
Stick tricks
This one is pretty superficial, but some drummers and fans love it. Many stick tricks involve hitting the drum and working with your rebound. The practice pad is a perfect place to try these out.
What drum sticks to use
This is a matter of personal preference. I would recommend that you get a pair of heavier sticks for a real workout. These can be great for practicing your speed and endurance. You will notice the difference when you go back to using your lighter sticks.
Otherwise, just play with your regular sticks if you are warming up on the practice pad before playing on your drum set.
However, don't just take my advise, play around with different stick types on your practice pad to see what suits you the best.
If in doubt, check out our article on choosing a pair of drumsticks.
Learning resources to use
There are many amazing drumming instruction videos online. Check out Drumeo if you are interested in getting access to top quality online drum tuition.
You could also buy the fantastic book "Stick Control: For the Snare Drummer" by George Lawrence Stone. This has been referred to as the drum bible.
Personally, Dom Famularo's book "It's Your Move: Motions and Emotions" was one of the best resources I ever had for drumming. It's first few chapters really paved the way for me to improve my technique.
If in doubt, you should always try to seek the tuition and help of a local drumming instructor. It can be quite difficult to identify bad habits for yourself. An experienced teacher could identify them in a heartbeat, saving you so much time, and possibly saving you from injury from bad form and technique.
How to Make Your Own Practice Pad
If you want to make your own drum practice pads then what you need is a bouncy surface, which you would glue onto a solid base
These types of items can be picked up for a very cheap cost. If you feel like going the DIY route, then check out this great video by Drumeo, which shows you exactly how to do it.
An Alternative to Practice Pads – Practice Sets
Practice pads are great tools for practice, especially for most basic things, such as rudiments, timing, stick tricks etc. However, a big drawback is that you can't practice specific beats, as you would be able to do on a typical drum set. Therefore, you should also consider getting a practice drum set.
These sets are designed for quiet practice primarily. The biggest difference compared to a typical drum practice pad is that you actually get a whole set of pads placed on a stand, which are organized in a way that common drum parts usually are. Of course, they are more expensive and seem a little bit less portable but when we talk about functionality, a simple practice pad doesn't come even close.
This is definitely one of the best practice sets you can find around. The DW Drum Workshop Go Anywhere Practice Set not only that it comes with quality pads, but also includes a stand that is super-easy to assemble. This makes it very portable or, as the company advertises it, a go-anywhere pad set.
Besides a well designed stand, it also comes with four quiet pads. Two of them measure 10 inches in diameter, while the other two are slightly smaller, with 8 inches in diameter. So, you get a combination that resembles snare, floor tom, tom and cymbal.
Additionally, you can also get a bass drum pedal, which is sold separately. It doesn't feature the most affordable price, but the quality is definitely on its side. Great value for the money.
What is the Drum Pad?
A drum practice pad is a type of object used by drummers and percussionists to practice in a very quiet manner and warm up before performances.
Drummers can practice their rudiments and drum strokes, which helps them improve their abilities, as well as warm-up their hands and joins prior to performing.
Practice pads a much quieter than regular drums, which makes them a very useful practice tool (great for pleasing family members and neighbors).
Drummers can use practice pads during sound checks before performing, for example, without causing annoyance or interrupting other band members.
Drum practice pads should not be confused with electronic drum pads or MIDI drum pads.
Summary
If you are still unsure what one to purchase, I would highly recommend the Evans RealFeel Practice Pad. I really think you can't go wrong with this one!
However, if you're looking for something with maximum versatility, then check out the Drumeo P4 Practice Pad, as well as the Movement Co. Double Sided Practice Pad.
If you have any questions related to drum practice pads, then be sure to leave a comment.