The 8 Best Bass Drum Pedals (2023) for Acoustic and Electronic Drums
A bass drum pedal is an absolute must-have gear for any drummer ever. It doesn't matter what genre you play. If you have a bass drum, you need a bass drum pedal. And a really good one at that.
While many beginners and some intermediate drum kits come with a factory bass drum pedal, they are, at best, adequate. It's always a good idea to upgrade as the right bass drum pedal will give you more control, speed, and dynamics, and help you express yourself better on the bass drum.
My main recommended product is the DW 3000. It's a really suitable pedal for everyone, regardless of your playing level.
My second recommended product is the Pearl P530. It's a good pedal to rely on if you are running tight on a budget.
The Best Single Bass Drum Pedals (2023) – At a Glance
And now onto the full list: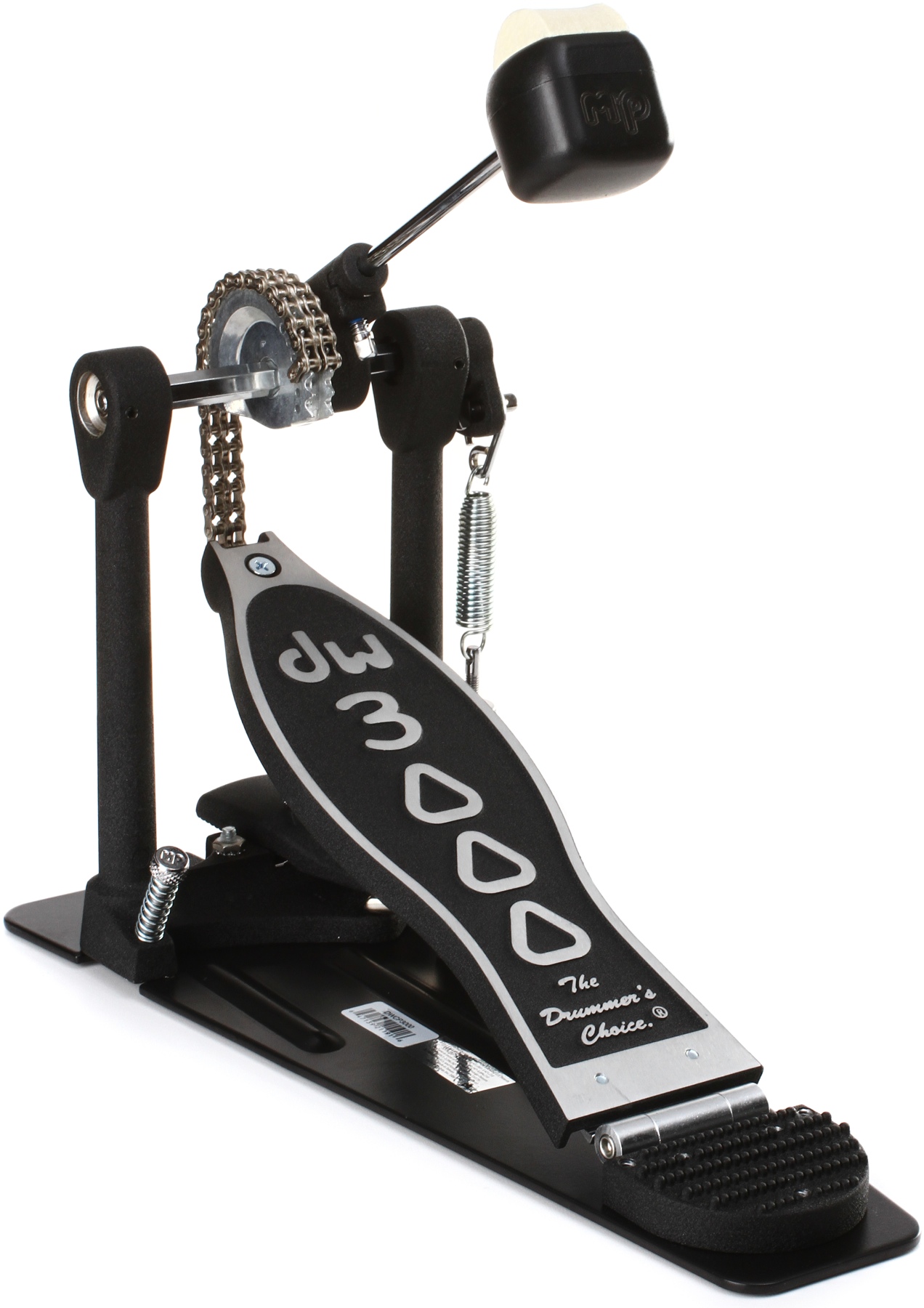 The DW 3000 is a bass drum pedal that is value for money in every sense of the word. While DW pedals are generally on the expensive side, this pedal is quite affordable and accessible to everyone from a beginner to a pro.
Pros
Well-rounded bass pedal
Two-way beater and dual chain drive system
Solid, all-steel construction
The two-way beater is a nice addition to this pedal. One side is plastic while the other side is felt. Another good thing about this is the dual chain drive system. It just makes the whole thing more solid. Also, it comes with a clip and a drum key.
There might not be anything fancy about this pedal but it's got a great build. It has a durable, all-steel construction, whose life can be increased with good care. Apart from its most obvious features, the dual adjustable toe clamp makes sure that the pedal and the bass drum stay connected.
| | |
| --- | --- |
| Footboard | Regular |
| Beater type | Two-way; plastic and felt |
| Cam | Offset |
| Sensitivity | Medium |
| Durability | High |
If you are used to high-end bass drum pedals, the DW 3000 might feel a bit sluggish. However, if you are a beginner or an intermediate-level drummer, then this is one of the best pedals you're gonna get.
The Pearl P530 is a very nice bass drum pedal for new players or students to practice on. It's also a good reserve for have if you're running tight on a budget. Despite its amateur price tag, it has some really solid features that Pearl puts in its higher-end models. The dual chain drive system and the two-way beater are great examples of it.
Pros
Excellent value for money
Dual chain drive system
Two-way beater
Cons
Not quite as responsive as the higher-end options on this list.
Unlike many beginner bass pedals, the Pearl P530 lets you adjust the beater angle. You can also play around with spring tension with its side hoop clamp. The pedal features a linear or offset cam and a regular size footboard. This makes for smooth and dynamic playing.
It does not have a solid, flat baseplate. So, stability might be an issue as well as pretty basic string tension adjustment. Otherwise, the pedal has a good build.
| | |
| --- | --- |
| Footboard | Regular |
| Beater type | Two-way; felt and plastic |
| Cam | Offset |
| Sensitivity | Low-medium |
| Durability | Low |
If you're not looking to spend a lot but also want a good-quality bass drum pedal, then the Pearl P530 is a good one to have.
The DW5000, by many, is considered the gold standard of bass drum pedals. It feels natural, has a brilliant response, and has great durability. Its successor, the DW5000 Accelerator, has better sensitivity and can achieve faster speeds.
Pros
AD4 drive system has a really fast response
Dual-bearing spring rocker gives extra smoothness
Built to last
This upgraded version features DW's patented AD4 drive system that works towards increasing the velocity of the pedal. This affects not only the speed but also the smoothness.
Some other attributes of this pedal include the Tri-Pivot clamp to keep your pedal and bass drum connected for good, the dual-bearing spring rocker for added smoothness, and the non-skid rubber grip to keep your pedal from skidding.
| | |
| --- | --- |
| Footboard | Regular |
| Beater type | Two-way; felt and plastic |
| Cam | Accelerator (offset) |
| Sensitivity | High |
| Durability | Long |
The DW5000AD4 is a pro's bass drum pedal and it is built like one. If you're buying this, you're buying it for the long haul.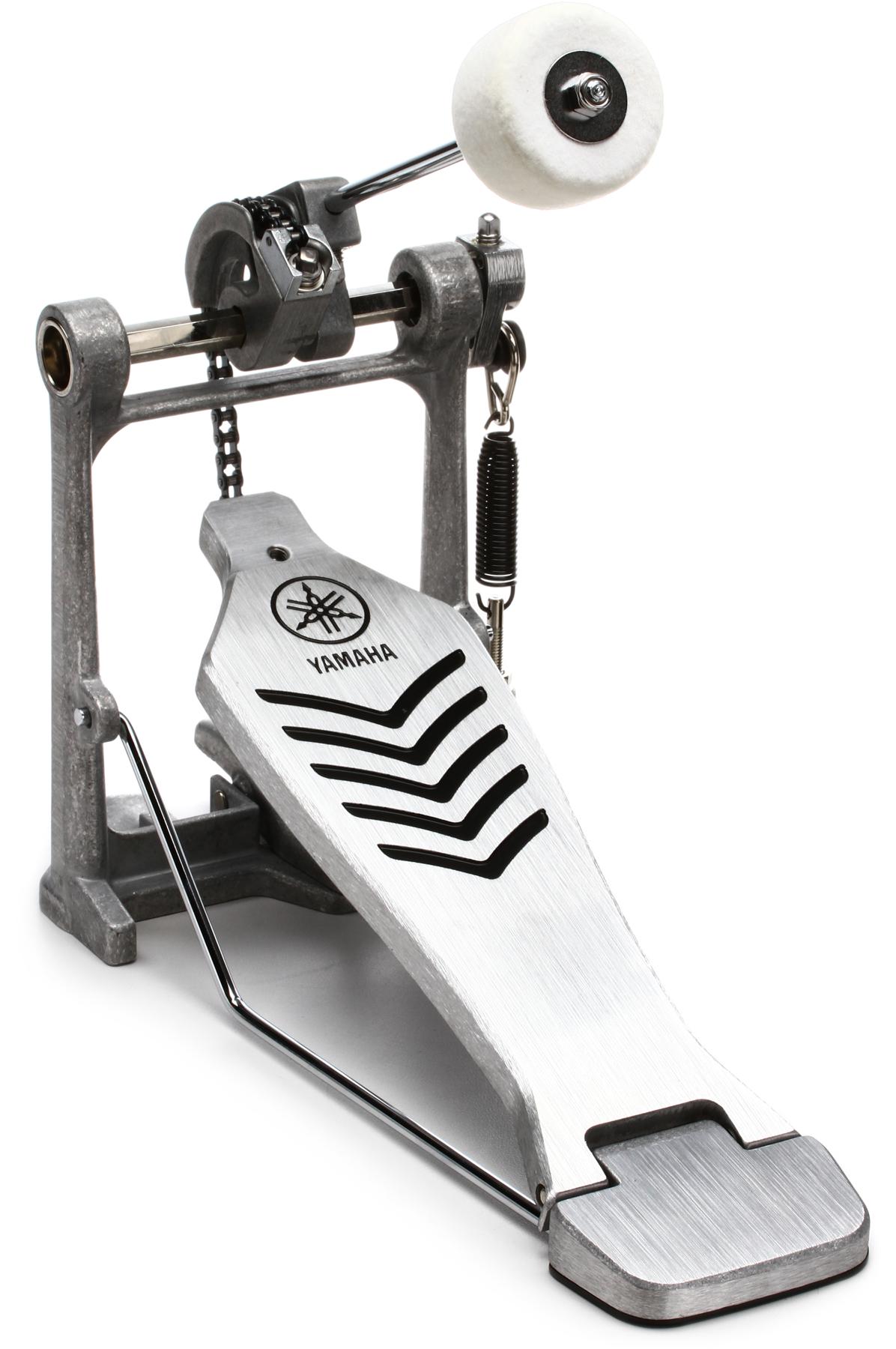 A good bass pedal can have a significant impact on the learning and playing experience for a beginner. The Yamaha 7210 is one of the best entry-level pedals out there.
Pros
Adjustable beater angle
Good durability
Feels smooth
Cons
Definitely not as responsive and smooth as the higher-end options on this list.
Simple felt beater.
It carries an affordable price tag. However, the quality is anything but. It's very responsive, plays incredibly smoothly, and is quite durable.  
Instead of a two-chain drive system like most pedals on this list, the Yamaha 7210 has a single chain driving the action. You can also adjust the beater angle and beater height on this pedal also.
| | |
| --- | --- |
| Footboard | Regular |
| Beater type | Felt |
| Cam | Direct drive |
| Sensitivity | Medium |
| Durability | High |
It's a pretty great pedal if you're just starting out drumming. Not only does it feel good underneath your foot, but should last you a good amount of time. 
Tama's Iron Cobra pedals have solidified their place as one of the best bass drum pedals money can buy. And the HP200P is the entry-level variant of the series.
Pros
Generates a powerful hit
Smooth beater and footboard response
Affordable pedal
Cons
Not a massive amount of adjustability.
Response is not as good as higher-end Iron Cobra pedals.
The single-chain pedal shares some common concepts as TAMA's upper-end Iron Cobra 900. Like the Power Glide offset cam, for increased power and smoother response.
The pedal also features a Spring Tight tension rod which prevents the spring from twisting. This keeps a smooth and stable response. And even though the HP200P doesn't come with a Cobra Coil, it is compatible with it. You'll have to buy one and install it yourself for an even better pedalboard response.
| | |
| --- | --- |
| Footboard | Regular size |
| Beater type | Two-way; felt and plastic |
| Cam | Power Glide (offset) |
| Sensitivity | High |
| Durability | Moderate |
For a beginner pedal, this one has a lot going for it, including a flat baseplate, rubber grip, a two-way beater, and adjustable beater angle.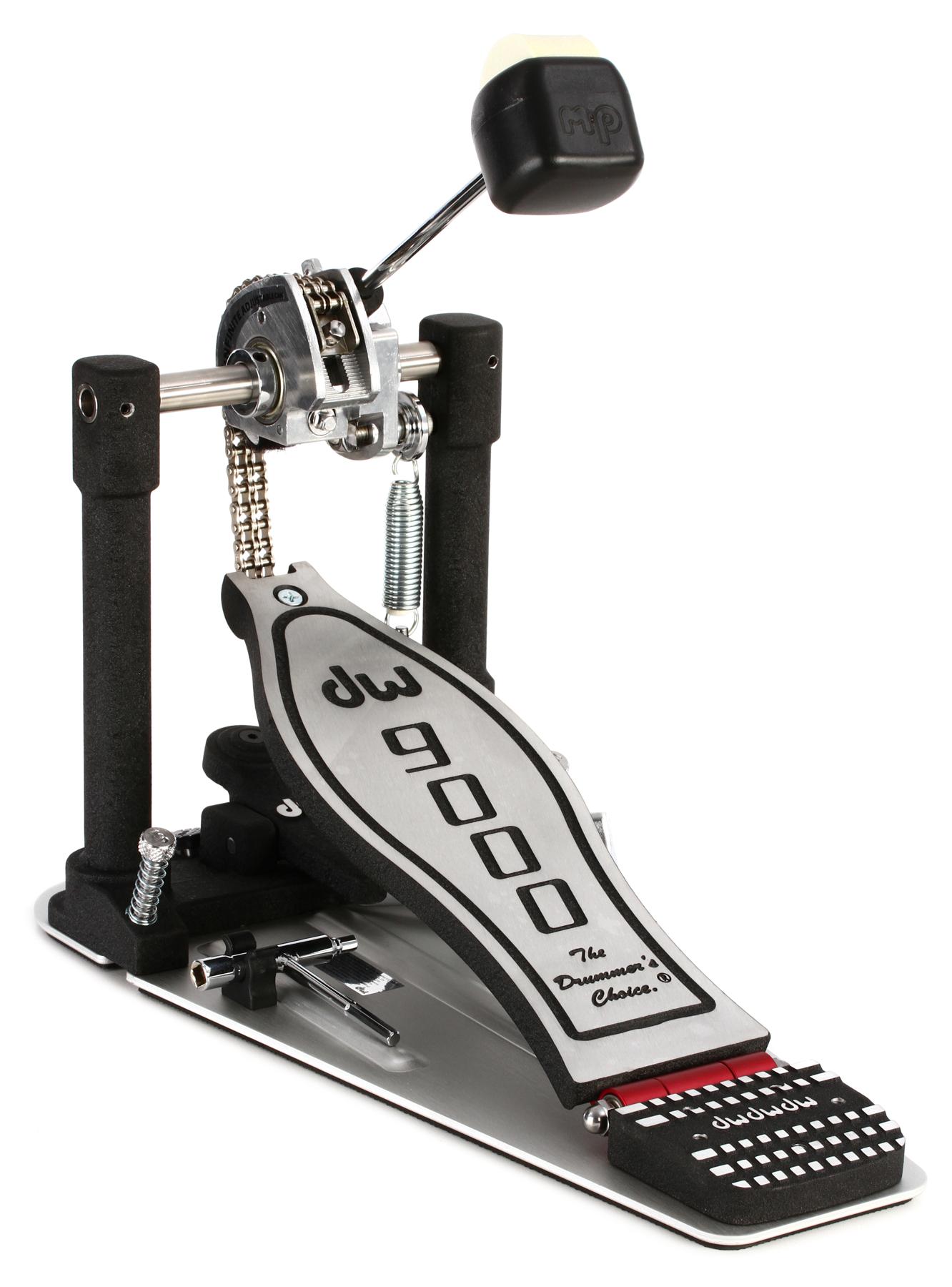 The DW9000 is a professional drummer's bass drum pedal that is designed to fit each artist as they like. It takes some from the DW5000 and adds a lot more to its own design. For drummers who have to make a lot of tweaks to their gear while on stage, this pedal is plenty convenient.
Pros
Switchable cam
Floating swivel spring for increased smoothness
Convertable drive system
With the Infinite Adjustable Cam, you can adjust the cam between Accelerator Drive and Turbo Drive. The box comes with a nylon strap, so you can also shift between a nylon strap and a dual chain drive system.
As if this pedal wasn't already ridiculously smooth and responsive, DW has taken it to another level. The Floating Swivel Spring reduces resistance, creating a near-seamless downstroke and return stroke.
| | |
| --- | --- |
| Footboard | Regular |
| Beater type | Two-way; plastic and felt |
| Cam | Infinite Adjustable Cam (offset) |
| Sensitivity | High |
| Durability | Long |
The DW9000 is one of the most expensive pedals out there. However, if you're willing to shell out some money, a bass drum pedal doesn't get better than this.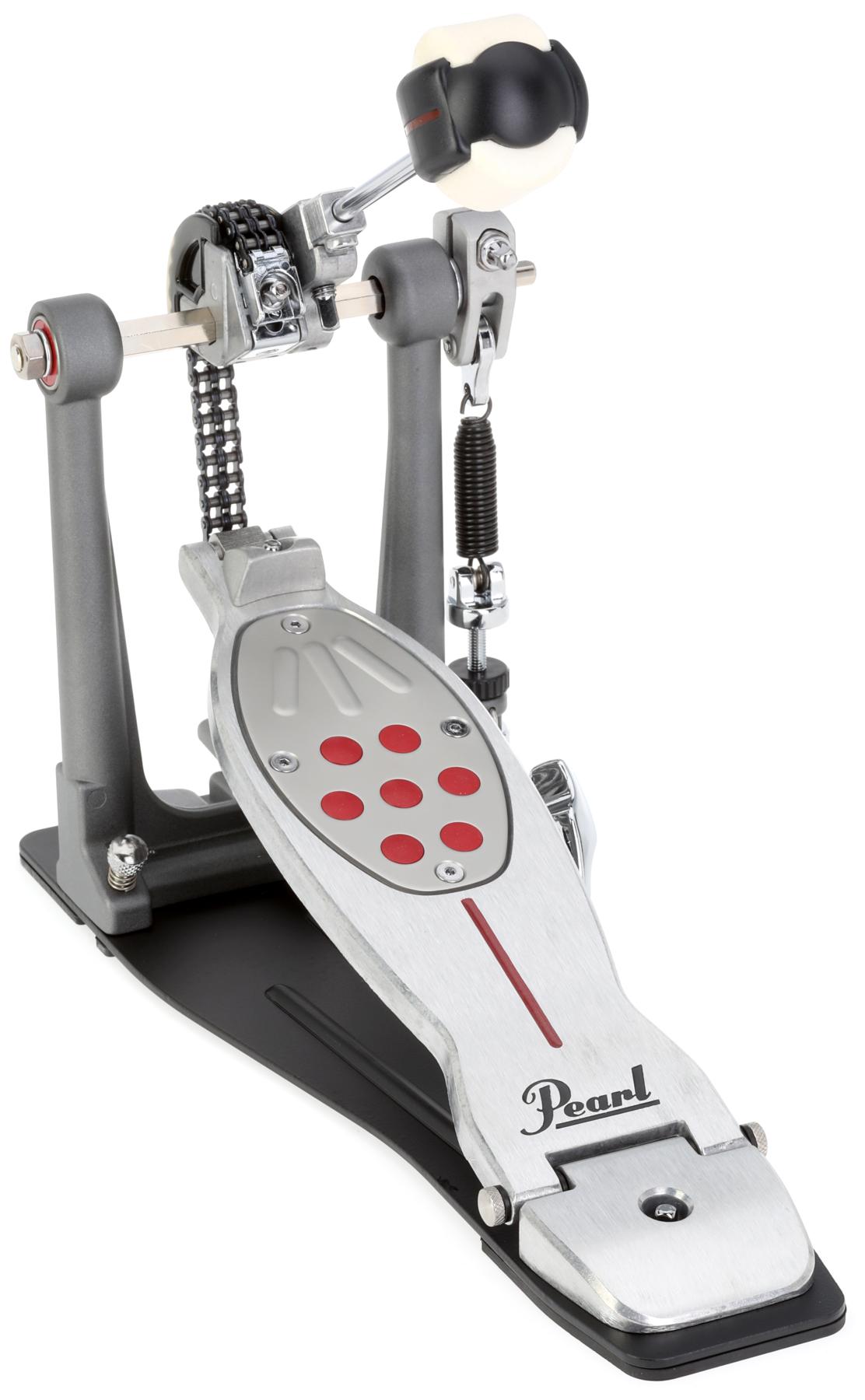 It's hard to find faults in a well-made pedal that's been around for a while now. It's even harder with pedals that elevate your drumming experience significantly. That's exactly what the Pearl Eliminator brings to the table.
Pros
You can choose from 4 cam settings
Adjustable footboard angle
Variety of sounds with Control Core Quadbeater
With its incredible 4-way Interchangeable Cam system, there are a plethora of settings you can choose from. The pedal comes with a sprocket-less dual chain drive system for smoother, precise, and silent play
You can adjust the footboard position thanks to its Powershifter function. Also, its Control Core Quadbeater lets you switch between 4 beater settings.
| | |
| --- | --- |
| Footboard | Regular, adjustable |
| Beater type | Control Core Quadbeater; two felt, two plastic |
| Cam | 4-way Interchangeable Cam (offset) |
| Sensitivity | Moderate |
| Durability | Long |
A lot of thought has been put into this pedal. If you want a more detailed look then check out the entire DW 9000 Series Review (9002 double bass pedal included).
The pedal is centered around the Power Glide LiteSprocket. The previous models featured a Power Glide cam, which already had a lot of fluidity. The LiteSprocket is much lighter and gives more speed and power to the pedal.
Pros
Light cam for silky smooth playing
Cobra Coil makes pedal motions effortless
Adjustable footboard and beater
It features the patented Cobra Coil, whose sole purpose is to facilitate the return of the floorboard to its original positing. And this time, you can adjust its position. Apart from the above, the Iron Cobra 900 comes with a Swivel Spring Tight system to prevent loss of energy, Speedo-Ring to eliminate friction, and Quick Hook for better spring attachment.
The pedal has the patented Power-Strike Cobra beater, a dense beater head for more precise and powerful bass hits. The Vari-Pitch beater holder allows you to change the beater angle without influencing the footboard.
| | |
| --- | --- |
| Footboard | Regular (adjustable) |
| Beater type | Power-Striker Cobra beater |
| Cam | Power Glide LiteSprocket (offset) |
| Sensitivity | High |
| Durability | Long |
There is a reason why many pro drummers swear by Tama's Iron Cobra 900. And have so for the past couple of decades. Logistical design and effortless playing.
What to Look for in a Bass Drum Pedal?
Your bass drum is pretty much useless without a bass drum pedal. So, you want to make sure you don't have a poor pedal.
The first thing should look out for right off the bat is how comfortable it feels below your feet. It shouldn't be too heavy or carry too much friction. Because over time, your leg might get cramped.
Playability, as well as durability, are also crucial things in kick drum pedals. Different pedals might have different mechanisms or simply a different feel, you will likely not get the same precision as every other pedal, or even a different heel size. Nevertheless, an easily playable and sturdy pedal is a good one!
What to Look out for When Buying a Bass Drum Pedal?
Checking out a pedal is one thing. Buying is another. With the latter, the price and durability come into play. You always want to get your money's worth, so don't go too overboard with the budget unless you're fine with it. You also want your pedal to last you a long, long time since you don't want to shell out a couple of hundred bucks every few years.
When it comes to durability, the overall pedal needs to be considered, not just the foot pedal but also the hardware, the hinge, the chain, the click-lock. The better these components, the more good-sounding your drum kit and bass drum will be.
There are a lot of good pedals available today. However, if you care about the brand, Tama, DW, and Pearl are the big players. Mapex, Axis, and Yamaha also make high-quality products.
How to Set Up a Single Bass Drum Pedal?
Setting up a bass pedal can seem daunting as the whole thing is quite intricate. But there's not much to it. The most basic setup requires you to attach the pedal to the bass drum and start playing. Once you get accustomed to it, you can do the compression spring (tension), the beater angle, height, and the footboard pedal adjustment according to your style of music.
What is the Key Feature of Any Bass Drum Pedal?
You'll notice that the common theme occurring throughout all pedals is comfort and smoothness. That's because both of them are paramount whether you're on the stage or practicing for long hours. So, keep that in mind when you're purchasing your next pedal. Factors like power are also important, but they can depend on you as well.
Does a Bass Drum Pedal Affect the Bass Drum's Sound?
If you consider the beater angle or the beater height as a feature of a bass drum pedal, then yes. A bass drum pedal can affect the bass drum's sound.
But the sound of a bass drum largely depends on the king of beater you're employing. Hard plastic and thicker beater heads produce a more precise, sharper sound while felt beaters have a softer bite to them.
Single or Double Bass Drum Pedals?
This comes down to the personal preference of the drummer. Some prefer a single pedal as it lets them control their hi-hat pedal as well. Others can't go a bar without a double bass fill. Most pop, funk, and jazz drumming can do with just a single bass pedal. While metal, progressive, and jazz fusion drumming incorporated a lot of double bass pedals.
It's also worth noting that there are 3 types of bass pedals: chain, belt, and direct-drive pedals. Also, you might've also encountered the single chain drive or the double chain drive, which are pretty self-explanatory.
Conclusion
A bass drum pedal is an absolute necessity for any drummer. This is why you should consider a good one as an investment. Normally, a good kick pedal, whether it's a single or double pedal, lasts quite a while so choose wisely.
My top recommendation would be the DW3000 as it is a well-rounded pedal, suited to all drummers.
My budget recommendation is the Pearl P530. If you don't want to break the bank, this will be a good choice.