Roland TD-17KVX Review – Our Verdict
With the new TD 17 Series , Roland once again justifies its reputation as a top electronic drum set producer. This is quickly becoming one of the new go-to kits for drummers that want a solid mid-level electronic drum set.
The new model comes in three different versions. Although they use the same module, the differences in playing surfaces can make quite a difference, so make sure that you understand what each variation has to offer.
Roland TD-17KVX – Price Comparison
The best features
Upgraded module with better sound and connectivity options.
The large double-mesh snare pad is a significant upgrade.
Good quality kick tower.
Bluetooth audio streaming to the TD-17 module.
Integrates with 'Melodics for V-Drums' – An interactive learning platform for electronic drums.
Different versions of the Roland TD-17 Series
Before we get down to the details, let's look at the differences between the different models in this series.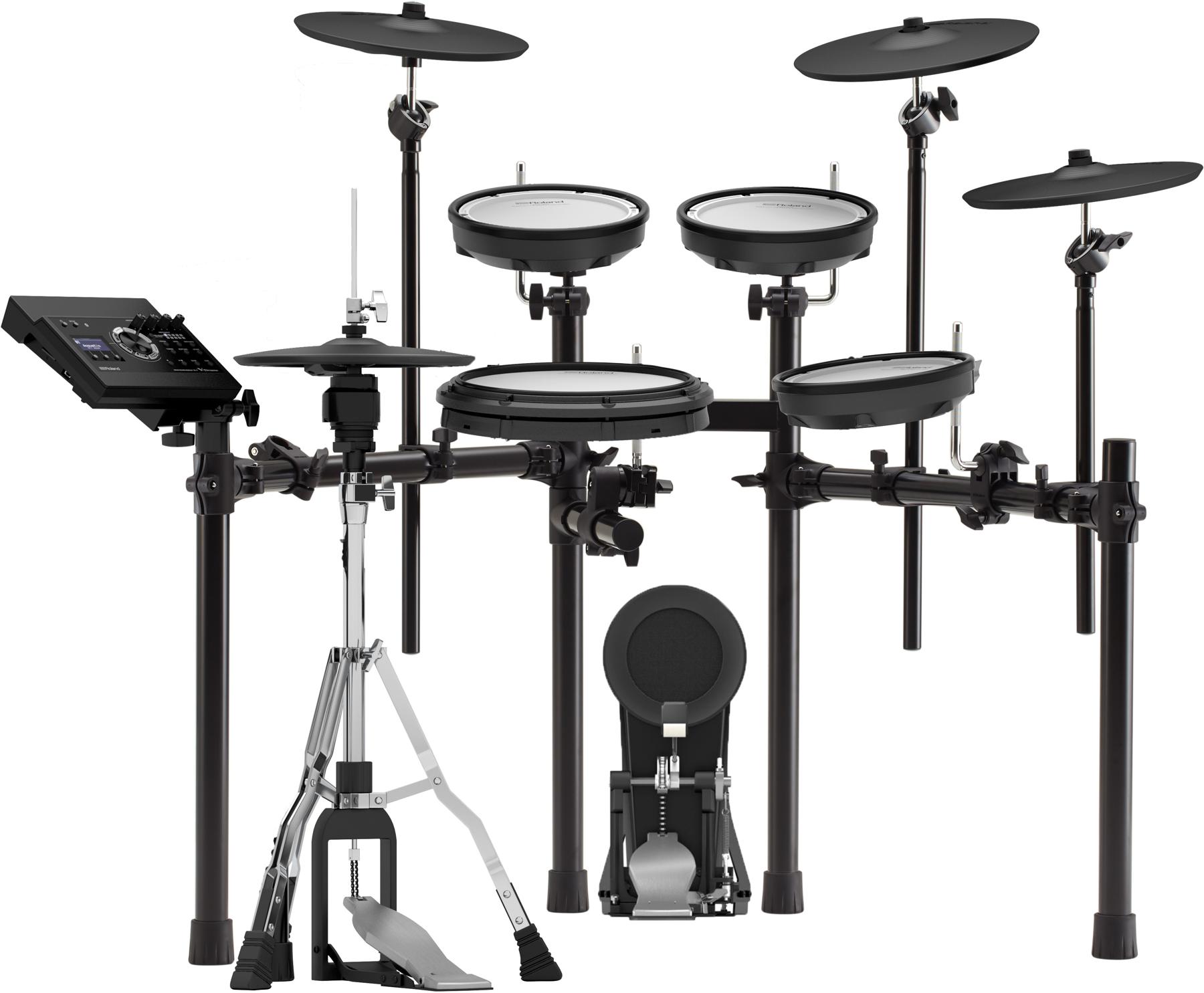 Best Model
- 2 crash pads, 1 ride pad, hi-hat pad designed for full hi-hat stand, great mesh heads, upgraded cymbals, great drum module.
Cheaper than the KVX, but with a standalone hi-hat pedal, lower level cymbal pads, and only one crash (However, the module still allows for expandability).
Lower Budget
- This one has a mesh snare, but rubber tom pads. It's still a great quality kit for those on a lower budget.
Unfortunately, Roland's designations instruments can be a bit confusing, so we're here to help!
1. Roland TD-17-KVX
The Roland TD-17-KVX is best version of this set. It includes the TD-17 sound module, large mesh pads for the snare and tom pads (including a very nice, large snare pad).
The hi-hat is one of the biggest upgrades for this kit, as it is made to use an acoustic hi-hat style stand and pedal. This makes it feel a lot more natural for players that want to work on their hi-hat technique.
The cymbals are nicely upgraded models, and better than the other TD-17 variations. The TD-17KVX also includes a second crash cymbal.
The kick tower that comes with all the versions of the Roland TD-17 are compatible with double-bass drum pedals. However, this generally will not come with the set when you are buying it.
Roland also designed TD-17 KV-L model, but this kit is currently in the offer on some specific markets only.
2. Roland TD 17KV
The Roland TD-17KV has a lower list of features as the KVX, but it's still a fantastic electronic drum kit. It has the exact same pads as the 17KVX, but the cymbal pads are not quite as good. The hi-hat also uses a standalone pedal.
In terms of cymbal pads, it comes with one crash, one ride, and a hi-hat pad.
Keep in mind that the drum module is the same as the KVX, therefore you could upgrade items later on or add a second cymbal and drum pad.
3. Roland TD 17K-L
The most basic model is called TD 17K-L. The L stands for "light", as this is the cheapest variation of this set.
As a compromise for the lower price, that the quality of the tom pads are not as good and most of the pads are smaller.
The tom pads use rubber heads, which are a disadvantage. However, the snare pad uses a quality mesh head, which is always the most important one to invest in.
If you have a lower budget, then the TD 17K-L is still a great kit, but the experience won't be as good as with the more fully featured variations.
You can also upgrade the toms to mesh heads later but it's usually a lot more cost effective to buy them as part of the electronic drum set.
New Module
Each of these sets comes with the new TD-17 drum module. The TD 17 comes with a new Prismatic Sound Technology, borrowed from the flagship TD-50. It brings a wider palette of sounds, which don't just sound more realistic but offers spectacular dynamics and color diversity too.
There are 300 different sounds, 50 drum kit presets and total room for 100 presets.
More Connectivity Options
Besides tons of different sounds, the new module also brings you great connectivity options.
As you may presume, all connectivity options from the previous model carried over. Additionally, you can now connect the module with your smartphone as well. No cable is required, you can connect via Bluetooth.
Jamming has never been easier. For additional convenience, there is also a kind of small shelf on the module, where you can put your smartphone or another device.
As fairly standard features, the L and R outputs allow you to connect your drums with PA, amp etc. If you want to trigger or record your drums externally, MIDI Out is featured as well. There is also a headphone output.
Finally, there is an SD card slot. All you have to do is to load music or backing tracks and play along for hours. Moreover, there is also an option to speed up or slow down these tracks, which is a great way to practice your skills.
New Pads
Besides the new drum module and new connectivity features, there is also a fine amount of hardware improvements in the new TD 17 series. Roland introduces all-new snare drum, kick drum and hi-hat pads.
PDX-12 Snare Drum
One of the biggest improvements that came with this kit is a new snare drum pad. The new PDX-12 replaces the smaller PDX-8 pad. However, it doesn't just come with more inches in diameter. It features a completely new design, with a new rim.
Previous snare drum pads were characterized by a rim that is positioned unusually high, much higher compared to rims that you can find on a common acoustic snare drum. It may sound like a small change but in practice, it makes a transition from acoustic to electronic drums much easier.
The snare drum is a very important element of your kit in terms of musical expression. It's great that Roland really focused on big improvements to the snare pad.
KD-10 Kick Drum
Another improvement is the new KD-10 kick drum. It may look pretty much the same as the previous KD-9 model, but it is actually far more convenient in many ways. The first thing you'll notice about it is a new foot structure, which features far better ergonomics and stability and guarantees it will stay in place, even if you are a real hard kicker.
Another great thing about this pad is that you can also play double-bass pedals. Finally, the new kick drum is quieter. Roland used new materials while designing this pad, mostly some special kind of rubber. This is great for home practicing.
VH-10 Hi-Hat
Finally, there's a new VH-10 hi-hat. It features a brand-new design, with a relatively small base and a floating-top cymbal. The hi-hat strikes a good balance between weight and thickness. In practice, this allows pretty fluid footwork compared to some earlier hi-hats from Roland.
Roland and Melodics
Earlier this year, Roland started a partnership with Melodics, which is one of the world's leading software in the area of musicians training. Among lessons for all kinds of instruments, there must be hundreds of them for drummers as well.
You can download it for free, and they provide you with 40 free lessons (there are also many additional paid lessons). Once you're done with the installation, just connect your module to a computer or laptop, via USB cable, and you can start practicing. Also, there are special courses for different music styles.
Conclusion
The Roland TD 17 is a great electronic drum set. No matter which version you choose, you can count on amazing quality, especially when it comes to hardware.
Despite the fact we are talking about a mid-class product, this drum set features some market-leading components, such as new hi-hat. The rest of pads is also on par with much more expensive electronic drum kits.
One of the biggest strengths of Roland products are their build quality. In fact, the majority of Roland products are extremely sturdy and can withstand touring.
The TD 17 makes a huge step up in the area of sound quality. It comes with a module that features some of the same technology that's used in their absolutely fantastic TD-50 kit. It definitely sounds much better than previous models.
With all these qualities, the Roland TD-17 series is a serious option to consider if you're looking to get a quality electronic drum set.