10 Great Websites for Drum Samples (2023) – Free and Paid Options
On the lookout for some great drum drum samples? Thankfully there are a vast amount of drum sample packs online and you can find great ones for just about any genre.
If you want to take your music to the next level, then you MUST have a great-sounding drum track. This is very important if you want your mixes to be to a professional standard.
Fortunately, things are much easier for producers these days, as numerous websites offer drum samples. Among them, there are places where you can find amazing-quality samples that are used by professional producers as well.
The Best Websites for Drum Samples (2023)
Before we go into more detail, here's a summary of some of the best pro options available:
1. Real Drum Samples – Free/Paid
Jay Fisher over at Real Drum Samples is giving away 100+ premium drum samples for free (these are particularly great for hip-hop).
If the samples you are currently using are not cutting it, then you should check these out.
His samples have caught the attention of some big names in music, including the following:
Needlz (Bruno Mars, 50 Cent, The Game)
Jean-Marie Horvat (Timbaland, Trey Songz, Justin Timberlake)
Tha Bizness (Kendrick Lamar, Chris Brown, 50 Cent)
Steve Baughman (Michael Jackson, 50 Cent, Eminem)
If you want to take your beats a step further, you can pick up his premium packages:
Line of Legends Bundle
The Line of Legends Bundle gives you a ton of great kick drums, snares, claps, finger snaps, hi-hats, toms, cymbals, and 808s sounds.
"Each sound has been individually EQ'd, filtered & compressed for maximum punch while keeping the dynamic integrity alive."
Jay over at Real Drum Samples is offering a 20% discount to our readers for any premium pack. Just use the following discount code: "DRUMADVISOR20"
Ultimate Percussion Jungle Bundle
In the Ultimate Percussion Jungle Bundle, you get more than 400 great-quality percussion drum sounds. "Half a decade of exotic percussion recordings, collected in one giant package."
2. Loopcloud – Free/Paid
Loopcloud is also a popular cloud-based sample app. It gives you a lot of time to get familiar with all of its functions and, believe me, there are many of them. Once you download the app and sign up, you have access to tons of samples of various instruments, including drums.
Plugins for various DAWs are also available, so you can count on easy integration and convenient use. Also, this app offers its own loop editor, which means you can work on these samples before you export them to your DAW. You can quickly edit, slice, reverse, and make many other modifications on samples before you even touch your workstation, which has a positive effect on workflow.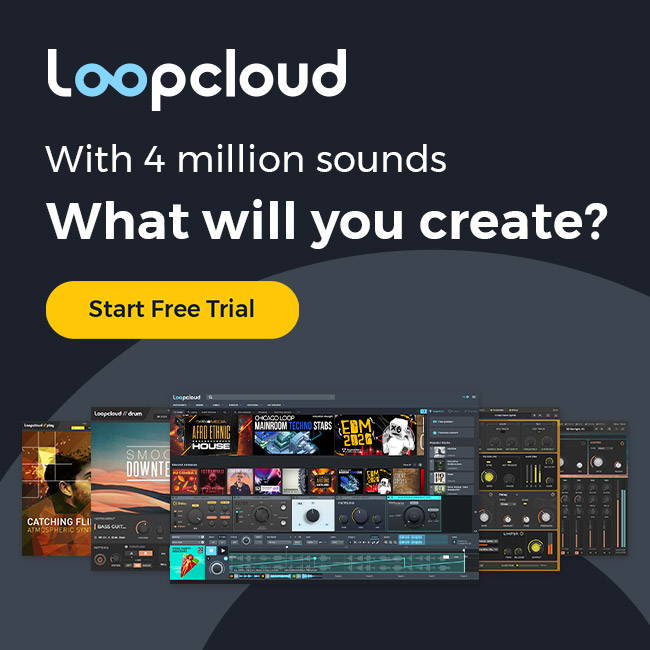 3. Splice Sounds – Paid
In the world of samples, Splice is one of the first names that comes to mind. It is a typical cloud management software, which allows super-convenient use. The only thing you'll need to do is to download the app, which integrates with pretty much any kind of DAW software. Such a design allows a fast and easy workflow, and that is one of the biggest advantages compared to typical downloadable samples.
Speaking of the samples, this website has a huge library, which besides numerous drum samples, and drum loops, also includes tons of content for other instruments. Moreover, you have access to samples that were created and used by famous producers.
Besides the excellent quality of the samples, there is another pretty amazing thing about Splice. Unlike most websites where you pay per sample or package, this one has a monthly fee. From my perspective, this is great because you won't waste money buying expensive packages just because you need a couple of featured samples.
4. Toontrack Superior Drummer 3
Superior Drummer 3 is a great option for those that are looking for a bit more than just drum samples. This is a plugin for your DAW that brings in a massive amount of options and variety to both emulate acoustic drums and create drum machine-type sounds.
Designed by award-winning engineer George Massenburg, this plugin offers a top-tier sound quality. It is also extremely easy to use since its graphics emulate conventional drum kits.
5. Cymatics – Free/Paid
Cymatics has managed to become one of the leading websites in the business, mainly because of tons of good content as well as pretty heavy advertising campaigns. This is a perfect place for producers, which isn't just about samples but many more things as well.
When it comes to samples, you can find pretty much anything, including various musical instruments, genres, etc. In terms of drums, there is a pretty nice library of samples, classified by different styles.
While there is some free content for download, you will have to pay for most of the things this website offers. Keep in mind that prices aren't affordable at all. Still, the samples are amazing, with great sound quality.
6. Looperman – Free
Considering all the content and the fact that everything is free on this website, this is one of the best places to visit if you need quality samples.
The Looperman offers a huge base of samples that are available for download. The best thing is that everything is free and that samples are also royalty-free, so you can use them for your commercial projects without any worries.
The quality of samples can vary. Most of them sound great, but if you want those that sound amazing, you will have to dig a lot. But, believe me, Looperman is definitely worth digging. You can find some pretty spectacular samples here. After all, even some major producers used samples from this website.
The library is huge, as there are thousands of files for download. The content goes way beyond drums and includes other kinds of instruments, as well as vocals.
7. Function Loops – Free/Paid
Function Loops offers pretty much everything one producer needs. Of course, the focus is on samples, and I can say the drum sample libraries are quite large. Besides quantity, you can also count on plenty of quality.
Some of the content is free, but those higher-quality samples are usually paid. They usually come in some kinds of packages or compilations. Many of them are about drums, though other instruments are available, as well as numerous samples for specific genres (jazz, fusion, indie, trap, dubstep, pop music, and more).
Other than samples, Function Loops offers a few more quite useful things. Some of them are custom vocals. This website offers vocals that are recorded specially for your tracks. The price may look expensive, but keep in mind that you can use them for commercial use, so there is no need to pay further royalties.
8. Converse – Free
The Converse Sample Library is one of the best places to visit if you need high-quality samples. The library is huge and includes all kinds of samples that are recorded in the Converse Rubber Tracks studios, by professional musicians. Pretty much all instruments and styles are covered, and the content usually comes in packages.
The quality of all samples is amazing. As I've already mentioned, everything is recorded in a studio, played by professional musicians on real instruments. The best part comes when you find that everything is completely free, without royalty tricks and strings attached.
9. W.A. Production – Free/Paid
W.A Production is another major name among websites that offer high-quality samples. Of course, there are all kinds of samples on the offer, while the drum department is particularly good. The overall quality of sounds is amazing, so it's no wonder that many professional producers and musicians use W.A. samples.
Although some of the content is entirely royalty-free, the best samples are, naturally, paid. These samples usually come in various forms of packages, designed either for a specific instrument or a certain style of music.
Another nice thing that this website offers is the W.A. Production Puncher plugin, which allows you to edit samples in many ways. The plugin is easy to use. Despite having a pretty minimalistic layout, it looks very modern and comes with a lot of useful tools. Another great thing about this plugin is that it is very light on the CPU.
10. LiveSchool – Free
LiveSchool is actually a kind of a school for producers based in Australia. It primarily offers various kinds of courses, lessons, and similar kinds of content. Interestingly, there is also a fine base of drum samples you can download for free. The sign-up process is a little bit complicated, but once you're done with it, you get easy access to the samples.
As you can see, there is a fine number of websites where you can get quality drum samples. Keep in mind that most of them are paid, but that doesn't mean there is no chance to get high-quality audio that is also royalty-free. It may require a lot of digging, but nothing seems hard when you're on a tight budget.
The difference between sample packs vs cloud-based sample libraries
There are two types of drum samples you can find on the network. Most websites still work more traditionally and offer a large library of files for download.
On the other side, you can also find websites like Splice or Loopcloud, which are types of cloud-connected software that provide direct integration with your DAW software. The main difference is that you can directly import/export files to your workstations, which ensures more convenient use. You can also audition individual sounds and download them instead of buying the whole sample pack.
Moreover, many of them also offer various kinds of loop stations, which allow you to edit samples before they even get to your workstation. This is highly beneficial in many ways and can have a highly positive impact on your workflow.
Summary
So, that's our round-up of some of the best websites to get your drum samples from. Every producer is different; you may prefer to work with individual sample packs, cloud-based sample drum libraries, or use drum plugins such as Superior Drummer.
Whatever your preference or budget, this article should have something for just about everyone.