This list includes our top picks from essential, entry-level cymbal sets to fantastic professional cymbal packs.
The preference of sound varies between drummers and there are simply so many options available. Because of this, it can be very confusing when figuring out what types of cymbals to buy.
In general, it's far more cost-effective to buy cymbals as part of a pack. If you're looking for something basic, then check out the entry-level options.
If you're an intermediate or advanced drummer, then you will get great quality cymbals from the pro options below.
My pick as the best cymbal pack is the Zildjian K Custom Dark Cymbal Set. Zildjian K is one of the most sought-after range of cymbals, and the dark cymbal set gives amazing tone and texture, suitable for many different styles.
Another great option is the Sabian SBR Promotional cymbal set, which offers good sound quality and sturdiness at an affordable price.
The 5 Best Cymbal Packs (2021)
Let's look at these in more detail.
This K Cymbal Set is an absolute joy to play. It consists of 4 cymbals in total that provide dark and warm undertones with short decay. It includes 14″ K Custom Dark Hi-Hats, 16″ K Custom Dark Crash, 18″ K Custom Dark Crash, and 20″ K Custom Dark Ride.
Pros
Great quality and depth of sound
Specific dark, warm sound
Dark and warm undertones with short decay
| | |
| --- | --- |
| Cymbals | 1x 14″ Hi-Hats, 1x 16″ Crash, 1x 18″ Crash, 1x 20″ Ride |
| Materials | Copper/Tin |
| Sound | Warm, dark, low |
If you want to look at some other great options, there are other versions in the Zildjian K cymbal range, such as special dry pack, country pack, custom hybrid pack, and worship cymbal pack. Each of these provide a different tone, volume, and feel that are suited to different styles. However, it's all down to your preference as a drummer.
The Sabian SBR cymbal pack is one of the best entry-level sets out there. It will instantly be a major upgrade from the stock cymbals that are included in most beginner drum sets. These are nice bright-sounding cymbals that are very sturdy and should last you a long time.
Not everyone is looking to buy the best-sounding cymbals in the world with an unlimited budget! Most of the beginners players are actually looking to buy a decent-sounding, affordable cymbal set that won't break the bank!
Pros
Very good sound quality for this price range
Great for beginners and intermediates
Cons
Doesn't sound as good as pro range cymbals!
This cymbal set offers a nice, good-quality sound with durable cymbals that sound surprisingly good for the price.
| | |
| --- | --- |
| Cymbals | 1x 14″ Hi-Hats, 1x 16″ Crash, 1x 20″ Ride, 1x 10" Splash |
| Materials | Brass |
| Sound | Bright |
The HHX range is also a top choice among drummers. This set is made out of B20 bronze using a combination of HH and HHX hammering in the production.
Pros
They sound amazing!
High-quality materials and production method
Hammered bell
| | |
| --- | --- |
| Feature Table | |
| Cymbals | 1x 15″ Hi-Hats, 1x 19″ Crash, 1x 22″ Ride |
| Materials | B20 bronze |
| Sound | Dark, complex, dry |
This set produces a full-bodied, warm sound that is applicable in many music genres. The Sabian HHX Complex Performance Set are pro cymbals for drummers that want to get a top quality pack.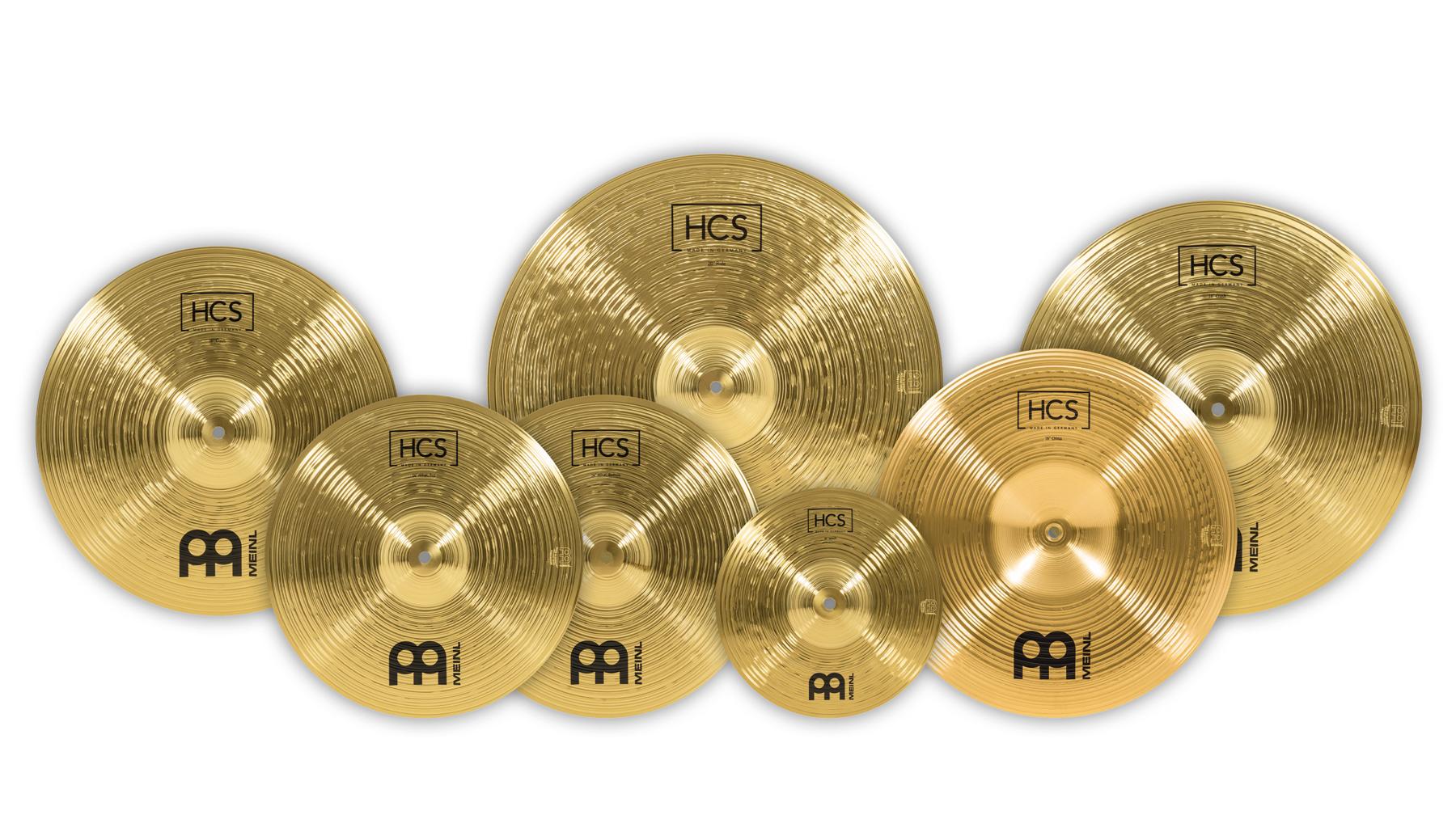 The main selling point of this set is that it comes with a total of six cymbals, compared to the standard 3-4 cymbals in the set. Meinl are a well-respected brand and this set consists of some nice, bright-sounding cymbals.
Pros
6 cymbals in the set
Affordable price
Best for the beginners
Cons
Not the best quality
Not made for day-to-day playing on a more serious level
The pack I am featuring here is the 6-piece super set, but if you want to go a step further, they also have a 9-piece super set. However, keep in mind that you'll have to make sure you have enough cymbal stands or cymbal arms to hold them all!
| | |
| --- | --- |
| Feature Table | |
| Cymbals | 1x 14″ Hi-Hats, 1x 16″ Crash, 1x 18″ Crash, 1x 20″ Ride, 1×16" China, 1×10" Splash |
| Materials | Brass alloy |
| Sound | Bright |
If you're looking for a big cymbal set without breaking the bank, then this one is well worth considering.
We finish off the list with this iconic set. The A Custom set from Zildjian is the set if you're into playing harder music.
Pros
High-end quality set
Great for rock, punk, metal, and other harder styles of music.
Good both for live performances and recording in the studio
Cons
Doesn't suit softer music as well
Sharp tones coming from these cymbals will cut through the other instruments in a live or studio mix.
| | |
| --- | --- |
| Feature Table | |
| Cymbals | 1x 14″ Hi-Hats, 1x 16″ Crash, 1x 18″ Crash, 1x 20″ Ride |
| Materials | B20 alloy |
| Sound | Bright |
Types of Cymbals in a Cymbal Pack
There are 3 main types of cymbals: hi-hat, ride, and crash. There are also different variations and different types as well, such as crash-ride, splash, china, and other effects cymbals.
The hi-hats are a pair of cymbals placed on top of each other. The drummer controls the movement of the top hi-hat with a foot pedal.
Crash cymbals are often hit hard and used as accents throughout a song.
The ride cymbal is the largest and it has the most nuanced tone of all three.
You can buy the cymbals one by one, but you can also get them in a set. Buying them in a set doesn't give you as much versatility in combining different cymbals from different makers, but it gives you a better price and a full set of cymbals in one go.
Conclusion
There are lots of different cymbals packs on the market out there. You can go and buy your cymbals individually, but buying them in a set certainly has its advantages. They'll be well matched for each other and you'll often save money when buying them in a set.