The 10 Best Snare Drums for All Budgets (2023)
The sweetest sound to a drummer's ears is the crack of the perfect snare drum! It dictates the feel of your drum set and defines your sound. I've listed out some of the best snare drums to buy in 2023.
Since there are so many great snares available today, it is not possible to make a definitive list. Instead, I have rounded up ten of the best snare drums based on playability, price, and popularity to narrow the search for your next essential percussion element – the snare drum.
My top recommended snare drum is the Ludwig Supraphonic LM402. A well-rounded choice that is reasonably priced yet delivers superb sound and versatility.
My second recommended snare drum is the DW Design Series Black Nickel over Brass Snare. A more affordable but still quality snare drum with a good sound.
The Best Snare Drums (2023) – At A Glance
And now onto the full list: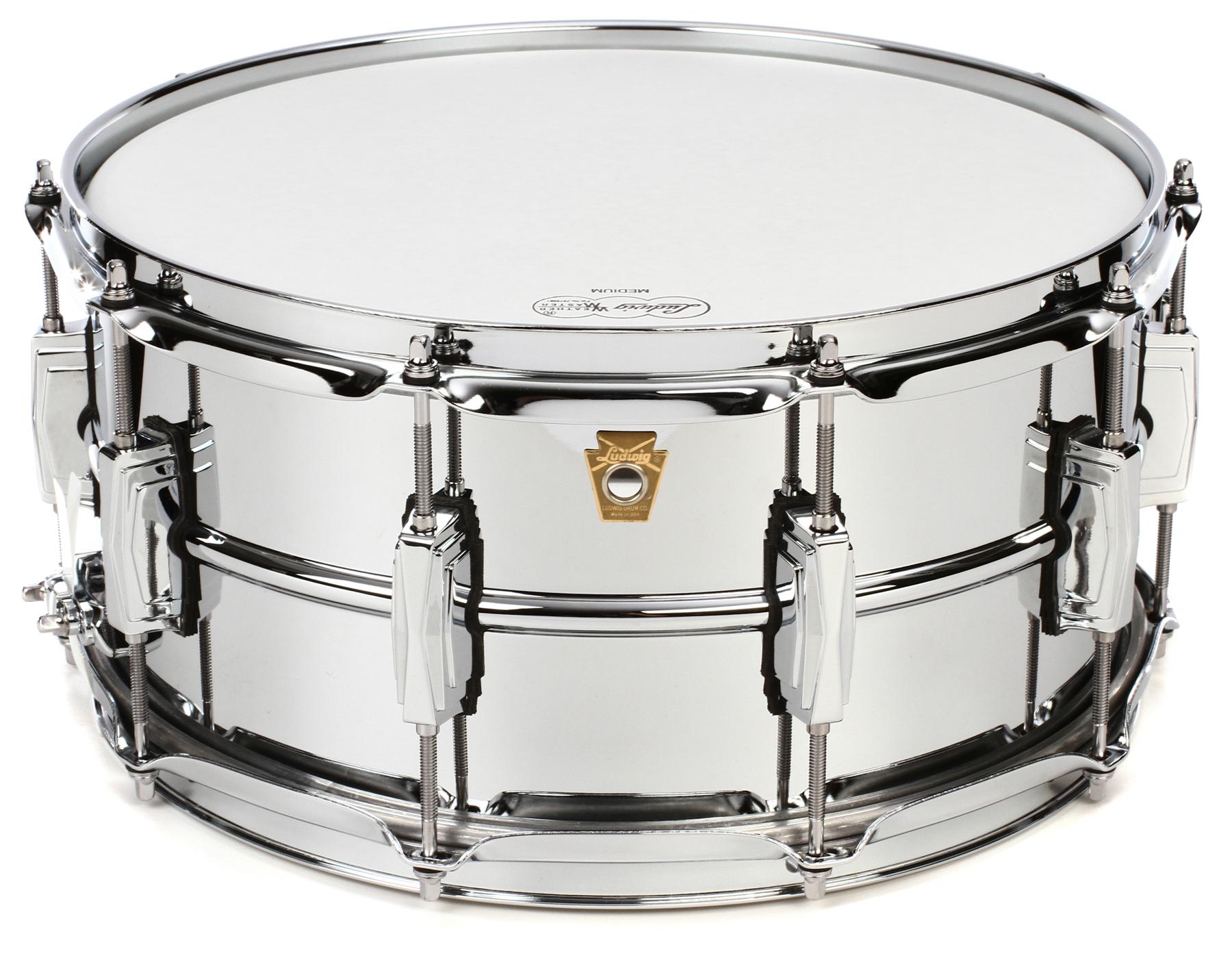 This chrome-over-aluminum snare has the classic Bonham sound that is highly sought after. It is versatile, responsive, and modestly priced – everything you need in a snare drum. It responds well to brushes, sticks, and anything in between.
The LM402 has a classic 10 lug design with a chrome metal shell, triple-flanged hoops, and a P-85 throw-off. The 6.5" depth produces a full and fat tone with a majestic projection. The Supraphonic is a workhorse that can endure rigorous sessions in the studio and on stage for many years.
Most rock and metal drummers like the Supraphonic for its dynamic response and loudness – it is a great representation of the arena rock era. It has a sharp (bright) tone that is so crisp that it can cut through the mix with some powerful playing. Other good considerations are the Ludwig Black Beauty and the Ludwig Black Magic snare drum.
The Black Nickel over Brass snare offers a wide range of tones with a full attack and controlled overtones. The construction, components, and design technology are great for the price. The snare tones are assertive with musical overtones and formidable projection.
This snare has a solid 1mm beaded all-brass shell with black nickel plating, triple-flange hoops, DW lugs, and tap-style throw-off. It also has a True-Pitch tuning system that helps maintain tuning stability. It is a great-looking snare that plays well right out of the box.
It offers a full range of tones and an equally wide range of tuning options. This snare is manufactured in Taiwan and it ships with a Remo Reverse Dot battery head made especially for DW Drums. There is only one finish option but it is also available in 14 x 5.5 in.
If you want a fat-sounding snare, you will be hard-pressed to find something that can beat the Tama S.L.P. at its given price. It ships with Evans drum heads and has a wide tuning range and a sensitive response that can range from great low tones to mind-boggling loud.
The 1mm steel shell is matched with all-steel hardware, triple-flanged hoops, and patented Tama lugs. The 8" depth makes it sound majestic and the rimshots and accents can be articulated in a way that no diecast zinc snare could dream of.
The S.L.P. is largely preferred by rock and metal drummers who enjoy the clarity and loudness of the big black steel snare drum. The depth of the shell sets this snare drum apart from the competition.
Joey Jordison is a living legend, and one of the most respected and influential drummers in modern music. His Pearl signature snare is no less of a masterpiece when it comes to looks, sound, feel, and component quality – he would settle for no less.
The Jordison signature snare has a 6.5 in-depth and a 1mm seamless steel-shell construction with triple-flange black super-hoops, double-ended bridge lugs, and a side throw-off. It has a black nickel-plated finish and produces a distinctive crack when it is tuned high.
The Pearl JJ1365 is a great snare for metal and rock drummers who admire Jordison's assertive drumming and feral snare tones. However, this piccolo style snare can find equally suitable use in a wide variety of genres and styles.
Pork Pie Percussions takes pride in swimming against the tide and the successful design innovations of the Brass Patina prove it. This jaw-dropping snare is hand-painted with an exclusive patina finish and offers a fat low-end with incredible dynamic sensitivity.
This all-brass snare has a 1mm shell with chrome tube lugs and an oxidized patina finish in a unique swirling blue, green, or brown finish. It has a versatile tone with thick/resonant mids, richness in the lows, and optimal tuning accuracy.
The rich tones and dynamic sensitivity make this a great all-around snare that can work in a wide variety of genres and styles. For a reasonable price, this is a great option for drummers who are looking for a unique looking instrument with an equally distinctive sound.
If anyone has any doubts about Ian Paice being one of Rock's greatest drummers – raise your hands and leave the room. It only seems fair that the IP1465 has the quintessential rock sound with a booming tone and powerful response.
The proprietary SensiTone shell has been designed in collaboration with Ian Paice and it has stop-locks, SuperHoop II rims, and chrome plating. It also has an internal muffler and adjustment screws. The lush and responsive sounds make it an ideal snare for the studio and stage.
Tune it sharp and you can get some cutting and gritty rimshots, and with a wetter tuning, you can get those vintage Deep Purple and Zeppelin style sounds. This is a truly forthright snare that can offer a lot of sonic value to every style and genre, whether it be pop, rock, jazz, etc.
SONOR is well known for design innovations. The SQ1 has been designed in consultation with Chris Coleman as a part of their new drums series. It has the same advanced design technology as the SONOR shell packs, and it is available in Cruiser Blue, GT Black, Roadster Green, and Hot Rod Red.
The shell is made from 7-ply European birch using the CLTF tension-free process. It has steel hardware, triple-flange hoops, and a dual throw-off. It also has a Tunesafe System for tuning stability and a dual glide strainer mechanism.
The snare sounds crisp and cutting, with well-defined high-end frequencies and a focused low-end. The SQ1s ship with stock Remo USA Ambassador coated batter heads and Ambassador Clear resonant heads.
Yamaha designed the Tour Custom line to offer a high-end and durable snare for touring drummers at a modest price. The seamless construction lends a lot of strength to these snares, and they have a great balance of clarity and warmth.
This snare has a 100% maple shell with inverse dynahoops, absolute lugs, and a P-type strainer. The dynamic tones can maintain clarity through a spectrum of sounds ranging from a steady backbeat to a loud rimshot. They are finished in a satin lacquer to optimize the fundamental tones and reduce unwarranted overtones.
This appetizing snare is available in five finishes – Candy Apple, Chocolate, Butterscotch, Caramel, and Licorice. The Yamaha Tour Custom snare drum sounds comfortable in all musical settings – they are crisp, musical, warm, and responsive.
With the only copper shell on this list, Gretsch offers a classic sound with a modern twist. This version includes a unique look with lots of attention to detail and advanced design technology. The result is a beautiful snare drum that is dynamic and among the more versatile snare drums around.
The 1mm solid copper shell is matched with die-cast hoops, standard lugs, and the proprietary Gretsch drums throw-off. It is made in America and ships with powder-coated heads and the laser-engraved Gretsch badge/logo. It also has a snap-in drum key holder and 42-strand snare wires.
The Black Copper Snare has a black powder coating that adds more control to the tonal character to keep the overtones balanced. It also gives a dry warmth to the overall tone and a distinct muted-yet-striking sound. It is a great all-around snare for rock but it can suit a variety of styles and genres.
The Ludwig Supralite Snare Drum is the last entry on the list. This affordable snare drum, despite its modest price tag, has good quality components and a very good sound, resulting in an all-around decent snare. It is a great option, especially for a beginner drummer.
Fully equipped with brass snare wires, chrome-plated brass lugs, as well as triple-flanged hoops, this snare has that much-needed snap and pop sound most drummers crave. It's quite sturdy for the given price and the clear midrange overtones are a plus in this situation.
It is no secret that Ludwig is a respectable brand behind many classics that have found their place in the music world, the Supralite snare drum is no exception. With a good price, good sound, and pleasing aesthetics, this snare is worth considering.
What to look for in a Snare Drum when buying?
There are a few key factors to keep in mind when buying a snare drum like the material, the size and depth, sound, and naturally, the price of the snare drum.
Material
The material is often the key element behind the capabilities of the snare drum. The most common materials you will encounter are wood and metal. The best that fall under the category of wood are mahogany, birch, poplar, and maple snares. Under the metal category, you will most likely see steel, bronze, aluminum, and brass snare drums.
While the above list has pretty much every type, you cannot go wrong with either. It's a matter of preference in this case, with wood snares producing a more warm sound, and metal snares a more bright sound.
Size and Depth
The size and depth play the key factor in the pitch you desire. The above list mostly focuses on 14″ in diameter and around 5-8″ in depth. This is the standard for most, but there are thinner and thicker ones out there. Your best bet is to try out a particular snare drum in your local music store to see what you want and need. Naturally the tuning of the tension rods is a factor as well.
Sound
Naturally, the sound is very important. Many factors feature in the sound of the snare, as mentioned above. Depending on the material, size, depth, there are various snare drums out there for all occasions, of course, again, your best bet is to visit the local music store and try one out to hear what it sounds like because YouTube videos can be edited as opposed to hearing it in real life.
Price
As always, the price is a good consideration point. Luckily, this list captures all price ranges so you can choose carefully. One piece of advice, do not go all out if you're a beginner as an entry-level snare will do just fine and you can gradually upgrade as time goes on.
Summary
These ten snare drums listed above can make a great addition to almost any drum kit. Many drummers like to have multiple snare drums on hand, particularly those that like 'specialized' snares for different musical genres and contexts. Either way, this list should help you narrow down your options and make an informed choice on your search for the best snare drum for your needs.
My top snare drum pick is the Ludwig Supraphonic LM402. An all-around choice with a reasonable price tag that delivers great sound and versatility.
My budget snare drum pick is the DW Design Series Black Nickel over Brass Snare. If you want quality, along with a more budget-friendly price, this is the one for you.