The 7 Best Bongo Drums (2023) – Afro-Cuban Percussion
Bongos are a great way to add rhythm to your music. Whether you are a beginner or experienced musician, there is a set of bongos out there that will suit your needs.
Choosing the right set of bongos is important, and the material, heads, and construction are all factors to consider. They are not to be confused with other percussion instruments like larger conga drums, which they are often played together with.
My top recommended bongo drums are the Meinl Percussion HB100VSB Bongos. If you want a good quality set with great sonic capabilities, then these Meinl bongos are the ones.
My second recommended bongo drums are the Remo RH-5600-00 bongo drums. This is a more affordable option if you want a bongo set without compromising your pockets.
The 7 Best Bongo Drums (2023)
Let's compare these in more detail.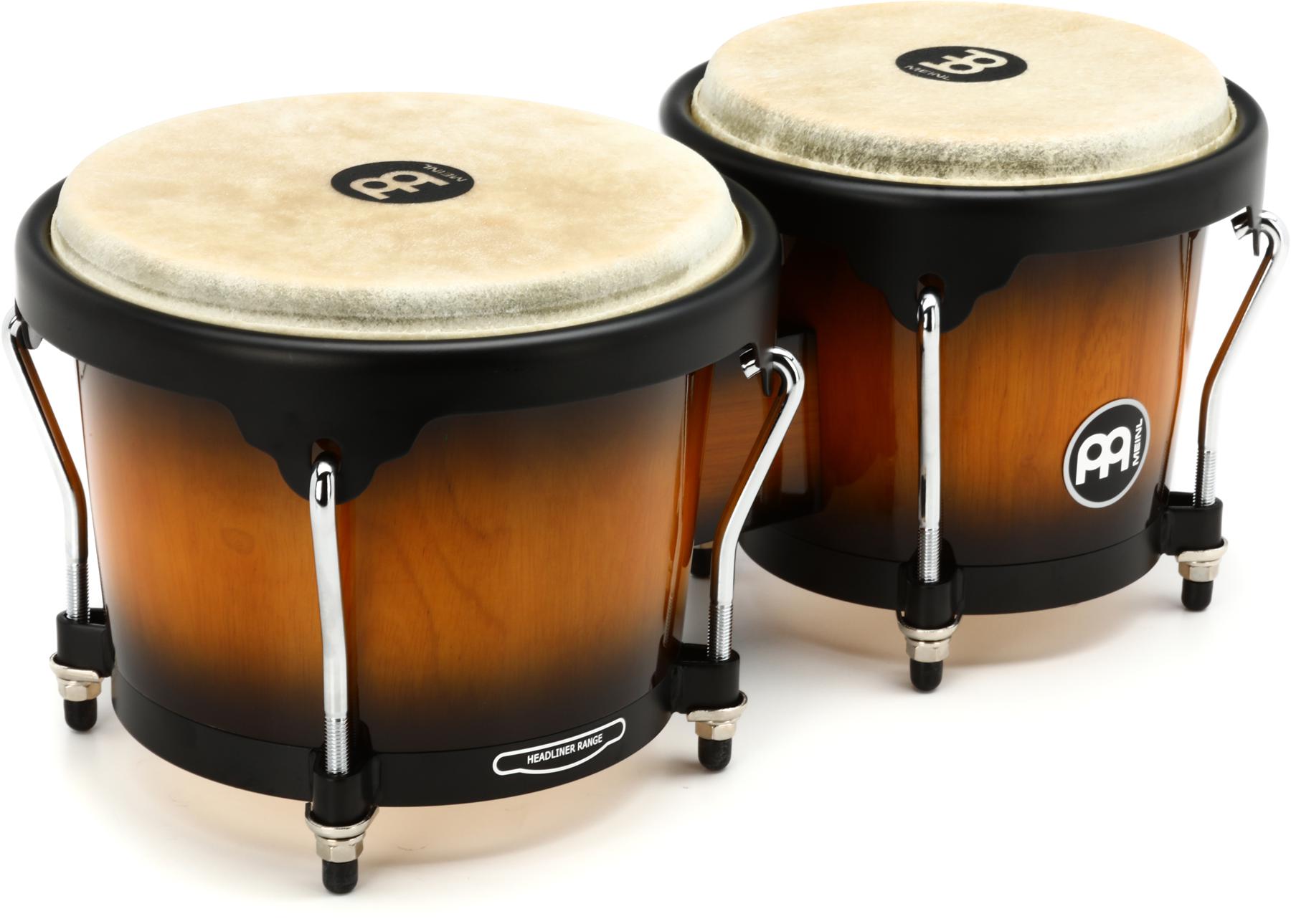 Meinl percussion are a brand well known for sound quality, durability, and aesthetical appearance. My top bongo pick from this manufacturer is the Meinl Percussion HB100VSB bongos.
They come with hand-selected buffalo heads that you can quickly tune. It includes tuning lugs as well as black powder-coated rounded rims.
Due to great acoustic properties, they have great durability even if you are a heavy hitter. The shells come from Rubber Wood, which is environmentally sustainable and lightweight.
The material will provide you with deep resonating tones that will respond correctly at any sound level.
The Remo RH-5600-00 bongo drum comes with an exciting and appealing Rhythm Club graphic. It is durable and constructed from a black molded rubber base and acoustic on shells.
It is great for both young and experienced drummers that would like to transit to world music genres and styles.
Due to the plastic head, you will be able to rest assured, because it will not fluctuate in pitch with humidity and temperature changes, which is a common problem among other bongos that you can find on the market.
If you wish to find entry-level bongo drums that will help you learn your playing style and improve your playing perspective, you should also consider the Remo KD-5400-01 bongo drums.
It is an excellent choice that will provide you peace of mind when it comes to playing. It features Skyndeep pre-tuned drumhead that you can pitch is at high and low as well. The drum heads look great too.
The above video shows how the bongos sound which is important to know before purchasing. These entry-level and affordable bongos are a good buy!
4. Tycoon Percussion 6 Inch & 7 Inch Ritmo Bongos
High-end, High-quality
High quality Bongo's from Tycoon Percussion.
View Price at Amazon
Tycoon Percussion Ritmo Bongos are a great solution if you are willing to spend more money than other bongos we have mentioned above to get the professional ones that you can use for both home playing and recordings.
Even though they are basic when compared with more expensive choices, it is an excellent choice for beginners to understand how real bongo functions and how to play it overall.
When it comes to entry-level bongos that you can find on the market, Tycoon Percussion is one of the most prominent names. They come with high-quality construction when compared with other bongos within the price range.
You can choose six and seven-inch drums based on your preferences. The aesthetical appeal of this particular set is impressive, and skins feature great texture and natural color. Powder-coated black tuning hardware is also great and will stand the test of time.
It is important to hear how they sound which is why the above video is very useful before purchasing, especially more pricey bongos like these.
5. GP Percussion B2 Pro-Series Tunable Bongos
Mid-range set
Very affordable Bongo set.
View Price at Amazon
If you wish to find a budget-friendly set of bongos that you can use along the way, you should consider GP Percussion B2 Pro-Series bongo drums. It is an excellent solution that you can find in two sizes which as six and seven inches.
The best thing about it is that you will be able to enjoy natural hide heads and Hickory shells, which are pretty lightweight.
It comes with four tunable lugs per drum as well as a tuning wrench that will help you do it with ease. Have in mind that this particular bongo drum set comes with a Nickel-plated rim as well as a cast base rim for additional durability.
The combination of clear finish will give you the ability to show that you will be able to create a perfect sound with this particular bongo drum set.
6. RockJam 7" and 8" Bongo Drum Set
Popular choice, affordable
A very affordable and highly used bongo drum set.
View Price at Amazon
The RockJam 7″ and 8″ Bongo Drum Set is a very popular choice that not only provides decent sound but also a good construction and design overall.
This particular set is pretty popular due to the added padded carry case that is included, plus a tuning key. Aside from that, this bongo set of 7″ and 8″ bongos is very easy to use and super portable, making transportation a distant issue.
RockJam is very well-known for its affordable products and decent quality, providing an excellent value-for-price ratio, this bongo set is one to consider.
7. Eastar Bongo Drums 7'' and 8''
Great well-rounded choice
Great design with good quality sound.
View Price at Amazon
The Eastar EBO-21 Bongo Drums are definitely one worth exploring if you want an all-around bongo set. The well-roundedness of this set is all the more impressive considering the added lightweight hard case and tuning wrench.
Sturdiness is key with the EBO-21, made from good quality hardwood that just adds more resonance and sound quality overall. Plus, you have the stainless steel rim that just adds even more value!
The skin on the head is of particular quality made from buffalo skin, providing even more quality sound with warmth and melodic capabilities.
What to look for when buying a Bongo set?
None of the Bongo's on this guide should break the bank. Even great quality ones are often quite affordable. Here are some important things to keep in mind when buying a set of Bongo's.
Material
You should remember that different materials would provide you with a distinct sound as well as a different playing experience. That is why the material should be your first consideration.
One of the best materials for bongos is wood, and Oakwood is a common choice in Cuba where bongos are a fundamental part of the music. Modern bongos can also come from more expensive wood solutions such as mahogany. Wood bongos will allow you to get a deeper sound, while other models that come from heavier woods will provide you with sharper tones.
On the other hand, ceramic bongos will also provide you with a distinctive shape and sound. The main reason for their popularity is the lack of reaction to environmental changes such as temperature and humidity. A new consideration is metallic bongos that will produce a sound similar to a snare drum, but they are not quite popular among musicians.
Synthetic or Rawhide Heads
The type of head on your bongo drums also makes a significant difference to the sound. For many years, people were using rawhide heads. If you wish to find this particular type of bongo, you have to check whether the skin is colored or not.
The quality of sound depends on the kind of head you decide to choose. When you are using rawhide heads, you should pay attention to the weather, because in a humid and warm environment, the hide tends to tighten, which will produce a higher pitch than you wanted.
On the other hand, synthetic heads are a more affordable choice that will not get affected that much by humidity and warmth.
Conclusion
Choosing the right set of bongos can be a daunting task, but with the right information, it can be an easy decision. Everything depends on factors such as your playing style, hitting strength, and other considerations that you will learn along the way. Overall, bongos are excellent musical instruments. A good set of bongo drums will provide much entertainment and fun!
My top pick bongo drums are the Meinl Percussion HB100VSB Bongos. If you're looking for a high-quality set of bongos with excellent sound, these are the ones to get.
My budget pick bongo drums are the Remo RH-5600-00 bongo drums if you don't want to break the bank but still have decent bongo drums.