Congas are usually set up from several drums of different sizes, that all have that unique long look to them. Played in a combination of two or four, these sets comprise different drums providing a wide range of sounds to be played.
Congas are now used all around the globe, in all forms and genres of music, but this instrument started with very humble beginnings and got to where it is today. Now, there are many good congas on the market.
My top recommended choice is the Latin Percussion LP City Wood Congas. A high-quality and very popular set of conga drums by a respectable manufacturer.
My second recommended choice is the LP Mini Tunable Wood Conga. This is a budget option for those looking for a decent conga with a reasonable price tag.
The 7 Best Congas (2023)
Let's compare these in more detail.
1. Latin Percussion LP City Wood Congas
Top Pick
Popular and well-rounded choice, quality set of congas.
View Price at Amazon
This Meinl Percussion Conga set is a very well-rounded and incredibly popular choice of Congas. This set consists of two congas (10" and 11" in diameter head) and a stand for them.
The drums themselves are made from wood (body) and real rawhide heads, which gives them depth in sound and high quality when playing them or listening to them.
Latin Percussion LP congas come in beautiful sunburst color and are a great addition to any bend or performer because they look great on stage. Even though they are quite expensive, for that money you will get a high-end high-quality product that will last you a long time and will provide you with great playing sound.
If you're looking for a cheap, but quality little drum to use for practice and goofing around on jam sessions, then look no more. LP's LPM 198 Mini Conga is a miniature version of the famous LP congas, and it shows when you take it in your hands.
Even though it stands just 11" and 7.5" in diameter, this drum is not a toy. It's made from quality wood and head materials, giving it a high-end sound. Of course, you can't expect a drum this small to produce a very loud sound, so it's not usable in a band environment, but just what makes it perfect for house practice – you won't annoy your housemates or neighbors with your drumming.
This is a great, reliable, budget-friendly little conga that's perfect for practicing or learning how to play, especially in a house environment.
3. Toca 2300AMB Conga Drum
Decent Quality Conga Set
Great Mid-Range Set of Congas.
View Price at Amazon
Toca 2300 AMB is a full-on conga set consisting of two 10" and 11" diameter congas and a stand for them. These drums are substantially more expensive than the previous two mentioned are made for professional use.
You can buy them in three different colors and the shells themselves are made from plywood with rawhide heads on them. Since they are standard size, you can play them and get almost any sound you want from them and they will provide you with quality, mellow sound.
These are a great fit for anyone looking to get a quality, decent conga set to be used in studio or gigs.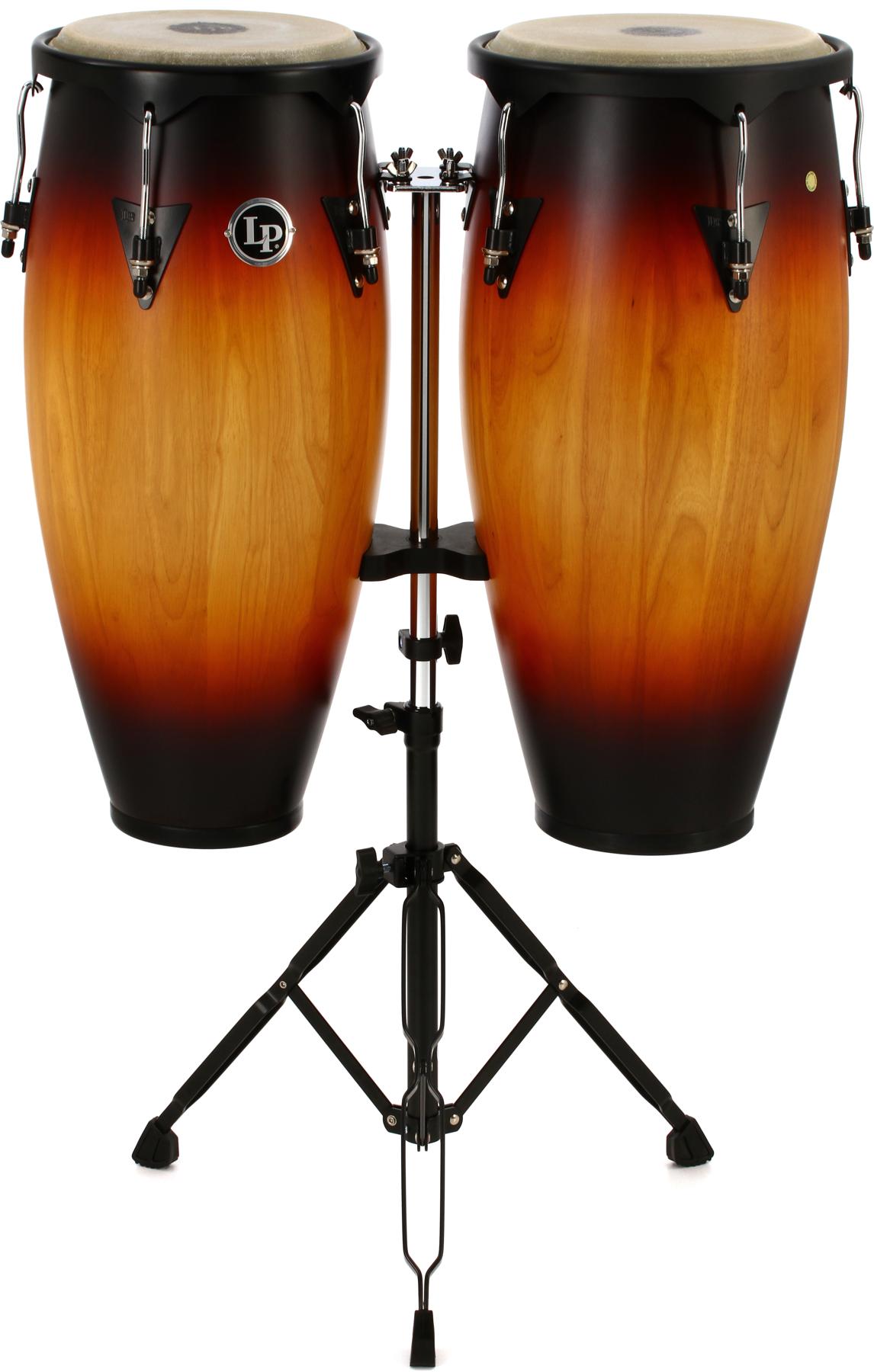 Natural conga set is a great addition to any amateur looking to learn how to play congas or anyone looking for a cheap, but quality sound conga set to play.
This set comes with two drums, 9" and 10" in head diameters, and with a 30-42" long stand. This means you can play them standing as well as sitting and you shouldn't have a problem with adjusting them to your height. These congas are ready to play out of the box, so there is no need for any additional knowledge about them.
Even though they are a bit smaller in size than the professional, big congas, these babies will give you loud and decent sound and cover every basic need you can have with them. Also, a great thing about them is that they are fairly cheap so there is no need to worry if you have budget restraints.
The Meinl Percussion HC512VSB Headliner Series conga set consists of two congas with 11" and 12" drum heads, both 28" tall, holding baskets and tuning key. You can get these in several different colors.
The drums themselves are made from quality wood with natural hide drum heads. A great addition to these congas is holding baskets, and not stands. This means that congas are much more stable when playing them. Also, the baskets are compact and easy to set up, so there is no need to worry about that.
One possible problem with this set is that you need to tune the drums yourself. This means that this set is not the best solution for beginners, as you probably won't know how to tune the drums if you never played them. But, if you're a professional or seasoned player you will have no problem.
These congas have a high-end overall build, which means they also provide great, high-end sound. With all this in mind, it's a no-brainer if you should get this set if you need the best bang for the buck and a pro sound for a reasonable price. Wooden drums are sure to provide you with a great acoustic conga sound that will cover your every need in the studio or on a stage performing live.
The Tycoon Percussion 10 Inch & 11 Inch Congas are an all-around set with a great high gloss finish to them. With an overall 37 pound weight, a 28-inch height, this set is of good quality overall.
You can also adjust the height to your desired preference and make great use of the water buffalo skin heads which produce a lovely, warm, crisp sound that comes with a good playing response.
Granted, this is not the most popular set, but the overall quality of these congas, as well as the cool-looking finish, quality skins, you get a good-quality set. The price might be a bit much considering there are better options within that range, however, they do offer great sonic performance.
To finish off this list is another Meinl product – the Meinl Percussion LC1134NT. Although this is a single conga drum, the quality is of superb level and the sound it produces is one of the best you will encounter.
This may be a bit pricey considering it is a single conga, but that is all for good reason, in my opinion. Coming from a respectable and quality brand, the LC1134NT is a high-quality, durable, and sustainable two-ply rubber wood conga drum.
If you want a traditional Cuban-style conga with a matte finish, as well as a tunable rim, you'll rarely find one that matches the portfolio of the LC1134 NT.
Overall, this black powder-coated conga is of great quality and has a good value-for-price ratio no doubt. Along with the true skin buffalo heads, many great components set it apart from others on this list.
More about Congas
The congas themselves are a single, barrel-like made drums, made from wood originally and sometimes plexiglass in modern times, covered with rawhide (or some other material for drumheads). The conga originated from African drums, but really developed independently in Cuba, so it is an indigenous instrument for itself.
Even though congas are now played all around the world, these drums are undeniably connected to the Cuban folklore and folk music itself. They were essentially just a Cuban instrument up until the 1930s when Americans fell in love with Cuba. Cuban music fused with jazz swept the USA off its feet.
From then on, these drums became a well known and loved instrument, used to play in many different genres, from all sorts of Latino music to jazz, funk and even mainstream pop music. Also, today these instruments are used all over the world in acoustic sets, as they are perfect for playing together with acoustic instruments and they bring that mysterious, sexy sound to the overall song that's being played, whatever the style of the song is.
Because of the everlasting interest in the congas, we decided to make this list of the five best congas currently in the market. From budget-friendly, starter's choice congas to the high-end, professional's instruments, you can find something for anyone on this list.
What to look for when buying a Conga?
There are a few key features you should consider when buying a conga drum, or a conga set. The overall build quality is one, the price of the set or single conga, size and tone, and the playability.
The build quality is the first thing to look out for. Usually, quality congas have high-quality skinheads like buffalo or real rawhide, so it is crucial to consider one of these when purchasing a set or a single conga drum.
The price is another factor because if you're a beginner, there is no need for you to go all out on a high-end conga like the Meinl Luis Conte conga. Instead, go for more beginner-friendly options like the second entry of the list, which is also affordable.
The size and tone vary from conga to conga. Depending on the size, which is usually 10 or 11 inches in diameter to a 28 or 30-inch depth, the tone will be different. If a conga is taller then it will produce a much deeper sound as opposed to a smaller conga which will have a more snappy tone.
The playability depends on the shape and height of the conga, while most rims are simple bands, there are curved ones as well. The hand resting in between playing as well as the rim shots is a classical approach to conga playing, that said, the lower the rims, the more comfortable playing and resting position.
Conclusion
I hope I helped you in making your choice with this list. There are a lot of good instruments on the market, but this list is my pick of the top seven you can find. Whether you're an amateur just looking to get started, a casual hobby player, or hardened professional playing congas to make a living, you can find anything on this list.
Once more, my top pick is the Latin Percussion LP City Wood Congas. This is a high-quality, popular set of conga drums by a well-known brand.
My budget pick is the LP Mini Tunable Wood Conga. For those running on a budget and who want something beginner-friendly, this is the one to go for.