The 7 Best Portable Drum Kits (2023)
Transporting, setting up, and packing down a large drum set can become a nuisance. If you want a great compact drum set that can be used for live shows, then this is the list for you.
Portable and compact drum kits are ideal for all levels of drummers who need a portable option for their drums, without having to resort to playing a Cajon or an electronic drum pad!
My top recommended portable drum kit is the Tama Club-Jam Kit. This is a very popular small drum set that offers great portability as well as playability.
My second recommended portable drum kit is the Ludwig Questlove Pocket Kit. This is an affordable option yet offers quality sound and components.
The 7 Best Portable Drum Kits (2023)
Let's compare these in more detail.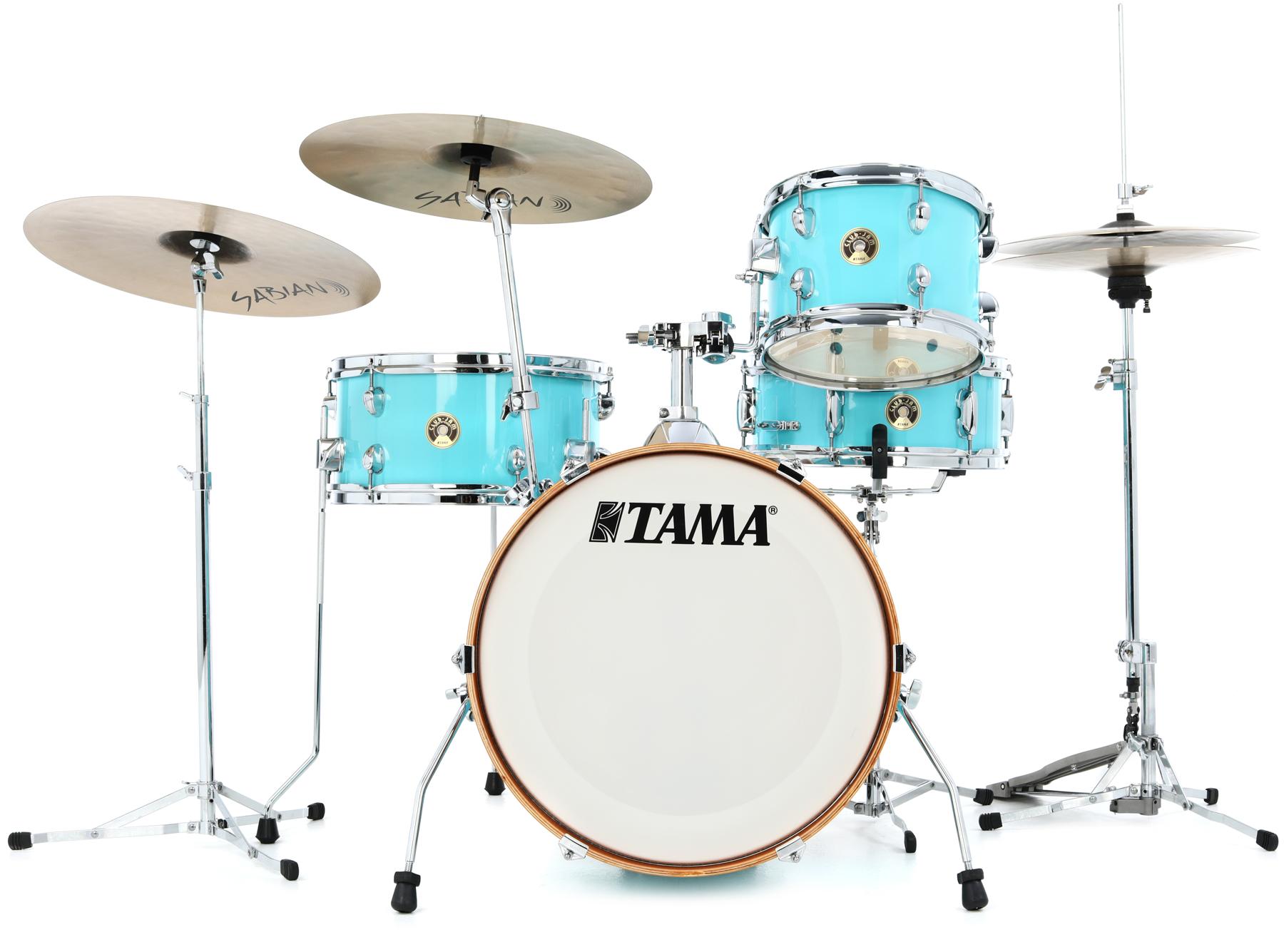 Tama is a renowned brand for drum selection, especially compact ones. This particular drum set is ultra-stylish with aqua blue shells for a cool look.
The drums are inspired by jack kits that used to be quite trendy years ago. Included in the drum kit are a 12×18 bass drum, a 5×13 snare drum, and a pair of 7×10 and 7×14 floor toms (The sizes are mentioned according to depth x diameter).
If you are interested in emulating an old-school vibe on stage or during the jamming sessions, this 4-piece kit is an excellent choice. The drums produce bright and punchy sounds, making them extremely suitable for smaller and intimate gigs.
The 6 plies of poplar and Mersawa hybrid shells add warmth and liveliness to the session. Just make sure that the floor toms are tuned appropriately, and it will sing!
If there's a drum kit that adjusts on a low budget, The Ludwig Questlove Pocket Kit should be your perfect option. It Consists of four shell drums with a glossy black finish.
This drum kit offers high-quality sound and tonal versatility. While this particular kit is a favorite among hardcore professionals, even novice drummers find it extremely useful and fulfilling.
This budget-friendly drum kit is a 4-piece shell pack that includes a 12″ x 16″ bass drum, a 10″ x 13″ floor tom, a 6″ x 10″ rack tom, and a 5″ x 12″ snare drum that packs a good punch. The hardwood material, along with a cool finish, makes this an excellent affordable choice.
These drums are ideal for practice sessions and small private gigs. Also, the portability is commendable as it does not occupy much space.
Pearl Midtown is a new launch and has got all features that would instantly impress you. This mini set can squeeze in limited spaces quite easily and produce hard-hitting sounds simultaneously. There are four pieces included in the kit, i.e., a 5.5×13 snare drum, 7×10 mounted toms, 12×13 floor toms, and 14×16 bass drums.
For those occasional outdoor gigs in small or medium spaces, this drum kit is a great value for money. The tone and volume of the entire drum set are impressive and surprising.
The full range of punchy sounds makes for an exquisite performance. Although, they are compact-sized but respond exceptionally well to low and high tunings equally.
This drum set easily fits in a Gator gig bag despite comprising four individual pieces. The bag, however, isn't included in the kit and should be purchased separately.
Time and again, both professionals and beginners have significantly relied upon the brand Tama Club for top-notch drum kit quality. This 'club' series by Tama is becoming increasingly popular for its portable, compact drums that do not compromise on the sound quality and deliver stage-ready intonation.
Although this shell pack is new in the market, it's easily comparable to the high-end drumming kits without a doubt. It is one of the smallest-sized drum kits on the entire list, but the drums' excellent acoustic quality pleasantly surprises you.
The JAM flyer has four drums – a 14×10 bass drum with a stand, 8×6 rack toms, 10×9 floor toms, and a 5×10 snare.
Whether it's your small gigs or home practice sessions, this shell pack will give solid portability and functionality combined.
The German brand Sonor is highly respectable in the drum industry. Famous for manufacturing high-quality drums, Sonor AQ2 Safari is a stand-out in so many ways. The kit's color combination is absolutely beautiful, and the incredible quality speaks for itself.
The drum shells are made up of 7 plies of solid maple, which produces rich, focused tonal quality and pro musicality. AQ2 Safari kit comprises a 15×16 bass drum with an integral drum riser, 7×10 rack toms, 12×13 floor toms, and a 6×13 snare drum.
All the drums are easy to tune that give excellent sound quality. These little drums can sing and produce fantastic resonance.
The immaculate shells and superb hardware of this compact kit are a perfect choice for touring gigs. A great-sounding travel-friendly option.
The next entry on this list is the Yamaha Stage Custom Hip Kit. Yamaha has a long history of making quality products and the Stage Custom Hip is no exception. It includes a more high-end price compared to others on the list but for good reason.
The Stage Custom Hip Kit is the ideal compact kit for small venues and modest practice spaces. It offers all-birch shells that produce a fine tone with an awesome mounting system for superb vibration.
The drum set includes 4 hip sized drums – an 8″ x 20″ kick drum, a 5″ x 10″ rack tom, a 8″ x 13″ floor tom, and a great-sounding 5″ x 13″ snare drum. Along with quality claw hooks with rubber inserts, the playability is off the charts.
Overall, this kit is a great portable, compact option that can be used for numerous genres and styles and has quality components and excellent sound.
Finishing off this list is the Gretsch Catalina Club Kit. This quality drum kit offers near-regular-sized components but due to its 4-piece setup and compact nature, it fits the list perfectly. The kit is the priciest entry on this list but when you hear the sound it will all make sense.
The Catalina Club is a mahogany drum kit that offers that warm and punchy sound that resonates from the wood. This 4-piece kit is a beast when it comes to tonal capabilities. Along with a lift for the shallow bass drum, the sonic clarity and expressiveness are unmatched.
This aesthetically pleasing kit comes with 4 drums like others on this list and includes a 14″ x 18″ bass drum, a 14″ x 14″ floor tom, an 8″ x 12″ mounted tom, and a punchy 5″ x 14″ snare drum.
All in all, this 7-ply mahogany drum kit offers an astonishing tone and versatile sound that can be adapted to any style and genre. A great overall kit to consider.
What is a portable/compact drum kit?
A portable/compact drum kit represents a small-sized portable drumming setup that allows the drummers to take it wherever they want to perform. These are super portable and easily fit into nylon bags for convenience.
Drummers who are always on tour or usually move between rehearsal places and gig venues find these a blessing. A small compact drum kit is also an invaluable asset to the whole band.
What is the difference between a full-sized drum set and a mini drum kit?
There is a noticeable difference in size and number of drum components between a full-sized and a compact drum set kit. The latter occupies less space, easily fits in a limited capacity, and is measured in terms of the kit's floor space consumption. Whereas, if it's a full-sized drum kit, it will consume about 20 sq. Ft or 1. 87 m. sq area of floor space.
However, drummers of the recent era are quite satisfied with compact mini sets that take up to 33″ x 28″ of floor space. Moreover, there are fewer cymbals, racks, and hardware components in these kits; and some of them come with hardware integration.
Honorable Mentions
No list is definite as there are countless drum sets out there that can get the job done while falling under the category of portable drum sets. A couple of honorable mentions are in order.
First is the Tama Cocktail Jam, a very portable and cool-looking drum set for small spaces and by a respectable manufacturer. The Ludwig Breakbeats Kit is another, a similar kit to the Questlove Pocket Kit mentioned above. Lastly, the Traps A400 is a super-thin and compact drum kit that carries a hefty price tag.
Advantages & disadvantages of portable drum kits
Pros
Takes up small space and can be squeezed into corners of limited venues
Affordable
Great for traveling and carrying around while on a tour
It consists of all necessary components essential for musical sessions
An excellent choice for beginners at home
Authentic sound and quality
Easy to set up and pack
Increases comfort and confidence of the player
Cons
Bigger drum sets are visually impressive to play during gigs
The volume and growl of bigger drums are incomparable
Compact drum kits often fail to deliver versatility
Flat sound due to small size
Limited physical configuration
Some kits do not include cymbals or pedals or bags
Sometimes construction material is not up to the mark
Conclusion
To sum it up, the small drum sets listed above are all very decent options to play at live shows where you don't want to carry around a full-sized kit. Portability and travel-friendly options are getting more and more popular. Electronic drum kits are also on the rise constantly so keep that in mind as well.
My top portable drum kit pick is the Tama Club-Jam Kit. It offers great portability and playability and is a very popular choice among drummers looking for a transportable option.
My budget portable drum kit pick is the Ludwig Questlove Pocket Kit. If you're on a tighter budget but still want a quality portable drum set, this kit will get the job done.