The 10 Best Drum Brands In The World (2023)
Drums are an essential part of any music ensemble, and choosing the right kit can be daunting. With so many brands and models on the market, it's hard to know where to start.
This article includes 10 of the best drum brands based on quality and reputation. These brands are great for both beginners and pro drummers, and most of them offer acoustic drums sets across a range of budgets.
For each, I'm going to discuss each drum brand, while also suggesting one of the best drum sets in their line, suitable for beginner and intermediate drummers.
1. Pearl
One of the best-known brands of both beginner and pro drums.
Pearl Drums are manufactured by Pearl Musical Instrument Company which was founded by Katsumi Yanagisawa in Japan (1953). The next few decades saw the mania of rock 'n roll sweep over the globe and Pearl drum kits hitched the long ride with it.
Today, they produce the beginner-friendly Midtown series, the highly acclaimed entry-level Roadshow series, and high-end drums sets like the Reference Series and Masterworks Series. They also make the e/Merge electronic kit, which offers a huge library of acoustic Pearl drum samples and percussion sounds (for which they partnered with Korg).
Pearl has been endorsed by great drummers of the yesteryears like Ian Paice (Deep Purple), Eric Singer (KISS), and modern legends like Joey Jordison (Slipknot), Mike Mangini (Dream Theater), and Dennis Chambers (Niacin).
Notable Pearl Drum Set: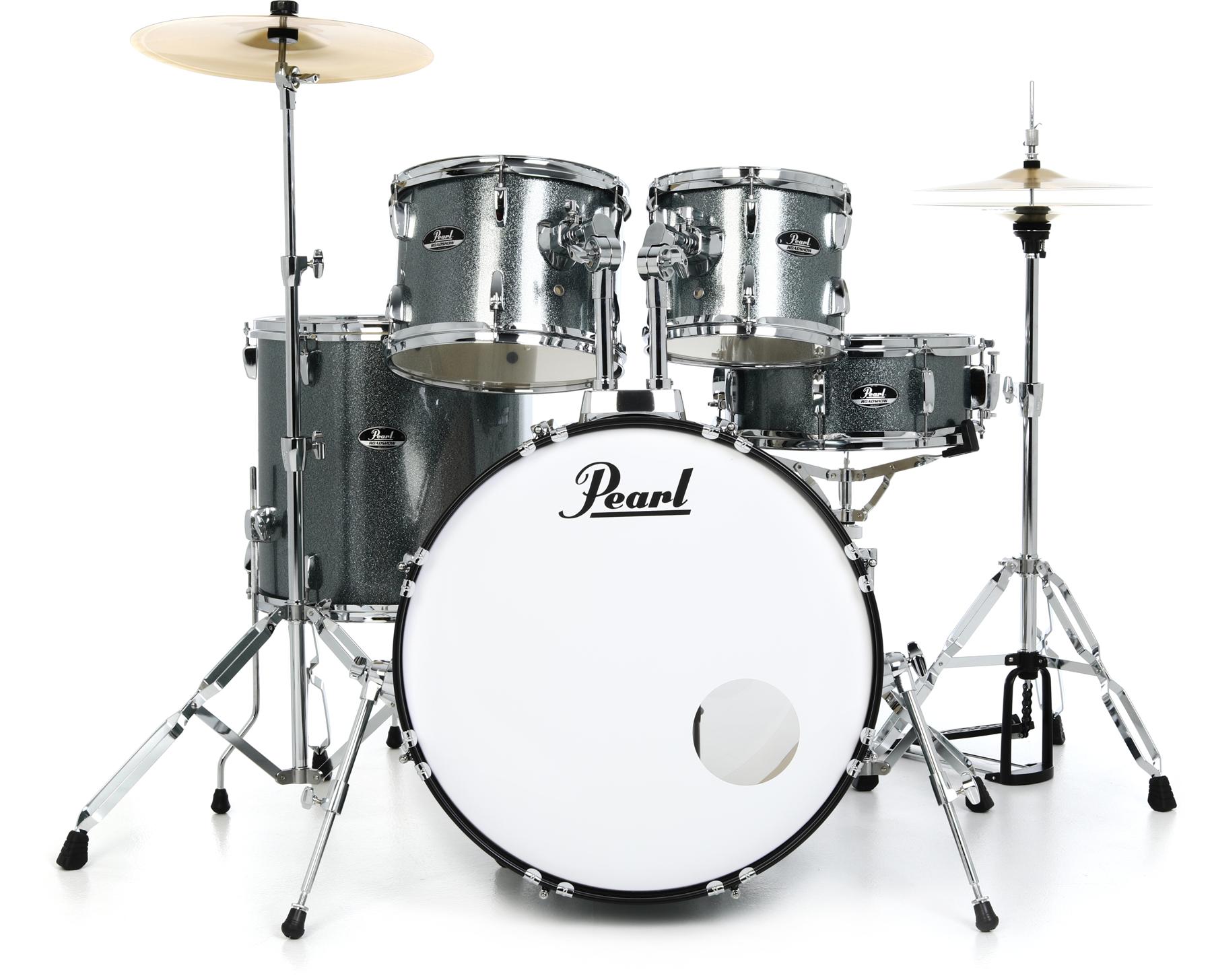 The Roadshow-5 is an excellent option for entry-level drummers and new students. But with some simple upgrades, it can accommodate any level of expertise and sound like a studio-ready drum set. It offers great playability and performance for a modest price tag. The kit includes standard quality cymbals, 500-series hit-hats/hardware, and a Pearl bass drum. This can be a great companion for your early years of drumming.
2. Yamaha
A big brand name in both acoustic and electronic drum sets.
Yamaha is a giant corporation that was founded in 1887 and expanded its catalog by entering the drum manufacturing market in 1967. They are one of the biggest manufacturers of musical instruments in the world.
They take great pride in their great reputation as a manufacturer of high-quality drum sets and hardware with affordable price tags. The Yamaha RYDEEN Series is one of their best entry-level product and the Oak Custom Series is one of their most feature-packed offerings.
They also invented the Yamaha Subkick which is a reversed wired speaker used in studios by placing it inside the kick shell to record ultra-low frequencies.
Yamaha drums have been endorsed by noteworthy drummers like Shawn Drover (Megadeth), David Garibaldi (Tower of Power), Jimmy Chamberlain (Smashing Pumpkins), Justin Foley (Killswitch Engage), Larry Mullen, Jr (U2), Larnell Lewis (Snarky Puppy) and Phil Ehart (Kansas).
Notable Yamaha Drum Set: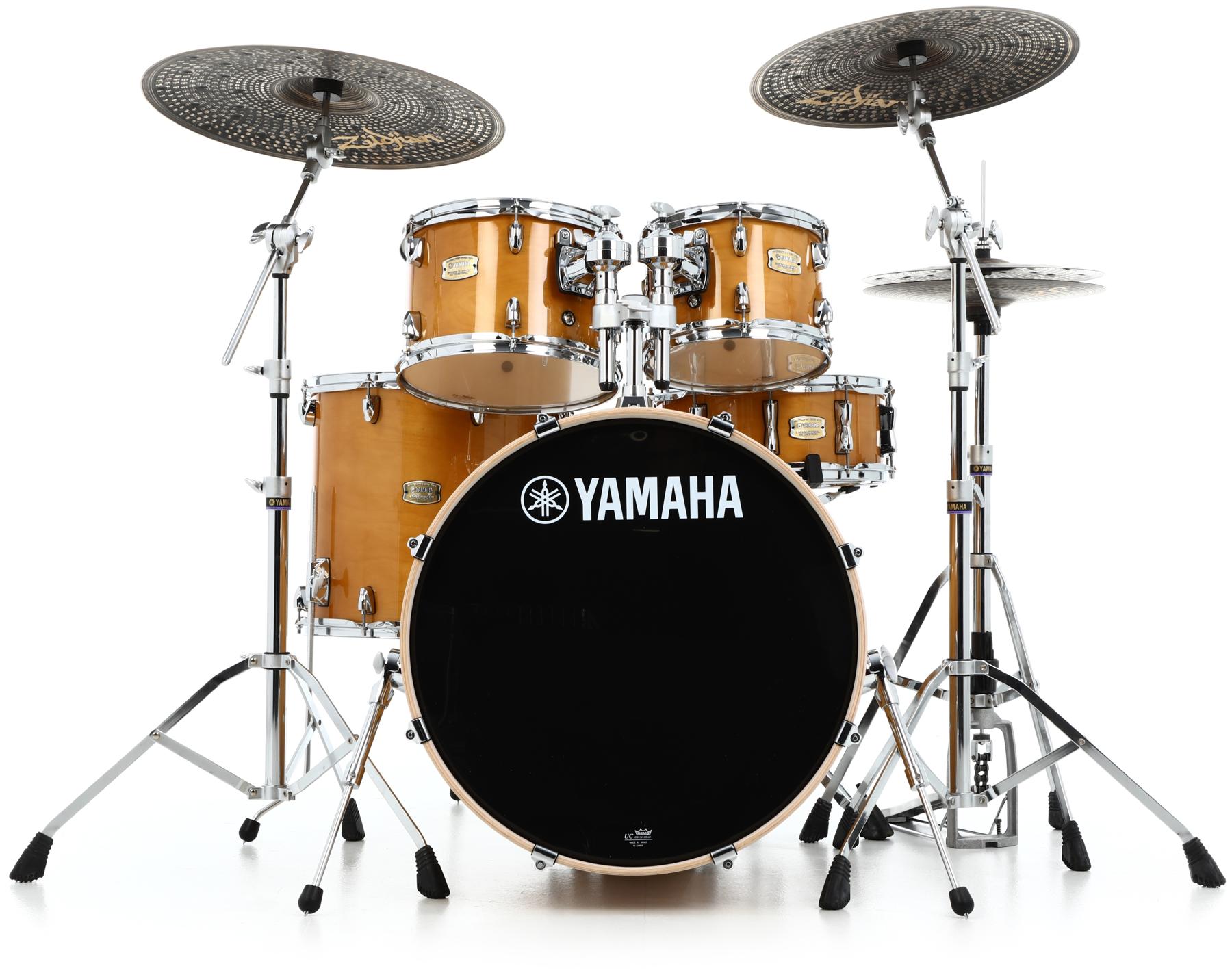 The Stage Custom series is an all-birch offering that ranks highly among the best kits you can buy for beginners and intermediates. The low-rumble and enhanced sustain make this a powerful kit with resounding tones and ample clarity. This beginner drum set comes with high brand recognition, which can accompany any genre or level of expertise.
3. Tama
Tama is a big brand name for drum sets and drum hardware.
Whether you go for their entry-level Imperial Star line or the high-end Starclassic series, it is hard to fault their impeccable artistry and attention to detail.
As Tama evolved, so did their catalog. Today they are equally well known for drum hardware and manufacturing highly coveted pedals like the Iron Cobra.
Like Pearl, Tama's artistry in making snare drums is revered around the world. Their artist signature snares include the likes of Mike Portnoy, Lars Ulrich, Steward Copeland, and John Tempesta.
Notable Tama Drum Set:
The Imperialstar is a great option in the entry-level market with a highly affordable drum set with poplar shells, Meinl hi-hats/cymbals, Tama hardware, and an Iron Cobra HP200P pedal. It is great for both beginner and intermediate drummers looking for a good practice and performance kit. And, with some thoughtful upgrades, it can easily be used for recording or touring.
4. DW Drums
DW (Drum Workshop) is an American drum manufacturer based in California, USA.
Believe it or not, the company was started in a small drum private lesson studio by Don Lombardi and his student John Good to help Don pay the rent. Before they knew it, DW went from a one-room manufacturer to one of the largest drum set and hardware manufacturing units on the continent.
Today they have acquired companies like Gretsch Drums, Ovation Guitars, LP, and many others. This meteoric rise to fame is a testament to their efficiency, innovation, and popularity across the global marketplace.
If that wasn't enough, DW is endorsed by Chad Smith (RHCP), Scott Phillips (Creed), Neil Peart (Rush), Nick Mason (Pink Floyd), Dave Grohl (Foo Fighters), and many other legendary drummers. The great news is, that they have recently acquired a subsidiary drum company from Gibson and are all set to introduce a new Slingerland-style vintage drum in 2020!
Notable DW Drum Set:
The DDAC5 is an impressive-sounding high-value drum set with warm and punchy tones. The looks, attention to detail, and DW craftsmanship hit a home run with this one. The drum set includes DW's proprietary mini-turret lugs, True-Pitch tuning rods, and low-mass die-cast claw hooks. Each kit ships with Remo top and bottom drum heads. It is going to be hard to find a better acrylic drum set for this price.
5. PDP
Instead of manufacturing entry-level and step-up kits under the original brand name, DW uses PDP (Pacific Drums and Percussion) as a sub-brand.
In doing so, DW continues to utilize their knowledge and technology to create stellar entry-level offerings without diluting their premium brand image.
Since its conception two decades ago, PDP has launched various drum lines like the 805, Z5, X7, EZ, and Mainstage. They also produce specialty snares, drum hardware, and single and double drum pedals. The low-end Player Series and high-end Platinum Series are among their best-selling product lines.
PDP drums have been used by Jordan Mancino (As I lay Dying), Chad Smith (RHCP), Johnny Rabb (Collective Soul), Eric Hernandez (Bruno Mars), and James Sullivan (Avenge Sevenfold).
Notable PDP Drum Set:
THE PDCM2215 is a new-age drum set that certainly does justice to its DW roots. The drum set features most of DW's high-end features like the MAG throw-off, die cast low-mass claw hooks, True pitch tension rods, counter hoops, and lacquer finish. It is a great all-around kit in the entry-level and intermediate markets.
6. Sonor
Sonor has been making drums for almost 100 years.
This German giant was founded by Johannes Link as a manufacturer of drums in 1875. The Sonor sound gained a lot of popularity in the hard rock and heavy metal era. It was powerful and punchy; it came from the use of furniture-grade ply on the outside and thick beech wood shells.
As the trends changed, Sonor evolved its sound to manufacture modern shells that they sold as the 'Lite' series. The company has constantly innovated their products and redefined the drum market with fresh and new products consistently.
Their popularity is reflected in the sales of their entry-level SQ1 drum set and the top-shelf Prolite series they offer. They manufacture all types of drum hardware and the critically acclaimed Perfect Balance Jojo Mayer signature bass pedal.
They have been rocking out with Benny Greb, Nicko MCBrain (Iron Maiden), Danny Carey (Tool), Phil Rudd (AC/DC), and many other legendary drummers in the studio and the world's biggest area concerts. They are also well-known for their percussion instruments like Cajons, congas, djembes, and timbales.
Notable Sonor Drum Set:
The AQ2 is an intermediate-level moving-up kit that sports a no-frills attitude and produces memorable tones. The AQ2 series allows you to choose between five shell packs of varying sizes, and among these, the Bop ships with an 18" bass drum. Thus drum set sports all the modern overhauls by Sonor and can easily be upgraded from first drums (first drum kit) to continue serving you as you grow.
7. Ludwig
The Ludwig Drum Company was established in 1909 by Theobald Ludwig in Chicago, USA.
They started as a small drum shop and grew at a slow but steady pace for the first fifty years and saw a meteoric rise to global fame in the mid-60s. This was fuelled by the fact that Ringo Starr, the drummer of the Beatles, endorsed Ludwig in the 60s. Needless to say, it has been a wild ride ever since.
Today Ludwig is well-known around the world for their drums, percussion, and hardware. Throughout history, Ludwig products like the Black Beauty Snare, balanced action timpani, BreakBeats, and The Pocket Kit by Questlove (for children).
Some famous drummers who've played Ludwig include Neil Peart (Rush), Peter Criss (KISS), Barriemore Barlow (Jethro Tull), Carton Barrett (Bob Marley), Clive Burr (Iron Maiden), Bill Kreutzmann (Grateful Dead) and Joey Kramer (Aerosmith).
Notable Ludwig Drum Set:
The Ludwig Element Evolution 5-piece drum set is a quality set at a reasonable price tag. This ridiculously high-value set is a high-performance, rock-solid kit that includes Zildjian ZBT bronze cymbals. The 2-ply Remo Pinstripe heads outperform the majority of standard stock drum heads.
8. Gretsch
Gretsch originated in a humble music shop in Brooklyn, New York.
It was founded by Friedrich Gretsch, a German immigrant, all the way back in 1883. Their drum sets have unique designs denoted by the Stop badge, Square badge, Round badge, and Anniversary badges.
Each series has its iconic look and sound that represents an era in the 130-year evolution of Gretsch Drums. The Gretsch craftsmanship is evident in the Renegade Series, one of their bestselling entry-level kits, and the high-end magic of the USA Custom series.
Gretsch kits have been played by various legendary drummers like Art Blakey, Stephan Ferrone (Tom Petty & the Heartbreakers), Vinnie Colaiuta, Phil Collins, Charlie Watts (Rolling Stones), and Taylor Hawkins (Foo Fighters).
Notable Gretsch Drum Set:
Gretsch's Catalina Club range is a gold mine of versatile and rich tones and first-rate hardware in a modestly priced drum set. The kit is durable and packaged in a classy design with a plush Walnut Glaze finish. Despite the humble price, the M7CB is an instant solution to getting a great sound, a reliable set, and solid hardware that will stay true to your growth and evolution as a drummer.
9. Mapex
Mapex is an abbreviation of Music And Percussion Excellence.
They produce 7 lines of drums, made in China, that includes the Horizon, Voyager, MyDentity, Saturn, Orion, Mapex M, and Black Panther Series.
Mapex drum sets ship with stock Remo drumheads. Despite the medium-range price tags, most Mapex kits offer stage and studio-ready sound. They attained global recognition when Chris Adler (Lamb of God) switched to the Black Panther and began using them for his recordings.
Mapex Kits have been used by noteworthy artists like Josh Devine (One Direction), Dom Famularo, Tony Coleman (BB King), and Chris Pennie (Fight Mannequins).
Notable Mapex Drum Set:
Mapex's mid-level AR638 is rife with style and innovation at an affordable price point. The Mapex Armory Line is highly reputed in the mid-range price bracket for its hybrid shells (maple and birch), unique finish, and curved bearing edges (SONIClear). You get a durable, stage-ready kit with a highly coveted kick and tom sound. If you opt for a few minor upgrades, you can easily set up this six-piece drum set to outperform competitors twice the price.
10. ddrum
The Swedish-based company ddrum was founded in 1983.
Despite not having the long-time resume of some on the list, ddrum are well-known and respectable drum manufacturer based in Stockholm, Sweden that has been making drum kits for almost 40 years.
They have a versatile catalog of drum kits like the USA Custom models, the USA standard, and the Reflex model, while also dabbling with electronic kits like the DDBETA as well as Hybrid kits.
The drum manufacturer has some well-known names on their resume like Vinnie Paul (Pantera), Carmine Appice (Vanilla Fudge), Paul Mazurkiewicz (Cannibal Corpse), and many other famous artists.
Notable ddrum Drum Set:
The ddrum Hybrid 5-Piece is a very affordable hybrid kit that has excellent sound and quality components. It comes as a shell pack with a bass drum, two toms, a floor tom, and a snare drum. With Birch shells and a Multi-ply construction, as well as steel hardware, this is a sturdy drum kit that comes with a reasonable price tag attached.
Summary
That's my roundup of some of the best drum set brands for acoustic drums. If possible, try to get to a local drum or music store and play around with some of these different sets from each of these different brands to figure out what suits your preferences best.
This roundup is designed to help you make an informed decision by presenting ten of the best drum manufacturers in the industry. Each company has its unique selling points, so it's important to consider your individual needs before making a purchase.