The 7 Best Drum Machines For Guitarists (2023)
A drummer or percussionist can't be replaced by any gear, but drum machines are the closest you'll get to having some percussion accompaniment with your guitar. There are many different drum machines available for you to choose from that play the beat for you so that you can jam along.
Drum machines are frequently used devices in mainstream and non-mainstream music. Most commonly, you can hear them in rap songs but they are also prevalent in many pop tunes and legendary tracks.
My top pick is the Arturia DrumBrute Impact, which features a great balance between quality sounds, versatility, and price.
My budget pick is the Korg Volca Beats 16, a simplistic drum machine with all the essentials and high-quality drum sounds.
The 7 Best Drum Machines For Guitarists (2023)
Let's compare these in more detail.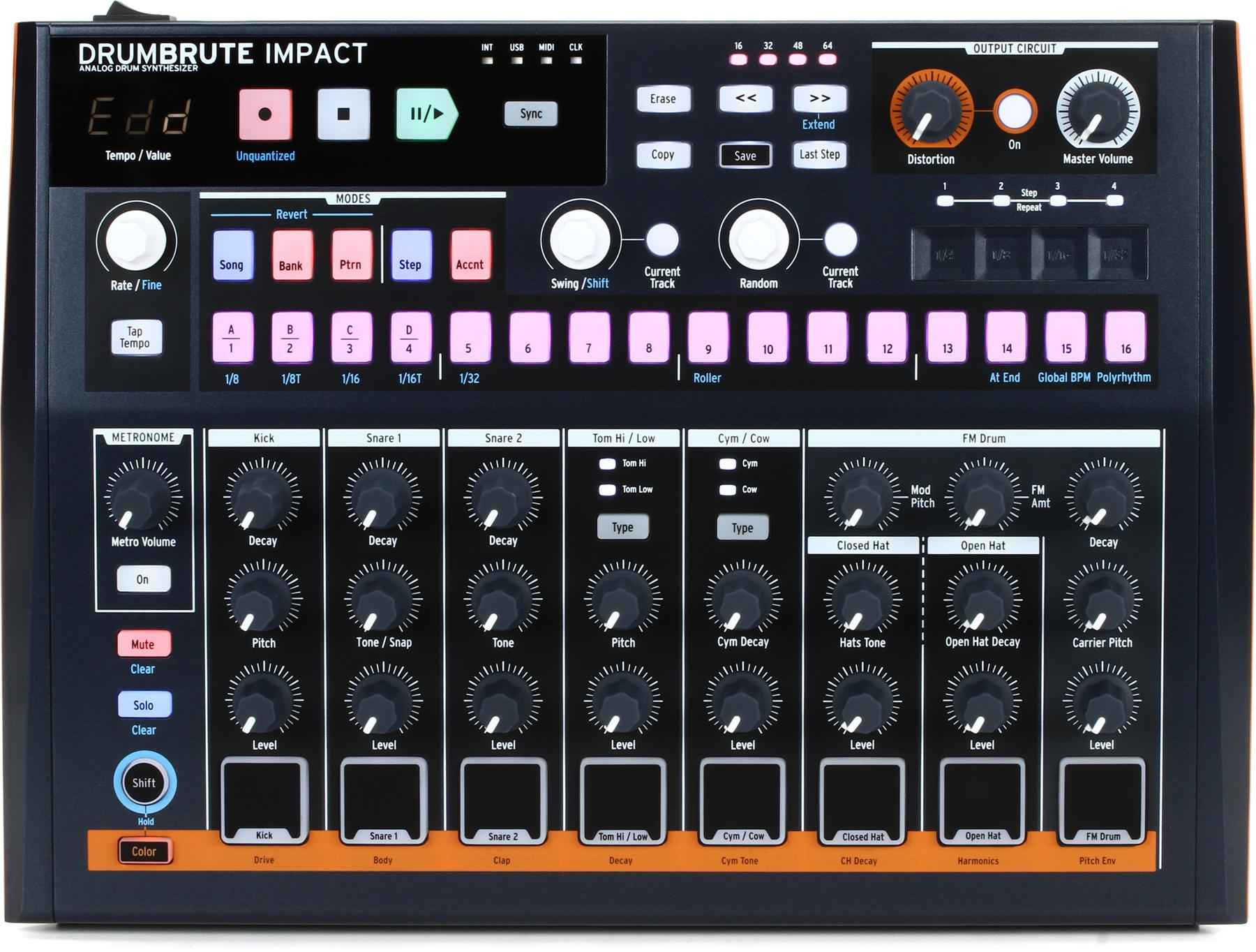 The Arturia DrumBrute Impact is a true analog drum machine with 10 different drum sounds and a fantastic 64-step sequencer, as well as the song mode for creating a song by chaining sequences. The compact size makes it great for on-the-go musicians, and the value-for-price ratio is great.
Pros
High-quality drum sounds and analog distortion
Great sequencer
Good range of input-outputs
Great value for the money
Compact and portable design
Cons
Does not have many effects
No sound storage to save presets
The drum machine features 2 snares, high and low tom, kick drum, cymbal-cowbell, closed and open hi-hat, and FM percussion. It only has a distortion effect, which decreases the versatility, but the quality of the sounds, especially low-end ranges, sounds pretty impressive.
Another aspect of this drum machine that shines is its sequencer. The 64-step sequencer increases the playability as the individual mute and solo modes, roll ribbon, and polyrhythm features make it fun to jam with this device. Plus, you can create different loops with the built-in looper.
| | |
| --- | --- |
| Effects | Distortion |
| Connectivity | Type-B USB, MIDI |
| Inputs/Outputs | 1/4″ (mix out), 4 x 1/8″ (kick, snare, hi-hat, FM drum), 1 x 1/8″ headphones, 2 x 1/8″ (clock in/out) |
| Bonus Features | 64-step sequencer, Step Repeat, Pattern Looper, Song Mode |
The connectivity and input-output options are also extensive, from USB to MIDI and headphones, and extra gear ports. Overall, it is a great drum machine for guitarists who want all they need in a portable device to jam along with.
The Korg VolcaBeats 16 is a simple yet high-quality drum machine with a portable design, and good-quality sounds for quite an affordable price. It is ideal for professionals and beginners as it offers the fundamentals, including a 16-step sequencer, 10 drum sounds, a rhythm machine, and MIDI connectivity.
Pros
Great value for money
Portable and compact design
Good quality sounds
Works with batteries or power supply
Cons
Limited connectivity
Not very versatile
The Korg Volca Drum offers six analog drum parts and four PCM drum parts to create your grooves as you like, from classic 808-style beats to punchy rhythms. The Electribe-style sequencer provides a 16-step pattern, and you can save 8 different patterns to the internal memory.
The sound quality is where the device shines as the kicks are deep and punchy, the snare is greatly woody, and the hi-hats cut nicely. The portable design is ideal for traveling musicians, and the option of battery power is great for playing it anywhere you want.
| | |
| --- | --- |
| Effects | Stutter |
| Connectivity | MIDI In |
| Inputs/Outputs | 1 x Sync input, 1 x Sync output, 1 x 1/8″ headphones |
| Bonus Features | 16-step sequencer, battery power, built-in speaker |
On the down part, the device is not as versatile as other drum machines, and the connectivity options are quite limited as it only has MIDI in and sync input-outputs. However, if simplicity is what you are after and you do not want to spend too much, the Korg VolcaBeats 16 is the ideal option.
The Roland TR-6S is the smaller and more affordable version of the iconic Roland TR-8S. It features the classic Roland design and sounds along with a great sequencer with great sound editing capacity and live performance features. It is a highly versatile drum machine to use while jamming or on the stage.
Pros
Highly versatile drum machine
Great range and quality drum sounds
Wide range of effects
Can be used as an audio interface
Portable design
Cons
Steep learning curve
Controls get difficult to manage sometimes
No on-board sampling
The device offers many sounds, including preset samples, FM sound engine, and analog circuit, along with behavior tones of other devices such as TR-808, TR-909, TR-606, and TR-707. So you get many sounds and the option to upload your own sounds with an SD card.
The wide range of effects and the sequencer, which offers 16-steps per variation with 8 variations per pattern and 6 instrument parts, are great for creating different grooves. Plus, you can use the device as a USB audio or MIDI interface. The device runs on batteries or with a power adapter as you like, increasing the areas of use. Also, the compact design makes it easy to carry around.
| | |
| --- | --- |
| Effects | Reverb, Delay, Compressor, Filters, Distortion, Fuzz, Phaser, Flanger, Ring Mod |
| Connectivity | Type-B USB, MIDI (In/Out/USB) |
| Inputs/Outputs | 1 x 1/8″ Headphones, 2 x 1/4″ (L/mono,R) Analog outputs |
| Bonus Features | 16-step Sequencer, built-in audio interface |
In short, the Roland TR-6S is a highly versatile drum machine for beginners as well as experienced musicians. The learning curve can be steep as there are many buttons, including 16 sequencer trigger velocity-sensitive pads on the control panel. It is one of the best drum machines you can get for the price if you are after a professional and versatile drum machine for jamming, studio, or stage.
Unique Design
Unique drum machine guitar pedal with great features for guitarists.
View Price at Amazon
The DigiTech SDRUM-U is an innovative drum machine guitar pedal with unique features for guitarists. It gives you great control over your beats, with your strums to your guitar creating the groove. The muted bass strings become your kick, and the higher strings become your snare beats.
Pros
Ability to create drum grooves with guitar
Highly compact design
Great drum sounds
Automatic accompaniment creation with BeatScratch technology
Wide range of input and outputs
Cons
No effects
No recording option
Fairly difficult to get used to and learn
You can use ten kits from the pedal, including Latin percussion, jazz brushes, electronic beats, and rock-metal, as well as clean grooves. You can use the dedicated knobs to generate the hi-hat, ride, and cymbal patterns or adjust the time signature, groove, and complexity of your groove.
The BeatScratch tech helps you to build full drum accompaniment according to your playing. Plus, JamSync allows you to link your pedal to other DigiTech pedals. The pedal allows you to create chorus, verse, and bridge parts with the help of the footswitch for transitions. There are 36 slots for you to save your songs.
One of the drawbacks is the lack of a recording option, as the pedal does not feature MIDI output or a USB port for using the device with a DAW. The lack of effects may be a drawback for some, but this can be overcome with different drum kits and the ability to use it with other pedals.
| | |
| --- | --- |
| Effects | None |
| Connectivity | Mini USB and Type-B USB, MIDI |
| Inputs/Outputs | 1 x 1/4″ TS Guitar In, 1 x 1/4″ TRS FS3X In, 1 x 1/4″ TS Amp Out, 1 x 1/4″ TRS Mixer Out L/R, 1 x 1/8″ TRS JamSync Out |
| Bonus Features | BeatScratch, JamSync, Footswitch |
The DigiTech SDRUM-U is a great device to create rhythm grooves easily and quickly for live performances and jamming sessions. It is easy to use and highly efficient, as well as an inspirational drum machine guitar pedal.
The Korg KR-55 Pro is a quick and easy-to-use sample-based rhythm machine with 24 rhythms, an audio player, SD card support, a wide range of ports, and line inputs for up to four musicians to play along and jam together.
Pros
High-quality drum sound with Real Groove and Acoustage technologies
Easy-to-use intuitive operation
Audio recording feature directly to SD card
Wide range of input-output ports
Can be used by up to 4 musicians simultaneously
Cons
Limited rhythm choices
No USB connectivity
Not enough room for personal customizations
The Korg KR-55 Pro shines with its simplicity as it offers 24 live-recorded drum rhythms for practice and rehearsal that you can use immediately. It features an XLR mic input, 2 instrument inputs, and line inputs that support up to four musicians to play together with the option to turn the jam into a songwriting session, thanks to the audio recording feature directly to the SD card.
The drum sounds are quite realistic, with the Real Groove and Acoustage technologies making the grooves sound like you have a drummer in the background. You can trigger the rhythms with the button on the device or a footswitch that you can buy separately.
The 4-channel audio mixer is also great for adjusting the sound of the instruments you play together. The sequencer is pretty capable as it has a chain function with 30 banks and 999 measures.
| | |
| --- | --- |
| Effects | Reverb, Stereo Effect |
| Connectivity | USB, MIDI |
| Inputs/Outputs | 1 x XLR (mic), 2 x 1/4″ (Hi-Z), 1 x 1/8″ (aux in), 2 x 1/4″ (Analog main out), 1 x 1/8″ (headphones), 1 x 1/4″ (footswitch) |
| Bonus Features | SDHC card slot (up to 32GB), Sequencer with chain function |
Designed for guitarists who like to jam or perform live, the Korg KR-55 Pro is more than just a rhythm machine.
The Alesis SR-18 shines with its great balance between versatility, value, portability, playability, and a wide range of onboard sound and effects. It features built-in effects like reverb, compression, and EQ, over 500 drum sounds, 50 bass sounds, 100 kits, 175 preset patterns, and essential ports to increase versatility.
Pros
Highly versatile design
Wide range of drum sounds and effects
Can be powered by battery or adapter
Cons
No USB port
Limited connectivity options
No sequencer
The device is great for guitarists as it has the effects and a wide range of drum sounds to play in different genres. Using the sensitive pads, you can create patterns and trigger them with the Pattern Play mode.
There is a backlit LCD display for easier navigation, which makes it even easier to use the device. The ports are also more than enough with 2 footswitch inputs, an instrument input, a headphone out, and two stereo outputs. There is also MIDI in and out, but one of the drawbacks is the lack of a USB connection option.
| | |
| --- | --- |
| Effects | Reverb, EQ, Compression |
| Connectivity | MIDI In-Out/Thru |
| Inputs/Outputs | 1 x Instrument, 2 x Footswitch inputs, 2 x 1/4″ Analog outs, 1 x 1/4″ stereo outputs, 1 x 1/4″ headphones |
| Bonus Features | Pattern Play mode |
Overall, the Alesis SR-18 has almost everything you expect from a drum machine as a guitarist. The high range of sounds increases the versatility, allowing you to play in any genre you like, as the compact portable design with the option to work with batteries gives you a great drum machine to go around and play with. It's also worth checking out the Alesis SR-16.
7. Boss DR-880 Dr. Rhythm
All-In-One, Feature-packed
A highly capable drum machine with so many sound effects, patterns, and samples on-board.
View Price at Amazon
Boss DR-880 Dr. Rhythm is one of the most capable drum machines, which comes with 440 drum-percussion sounds, 40 bass sounds, and around 1000 drum kits. The versatility is over the roof with features like EZ Compose, Groove Modify, and a great sequencer.
Pros
EZ Compose function for quick programming
Very wide range of top-quality drum sounds, patterns, and effects
High amount of input-output ports
32 voice polyphony
Easy navigation with a large screen
Cons
Tiny pads
Pricey, high-end device
The built-in effects include chorus, flanger, phaser, and delay for electric guitar; acoustic processor, chorus, and reverb for acoustic guitar; compressor-limiter, chorus, flanger, phaser, delay, and COSM bass amp models for bass guitars.
The sound quality of effects and drums is great thanks to Boss quality, while the navigation through different patterns is quite easy with the large screen. The connectivity options are also plenty, with USB and MIDI in-out on the pedal and a large list of input and output ports.
The only drawback may be the tiny pads which make the controls a bit more difficult, but you can get used to them easily if you don't have very big fingers.
| | |
| --- | --- |
| Effects | Chorus, flanger, phaser, delay, reverb, acoustic processor, compressor/limiter, EQ |
| Connectivity | USB, MIDI in-out |
| Inputs/Outputs | Master Out L(Mono), R (1/4″ phone type), Master Out L, R (RCA pin type), Individual Out A, B (1/4″ phone type), Digital Out (coaxial), CTL 1/2 jack (1/4″ TRS phone type), CTL 3/4 (EXP Pedal) jack (1/4″ TRS phone type), AC Adaptor jack, Phones (stereo 1/4″ phone type), Guitar/Bass Input (1/4″ phone type) |
| Bonus Features | Sequencer, Groove Modify Templates, EZ Compose Pattern/Progression Feature |
In short, if you are after one of the most versatile and feature-packed drum machines to play with, Boss DR-880 Dr. Rhythm is the ideal choice. It may be heavy on your budget but for live performances, jamming sessions, and every occasion, this device has what you ever may need.
What is a Drum Machine and how does it work?
A drum machine is an electronic device that creates drum and percussion sounds. It offers different sounds to create rhythmic grooves and beats, providing the rhythmic background for the melodic elements of your track. It often has touch-sensitive pads and a sequencer to play the grooves.
Do guitarists really need Drum Machines?
Drum machines are great tools to have some rhythmic grooves behind your playing. They are not entirely necessary, but they can help you significantly grow your rhythmic sense and improvisation and composition skills while making it more fun to play your instrument.
You can check out this video to see what you can achieve with a drum machine while playing your guitar.
What to look for in a Drum Machine for Guitarists when buying?
When buying a drum machine, the first thing to check is the sound quality of the drum sounds. Also, playability, connectivity, and price are other factors to consider. The drum sounds should be as realistic as possible, while the device should be easy-to-use without a hassle.
The connectivity and input-output ports are also significant if you want to use the drum machine with other gear. And, finally, the price is the main factor as you have to act according to your budget, and some professional drum machines can get quite expensive.
Verdict
Drum machines help guitarists grow as musicians while making the jamming and practice sessions much more fun. You can become a one-person band with a good drum machine creating your songs and performing them without needing a drummer.
My top recommendation is the Arturia DrumBrute Impact, a highly versatile and high-quality drum machine for beginners and professionals to use in practice sessions, studios, or stages.
My second recommendation is the Korg VolcaBeats 16, a simplistic drum machine with high portability, good-quality drum sounds, and basic features.