The 7 Best Drum Mic Kits (2023) for Live and Studio Recording
Drum mic kits usually include all of the required types of microphones needed to fully mic up a drum set for live shows and studio recordings. This makes it a lot easier to shop for drum mics, as these kits include microphones that are well matched for their purpose.
Drum mic kits are extremely useful for recording drums as well as live shows. They are the all-in-one option which makes them a cost-effective choice, and they often come with a travel case to make transporting them easier.
My top pick as the best drum mic kit is the Audix DP7 Drum Microphone Set as the mics sound amazing without being incredibly expensive.
On the more affordable end, my budget pick is the PYLE-PRO 7-Piece.
The 7 Best Drum Mic Kits (2023)
Let's compare these in more detail.
My top pick for this lot is the Audix DP7 plus drum mic kit. This kit consists of 7 microphones, all of which provide great sound quality and give you great versatility for recording your drums.
The Audix DP7 kit includes:
| | |
| --- | --- |
| Microphone Types | 1 kick drum mic (D6), 3 tom mics (D2&D4), 1 snare mic (i5), 2 overhead mics (ADX51) |
| Mounts/Clips | 4 clips and 4 clips with tom mounts |
| Case | Case included |
| Cables | No cables included |
Overhead mics are condenser mics in type, and all of the others are dynamic. Also, tom mics (D2 and D4, the latter is for the floor tom) are hyper-cardioid, giving you the best sound possible without the noise from the other drums.
An i5 microphone is used for a snare in this set, but you can also use it very efficiently as a guitar mic because it will pick up higher tones perfectly without picking up other noise on the stage.
With this kit, you will get mic clips and mounts as well as a sturdy packing case. I really like the mic clips on these, they're nicely adjustable and it makes it quite easy to get them in the right position.
This makes it perfect for road use and will help you keep your microphones safe. This kit is certainly not cheap, but for it, you will get high-end, quality microphones that will last you for years and give you great quality of sound.
When it comes to budget options, the PYLE-PRO PDKM7 is probably the most affordable option out there that still provides a decent quality overall.
The PYLE-PRO PDKM7 includes:
| | |
| --- | --- |
| Microphone Types | 1 kick drum mic, 3 tom mics, 1 snare mic, 2 condenser microphones (with holders) |
| Mounts/Clips | 4 clamps and 2 windscreens for condenser microphones |
| Case | Case included |
| Cables | 4 cables (3/8-inch, 5/8-inch) |
It's almost unbelievable the value-for-price ratio on this purchase. This drum mic kit has everything with a very affordable price tag attached.
The kit includes 7 microphones which cover all the bases for a traditional drum kit. Starting from the kick drum, the toms, the snare, and the overhead mics as well. Included with 4 clamps and 2 windscreens for the condenser mics.
Despite the price tag, this kit is very good when it comes to quality, especially if you consider the price. The high-performance foundation of the kit is only complimented by the good quality sound properties it possesses.
Overall, this is a good buy no matter how you look at it!
We all know how expensive microphones are, so if you don't have a big budget, you should seriously consider this kit.
The Shure DMK57-52 kit includes:
| | |
| --- | --- |
| Microphone Types | 1 kick drum mic (Beta 52A), 3 tom and snare mics (SM57) |
| Mounts/Clips | 3 mounts for SM57 |
| Case | Case included |
| Cables | No cables included |
This is a perfect starter kit. Even though it only has 4 mics inside, they are all great quality, time-tested veterans that are sure to give you a great recording quality.
The Beta 52A microphone with a built-in mount is great for drum kick (or any bass recordings), while SM57s are versatile, all-around mics that can be used for snares and toms.
Sennheiser is a well-known name in the industry, and their e600 kit is perfect if you're looking to get a high-end drum recording kit.
The Sennheiser e600 kit includes:
| | |
| --- | --- |
| Microphone Types | 1 kick drum mic (e602-II), 4 mics for toms/snare (e604), 2 overhead mics (e614) |
| Mounts/Clips | 4 clips |
| Case | Case included |
| Cables | No cables included |
The 4 tom mics come with built-in mounts. As for the design, e602 and e604 are dynamic, cardioid mics, while 3614 is a condenser, hyper-cardioid mic. This gives you versatility and the ability to record everything you need.
The suitcase included is high-end, as well as the rest of this kit, so you know what you're getting, even though the price is on the higher end too.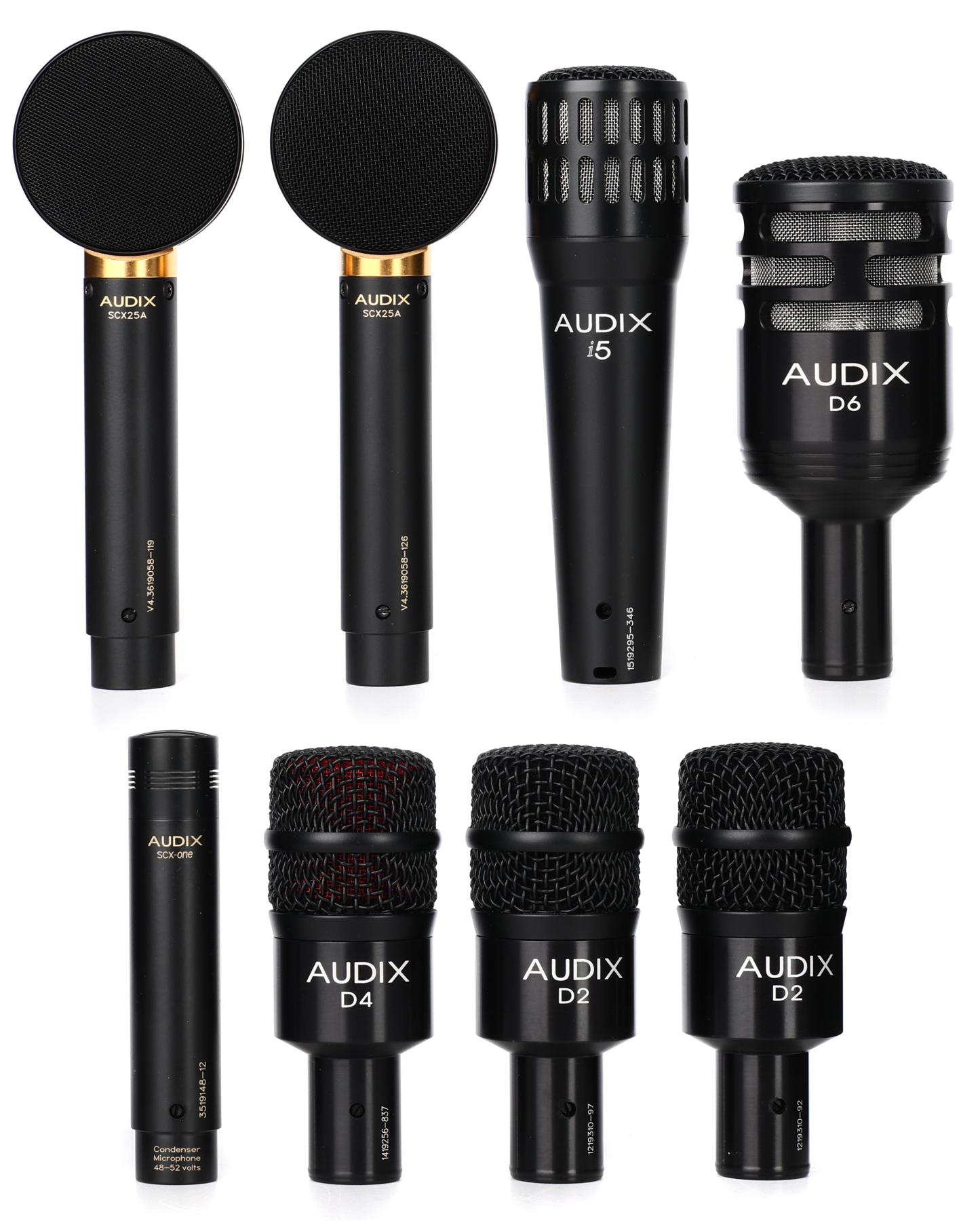 The Audix Studio Elite 8 Kit is called Elite for a reason. This is a pro set for those who want to buy the best and have the money to do so.
The Audix Studio Elite 8 kit includes:
| | |
| --- | --- |
| Microphone Types | 2 kick drum mic (D6 and D4), 2 tom mics (D2), 1 snare mic (i5), 3 overhead mics (SCX1-C and SCX25-A) |
| Mounts/Clips | 4 mounts and 5 clips |
| Case | Case included |
| Cables | No cables included |
With 8 mics at your disposal, as well as 4 mounts and 5 clips, this Elite kit is the high-quality option on this list. Granted the price is incredibly steep but for professional use, you will unlikely find a better option.
This is one of the best on the market today. You have both dynamic and condenser mics in here and you can choose them for any number of recordings, not just for drum recording.
I'm quite a fan of this drum mic kit, and it's leagues ahead of budget kits. Shure is a household name in the world of mics, and the PGA DrumKit 7 is a very popular mic kit for drummers.
The Shure PGADRUMKIT7 kit includes:
| | |
| --- | --- |
| Microphone Types | 1 kick drum mic (PGA52), 3 tom mics (PGA56), 1 snare mic (PGA57), 2 overhead mics (PGA81) |
| Mounts/Clips | 3 mounts and 3 clips |
| Case | Case included |
| Cables | 7 XLR cables included |
The PGA52 mic is a great mic for recording your kick. All of the mics are cardioid, and all except overhead PGA81 are dynamic in build.
In the kit, you will also find all of the mounts and cables you need to connect the microphones, as well as a traveling case, meaning the kit is ready to go for the box.
The Samson DK707 7-Piece is a very nice buy considering the value you get for an affordable price.
The Samson DK707 7-Piece includes:
| | |
| --- | --- |
| Microphone Types | 1 kick drum mic (Q71), 3 tom mics (Q72), 1 snare mic (Q72), 2 overhead mics (C02) |
| Mounts/Clips | 2 Tripod-Base Mic Boom Stands, 1 mic stand (telescoping boom) |
| Case | Case included |
| Cables | 7 XLR cables (20 ft.) included |
With 7 mics that give an overall great drum sound quality, this kit has a bass drum mic, mics for your rack toms, a snare drum mic, and the additional 2x overhead mics. An included carry case for better and safer transportation just adds even more value to this kit.
This drum mic pack is definitely one to consider, especially because of the affordable price tag attached!
What Other Accessories Do You Need?
Recording drums can be quite tricky if you've never done it before. Yet, once you get a grip on it, it's not that complicated. Apart from the microphones, you're going to need some mounts or clips to get your mics in the perfect position for recording.
You're also going to need to have recording equipment and cables for all of the mics—an audio interface with one input for each microphone. Also, make sure that you've tuned the drums before recording and keep measuring tape around if you're going for equidistant recording.
If you're on the lookout for an interface, check out our article on the best audio interfaces for recording drums.
What About Budget Drum Mic Kits?
Budget drum mic kits tend to be pretty low quality. For example, the Shure DM57-52 mentioned above is not really a budget kit, but it's just a small number of very versatile, quality mics.
It's much better to start with good quality microphones, even if you have less of them, and expand your mic setup, rather than having to completely replace your budget mics later.
To keep things short: it's better to have a smaller amount of good mics than loads of bad ones.
Condenser or Dynamic Mics?
Condenser microphones are much more delicate and can record higher frequencies. This means that they are perfect for some more quiet and delicate recording (like a vocal recording in a studio). They also need additional power to work. Condenser mics can be a great choice for overhead drum mics.
Dynamic microphones are much better at capturing louder and stronger sounds, making them perfect for stage use when the noise from the rest of the band is there as well. They don't need a power source and are much more durable and easier to maintain than condenser mics.
Should You Get a Drum Mic Kit or Individual Mics?
You can buy your mics individually, but it's usually more cost-effective to get them as part of a kit. Buying them in a kit will pay off usually through a lower price and the fact that you can often get some or all of the following: mounts, cables, clips, and travel cases.
What to look for in a Drum Mic Kit when buying?
There are a couple of things to keep in mind when looking for the best Drum Mic Kit for you. These are things like the obvious which is the price, sound quality, overall construction, number of mics. Apart from other things, these are probably the ones to focus on the most.
First and foremost, you should look for the right amount of mics, for example, if you have a full drum kit you would probably need a 7-piece mic kit. After that, the sound quality and durability of the kit are next. You want high sound pressure levels while also having good frequency response, low end, and good for handling high SPLs (if possible).
Also, the price is always a thing to keep in mind. You don't want to go all out if you have no reason to do so. Staying within a budget-friendly zone is still okay if you are a beginner to an intermediate level still. However, if you're a professional, then investing in a good quality kit would probably be necessary.
Note: bonus features and included material is always welcomed, so, a set that has included stand adapters, hi-hat mic, large diaphragm condensers, etc. is always good!
Conclusion
Drum mic kits can be a great way to go if you're looking for an all-in-one option without (possibly) breaking the bank. They usually come with a variety of mounts, clips, and cables, as well as a hard case to keep everything together.
My top pick is the Audix DP7 Drum Microphone Set, a good quality kit with a reasonable price tag.
If you want a budget option that still sounds good, check out the PYLE-PRO PDKM7.