Good quality overhead mics can make a massive difference to sound quality, both live and in the studio. In fact, you can even get away with a very minimal mic setup if the overheads are of good quality and well-positioned.
Overhead mics stand out for drums because of the positioning they are designed for, especially the condenser types. They ensure you can pick up the overall sound of your cymbals and drums.
My top pick as the best overhead drum mic is the Neumann KM 184 while the Rode M5-MP Matched is a great option for those on a budget.
The 5 Best Overhead Drum Mics (2021)

Georg Neumann is the forefather of today's condenser microphone. But in addition to the U87, U89, M 149 Tube, TLM 103, and a few other treasures in the current range, the non-modular KM-180 series is particularly popular. The KM 184 cardioid microphone is often used in miking studio drums, but it can also be seen on stages.
The KM184 gives records quality audio, which can be shaped excellently.
In the bass range, the microphone shows a roll-off, which starts around 100 Hz and reaches -3 dB attenuation at around 80 Hz. At 20 Hz the level loss is around 10 dB.
Pros
Good level stability
Low noise
Signals can be well-shaped
Cons
No switches for lowcut filter or pad
Both the KM 184 and KM 183 are well processed, deliver very professional, low-noise signals that are very useful in every drum situation.
| | |
| --- | --- |
| Polar pattern | Cardioid |
| Switchable Lowcut | No |
| Switchable Pad | No |
The M5-MP from Rode is a good option for those that are on a budget, but that still want decent quality overheads for their drums.
These are a nice compact set of matched overheads that punch well above their weight in this price range, that said they certainly don't match the sound quality of the Neumann KM 184 or the AKG 451s.
Pros
Good price-performance ratio
For use in studios, rehearsal rooms, and on stages
Decent sound
Cons
Sound not as good as some of the more expensive ones on this list.
Doesn't include switches for filter or pad.
| | |
| --- | --- |
| Polar pattern | Cardioid |
| Switchable Lowcut | No |
| Switchable Pad | No |
The C451 B from the Austrian manufacturer AKG is another option for overhead drum mics. They record a very balanced, neutral sound that is easy to process. These are also the first set of mics on this list to include pad and filter switches.
Pros
Natural, balanced sound.
Filter and pad switches
Clear and open sound with no harshness
| | |
| --- | --- |
| Polar pattern | Cardioid |
| Switchable Lowcut | Yes |
| Switchable Pad | Yes |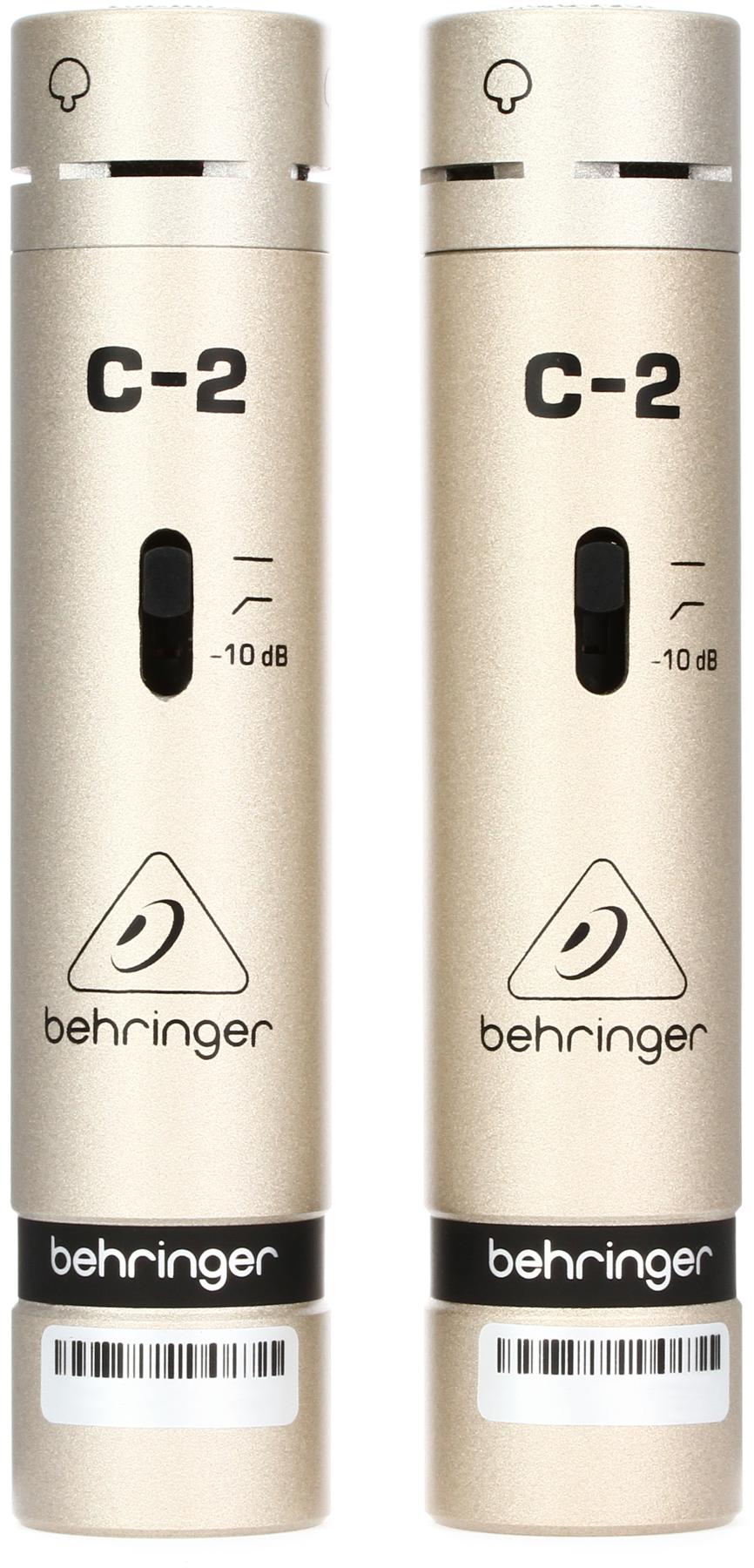 As you would have guessed if you've checked the price, no special feature whatsoever is to be expected with these microphones. However, they can do the basics quite well when it comes to overhead miking.
Pros
Very affordable price
Ideal for multiple applications outside of drumming
Cons
Sound quality doesn't match more expensive pro mics on this list
If you also want to use the filters, you have to make a decision: Pad and HPF cannot be selected at the same time. It's not the first microphone I've seen this on, but it's not ideal. Especially in the near field of sound sources, I would like to be able to use both at the same time. That said, in this price range, you can certainly live without it!
| | |
| --- | --- |
| Polar pattern | Cardioid |
| Switchable Lowcut | Yes |
| Switchable Pad | Yes |
The KSM137 Stereo has almost everything you need out of an overhead mic set. It includes a good quality matched pair of overhead mics, as well as a mic adapter for proper stereo positioning, wind screens, mic mounts, and a good quality carry case.
Pros
Includes all necessary accessories.
Filter and pad switches
Low noise
Robust construction
If you want to change the angle, it is easy to just twist the microphone holder. Then, pull the microphones out a little further or push them back.
| | |
| --- | --- |
| Polar pattern | Cardioid |
| Switchable Lowcut | Yes |
| Switchable Pad | Yes |
If you listen to the Shure KSM137 in idle mode, you can see that the noise is pleasantly low. It's a versatile mic to have in the studio.
Buyer's Guide
What Kind of Microphones are used for Drum Overheads?
A matched pair of cardioid condenser microphones are typically used for drum overheads, which allows you to get a more detailed stereo sound recording with good sound quality. When using condenser mics, you have to apply acoustic treatment to your room as much as possible as they will bring in sound reflections and background noises in the room.
What Polar Pattern Work Best for Overheads
Unidirectional polar patterns such as cardioids are outrightly the best for overheads. All my picks are cardioids. They are the best for drum overheads as they capture the noise from below and block most of the sound from other directions.
Overhead Mic Placements
There are different mic placement techniques for drum overhead. These include the spaced condensers, ORTF technique, XY technique, and Glyn Johns technique. Read our guide on how to record drums for more information about these. Also, if you're looking to get a full set of drum mics, then check out our guide on the best drum mic kits.
Why are Matched Microphones Important for Overhead Drums?
You'll get the most accurate results with two matched mics than with a pair of unmatched ones. Matched pairs of microphones produce the best stereo sound. They will give you the most accurate results as they minimize phase issues. Phase issues can cause issues such as "comb filtering" noises, which are not welcome when you're looking for a quality recording.
dB Pads
dB switchable pads are a good criterion to consider while choosing. These reduce the sound from the mic to your interface and are good for loud sound sources. Not all condenser microphones come with them, but you'll find these in the AKG C 451 B, Behringer C2, and the Shure KSM137/SL.
Phantom Power
Drum overhead microphones need phantom power, which is needed to power your condenser mic. You need a mixer or audio interface with phantom power for condenser mics.
Verdict
My top pick as the best overhead drum mic is the Neumann KM 184 Small Diaphragm. With this small-diaphragm condenser mic, you will get splendid signals of professional quality, which can be shaped excellently.
My budget pick is the Rode M5-MP Matched, which offers very decent sound quality and punches well above its weight in its price range.