The 7 Best Kick Drum Mics (2023)
A kick drum mic should be able to capture a good mix of the low end from the bass drum, as well as the upper ranges to capture the high-end attack of the drum. This article lists out some of the best options available.
My top recommended kick drum mic is the AKG D 112 MKII if you want an all-around quality microphone.
My budget recommended kick drum mic is the Shure PGA52. If you're on a tighter budget, this one will suffice!
The 7 Best Kick Drum Mics (2023)
Let's compare these in a bit more detail.
The AKG D112 MKII is a successor to the old D112, sharing the looks, but having upgraded electronics inside. This is a great microphone for capturing the full range of your kick drum sound.
It is a dynamic, cardioid-patterned microphone. It has a frequency range of 20–17,000 Hz and impedance at 210 Ohm. This is both good and bad. It gives you a lot to work with, but the higher-end frequencies matter in certain styles and genres more than others. So if you just want the lower end thump of the kick then you'll need to make sure you place the mic properly or EQ the sound a bit as necessary.
It's small in size, so it should fit the kick drum easily if you have a porthole on your resonant head, yet it is sturdy and durable.
The input jack and the stand attachment screw are located next to one another, making it sometimes a fiddly job to connect a cable to the microphone, but it's not a major issue.
This is a great quality kick drum mic and one that is used by professionals all over the world. If you look at the price/quality ratio. It captures the whole sound of the bass clearly and fully, giving you a full range of sounds you can work with when recording.
The Shure PGA52 is an extremely affordable kick drum mic that still offers great quality considering the price. With minimizing noise as much as it can, this cardioid polar pattern mic is pretty straightforward and easy to use.
With an option of a 15-foot XLR-XLR cable, or relying on 1 AAA battery, it's a pretty good one to consider, especially since it's from a well-known and quality brand like Shure.
Overall, the PGA52 is not a bad choice considering all the pros as well as the excellent value-for-price ratio. It's definitely one to keep in mind!
Audix are known for their very high-quality microphones. Their D6 mic is another high-quality mic for recording bass drums.
This is a microphone that was specifically built for recording bass sounds, with a large diaphragm and perfect response for capturing lower frequencies.
It will capture sounds from 30 Hz to 15 kHz, giving you lots of space for recording a true kick drum sound. The D6 is a dynamic microphone with a cardioid pattern.
The Sennheiser E602 II is a second version of the Sennheiser 602, which is lighter and smaller in comparison. It's a dynamic large-diaphragm instrument microphone with a cardioid polar pattern, as is expected.
The sound quality is great, as it will cover all of the frequencies from 20 Hz to 16 kHz. This is a great, all-around bass microphone.
This microphone looks a bit different from the rest as it has a flat design. This mic is the combination of the Beta 91 and SM91 microphones, picking up the best of both and mixing it into one.
It has a half-cardioid pattern and uses phantom power to work. This is good for use in both stage and studio settings. It's not the cheapest kick drum mic but it has very good quality, durability, and versatility when recording.
The Beyerdynamic M88 is a very pricey microphone but one that offers incredibly sensitive as well as accurate audio response and picks up bass, or all other frequencies for that matter, very good!
If you have the budget, then this highly durable, excellent sound quality, wired/wireless microphone will be an excellent addition to your drum set.
While having a modest weight, it's easy to carry for drummers, it's made from brass and is certainly one to consider to add to when it comes to the best drum mic kit.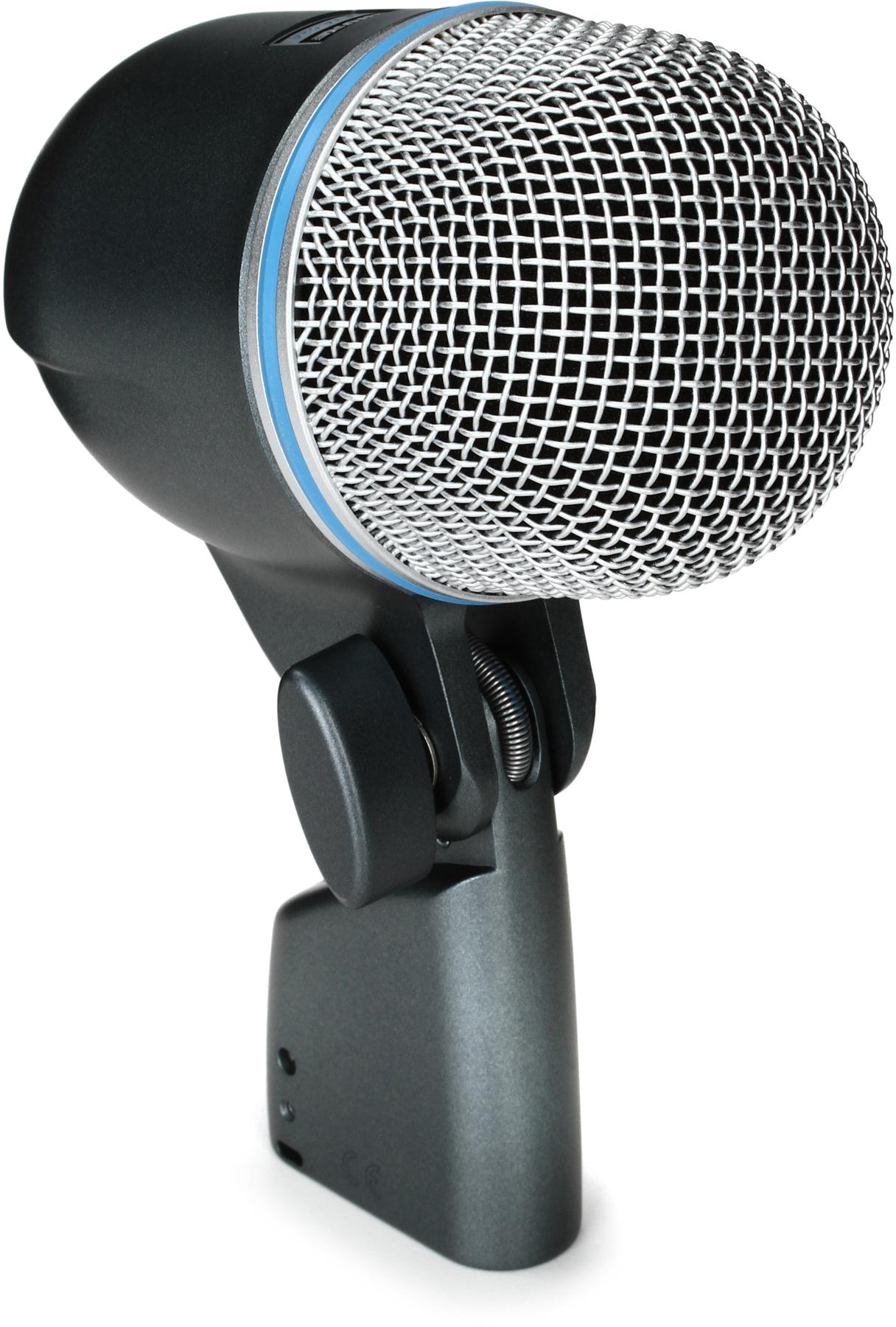 The Shure Beta 52A is another very popular kick drum microphone. It is a dynamic, super-cardioid microphone, with an optimized frequency response to record low-end, bass sounds. Size-wise, it's larger and heavier than the D112, but that will provide you with more durability and safety when you're on the road, for example.
The stand adapter and XLR jack are cleverly built into the base of the mic. It also has an adaptable base, meaning that you can easily adjust the positioning of the microphone once it's on the stand.
This makes setting up your mic much easier once you put it inside the drum. It also comes with its own tripod mount, so you can use it straight out of the box.
How To Position a Kick Drum Mic
There are two basic ways in which you position a kick drum mic. You can do it either on the inside of the drum or on the outside head. After this, the positioning of your mic will have a big impact on the sound captured.
If you're positioning the mic inside, you will get a sharper, brighter tone, as it will pick up the sound of the beater hitting the skin of the drum. To mic this way, you want to position the mic in the drum, a few inches off from the inside skin, and point it off-center, to get the best sound. Of course, to do this, you have to have a hole in the outside skin, as many drums already do.
When you're recording from the outside, you just get the mic close to the drum on the outside skin. If you want a more boomy sound, you can position it straight to the center of the drum, if not, put it a few inches to the side, same as with the inside mic.
Note that some technicians like to record both sounds when recording drums as it gives them the ability to play with sounds in the editing and mixing and combine the two. Of course, this is not completely necessary and you can easily get away with using one kick drum mic.
Why Do You Need a Kick Drum Mic?
Kick drum mics are designed specifically for the sound of a kick drum. Kick drums also have a lot of air movement that could damage more sensitive mics. Kick drums produce powerful low-end frequencies, but the part of the sound that really helps a kick drum come through is in the upper mid and high-end frequency sounds (the beater sound). Therefore, a kick drum needs to be quite versatile and durable to handle all of this.
Types of microphones
The most common types of microphones you will encounter will be dynamic mics, condenser mics, and ribbon mics. Dynamic microphones are by far the most durable option which is why they are most frequently used. Condenser microphones are most commonly associated with the hi-hat, snare drum, and sometimes the rack toms. Ribbon microphones are less likely used so maybe you will not come across them as much, but, they are slowly gaining popularity and use.
What to look for in a Kick Drum Mic?
Polar Pattern for a Bass Drum Mic
Most bass drum mics have a cardioid polar pattern, with some having a super-cardioid polar pattern. This pattern is used because it absorbs all of the sound coming straight to the microphone and cuts out much of the noise coming from elsewhere.
Frequency Range
The kick drum is not just all low-end when you're recording it. The low-end thump needs to be picked up, but the high-end frequencies of the kick drum spectrum are also very important. Since you have to pick both up, you are going to need a large frequency range on your mic. This is why bass drum mics can have a frequency range as high as 20–20,000 Hz.
Durability
There is a reason why a carry case is a very common item among drummers, dealing with all kinds of equipment like guitar amps, cabs, guitars, pedals, cables, it's easy to misplace or damage your mics. Durability is crucial for the longevity of your gear, especially if you're a beginner, you want to preserve your equipment as much as possible.
Price
Oftentimes, I'd advise going easy on the budget and getting just the right piece of gear that compliments your skill level. However, seeing as the kick drum is an essential piece of drum kits like cymbals, snares, floor toms, naturally, you would want to spend a good amount to get the best drum kick mic, overhead mics, snare mic, tom mics, and get the whole drum mic set in place.
Honorable mentions
Among this list, which has a good range of quality and prices, as well as overall sound, there are other mics that are probably worth your time to explore. Microphones like Shure SM57, Audix DP7 and D4, Shure PGA56 and PGA57, Sennheiser E604, and a few others.
Conclusion
Whether you're a pro or a home enthusiast, you can find something on this list that will help you get the best recording possible and a clear sound of your bass drum.
My top kick drum mic pick is the AKG D 112 MKII. It's a well-rounded microphone of good quality and great value-for-price ratio.
My budget kick drum mic pick is the Shure PGA52. If you don't want to break the bank while still having a decent kick drum mic, this is the pick for you!