The 6 Best XLR Cables (2023) for Sound Quality
XLR cables carry the audio signal from your instrument or microphone to a mixing table, amp, PA, and other devices. A good cable is crucial for sound quality. No matter how expensive your gear is, it's not worth much without a good cable.
When someone mentions quality gear, most people usually think of musical instruments, microphones, amps, mixing tables, etc. On the other hand, sound engineers know that every single piece of musical equipment is equally important. The quality of cables is an often overlooked element in the chain.
XLR cables are one of the most common types of cables when it comes to both studio and live performances. Many electric instruments still rely on classic line in/out cables, but XLR cables can be a much better solution, especially if there's a long way from an instrument to a mixing table or other device. On the other side, microphones predominantly used these types for decades.
My top recommended XLR cable is the Mogami Gold Series XLR Cable. This is a well-rounded cable that hits the sweet spot between quality and price.
My second recommended XLR cable is the AmazonBasics XLR Cable. This is an affordable cable for those on a tight budget looking for a decent product.
The 6 Best XLR Cables (2023)
Let's compare these in more detail.
If you're looking for a quality cable at an attractive price, this one is a great choice. Mogami is a well-known name in the audio industry. For several decades, it has been a synonym for quality products.
Nowadays, it offers three series of XLR cables – Silver, Gold, and Platinum. We're recommending the mid-level option in this case. However, even their most basic cable keeps a high level of quality and durability.
The company claims every cable is hand-assembled. It comes in different lengths, so you probably won't have trouble finding the one that fits best for you.
Among cheap XLR cables, this is a decent choice. This cable is cheap, but it actually has some quality to offer.
The first thing that you'll notice on this cable is the metal housings of connectors, which ensures good protection. Also, you can count on quite decent copper spiral shielding which keeps this cable pretty quiet.
Of course, the cable comes in different lengths. A one-year limited warranty is included as well.
3. Audio-Technica AT8314-50 XLR Cable
Mid-range
Renowned manufacturer, affordable price.
View Price at Amazon
Choosing a product from a renowned manufacturer is always a good option if you're not so experienced. This cable comes from a famous Japanese company that has been considered one of the biggest names in the audio industry. Among numerous other products, they offer XLR cables as well.
This one is a mid-range product when it comes to price. It offers good overall quality and some of the company's unique design solutions. The first thing you'll notice is the quality of XLR connectors.
Additionally, there is a quality PVC jacket, as well as dual cooper outer shields, which make this product very durable and reliable for live performances. A great choice if you want a good value/money balance.
4. LyxPro Balanced XLR Cable (20 ft)
Value for Money
Cheap and very popular cable with numerous color options.
View Price at Amazon
The LyxPro is another value option that I would like to recommend. Considering the price, this one doesn't actually feature any major points of weakness. It comes with a quality PVC inner shield which offers 98% coverage.
With such figures, you can count on great sound quality. In terms of durability, there are metal XLR housings. It comes in various colors. This can be quite useful for identifying different cables in complex setups.
5. Your Cable Store (10ft) XLR
Very Affordable
Cheap but reliable, perfect for beginners.
View Price at Amazon
This is a very affordable XLR cable. The sound quality is good. Also, you can use it without any worries for live performances, considering metal housings.
The shielding quality is also on a decent level, so you won't have bigger problems with noise. The cable comes in various lengths with different options for colors. This is definitely a great budget cable.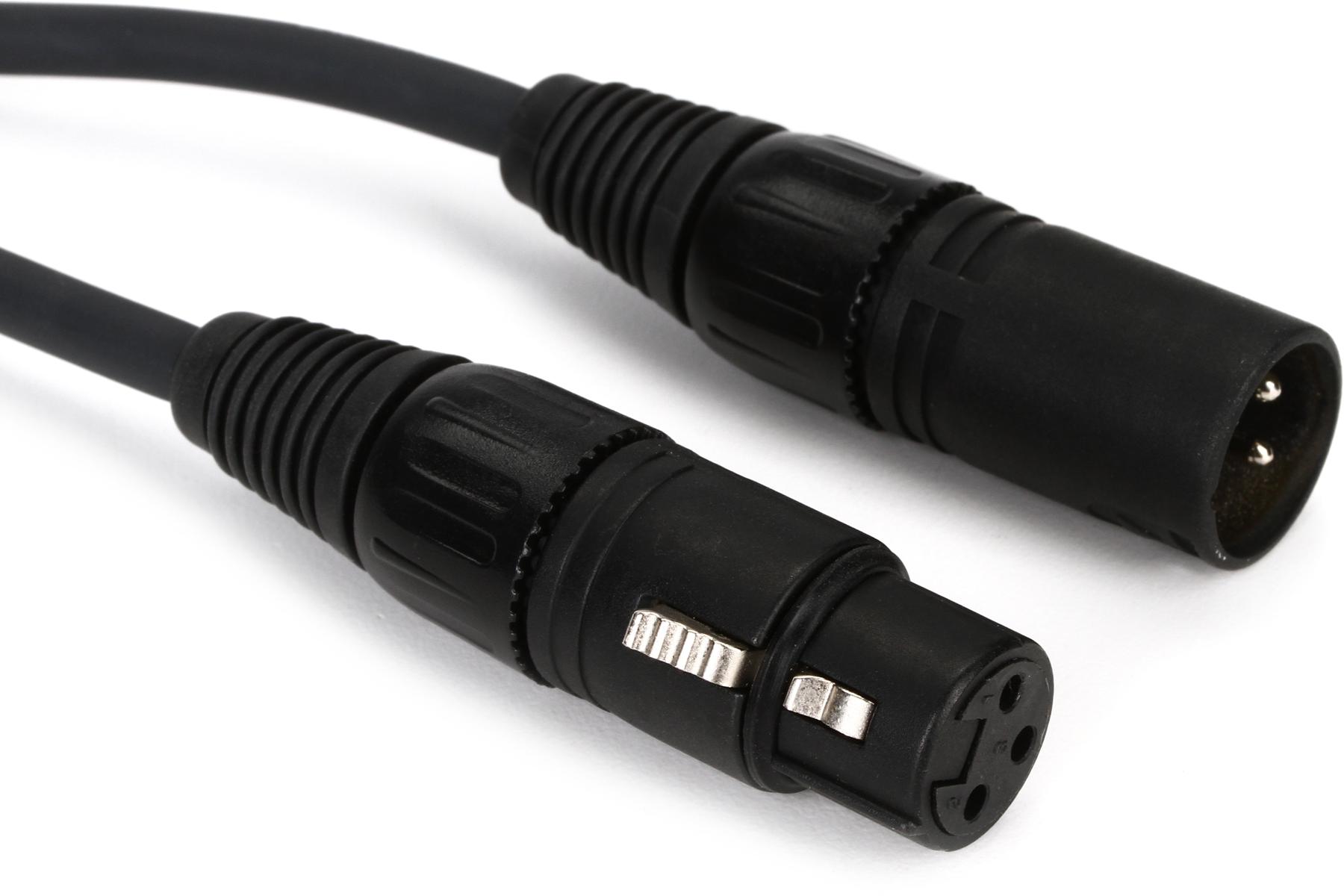 This list ends with the Planet Waves Classic Series XLR Cable. This is also quite an affordable product that comes with several strong points.
One thing that you'll hardly find on other cables of this price range is very good corrosion protection, which seems critical for contact reliability. These connectors are nickel-plated and feature metal housings, which guarantee great durability as well.
The shielding is also quite decent, so you can also count on a quiet operation. All in all, a very good value for the money. The product comes in different lengths.
What should I know before buying an XLR cable?
You will easily recognize an XLR cable jack by its pins. The most common are 3-pin jacks. When someone mentions XLR, people usually think of these. Variants with 4, 5, 6, 7, and more pins are also available, but they are not used as often.
Just like every product on the market, these also come in various price ranges. Some are cheap, while some are designed for pro use. Even if your budget is tight, you can find a decent one. The things you should consider when choosing the best option are mainly connector quality, cable core, and shielding.
When it comes to connector quality, online reviews from other users are a good indicator. You will easily find out if a connector is durable enough or if there's a potential issue, such as unwanted buzz or similar things.
On the other hand, the cable core seems pretty straightforward – the thicker the cable, the better the sound quality. If you want a top-quality cable, go for a copper core. This core is oxygen-free, which should guarantee the best possible sound quality. However, most professionals don't hear the difference.
Speaking of shielding, there are three main types—tin-plated copper, copper, and aluminum laminate. If you need a quality cable for live performances, tin-plated copper would be the best choice due to its great flexibility.
Last but not least is the cable length. Do not get a long cable unless you actually need it, as this can have a bad effect on the sound quality.
Conclusion
Those would be some of the best and most popular XLR cables you can find around. As you can see, these products come in a pretty wide price range. Some are very cheap, while others are quite expensive.
So, identify your priorities and needs before purchasing. Determine your budget, and then check things like cable length, shielding, connector quality, and similar things. Once you're done with these, the choice shouldn't be that hard.
My top XLR cable pick is the Mogami Gold Series XLR Cable, a well-rounded cable with a great balance between quality and price.
My budget XLR cable pick is the AmazonBasics XLR Cable, an affordable cable for those on a tight budget but an overall decent product.