Roland VAD503 Review (2023)
Pros
Full-depth wood shells and double-braced chrome stands
Its TD-27 drum module is feature-packed, derived from TD-50 module
Authentic-sounding 14" Digital Snare and 18" Digital Ride Cymbal
Amazing triggering and response
Cons
It's quite pricey
It doesn't include the latest TD-50X module
4-piece drum kit without 12" tom and 16" cymbal
The VAD503 is a reduced version of the VAD506 which is considered as the original full-size V-Drums Acoustic Design drum kit and comes next to the flagship VAD706.
With just one less 12" tom and one less 16″ cymbal in its kit, the VAD503 comes in a less expensive price tag compared to the VAD506 but both drum sets have the amazing combination of a traditional acoustic set's look and response paired with the innovation of an electronic drums, the trademark of Roland's V-Drums Acoustic Design kits.
VAD503 is a 4-piece full size wood shell set that includes 1 Snare, 1 Kick, 1 Mounted Tom, 1 Floor Tom, 1 Crash Cymbal, 1 Ride Cymbal, 1 Hi-Hat, and a powerful TD-27 Sound Module. With all these impressive features, the VAD503 is one of the best hybrid drums available today but the price is a little expensive considering it is just a 4-piece kit.
Key Features
The TD-27 is a very decent sound module that comes with the VAD503. Packed with a wide range of very good quality acoustic drum sounds paired with advanced multi-effects and mixing features, the TD-27 produces realistic sounds with drums that respond like an acoustic drum, thanks to its Prismatic Sound Modeling technology.
It allows crafting customized kits and its advanced digital trigger technology also adds to the amazing response that brings a deeper and immersive drumming experience. Though it is not the state-of-the-art drum module available right now, the TD-27 is still powerful and impressive with its numerous features.
Design
VAD503 stays true to the authentic acoustic design of Roland's lineup of hybrid drums with its full-depth wood shells equipped with tuneable mesh heads. Its custom double-braced chrome hardware completes the whole look, channeling a sturdy and solid look that attracts attention on stage.
There is no denying that the VAD503 can certainly make anyone think it is an acoustic drum (other than the cymbals, of course). Its impressive design leaves a great impact that can totally stand out on stage or in the studio.
Kit Configuration
VAD503's streamlined four-piece kit includes 14″ PD-140DS digital snare and 18″ CY-18DR digital ride cymbal that produces realistic sounds and is equipped with multiple sensors and provides an accurate response.
Added into the kit are 10″ PDA100-MS rack tom, 14″ PDA140F-MS floor tom, and 20″ KD-200-MS kick with custom chrome hardware and Midnight Sparkle wraps. Additional cymbal pads that include 12″ VH-10 V-Hi-Hat and 14″ CY-14C-T crash complete the whole kit.
Even though the VAD503 comes without a 12" tom and 16" cymbal, it still offers the same immersive and realistic acoustic drumming experience you get from its full five-piece kit version, the VAD506. You also have an option to upgrade to the full size anytime if you wish, as it's the same module that includes the same amount of input capacity.
Price
The VAD503 is fairly expensive considering that it is only a four-piece kit which does not include a 12" tom and 16" cymbal. With the same price, you can definitely get a complete 5-piece drum set from other brands. However, it's difficult to beat the build quality and triggering that you get from a Roland kit.
But if you are looking to own a VAD kit, then the VAD503 is a good option as it is slightly cheaper than the other models like the VAD506 (and in a league of pricing lower than the newer VAD706!). It is a worthy pick especially if you prefer the authentic acoustic drum look and you do not mind the reduced configuration.
Alternatives to the Roland VAD503
The VAD506 is the complete and five-piece version of this range. Both drum kits have the same TD-27 drum module as well as the full-depth wood shells with tuneable mesh heads. Their only difference is the additional 12″ PDA120-MS rack tom and 16″ CY-16R-T crash/ride cymbal included in VAD506 that the VAD503's kit does not have.
With the additional tom and cymbal in the VAD506, it understandably comes at a slightly higher price than the VAD503. If you are looking to own a complete five-set drum kit and do not mind spending more for a high-quality drum kit, the VAD506 is definitely a great option for you.
A mid-level kit from Roland's V-Drums lineup, the Roland TD 27KV also comes with the TD-27 sound module which is the same as VAD503's drum module so you can expect to hear the same great-sounding realism from both drum kits.
It does not have the same acoustic drum aesthetic of the VAD503 but its compact design offers convenience which makes setting up even in small, tight spaces such a breeze.
The TD 27KV kit includes a 14″ Digital Snare and 18″ Digital Ride Cymbal in addition to its 3 toms + hi-hat positioned in a real acoustic hi-hit stand, other 2 cymbals and 1 kick. With the TD 27KV, you get a more complete setup at a more affordable price compared to the VAD503.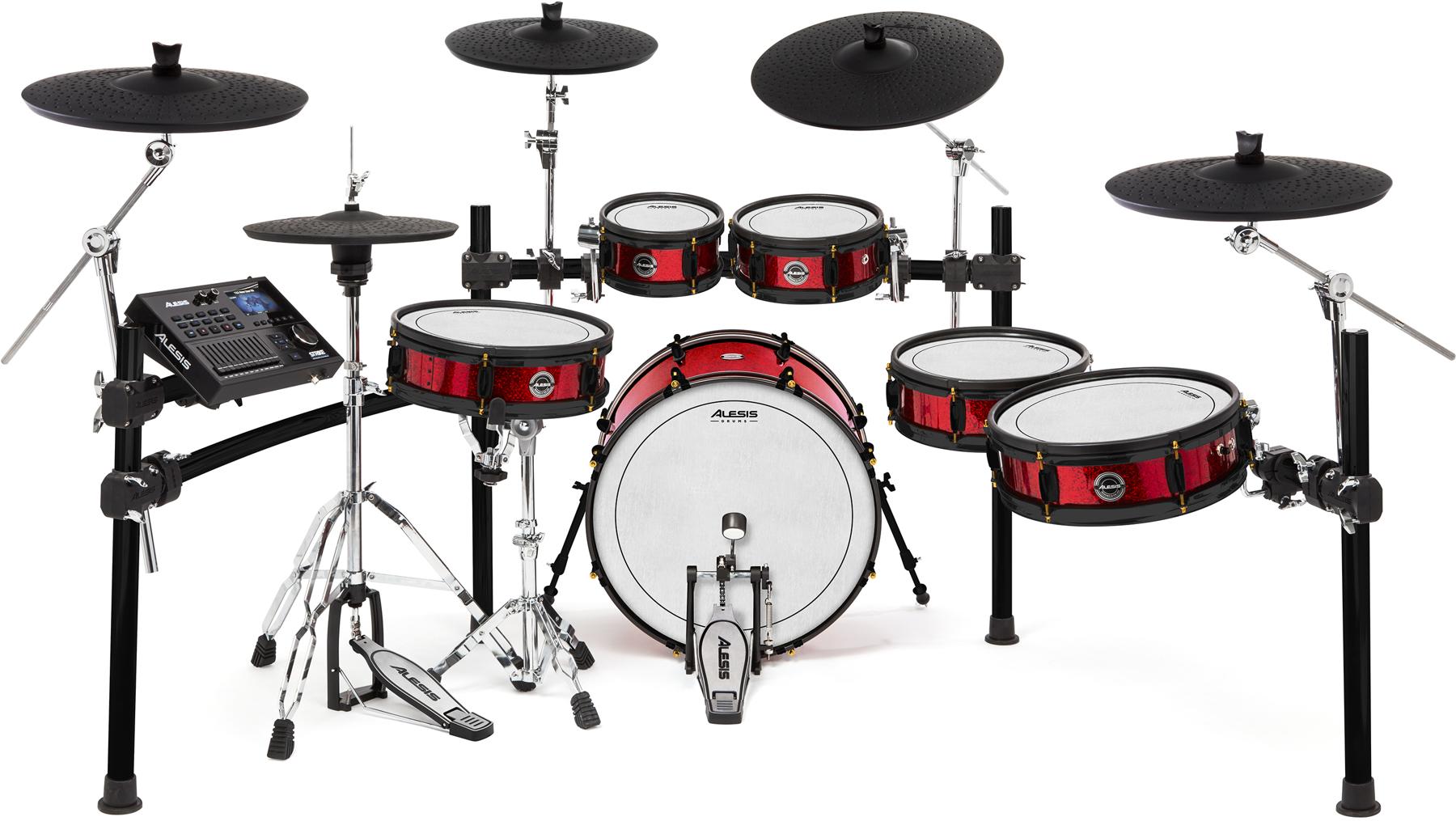 The Alesis Strike Pro SE is a 6-piece wood shell electronic drum kit which is significantly larger than the four-piece VAD503. Its standard setup includes 14″ Snare, 20″ Kick, 8/10/12/14″ Toms, 3 x 14″ Crash Cymbals, 16″ Ride Cymbal, 14″ Hi-Hats.
Despite having a less impressive drum module than VAD503's TD-27, Alesis Strike Pro SE's Strike Pro sound module is still very decent with its 136 complete drum kits and over 1,800 multi-sampled sounds.
The Alesis Strike Pro SE is significantly cheaper but it is pretty much lacking in features and drum module capabilities when compared to the VAD503. However, with the Alesis Strike Pro SE, you get a larger electronic drum set that offers an authentic sound and feel of an acoustic kit that does not cost a fortune.
Conclusion
The Roland VAD503 is a great streamlined option among other electronic drum kits available today. Though it may seem lacking with one less tom and one less cymbal compared to other 5-piece kits, it still packs a punch with its very decent TD-27 sound module.
The VAD503 is a great choice for those looking to own a high-quality electronic drum set with acoustic drum aesthetics, powerful sound module at a slightly more affordable price and does not mind having a reduced setup with just a four-piece set.