Electronic drum sets are a lot more fun when you have a good drum amplifier. Amplifiers are used as speakers for practicing or for smaller gigs. They can also be used as personal drum monitors while gigging.
A good amplifier should be able to amplify both low frequency and high-pitched sounds while keeping the music clear and crisp.
We are here to give you a guide to the best models out there on the market. So, you can get the best out of your electronic kits.
Another great reason to get a monitor is to save your ears from listening to headphones and earphones all the time. It's very easy to unintentionally turn up the volume too much while listening on headphones.
Note: keyboard amps are also generally well suited for electronic drum sets.
My main recommendation is the best drum amp Roland PM100. A pretty neat amp for home practice.
My second recommendation would be the Alesis Strike 8. A powerful 2000W amp that is very versatile and has plenty of headroom!
The 7 Best Electronic Drum Amps and Monitors (2022)
Let's compare them in more detail: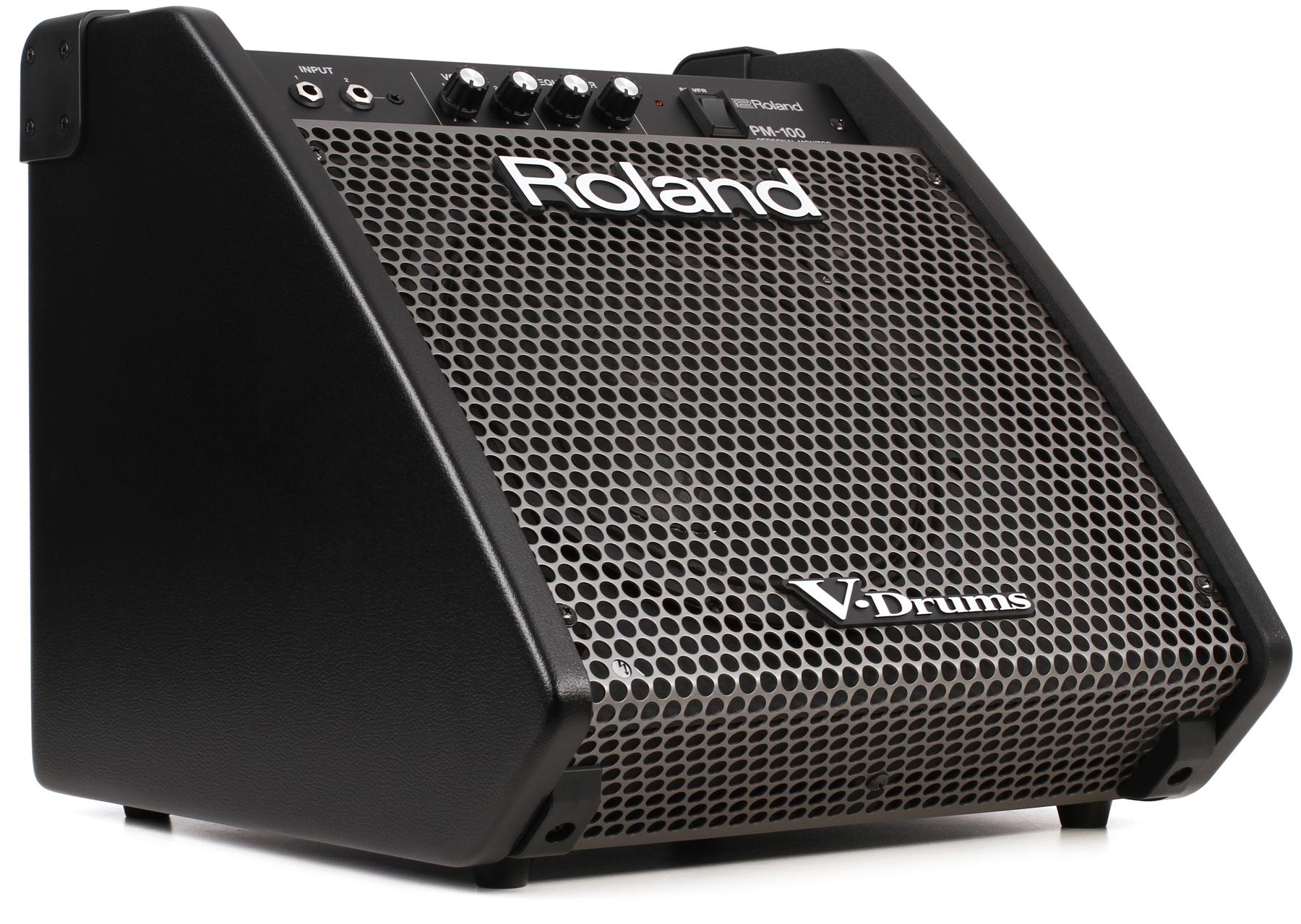 The Roland PM-100 is a premium 80W drum amp that is perfect for Roland drums, as well as e-drums from other brands.
This amp has effectively the same features as the Roland PM-200 but doesn't have as much volume
Pros
Nice set of features
Great for home practice and smaller gigs
Cons
Lacks the volume of more powerful amps
This is great for home practicing, as your drum amp for small gigs, or as your monitor for larger gigs. If you're planning to play larger gigs, either look for a drum amp with higher volume or route the audio output of your electronic drum set through the PA.
| | |
| --- | --- |
| Number of Channels | 2 |
| Total power | 80W |
| Inputs | 1 |
| Outputs | 2 |
| EQ | Global |
| Mounting Options | NA |
All in all, the Roland PM 100 is one of the best electronic drum amplifiers out there in the market. It comes at a price, but it is certainly worth it.
The Alesis Strike 8 is a powerful, bi-amplified power active speaker that is bound to make your room thud every time you hit a note on your e-kit.
This is a portable speaker with a high-performance transducer and produces loud, yet clear sounds regardless of the environment you're in.
Pros
Powerful 2000W amp
Picks up all aspects of an e-kit well
Can be used as a stage monitor
It is great for everything from your home practice to small gigs. It works very well, especially if you own an Alesis electronic drum kit.
Its low-frequency pick is quite good, giving your bass drum a nice sound. While its high-frequency drive covers your snare and cymbals.
This amp can be used horizontally as speakers or vertically as your stage monitors. Which means they are useful in bigger gigs as well.
| | |
| --- | --- |
| Number of Channels | 2 |
| Total Power | 2000W |
| Inputs | 2 |
| Outputs | 2 |
| EQ | Contour |
| Mounting Options | NA |
The Alesis Strike 8 amp is a dynamic and loaded drum amp that will take your electronic drums to the next level. It is also priced quite modestly for its size, making it an amp worth having.
Coolmusic may be a niche brand, but the DK-35 50W amp speaks for itself with its brilliant performance and an amateur price. This is a 10-in multi-function speaker that can be paired very well with your electronic drum, guitar, or keyboard.
A 50W amp, it can be used for home practice, rehearsals, and even smaller gigs.
Pros
Total value for money
Is quite versatile
Good for practice and smaller venues
Cons
Could handle lower frequencies better
It offers nice tone and gain controls with its 3-band EQ. This brings out the sound of your whole kit quite nicely. It allows you to connect an external CD, MP3, and earphones, so you can jam to your favorite music.
The amp has an unconventional built cabinet to impede drop resistance. It also makes the amp easier to carry around.
| | |
| --- | --- |
| Number of Channels | 1 |
| Total Power | 50W |
| Inputs | 3 |
| Outputs | 2 |
| EQ | 3-band |
| Mounting Options | NA |
If you're looking for a quality amp for your e-kit, don't always go for the name value. The Coolmusic DK-25 is a great option, especially if you're on a budget.
Roland is well-known for its V-drum kits. This V-group of drumming products encompasses several sets of their electronic drums, as well as many other electronic drumming products.
The Roland PM-200 is perfectly compatible with any of these V-kits, as well as practically any other brand of electronic drums. Also, with the 180-Watt power output, this monitor will deliver a great sound performance.
The sound produced by this device is enhanced by its horn tweeter and the 12'' speaker.
Pros
Brilliant 180W output
Great sonic coverage
Quite versatile
The front part of this monitor is placed at a good angle for proper sound feedback. You can place the Roland PM-200 at any spot around your drum set, to get the right feel of your current playing and the sound quality you're producing.
There are 1/8'' and 1/4'' inputs that allow you to connect electronic pads, a music player, or your mobile to this Roland monitor. Plus, there's one separate input for V-drums, so that you can combine this monitor with a wide range of Roland's V-kits.
| | |
| --- | --- |
| Number of Channels | 1 |
| Total Power | 180W |
| Inputs | 3 |
| Outputs | 2 |
| EQ | Global |
| Mounting Options | NA |
The monitor allows you to do some basic mixing with Volume between these inputs and bass/treble EQ controls on the front.
Also, it comes with two direct XLR outputs, which you can use to connect the Roland with a recording machine or a large-scale sound mixer when gigging.
The KAT Percussion KA2 is a drummer's amplifier. It is a heavy-duty, 200W amp that sounds great on stage, in rehearsal, and at home.
It has a 12" woofer with a 1" tweeter continuously delivering clean drum sounds with each hit. It is a good fit for all kinds of electronic drums.
Pros
200W amp, powerful enough for most stages
Suited to all electronic drums
Wide 3-band EQ
Its 3-band EQ lets you get accustomed to the whole spectrum of frequencies excellently. So, you hear the lows of the kick drum and toms, the highs of the snare and cymbals, and the mids of everything in between.
The amp allows you to connect your music player or metronome so you can practice as you like. It can be used for other instruments and works equally well.
| | |
| --- | --- |
| Number of Channels | NA |
| Total power | 200W |
| Inputs | 4 |
| Outputs | 2 |
| EQ | 3-band |
| Mounting Options | Floor Wedge |
The KAT Percussion KA2 is an ideal choice for drummers who are gigging regularly and need a good amp to boost their drums.
The Ddrum DDA50 is a great option to consider. It provides high-quality sound at an affordable price.
Being remarkably realistic in sound, it provides a finely polished and clean output of the music. It provides the most number of options of all the amplifiers reviewed here. It lets you adjust many aspects of your music with the help of a standard set of controls. Frequency, bass, and tone are just a few of the options available.
Pros
High-quality and affordable
Handles electronic drums very well
Clean, realistic output
The Ddrum DDA50 comes with a 10-inch subwoofer and an adjacent 2.5-inch tweeter. 3 stereo ¼" inputs and a ¼" stereo output. MP3 and Headphone jacks are the other modes of input and output respectively, in the drum and can be used to play music silently.
The amp is particularly great for handling the highly transient nature of electronic drums with relative ease while making sure the sound quality stays the same. The three-band equalizer can be used to adjust treble, mid, and bass.
A versatile model, the Ddrum DDA50 is moderately heavy. Transportation is made easy with its handy design, while a metal grille protects the speakers.
| | |
| --- | --- |
| Number of Channels | 1 |
| Total power | 50W |
| Inputs | 4 |
| Outputs | 2 |
| EQ | 3-band |
| Mounting Options | NA |
Overall, the Ddrum DDA50 is one of the best electronic drum amplifiers on the market. It comes at a great price and is perfect for both amateurs and pros.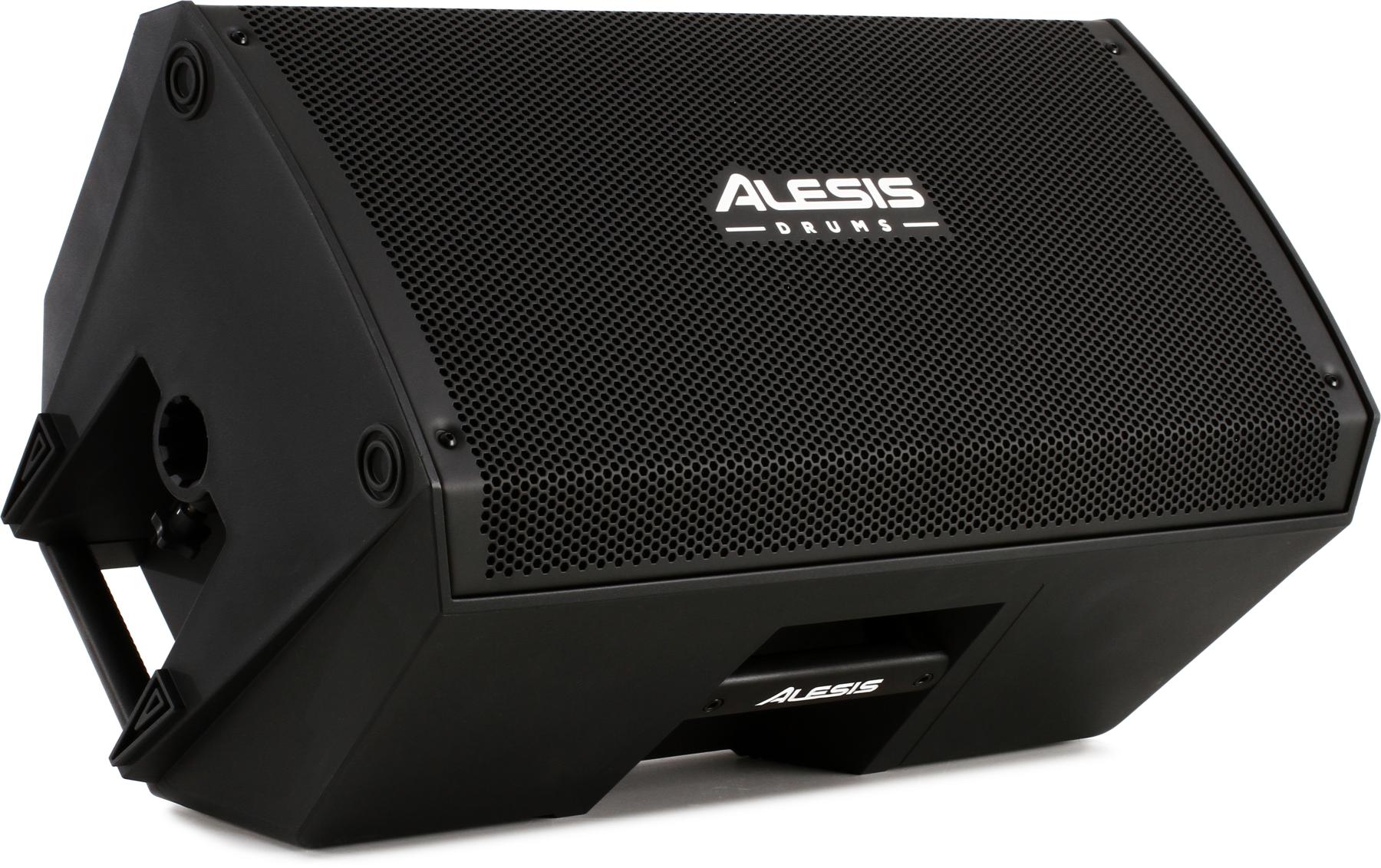 Much like the Alesis Strike 8, the Strike 12 is also an incredibly powerful amp. Except you're hearing a 2000W output on a 12" woofer.
As expected, the Strike 12 is a loud, thudding amp. But as powerful as it is, it produces clear sounds that do your electronic drums justice.
Pros
Ridiculously powerful
Great response across the complete frequency range
Nice Contour EQ with noise rejection
Cons
Might be more than necessary for simple home practice
The Strike 12 reproduces the lows of the kick drum and the highs of the snare and cymbals much better than the Strike 8. You can also customize the sound to your preference thanks to its Contour EQ.
It has a Ground-Lift switch that eliminates unwanted noise and the amp prevents distortion as well.
| | |
| --- | --- |
| Number of Channels | NA |
| Total Power | 2000W |
| Inputs | 3 |
| Outputs | 2 |
| EQ | Contour |
| Mounting Options | Pole |
As expected of a 2000W drum amp, the Alesis Strike 12 is a window-shattering amplifier. It is a pretty good buy given its price.
Buyer's Guide
What is an Electronic Drum Amp?
An electronic drum amp is an amplifier specifically designed so that you can hear the output from an electronic drum set.
Electronic drum amplifiers are not the only way that you can monitor your electronic drum set. You can also alternatively use electronic drum headphones.
If you don't have an amplifier or headphones then you will not be able to hear anything coming out of the electronic drum set. Other than this, there will not be any noise out of it apart from tapping sounds when hitting the pads!
Do you need an Electronic Drum Amp for your electronic drums?
An amplifier is the best way that you can monitor your electronic drum set, provided that you are in a situation where the noise level is acceptable.
It can also be better to use an amplifier in comparison to headphones because you're hearing might not get as fatigued as quickly.
Can you use any type of amp for an electronic drum kit?
Keyboard amps tend to work well as an alternative for powering electronic drum sets, however, not all amps work well with them.
Also, many different types of PA speakers will tend to work quite well with electronic drum kits. A wide range of amplifiers will technically work with electronic drum sets, however, you may not get a desirable sound quality from them. Also, if you hook up an electronic drum set to a very low-powered speaker you may cause damage to it if you overpower it.
You need an amplifier that has a pretty dynamic range and one that will be able to output a reasonably wide range of frequencies. For example, low-end frequencies will be important for outputting sounds such as the bass drum and floor tom, whereas the high-end frequencies will be more important for at least a portion of the sounds coming from hi-hats, snare drums, and cymbals.
How much power do you need in an electronic drum amp?
A 50-watt drum amp is enough for home practicing. However, if you want a drum monitor for band practice or on stage then I would highly recommend it to be above this.
It's best to get the most amount of watts that you can afford because it gives you a lot more headroom, and you can always just turn the sound down when necessary. If you have a higher-powered amplifier, then you're less likely to push it to its limit.
How portable do you need your Electronic Drum Amp to be?
If you are the kind of person who enjoys taking your electronic drum set on the road for gigging or band practice then I would recommend that you get a relatively portable amp because transporting them can sometimes be a bit awkward if they are too large.
However, it's often a trade-off because you do not want to get an amplifier that is too underpowered and therefore will not suit its purpose.
What other features do you need in an Electronic Drum Amps?
Electronic drum amps tend to not require many additional features apart from simply just outputting quality sound. Many electronic drum modules will have a reasonable amount of sound-sculpting options should you require them.
Do you need an electronic drum amplifier to record your electronic drum set?
You do not need an amplifier to record electronic drums. You can simply record the sound coming out of your drum module directly via an audio interface on your computer, or you can use a USB connection to record the audio if your drum module already supports this.
I've read a few articles online over the last few years that state you need an amplifier to record electronic drums and that is completely untrue. Whoever wrote this has likely never even attempted to record an e-drum set!
Verdict
That's my roundup of the 7 best electronic drums amps that you can use to monitor your electronic drum set.
If you're unsure which one to get then I would highly recommend the Roland PM-100. This is a very versatile drum amplifier that you can use for practicing and as a personal drum monitor while you're on stage. It would also be great to amplify your e-drum kit for smaller gigs. It also has great sound quality and Roland is from one of the best brands when it comes to electronic drums.
Electronic drum headphones are decent alternatives to amplifiers so it's also worth considering those particularly if you can only make a relatively limited amount of noise in your living situation.
I hope this guide has helped and I wish you the best of luck on your electronic drumming journey.