The 7 Best Roland Electronic Drum Sets (2023)
Roland is one of the best brands for electronic drums. Their superior manufacturing process along with state-of-the-art technology results in probably the best electronic drum kits on the market right now.
Electronic drums are quickly changing, with competing brands quickly bringing out new sets to try to get the top spot (check out our guide on the best electronic drum sets to see our top picks).
Note: All of these sets are compatible with double-bass drum pedals (though in most cases, these need to be purchased separately. For more information, check out our guide on double-bass electronic drum sets).
My top recommended Roland e-kit is the Roland TD-27KV2. This is an all-around, high-quality option with a great snare and drum module.
My second recommended Roland e-kit is the Roland TD-1DMK. This is an affordable and good entry-level e-kit.
The 7 Best Roland Electronic Drums (2023)
Let's compare these in more detail.
The Roland TD-27KV2 is the ideal sweet-spot choice for a well-rounded e-drum kit that includes a high-quality snare and top-notch drum module.
Pros
TD-27 drum module
Excellent build quality
Superb snare drum
Great stage presence
Cons
A bit pricey
KD-10 kick tower (rather small)
Larger floor tom pad would be great
The Roland TD-27KV2 is the first on this list that has a full-sized snare e-drum (but still has smaller toms), as well as realistic cymbal pads. This kit will give you a real feel, especially on the snare drum, and has a striking stage presence.
The TD27 module is close to the flagship models as it packs many of the essential features that the TD-50 module contains. It's the optimal well-rounded choice.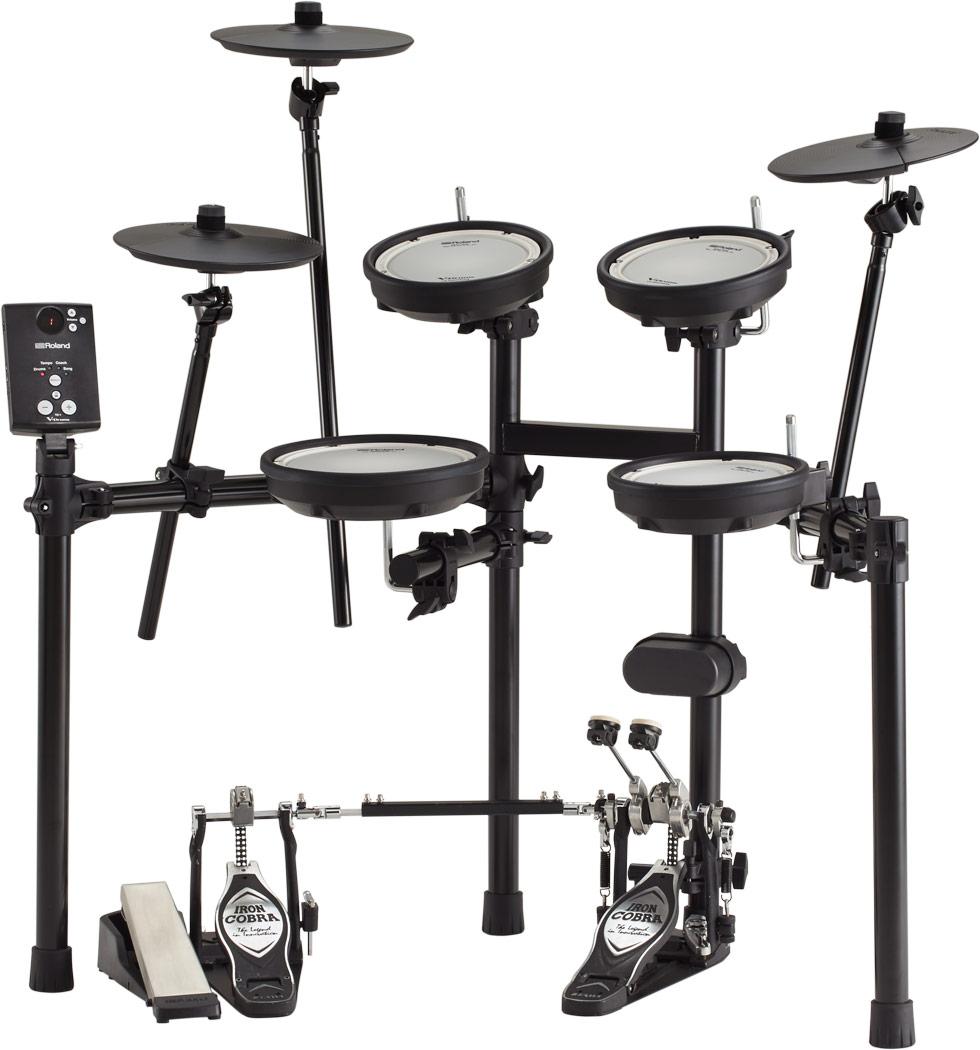 If you're looking for an entry-level kit or just want a cheap and reliable electronic drum set, then the Roland TD-1DMK is the right choice for you. With this set you'll get 5 drum pads and 3 cymbal pads, which are all made with Roland's dual-layer mesh technology, giving you the best feel while playing.
Pros
Quality mesh heads
Good build quality
Easy-to-use entry-level kit
Double bass pedal-friendly
Cons
Limited drum module
Rather small for some
As for the brains of this operation, you'll get a TD-1 drum module, a basic, 15 presets Roland module, which has MIDI and USB connection, so you can connect it to your computer and upload any sounds you want to your drums.
This is a great and compact investment choice for anyone looking to start playing the drums at a smaller price or just anyone living in a small space who wants something as quiet and small as possible while practicing the drums.
The Roland VAD706 is the flagship V-Drums Acoustic Design kit from Roland. The VAD706 definitely offers an amazing drumming experience and outperforms its predecessor, the VAD506. However, it is certainly not cheap!
Pros
TD-50X drum module
Superb sensitivity and triggering
VH-14D Hi-hats
Awesome stage presence
The VAD706 gives you the best of both worlds – the versatility and technology of an electronic drum paired with the impressive look and feel of an acoustic set. The VAD706 makes that possible with its premium lacquered shells combined with its multi-zone V-Cymbals and an innovative digital snare, ride, and hi-hats.
To top it all off, it is equipped with a TD-50X drum module, a powerhouse module that works well with the precision multi-sensors of its digital snare, ride, and hi-hat.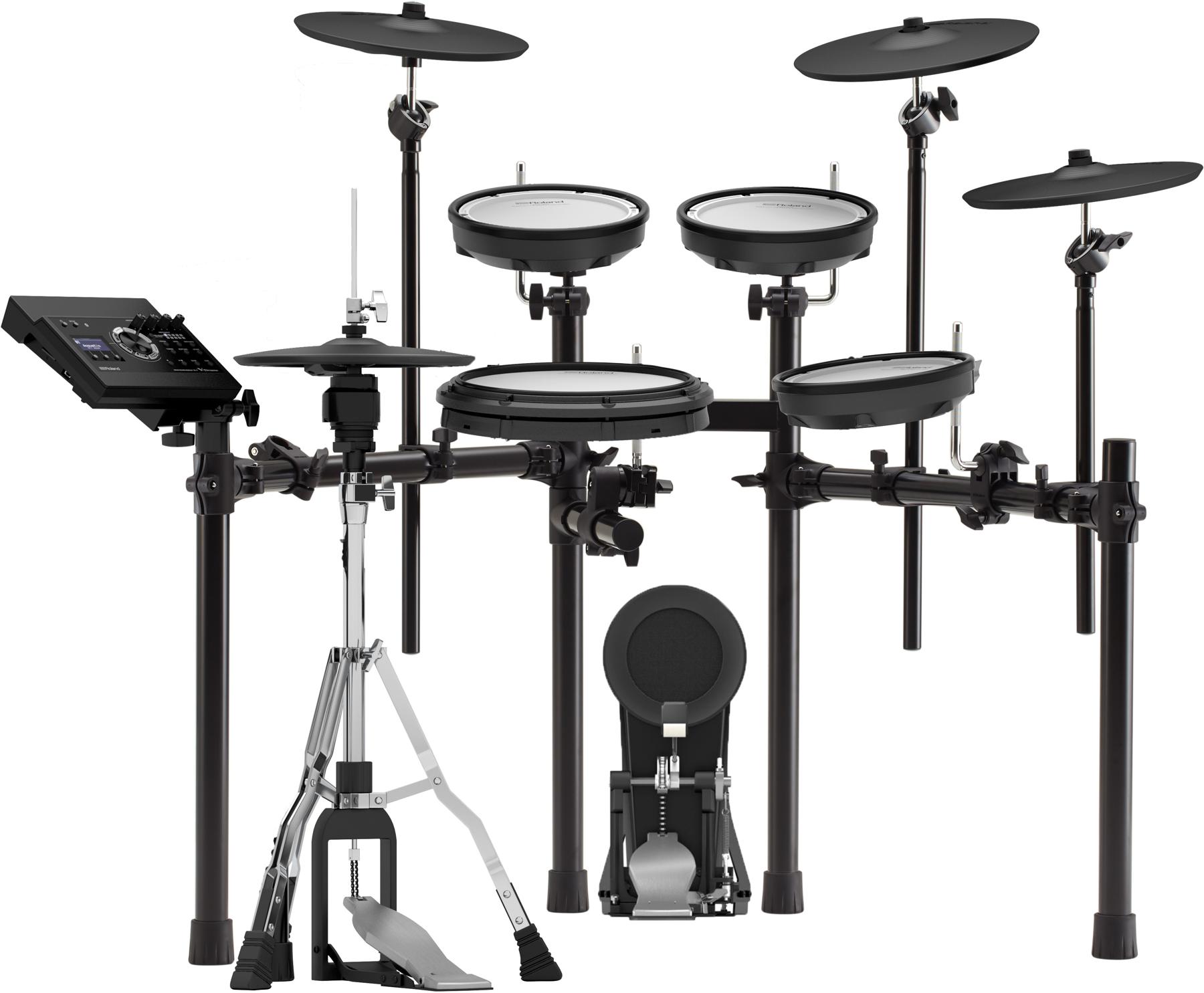 The Roland TD-17KVX is a nice mid-range model that is great for intermediate players. It combines 5 pads (snare 12" and three 8" toms) and 3 cymbals, with tunable mesh pads that will give you the feel of the real acoustic drums, the same as the top pick.
Pros
Great, tunable mesh pads
Excellent value for money
Solid drum module – TD17
Realistic feel
Cons
A bit pricey
Lacks a bit of storage space
As for the module, here we have the TD17 drum module, which will give you much more versatility when playing the drums and the feel of the much more expensive drums. It has 50 presets and more than 300 different percussion sounds, as well as more than 30 different effects and a 3-band EQ which are all readily accessible.
For electronic drums, this is a lower mid-range price, for which you'll get a glimpse of what is happening in the upper classes but still has great sound quality.
The Roland VAD506 is the original flagship kit from Roland V-Drums Acoustic Design (though the release of the VAD706, which is the pro pick, now puts it in second place in this series) that is made to have a complete acoustic look and feel while playing.
Pros
TD-27 drum module
Fantastic triggering and response
Double-braced chrome stands and wooden shells
Amazing stage presence
Cons
Pricey
For this price point, the TD-50 module would have been nice
The VAD506 is extremely realistic and instead of having pads and triggers, it has full-sized drums shells. This allows for the drums to be played the same as you would play acoustic drums.
It features the TD-27 drum module which is top-notch, although, for this price point, the TD-50 would have been nice. Nevertheless, it has most of the options that the flagship modules have and it will last you for years to come.
The Roland TD-50KV2 is a top-of-the-line electronic drum set that shows everything that the technology has to offer at this time. It's a high-budget kit but you can be sure that you're buying the best of the best on the market and that this investment will last for a very long time.
Pros
TD-50X drum module
High-quality components
Excellent triggering and response
Authentic and powerful bass drum
Cons
Extremely pricey
Lacks a bit of stage presence when compared to the VAD series
This set is powered by a TD-50X drum module, which gives you Prismatic Sound Modelling and an unprecedented level of versatility when playing and recording. This 6-piece e-drum kit is highly impressive and features top-of-the-line drum components – a 14″ Digital Snare, an 18″ Digital Ride Cymbal, a 14″ Digital Hi-Hat, and an 18″ powerful bass drum.
The Roland TD-50KV2 has top-notch sensors and high-quality components but comes at a steep price. However, if you're looking for a pro-level kit and an endlessly-versatile drum module, this is the kit for you.
The Roland VAD306 has an acoustic feel to it, with wood shells and tunable mesh heads, this mid-level e-drum kit is a great purchase. It sports a compact design that can fit into small spaces and has a good stage presence as well.
Pros
TD-17 drum module
Compact and quality design
Great wood shells with tunable mesh heads
Striking stage presence
Cons
A bit pricey
The TD-27 drum module would have been nice
The TD-17 drum module is packed with presets and sounds, making this kit fairly versatile. Although, for this price range, the TD-27 would have been an excellent addition. Nevertheless, this hybrid drum kit is still a great value-for-money set.
Overall, the VAD 306 is an excellent mid-range e-kit for intermediate players that want a compact hybrid kit that is fairly priced and brings quality and value to the table.
What to look for in a Roland Electronic Drum Kit when buying?
There are a few things to consider before buying a Roland electronic drum kit and that includes the drum module, the series type, and the price of the kit.
The drum module is the brain behind the kit so, naturally, you'd want something versatile enough that will satisfy your needs. While the TD-17 is a decent module for beginner to intermediate players, the TD-27 hits that perfect sweet spot. If you have the budget, choose a kit with the latest TD-50x drum module as it is top-of-the-line and feature-packed.
Next, you have to decide on the series type and size preference you want. Whether you want a classic V-drums design or a VAD series model. Personally, I like the VAD models as they are compact enough but still have that striking stage presence I prefer. Of course, the acoustic feel of the kit is a bonus.
Lastly, the price should always be considered. If you're a beginner drummer, an entry-level kit will do you justice, to slowly bring you into the world of e-drums. If you have a larger budget, and depending on your skill level, intermediate to pro-level kits will be great, especially considering Roland's options and the high-quality product you get.
Should you buy a new or used Roland Electronic Drum Kit?
If you're willing to do your research and have some patience, you might be able to get a great deal on a recent model by looking at the used market. Try to buy an e-drum set at least within the previous generation of products or the one before that. Then you'll be getting something that has pretty up-to-date technology, and you might have the chance to get it at a good price.
If you're looking for the absolute best Roland e-drum set, then it's often very difficult to find used versions of the current models, simply because they haven't been out for long enough. In this case, going for a new drum set might be a better option, but it will cost you extra.
Note: Beware of scams. If the used deal seems too good to be true, then it probably is!
Pros of buying a used e-drum set:
You can often get a higher-end model for your price.
Cheaper cost.
Sometimes you can buy extended e-drum sets that have been customized.
If you do your research, you might be able to get a pretty recent model at a cheaper price.
Cons of buying a used e-drum set:
You might be buying an older gear, which doesn't have the features of current models.
The drum module might be old and not as good as standard ones.
It might take some patience to wait until a good deal is available.
The drum heads and pads might be inferior to the current ones (e.g. the current high-end kits have great, big mesh snare pads and great cymbal pads)
The kit might be faulty or partially faulty.
Probably no warranty or a very limited one.
Summary
I hope that you've learned what's what in the world of Roland electronic drums. Whether you're a beginner looking for a cheap and easy way to get started or a professional musician looking for the best sound possible, you'll find what you're looking for on this list.
My top pick is the Roland TD-27KV2, an all-around, high-quality option with a great snare and drum module.
My budget pick is the Roland TD-1DMK, an affordable and good entry-level e-kit with decent components.