Roland TD-50KV2 Review (2023) – Roland's Latest Flagship Kit
Pros
It includes Roland's latest and most advanced TD-50X drum module
Great quality 14" Digital Snare, 18" Digital Ride Cymbal, and 14" Digital Hi-Hat
Great triggering and response
The 18-inch bass drum has an authentic feel and a powerful presence on stage
Cons
It's pricey
It doesn't look as good on stage as the Roland VAD series drum sets
The TD50-KV2 is Roland's latest flagship model from their TD50 series. In this article, we discuss what this set is like, and how its different from previous models.
Roland has a pretty well defined release cycle when to comes to their V-Drums range. The KV2 was a well-expected update to the TD-50 drum module, along with some other improvements to pads and triggering.
Main Features
TD-50KV2 is a 6-piece Electronic Drum Set packed with some very impressive features that make it one of the best electronic drums available today. Its TD-50X sound module paired with its full-sized digital snare, ride, and hi-hat pads offer accurate and detailed playability for one of the best digital drumming experiences that you can get.
In addition to its TD-50X drum sound module, 14-inch PD-140DS digital snare, 18-inch CY-18DR digital ride, and 14-inch VH-14D digital hi-hat, the Roland TD-50KV2 kit also includes an 18-inch KD-180 kick drum, two 10-inch PD-108 high toms, two 12-inch PD-128 floor toms, two 16-inch CY-16R-T crashes and MDS-Stage 2 chrome stand with cable channels.
Despite it being an electronic drum set with the typical streamlined look, the TD-50KV2 features a large 18-inch bass drum with a real birch shell and full-sized toms with multi-ply mesh heads that give it an acoustic drum-like look. Its MDS-Stage 2 chrome rack stand also adds to its aesthetic and offers a spacious spread and solid base.
Differences Between the Roland TD-50KV2 and TD-50KV
The Roland TD-50KV2 is the latest and improved version of the TD-50KV model, which was the flagship release in Roland's V-Drums lineup. With a five-year interval between their release dates, the TD-50KV2 and TD-50KV drum sets have a number of differences that are worth taking at.
One of the biggest differences between the two models is their drum module. The TD-50KV2 is powered with the latest TD-50X sound module while the TD-50KV includes the original TD-50 drum sound module. TD-50KV2's TD-50X sound module offers more advanced features and produces better sound realism, giving the drummer an overall better experience and allowing for better customization, tuning, and mixing. It also offers significantly more preset kits and instrument sounds.
The TD-50X drum module is certainly an improvement from the TD-50 one. However, these are both excellent, high-end modules. If you were to get your hands on a used TD-50 module for a decent price then I would still recommend it based on the value that you would get from it.
TD-50KV2 comes in a 6-piece configuration while the TD-50KV comes with one less rack tom with its 5-piece configuration. The Roland TD-50KV2 also comes with an advanced digital hi-hat that the TD-50KV does not have.
With its larger 16-inch CY-16C-T crash cymbal pads and 18-inch KD-180 bass drum, the TD-50KV2 offers greater flex and swing as well as a more acoustic drum-like look compared to TD-50KV's smaller cymbal pads and bass drum.
Drum Module Overview
The TD-50x drum module is the TD-50KV2 kit's most innovative feature. In terms of its quality, the TD-50x is among the best drum modules we've seen so far which features 70 preset drum kits along with 961 different sounds stored on its internal memory available to use.
The module also includes settings for changing the tuning, muffling, shell depths, and head types.
In addition to that, all three of Roland's most recent digital snare, ride, and hi-hat pads are supported fully by the TD-50x drum module, giving you probably the best V-Drums experience yet.
Sensors
The TD-50KV2 stands out with its new sensors with high-speed processing (low latency is definitely a major selling point when it comes to Roland drum gear), which detect details and even the slightest nuances in every hit and strike.
Its 14-inch digital snare is equipped with eight sensors across the head and rim that accurately transmit your performance to the V-Drums module which ensures your rimshots, backbeats, and buzz rolls connect at all times.
With its five sensors, TD-50KV2's 18-inch V-Cymbal produces a clear-cut bow, edge, bell, and tones that transition smoothly into one another and eliminate the sensation of zones. Its 14-inch digital hi-hat has a freestanding bow and edge sensors that offer character and dimension to your music.
Sample Sounds
The TD-50x drum module is loaded with 70 premium preset drum kits and 900 instrument sounds that cover a wide range of genres from acoustic, pop, rock, and metal to EDM world, and experimental styles. That is definitely plenty to keep you going, however, it doesn't quite hit the massive 14,000 samples that are available on the Alesis Strike Pro module!
With all these amazing presets available in the TD-50x drum module, you can also customize the sounds in every way possible to make it your own. You can adjust by tuning and muffling quickly, or you can create your own kit from scratch based on shell depth, drumhead type, cymbal characteristics, and many other features.
Recording the Roland TD-50KV2 to Your Computer
The Roland TD-50KV2 makes recording your music very easy as it acts as its very own audio interface. Up to 32 channels of audio can be recorded straight to your Mac or PC at 96kHz over USB, which makes multitrack drum recording a breeze. You just simply plug in your drum module to your computer via a USB cable, install the necessary drivers, and you're set.
Stage Presence of the TD-50KV2
The TD-50KV2 is quite commanding on stage especially with its large 18-inch bass drum birch shell and a sizable MDS-Stage 2 chrome rack stand that provide a solid footing for the drum kit. With these aesthetic features paired with its impressive drum module, the TD-50KV2 definitely attracts attention on stage.
Though its stage presence is very good, the TD-50KV2 is not as amazing as the Roland VAD706 or VAD506.
Alternatives to the Roland TD-50KV2
With the joint efforts of Pearl Drums and Korg, they came up with the Pearl e/Merge e/Hybrid drum kit that is one of the premium hybrid drum kits available in the market today. The kit features Pearl's wood shells and Icon e-Rack hardware that gives this drum kit a stylish and very sturdy look.
Its 14″ snare, 10/12/14″ toms and 18″ kick drum with pads by Pearl and Korg offer flash-like response thanks to Korg's Wave Trigger Technology and Pearl's PureTouch Technology.
The heart of the Pearl e/Merge e/Hybrid kit is its easy-to-use MDL-1 module that has high-quality but limited 35 kits and 700 sounds from Pearl's library of vintage and modern drum sets paired with Korg's electronic instrument sounds.
It's a premium drum set that is well worth its high-end price considering its quality, design, and overall craftsmanship.
Being one of the models in Roland's impressive V-Drums Acoustic Design lineup, the VAD506 looks and feels like an acoustic set but comes equipped with features of an electronic drum kit. It features full-size wood shells with 3 toms, 1 snare, 3 cymbals + hi-hat, and kick drum and comes equipped with the powerful TD-27 drum module.
TD-27 sound module's features still pack a punch though it is not as good as TD-50KV2's TD-50x drum module. Its Prismatic Sound Modeling and custom sampling features are still very impressive, truly elevating the sounds it produced and the overall drumming experience with the Roland VAD506.
This is a top-of-the-line model from the V-Drums Acoustic Design lineup, the Roland VAD706 is a remarkable upgrade from the Roland VAD506. It is equipped with the same TD-50X drum module that the TD50-KV2 has so you can expect the same realistic sound quality and truly immersive drumming experience from both drum kits.
This high-end drum kit comes in a five-piece configuration which includes a PD-140DS digital snare, 10" PDA100, 12″ PDA120, and 14″ PDA140F toms, KD-222 22″ kick drum, CY-18DR digital ride cymbal, and two CY-16R-T crash cymbals, and the latest VH-14D digital hi-hat.
VAD706 looks very much like an acoustic drum set with its wood shells with a gloss lacquer finish and maple ply. With so many color options which include cherry, ebony, natural, or white, the VAD706 is a great choice for a high-end drum kit that looks and feels like an authentic acoustic drum.
But all those amazing features come at a very high price. The price difference between the VAD706 and the TD50-KV2 is hefty so the VAD706 is really for those pro drummers with a very huge budget.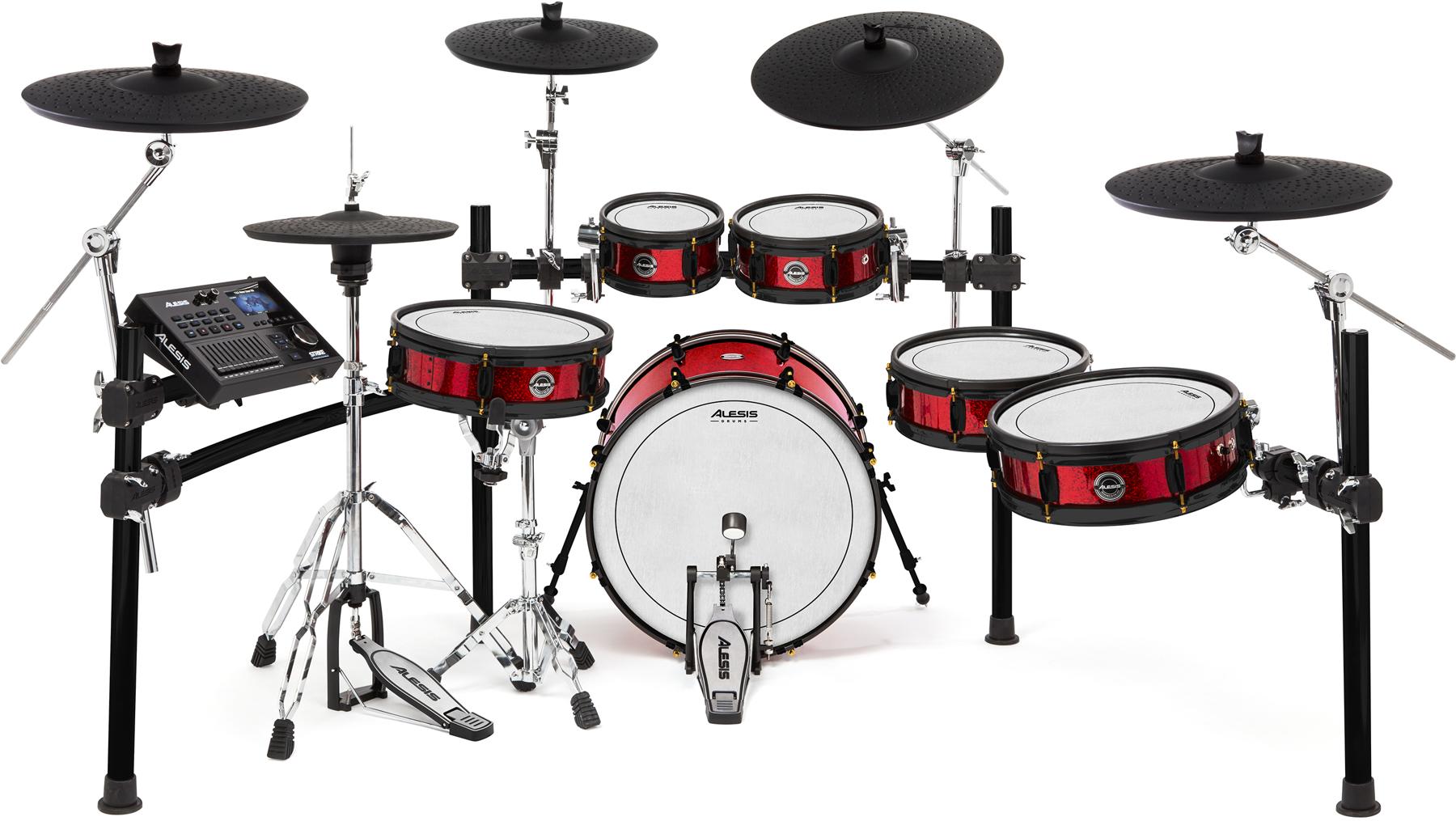 The Alesis Strike Pro SE is very impressive with its large 6-piece configuration which includes a 14″ snare, dual-zoned 8/10/12/14″ toms, and a 20″ kick, 3 x 14″ crashes, a 3-zoned 16″ ride, and 14″ hi-hats.
TD50-KV2's TD-50X drum module outshines the Alesis Strike Pro SE's Strike Pro sound module in terms of low-latency and sound modeling, but plenty of people still prefer the sound of the samples on the Strike Pro module, and it also includes a whopping 14,000 multi-sampled sounds.
Summary
The TD50-KV2 is a worthy pick among the premium electronic drum sets available in the market today. It is packed and loaded with a wide range of preset drum kits and sounds thanks to its TD-50X drum module, which is the most advanced drum kit today. Its Prismatic Sound Modelling Engine and Pure Acoustic Ambience technologies contribute to the very goodsound quality output from the TD50-KV2 drum kit.
TD50-KV2's triggering and response are also outstanding especially in its 14″ Digital Snare, 18″ Digital Ride Cymbal, and 14″ Digital Hi-Hat which are all equipped with the latest digital pad technology.
The TD50-KV2 is definitely a great choice for those who have a big budget and want to invest in a high-end premium electronic drum set with a very powerful drum module and a sleek streamlined look.