I've been using Loopcloud for the last few weeks and I'm hugely impressed by it. Its DAW integration and software could dramatically change how you work with samples for the better.
We were given some free points on Loopcloud to try out the service in order to review it. However, I am giving you my honest opinion of this service after using it.
What is Loopcloud?
Loopcloud is a subscription-based service that has over 4 Million samples from the Loopmasters catalog. If you use Ableton Live, you might have already used a few Loopmasters samples, as they come included as 'Packs' when you buy the software.
Loopcloud samples can be accessed from their great desktop software (Mac/Windows), app, or tablet. I am extremely impressed by their desktop software. It has a great workflow and is packed with features that I honestly never expected would be available.
Here is what the desktop version of Loopcloud looks like. At first look, it might seem like a complicated interface to use, but it's quite easy to get the hang of.
After playing around with this for a few days, here are the features that I liked most:
Royalty-Free Samples
Samples that you buy or download through your free quota are royalty-free. This means that you can use them for commercial releases. As stated on their website "Any samples that you purchase with points – or through your free quota – are yours for a lifetime".
Therefore, even if you stop paying for the service later, you will still have a license to use the samples that you downloaded during the life of your subscription.
Advanced Searching
You can search for the sample you want through drop-downs that allow you to select by instrument, genre, label, formats, key, bpm, and more.
Once you get the hang of how to search samples, you can just start typing in the search box and it will allow you to chain multiple search options together very quickly.
Multi-track Sampling
Before committing to buying a sample, you can play multiple samples together. This is fantastic. In the free version, you can multi-track 2 samples at once. In the paid subscriptions, which are pretty cheap to start with, you can multi-track up to 8 samples at once!
Automatically arrange samples into patterns and add effects
When using samples, you will often want to use them in a pattern or in conjunction with other effects such as filters, delay, and reverb.
The pattern drop-down list contains a bunch of great different options that will automatically apply your sample to many different patterns and add effects to them. An obvious example for this is drum tracks. When using a kick-sample in house music, you will often want a kick one every beat. Just selecting the 'house kick 1' preset will do this for you, like so:
There are many factory presets for patterns, but those are just a starting point. You can save your own patterns and apply them later.
When copying or dragging this sample into your DAW, you can choose to copy either the original sample or the processed sample (e.g. with the effects or patterns already added).
Using the VST Bridge – Play Samples in Your DAW BEFORE buying them!
The VST Bridge is one of the best features of Loopcloud. When you install loopcloud you get their VST bridge plugin out-of-the-box to use with your DAW of choice. In this example, we are using Ableton Live.
Simply drag the 'Loopcloud' plugin onto a MIDI track.
Any sounds that are playing from the loopcloud software will come through to your DAW. You can then apply whatever effects you on top of them.
Loopcloud tempo syncs with your DAW.
If you don't already own the sample and you decide that you want to buy them, just press 'Buy File' on the left-hand side of the loopcloud interface. This will deduct the cost of the sample from your points balance. When the file is downloaded, you can drag and drop the samples into your DAW or you can copy and paste it in.
You can choose to copy either the original sample or the processed sample. For example, if you applied a pattern to the sample that you liked, then you can copy the sample into your DAW with the pattern already applied. This is another great feature!
Cloud Storage
If you have a lot of samples in your hard drive, you know that they can quickly start eating up space. For the majority of the time, this space is not used, because you only need to use a few samples at a time.
If you are producing in a place that has a good internet connection, then storing your samples through Loopcloud's cloud-based storage is a nice option. On the cheapest paid-subscription plan you get 5GB of cloud storage a month, with the professional option you get 250GB of cloud storage.
Once you have uploaded your own samples to cloud storage, you can access them from anywhere (via your account on the loopcloud sounds website, the desktop software, or mobile app).
2 Extra Plugins Included – Loopcloud Drum and Loopcloud Play
Loopcloud Drum is a nice drum rack sampling plugin with a lot of features. Loopcloud comes with a bunch of free kits out of the box, or you can purchase many others online.
If you are bored with the stock drum racks in your DAW, or if you want a different approach to programming drums into your productions, then this is a great one to check out.
Loopcloud play is a plugin that plays a wide variety of virtual instruments available on Loopcloud (such as basses, keys, strings). There are some nice options available for free out-of-the-box, with the option for you to buy a lot more.
How much does Loopcloud cost?
You can create an account for free.
The cheapest paid subscription currently costs $7.99 (Euros: €6.99, Pounds: £5.99) per month (which includes 100 points per month that can be used towards samples, MIDI files, plugin packs and presets), whereas the subscription with the most amount of points costs €19.99 /mo, which includes 600 points per month. You can also get significant discounts when you sign up for an annual subscription.
Both the free and paid versions include a daily quota of free sounds that you can download and use on your projects.
You can also purchase top-up points if you have used up your monthly quota of points. Your points also roll-over to the next month if they are not used.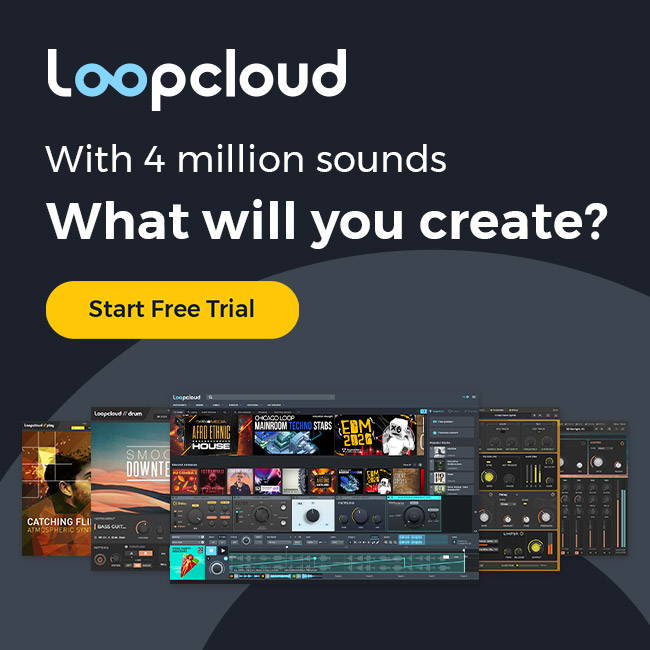 Loopcloud vs Sample Packs
Loopcloud is different from standard sample packs because you only download the samples that you need.
Oftentimes, you might only use a sample or two from an entire pack. The rest of it is just wasted space or a waste of money. With loopcloud subscription plans, you get a certain amount of points to use per month.
You can mix and match sounds from different sample packs, audition and apply effects to them before committing to buying them. You can also hear and process the sounds in your current DAW projects before buying them!
Should You Download Loopcloud?
I have been very impressed by the features and options within Loopcloud. I have used many other music sampling services before, so I had some pretty standard expectations before using Loopcloud. However, the value that its software brings took me by surprise.
Even if you don't have any money to spend on it, it's still worth getting the free version.
Loopcloud vs Splice Sounds
Loopcloud and Splice Sounds both offer great cloud-based sample libraries. I have used both. However, in my opinion, Loopcloud's software really allows you to bring your sample selection and processing right into the creative process (e.g. through the VST bridge, and through its multi-track sample playing). For that reason, I personally prefer Loopmasters.
Summary
After using it, I can safely say that Loopcloud is absolutely awesome. The fantastic sections of audio samples along very well streamlined software have made Loopcloud a force to be reckoned with in music sampling. You can download the free version or take a 30 day free trial of Loopcloud Studio via their website.