Superior Drummer 3 vs EZdrummer 2 – Which One Should You Get?
Toontrack offers two drum plugins: Superior Drummer 3 (SD3) and EZdrummer. Are they recycled versions of the same product veiled in marketing hype, or do they have their individuality and distinctive pros and cons? The short answer is, they are both great products that serve different purposes.
Superior Drummer 3 vs EZdrummer 2
Superior Drummer 3 was designed for music producers who want a lot of customization, raw sounds, and a highly capable built-in mixer.
EZdrummer 2 is known for its libraries of pre-recorded drums with a clean, simple, and easy-to-use interface.
You can check out the EZdrummer 2's free demo version for 10 days to sample its modern library. However, the vintage stuff is only available in the full version. Fortunately, the downloaded demo allows you to use all the software features with full functionality once you register for a Toontrack account.
Incidentally, it is quite common for producers to start with EZX and move on to Superior Drummer. In this article, I'll highlight the key differences between the two to help you find out which one suits your needs.
Ease of Use
In terms of ease of use, EZdrummer 2 edges out Superior Drummer 3 for basic drums beats and idea generation.
Its simple interface makes it easy to lay down a drum track on the fly. This will save time for novices, songwriters, and professionals who only want to make demo drum tracks purely for reference.
The Search tab and Browser tab are very helpful for quick navigation, and you can also use the different tabs to find groove files for your project.
On the other hand, SD3 is for those who want a full-featured drum plugin with tons of flexibility. If you are willing to put in the work, the built-in mixer, raw audio samples, and advanced features will allow you to tweak drum tracks to your heart's (or ear's) content.
This could be overkill if you plan to send it to a session drummer at a later stage. Either way, EZdrummer 2 boasts a more user-friendly and beginner-friendly UI. There is a significant learning curve to SD3 that is hard to justify if you don't need the advanced features.
Features
Superior Drummer 3 packs a punch when it comes to features. If you plan to program your final drum track, then it offers the whole shebang, from room settings to drum skins to microphone positions. Take the raw, unprocessed samples and tweak, tweak, and tweak some more.
SD3's Enhanced Grid Editor is another exemplary feature that allows you to get granular.
It allows you to label your instrument, edit the intricacies, and store multiple versions of MIDI grooves. This can be handy for a side-by-side comparison of groove variations.
Alternatively, EZdrummer has a Song Creator feature that you may really enjoy. It allows you to simply drag and drop grooves into the creator and will offer suggestions based on your arrangement. You can make tweaks and adjustments as you go and undo up to 100 changes.
However, EZ2 will restrict you to the DAW's piano roll, and the labeling can be a tedious process if you want to get organized. Moreover, SD3 is far more streamlined, making it a clear winner when it comes to mixing options and features.
Sound Libraries
The SD3 expansion packs—SDX libraries—have files in 24-bit format. While EZ2 also runs in 24-bit for its newer expansion packs (EZX libraries), many older ones have files in 16-bit format.
The points we've covered may lead you to believe that EZ2 libraries (stock ones and expansions) are inferior. Well, simply put—they aren't. They are versatile, sound good, and are mix-ready. They're perfect for people who want to load a grove without fussing over mixdowns.
If you are considering buying both (now or in the future), you can use all EZX expansion packs for SD3 and vice versa. Regardless of which packs you get, all expansion packs from Toontrack are fully compatible with both drum plugins.
Customization
SD3 wins this round without batting an eyelid with its super-detailed drum sampling. It is designed to customize all the nitty-gritties of drum samples, from mic bleed to drum tunings to velocity gates and beyond.
The sample base features all the top drum brands, and you can easily layer multiple tones/samples to create unique and hybrid sounds. If you've got your own samples, you can input them into the VST as well.
The core functionality of SD3 is similar to its previous avatars, but the UI is updated to be more flexible. You can edit the appearance of the UI, and you've still got the Drums, Grooves, Mixer, and Tracker screens for the bulk of the drum sampling.
On the other hand, EZ2 can help you focus on your composition instead of customization. The easy-to-use UI does come at the cost of tweakability. Don't get me wrong; you've got some premium kits and highly useable premixed sounds that can get the job done.
It has several unprocessed drum kits with preset tweaks that can be customized to a great extent. The presets sound great by themselves and are ideal for quick adjustments. You may even replace or mix and match different parts of the drum kit to come up with something unique. However, you'll have to contend with EZ2's relatively basic mixer to make the most out of them.
EZ2 and SD3: Crossgrading
Let's not disregard that some of us need both functionalities. Sometimes, you just need to load a groove for a quick demo, and other times you want the editing/tweaking to make realistic drum tracks.
If that is you, there is no reason you can't get both. Luckily, you can crossgrade from EZ2 to SD3 without abandoning any expansion packs or kits. We've to give props to Toontrack for making it easy to seamlessly port kits from EZ2 to SD3 (or vice versa, if need be). You won't be the first person to buy both of these VSTs and use them as per your needs.
The Verdict
Pick Superior Drummer 3 if you seek total control over drum programming and sound shaping. Be prepared for the learning curve, but also be aware that it is worth it.
Pick EZdrummer 2 if your needs are basic and simple. You'll find a lot of useable premixed grooves that will get the job done until you can ship your tracks to a real drummer.
It makes it easy to stay focused on composition and creativity instead of digressing into the nitty-gritties of mic placement and bleed. It has all the fundamental tools necessary to work quickly, conveniently, and convincingly.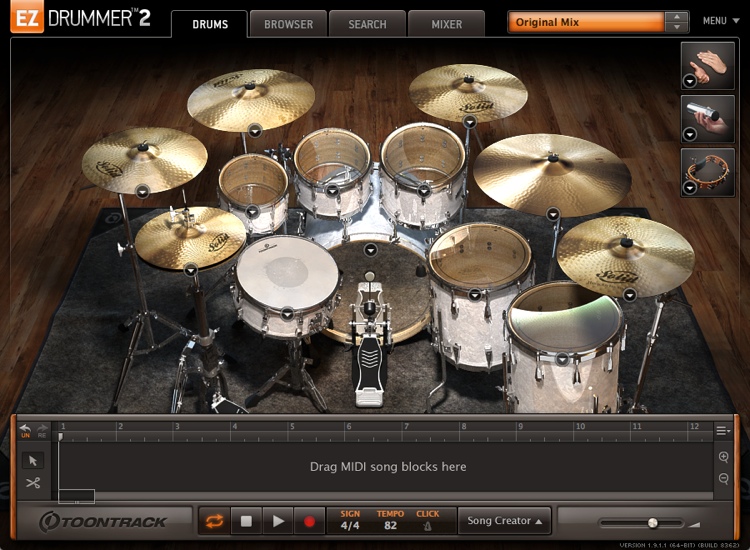 Final Thoughts
Drum plugins like Superior Drummer 3 and EZdrummer 2 two allow producers and musicians to create realistic and convincing grooves without the need for a physical drummer or drum kit. As technology advances, these virtual drums continue to surprise us with their realism and ability to mirror the nuances of real drummers.
We've articulated the key differences, features, and functionality to help you decipher which one fits your workflow. I hope this article has helped you identify the right drum VST for your needs.
Toontrack products have a rock-solid reputation among music producers. Over the last decade, they have repeatedly proven that they are committed to their users and constantly upgrading their libraries. If it serves your needs to a T, either one of these drum plugins is worth the investment.