The 7 Best Metronomes for Drummers (2023)
The drummer is the backbone of the music. Novice bands can be easily spotted through poor timekeeping. More experienced and skilled musicians are able to control the dynamics of their playing while holding a consistent tempo.
Drummers need to be able to play to a metronome. This is vital for both practicing and recording. An increasing amount of drummers use metronomes for their live playing. In fact, many modern bands use in-ear monitoring systems with a shared click for each band member.
When buying a metronome, it's very useful to get one that has an input for audio. This means that you can plug earphones in (preferably noise-isolating ones) so you can more easily hear the metronome above the sound level of your drums.
My top recommended drum metronome is the BOSS DB-90. This is an advanced and feature-packed metronome from a juggernaut of a company.
My second recommended drum metronome is the Korg MA-2. This is a highly affordable metronome with a headphone jack.
The 7 Best Metronomes for Drummers (2023)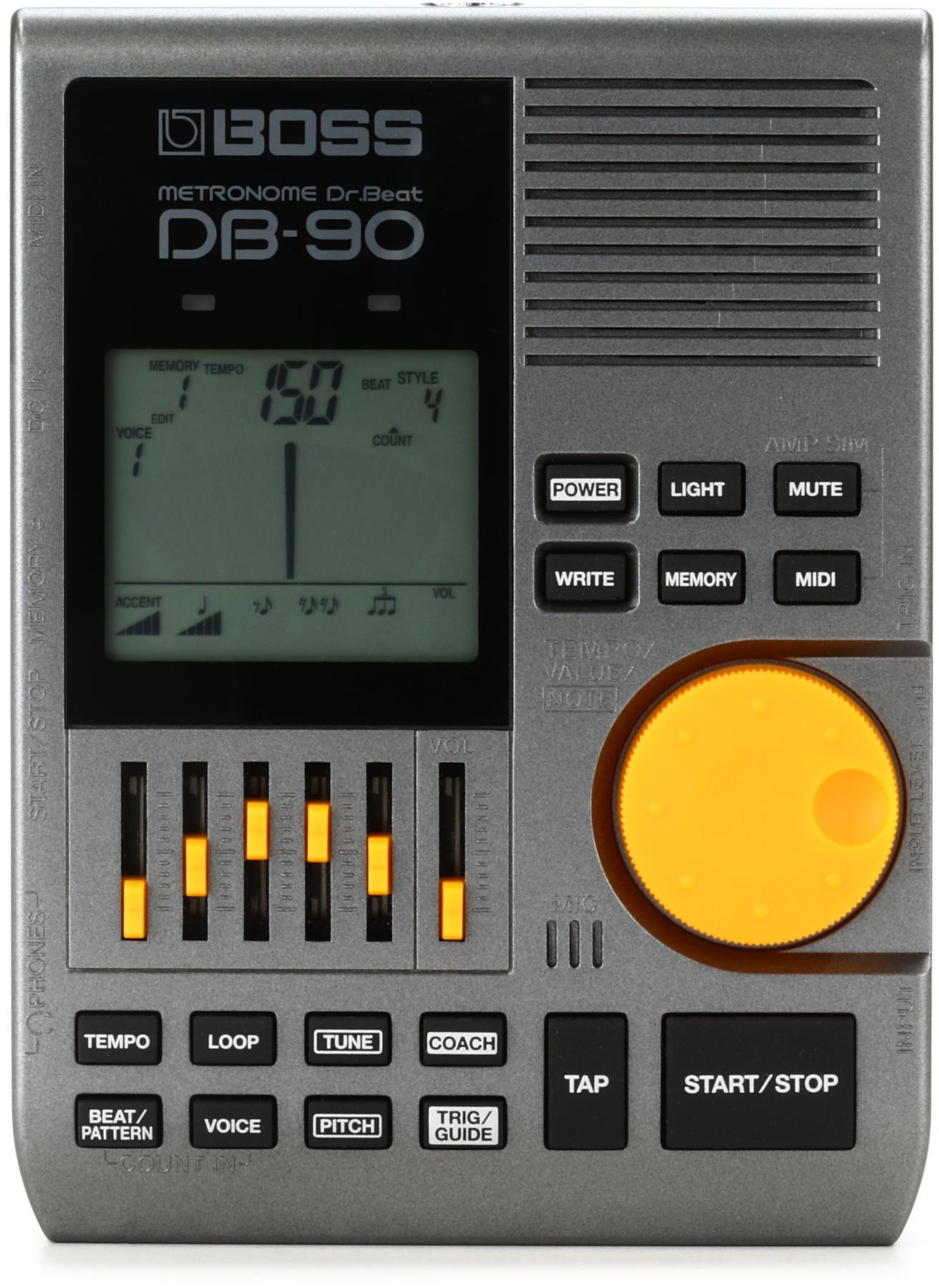 One of the most advanced metronomes on the market today, the Boss DB-90, provides a plentitude of different features for smooth drumming practice and performance.
What makes this metronome so special is the ability you have regarding beat control. To be more precise, there are separate volume options for the stressed beat and other, smaller parts of the beat. That way, you can learn how to play accented beats vs. off-beats.
Another practice-friendly feature is that the Boss DB-90 comes with four different click options. One of them is a human voice, which is a handy feature for further customization.
With this metronome, you can also play along with some drum machine rhythms thanks to its PCM system. You can use the special Rhythm Coach option, which is something every drummer can benefit from, regardless of their experience.
For those more enthusiastic about composing, there's an option to add your own beats. It's possible to memorize up to 50 different types of beats. What's more, the MIDI input comes in handy when a keyboard is plugged into this device.
As for inputs, you can add triggers for your guitar, bass, microphone, and drum. Finally, you can also plug your headphones into this metronome and not miss a single beat.
The Korg MA-2 is one of the most affordable metronomes on the market. It's simple and easy to use, with good controls, and a small display for better navigation.
When it comes to simple yet effective devices, the MA-2 is will not disappoint. It includes a readable display, basic onboard controls, and a practical design. Additionally, it comes with the added tap tempo function for practice sessions or you can adjust it between 30-252 BPM.
The Korg MA-2 also doubles as a tuner, and thanks to the built-in reference pitches (C4 to B4), tuning has never been simpler. It even works with 410Hz to 480Hz tuning ranges.
Although the MA-2 is a small and fragile metronome than can easily be misplaced or broken, it does have everything a drummer needs. It even has an auto-off feature to preserve the battery life. The headphone jack is a surprising yet welcome addition, especially when you consider the affordable nature of this metronome. You can listen to your click without it spreading the room.
Overall, the Korg MA-2 is THE metronome if you're looking for a simplistic, functional, and affordable metronome for drumming.
Now for something completely different! The Soundbrenner Pulse Smart, Vibrating & Wearable Metronome is a state-of-the-art device that could significantly improve your timing without having to listen to a metronome click!
The most interesting and advanced feature of this metronome is the option to set the tempo and rhythm by just turning the wheel on the display or tapping it. The vibrations that you get from this metronome are several times stronger than the ones of an average smartphone. That way, there's no chance that you can miss a notification or a signal from this device.
What's great for bands is that you can connect the Soundbrenner Pulse with up to five devices to a tablet or a smartphone and experience genuine multi-player synchronization.
You can also make your own rhythms and adapt the time signatures and beat subgroups to your drumming needs. What's more, you can set the accents and raise your drumming sessions to a much higher level.
It's possible to add input to this metronome via MIDI, as well as to enhance your experience via the mobile app for this metronome. That way, you can create and store your own rhythms and beats in the app and it will be ready for your sessions on the metronome.
Another Korg metronome on this list is the Korg KDM-3. Korg has certainly made it a habit of making budget-friendly yet fully-functional devices that anyone can afford. The KDM-3 is a digital metronome that resembles the old mechanical vintage design.
The design of this metronome is amazing. On the side, it includes musical terms for different BPM. On the front, you have a nice, readable display for the tempo, along with a tempo knob, and up/down beat knobs.
On the other side, there is a volume trigger, a 1/8″ headphone jack, and Sound, Voice Select, Timer, and Standby controls. Lastly, on top of the metronome, are the two main controls – the Start/Stop button and the Tap tempo button.
The Korg KDM-3 comes with 19 beat patterns and 8 metronome sounds, along with a wide tempo range from 30 to 252 BPM. You can even select duplets, triplets, claves, and more.
The reference tones range is the same as the previous entry – C4 to B4, also, the calibration range (410Hz–480Hz). For the given price, the KDM-3 sports a stylish and usable design with the features a drummer needs. Overall, it's a very cost-effective metronome.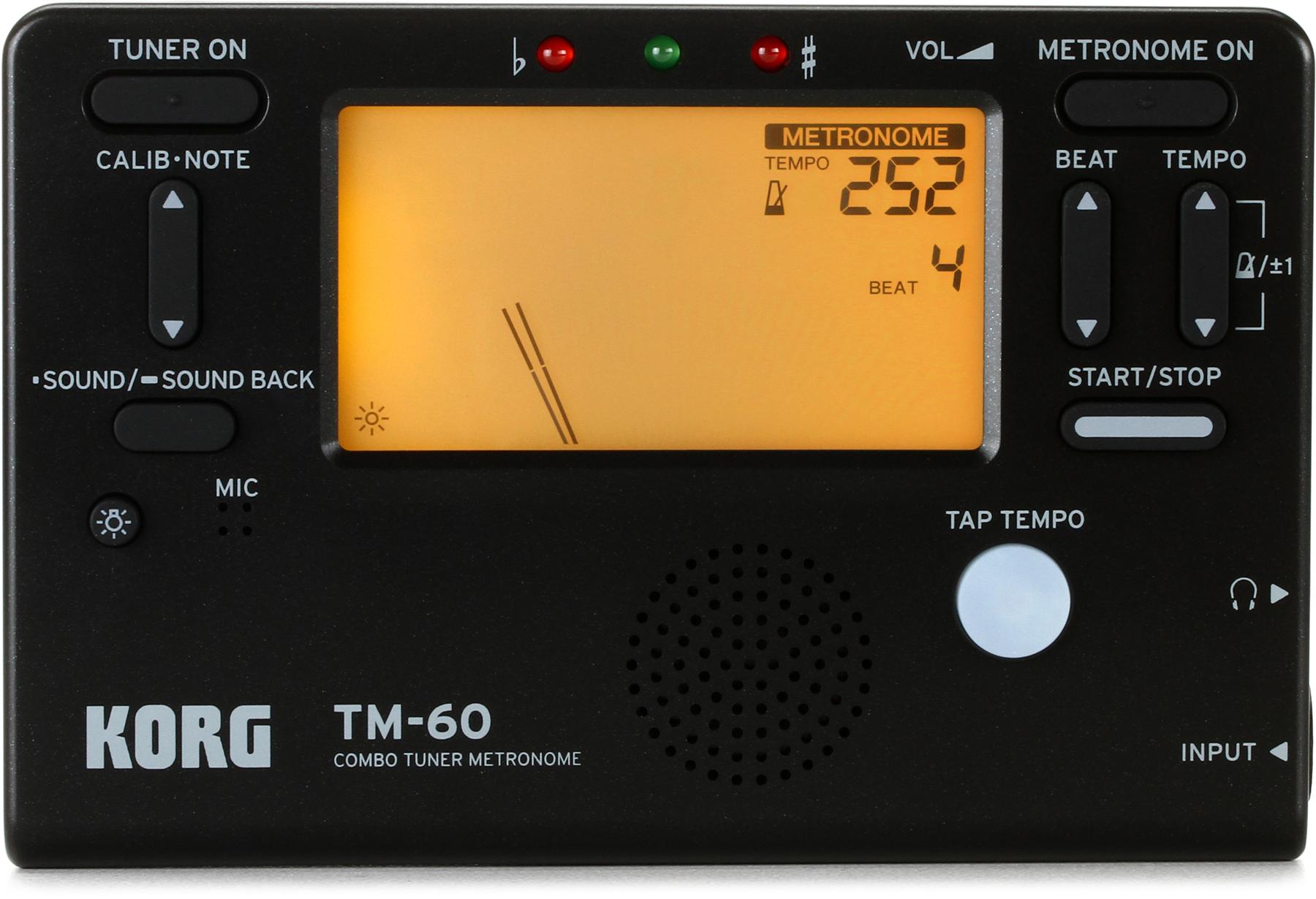 The Korg TM-60 two-in-one device is both a metronome and a guitar tuner. These two functions of the Korg TM-60 can work at the same time or separately.
The display is visually attractive because it's a digital metronome with a need-like meter. Old-school drummers would like this feature. Also, the LCD display can be adjusted to two different levels of backlight. It can be pretty handy when you're having gigs or rehearsals in dark clubs or studios.
This device comes with the Sound Back features, which gives you the nearest tone to the one you've set as an input tone. Using this feature will improve and fine-tune your feel for the right pitch.
When it comes to rhythmic options, you can count on 15 different features, which contain all the major musical genres. Together with the 30-252 bpm range, the Korg TM50BK is a practical two-in-one musical gadget.
A product of the renowned manufacturer of drummer's equipment, the Tama RW200 Rhythm Watch is a reasonable option for different types of drummers.
For starters, it comes with a small, but practical display. Because of the large font used for the numbers, the tempo you're playing is easily visible regardless of the quality of your vision. The tempo options range from 35 to 250 BPM, which is more or less a usual feature for metronomes in general.
The quick dial option on the front part of the Tama RW200 enables you to set the tempo on the go. This is a practical option for fast studio sessions or live gigs. You can save up to 30 different tempo options on this device, which is a time-saving feature.
In addition to the large knob for tempo adjustments, some smaller knobs on the front let you set various beat subgroups. All these additions will help you fine-tune the right groove for your drumming sessions.
User-friendly
Very accurate metronome with quality cylindrical resonator speaker.
View Price at Amazon
Enriched with a large LCD display and user-friendly design, the Korg KDM-2 Metronome is a nice combination of functionality and style.
The beats and downbeats are indicated by red and green LED lights, respectively, and the start/stop button placed on the top of the metronome has the function of a visual indicator.
The tempo range is the classic 30-252 beats per minute. You can choose from 19 pre-set beat patterns, as well as 3 different PCM tones. Once you've set the preferred beat, tempo, pitch, and frequency calibration, you can store the settings thanks to the memory backup feature.
What makes the Korg KDM-2 metronome different from other similar devices is the authentic cylindrical resonator. It gives the drummers a clear tone and a strong, dominant sound.
If you prefer drumming with your headphones on, there's also a headphone jack on this metronome.
Do Drummers use Metronomes?
Most drummers that are serious about their instrument use a metronome for practicing. The number one job of a drummer is to stay on time, and a metronome is a tool that they use to improve this. However, drummers are not the only ones who can benefit from their use, pianists, guitar players, and singers often turn to metronomes to improve their timing.
Why is it important for Drummers to use a Metronome?
A competent drummer can stay on time consistently. If drummer does not practice to a metronome, at least some of the time, then they will never learn this skill. Of course, some people have a very good internal sense of time to start with. However, it is generally not close to the level that a drummer needs to be at.
Are Mechanical Metronomes accurate?
Yes, mechanical metronomes are very accurate, especially if you buy a good-quality one. However, you can be a lot more accurate with selecting your desired BPM when using a digital metronome.
Do Drummers use Metronomes on stage?
Many drummers use a type of metronome during live shows using in-ear monitors (this is known as a click track). It's very common, but it is not quite as common as how often drummers practice with them. Using click tracks on stage is very important when playing along with backing tracks or other gear that is synced to a particular BPM.
How many types of Metronomes are there?
There are two basic types of metronomes: A mechanical/analog one, and a digital one. Digital metronomes are usually far better for drummers because you can hook in a set of headphones and listen to the clicks while you're playing.
They're also particularly useful if you use an acoustic drum set, as mechanical metronomes will be difficult to hear over the sound of the kit.
Do Drummers count in their heads?
Drummers often count in their heads as a way of training their rhythm. It's quite an important element when practicing drums and can make it quite a bit more effective.
Do Metronomes work?
A metronome, when used properly and often, will certainly help you improve your timing and rhythm very effectively. Your improvements in rhythm will quickly translate into being able to play along with backing tracks and with other musicians.
Also, if you ever want to record drums, then you'll certainly need to be able to play along with a metronome.
Conclusion
Playing drums with a metronome might seem tedious at first. However, it's one of the best ways to skyrocket your time-keeping ability, which is your most vital skill as a drummer. In line with that, casual and amateur drummers as well as professional drummers can find a suitable metronome for themselves.
My top recommended drum metronome is the BOSS DB-90. This is an advanced and feature-packed metronome from a juggernaut of a company.
My second recommended drum metronome is the Korg MA-2. This is a highly affordable metronome with a headphone jack.