If you can't practice drums due to noise or space constraints, your options are limited. Still, there are ways you can practice drumming quietly. Even though practice drum sets aren't the same as full drum sets, you need to work every day to improve your drumming.
My top recommended practice drum set is the DW "Go Anywhere" Practice Kit. This is a great 5-piece practice kit with a collapsible stand.
My second recommended practice drum set is the Vic Firth Drum Mute Prepack. This is an affordable mute pad set for quiet practice sessions.
The 5 Best Practice Drum Sets (2023)
Let's compare these in more detail.
If you can't play a full drum set due to noise constraints, this practice pad set is the perfect pick. With it, you get a set of 5 practice pads, two 8" and two 10" pads, which fit for snare, floor tom, rack tom, and cymbal, and a fifth tower pad for kick drums.
Pros
Five drum pads
Nicely compact when fully set up
Easily foldable and travel-ready
Very quiet
It also comes with a stand on which you can easily set up everything, and sit on it as if you were sitting in front of real drums.
This set is easily foldable and has a very low footprint, making it a perfect fit for smaller rooms and apartments. It will also travel very well. The pads give out a nice feel – even though they are not premium quality, they will still give you the rebound you want.
This is a nice, mid-range priced, quality made item for practicing at home when you don't have space for a full drum set.
If you already have an acoustic drum set but want to tone down the noise, you can always use drum mutes. These are simple pieces of material that you put over your drums, and they muffle the noise. They won't turn off the noise completely, but they may decrease the volume enough for your needs.
Pros
Very affordable
Useful if you already have an acoustic drum set
Small and easy to handle
Cons
You already need an acoustic kit
Not entirely silent
Not the best rebound action
This Vic Firth Prepack comes with 12", 13", 14", 16", 22", hi-hat and two cymbal mutes. This should cover your standard drum kit. You can also cut these to fit your drums if the sizes don't fit you or if you have smaller drums than usual.
You can stack two of these to get a quieter, softer sound and playing style as well. This is by far the cheapest solution for people who already own a drum kit and want to play on it at home.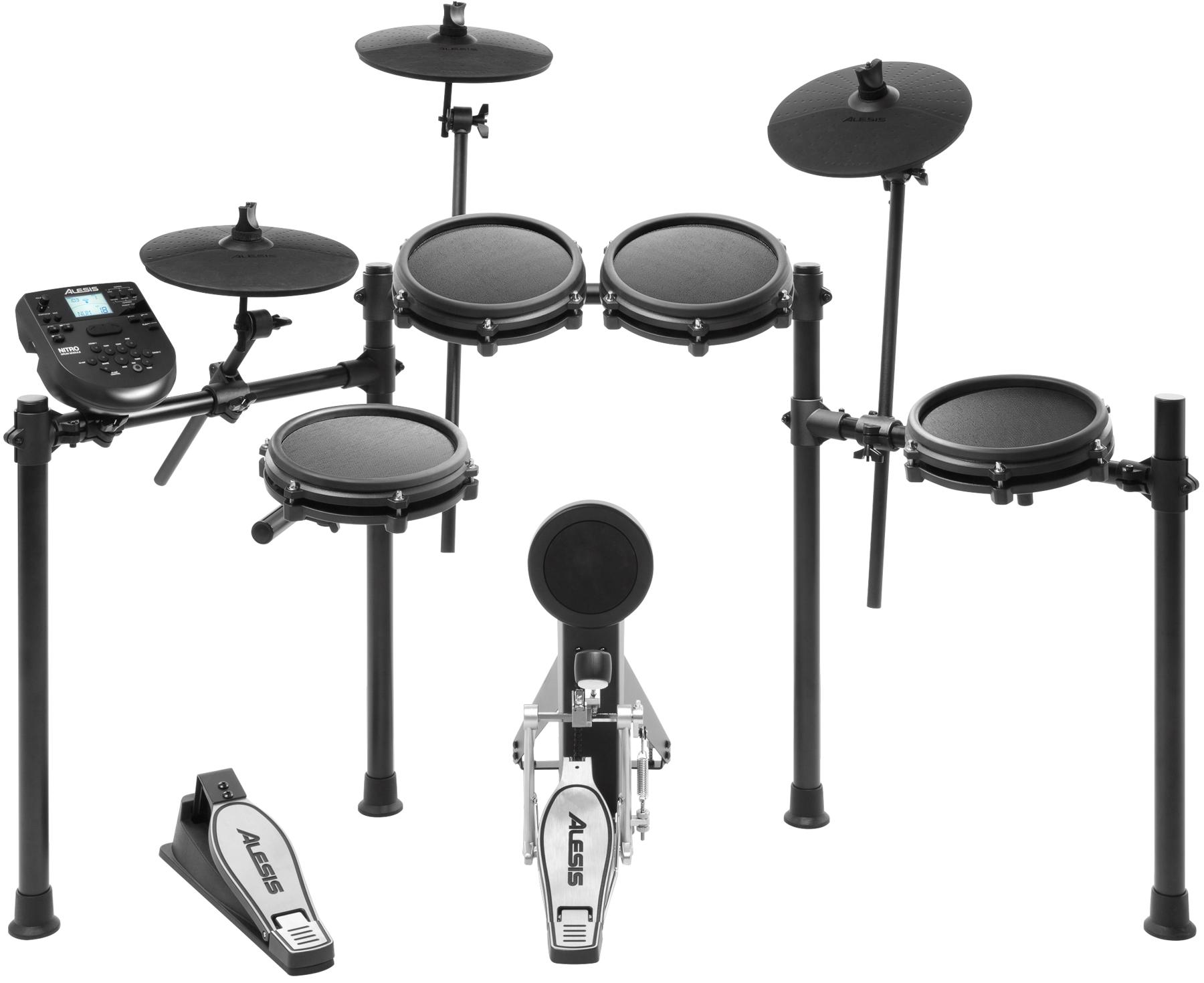 If noise is your main problem for practicing drums at home, getting a set of electronic drums is a very handy solution. Even entry-level electronic drum sets have improved a lot over the last few years. Not only that, they are extremely versatile when it comes to sound possibilities.
Pros
Very decent drum module with 358 different sounds
Includes mesh heads
Can be used with headphones or a drum amp (needs to be purchased separately)
Cons
A bit pricey
Requires power
The Alesis Nitro Mesh Kit is a very decent beginner's e-drums set. It comes with a dual-zone, 8" snare and three 8" toms, a kick tower, and three 10" cymbals. The pads are covered in mesh material, which gives a much better feel and rebound in comparison to rubber pads.
The module on this set accommodates 385 sounds, with 25 preset kits you can choose from and 60 songs to learn the drums.
You can also use ¼" outputs and inputs to connect a CD player or a computer to get the sound on, use headphones, or reprogram the whole kit with a MIDI connection through your computer.
4. Slint Drum Practice Pad & Snare Stand Bundle
Budget-friendly
Good, affordable bundle choice with a two-sided practice pad and snare stand.
View Price at Amazon
A drum practice pad is an absolutely essential item for any drummer. The Slint Drum Practice Pad & Snare Stand Bundle is a good buy for any drummer.
Pros
Affordable buy for beginners
Two-sided pad with options for different playing styles
Includes a stand, drumsticks, and bags
Cons
Only one pad
The drumsticks are not great
This practice pad is 12" and is made out of wood which has two different sides. Both are made out of rubber with one offering a realistic acoustic drum rebound, while the other is a bit softer and gives less rebound when played.
With the pad, you will get a snare drum stand, a bag, and a set of drumsticks. The stand is collapsible and can be used for real snare drums as well.
5. Donner Drum Practice Pad
Value For Money
Cost-effective, good-quality practice pad and snare stand bundle.
View Price at Amazon
To finish off this list, I present to you the Donner Drum Practice Pad Kit. This is a similar item to the previous one. You get one 12" pad, which is equipped on both sides with an EVA polymer surface, with one side softer than the other.
Pros
Great value for money
Comes with three sets of drumsticks
Comes with all of the essential accessories
Cons
Only one pad
The drumsticks are not amazing
In the kit, you will get a stand that will fit the practice pad (as well as drums measured anywhere from 10" to 14"). This also includes three sets of drumsticks and bags to accommodate everything easily.
If you want a cost-effective bundle practice option, the Donner Drum Practice Pad Kit is a good choice without breaking the bank.
Quiet Acoustic Kits
Sometimes, quiet playing is everything you need. Many drummers still prefer to practice on their own regular drum set and the only potential issue is noise. Drummers have traditionally used various kinds of muffling techniques to mute their drums.
Improvised ways of silencing acoustic drums can be effective, but they can greatly reduce the experience of playing the drum set. In most cases, muted drumheads sound quite uninspiring and could alienate many drummers from their daily practice routines.
Fortunately, methods for reducing the sound of acoustic kits are getting much better these days. For example, you can replace the heads on your drums with Silent Stroke drumheads, which are REALLY quiet.
The same goes for cymbals. Low-volume cymbals are practically nothing more than perforated cymbals, though some manufacturers also use special kinds of coating. In any case, you can count on a significantly lower pitch and shorter sustain. These are significantly quieter than regular cymbals.
Soundproofing Your Room for Drum Practice
If noise is the only thing bothering you, you may consider soundproofing your practice room. These days, you can successfully insulate your room without spending thousands of dollars.
You can use affordable materials that are common in the construction industry, such as weatherstrip tapes, which are perfect to insulate your doors and windows. Also, consider fiberglass curtains and panels to insulate doors, as well as soundproof curtains which are a very convenient solution for windows.
Finally, there are a whole bunch of different materials that can be used to insulate walls. You can go for familiar acoustic foams, which are used in studios.
On the other side, you can also try different kinds of materials that are frequently used in the construction industry. Some are cheaper, while others are more efficient. In any case, it definitely won't cost you a fortune.
If you are interested in soundproofing your practice room, check out our "How to Soundproof Your Drum Room" article, where you can find lots of tips and advice on this subject.
Summary
There are easy and good ways to practice drums when you are at home or you don't have space for a full drum kit. Whether you're an experienced drummer or a complete beginner, it's essential to keep up with the daily practice as that is the only way you can improve yourself and your playing style.
My top pick is the DW "Go Anywhere" Practice Kit, a great 5-piece practice kit with a collapsible stand.
My budget pick is the Vic Firth Drum Mute Prepack, an affordable mute pad set for quiet practice sessions.