Roland and Alesis are both very popular in the electronic drums market. Roland is known for high-quality professional v-drums kits while Alesis are more mostly known for offering value at lower price points. However, the story doesn't end there. Alesis have made some big moves into the pro-end of e-drumming, while Roland has some great entry-level e-drum sets.
Although the reputations of these brands carry a lot of weight, the quality and features of their sets vary quite a lot depending on what model of electronic drum set you're looking at (for example, the Alesis Strike Pro SE is known to be far better built than the original Alesis Strike Pro) so keep this in mind when shopping around.
In this article, we'll discuss both electronic drum sets as well as electronic drum pads.
High-Level Comparisons Between Roland and Alesis
Electronic Drum Sets
Alesis entry-level electronic drum sets are generally priced far lower than Roland's. Alesis tend to offer a lot more value in this area, but even lower-end Roland v-drums are known to have great build quality.
For mid-range to higher-end e-drum sets, Alesis generally offers a lot more value in terms of features and quantity of parts, while Roland offers more quality in pad triggering, lower latency, and overall higher build-quality. However, one thing to mention is that Alesis has made big moves in recent years with their Strike Pro module which is highly impressive.
Electronic Drum Pads
Roland does not offer any entry-level electronic drum pads. Alesis offers the Samplepad Pro and the Samplepad 4, which may do the job, but are subject to quite a few quirks as mentioned in my Alesis Samplepad Pro review.
Roland still maintains the industry-standard SPD-SX and Roland Octapad SPD-30 which are both great but starting to age a bit. The Alesis Strike Multipad is a newer and more feature-rich electronic drum pad that is well worth considering, but it's still quite a close call between these.
Roland
There's no doubt that Roland is one of the top names in the electronic drumming market. Their e-drums are known as "v-drums" (virtual drums) and Roland kits tend to be high-end and expensive but with excellent build quality and triggering.
Even their so-called entry-level kits are a relatively expensive venture for many drummers. They tend to have well-designed, intricate modules and the pads have good sensitivity and low latency.
Where Roland kits stand out is the quality of features that they offer in their mid to high-range electronic drum kits. Kits like TD-17KV2, VAD 506, TD-27-KV are well-known kits in this range and quite popular for home studios, or professional practice sessions.
Roland is also an innovator in the electronic drumming market. They have come up with electronic sample pads like the SPD-SX, which is an industry standard, and the Octapad, which is still quite famous. Both of them are used in modern-day drumming by even acoustic drummers.
Roland TD-1DMK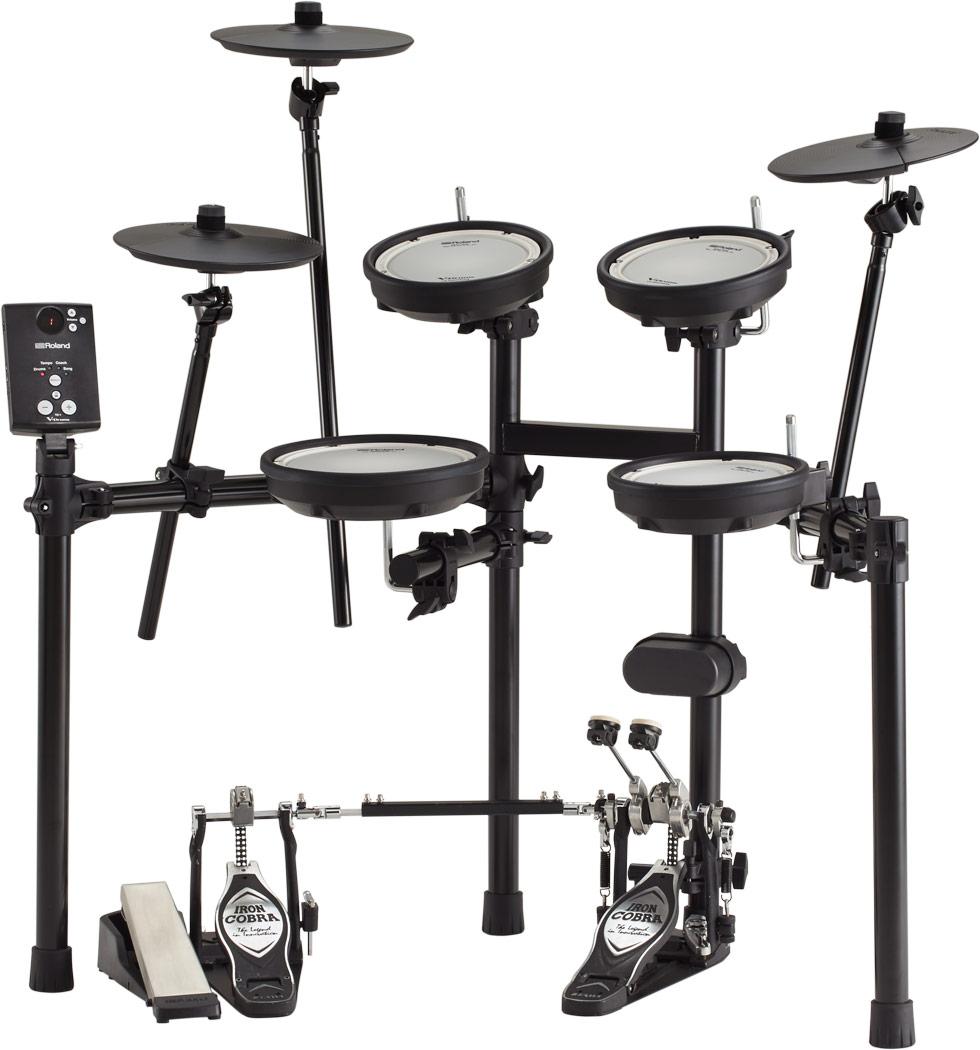 Entry-Level Set from Roland
One of Roland's entry-level kits is the TD-1DMK. It's a nice-sounding kit, has 15 pre-set drum kits, and a pretty decent module. The kit is ideal for hobby drummers or teaching. An overall good kit if you are starting.
View Price at Sweetwater
View Price at Amazon
Roland TD-27KV2
Great quality Mid-Level Set from Roland
The high-end kits are where Roland shines. Its TD-27KV2 and TD-50KVS are super high-quality kits that are good for studio settings. The feel and response are great and the modules are highly intricate. There are plenty of sounds and customizations in the kit, which is more suitable if you're an experienced player.
View Price at Sweetwater
Alesis
While Roland has established its dominance among high-end electronic drums, the low to mid-range e-drum segment is much more competitive. Alesis is one of the main competitors to Roland in this area.
The biggest driving factor that Alesis has going for them is that they are much more affordable than their Roland counterparts. Their presence has added much-needed competition in the market. They offer great value to both professional players and hobbyists.
In fact, Alesis was the first brand that I know of to introduce mesh heads on the pads in their entry and mid-level drums. When I started this website quite a few years ago, every budget electronic drum set had rubber pads, and thankfully, that's not the case anymore! This has elevated the drumming experience for those who can't afford high-end kits as mesh heads are certainly superior to rubber pads.
Even though their high-end catalog is not as wide as Rolands, Alesis have made some big stride here as well. Their breakthrough kit Alesis Strike Pro SE can be considered as one of the best electronic drum kits in the world today.
The only area where I can say Alesis lacks is their build quality as their reputation for longevity and quality of cymbal and drum pads over the long term is simply not as good as Rolands.
Alesis Nitro Mesh Kit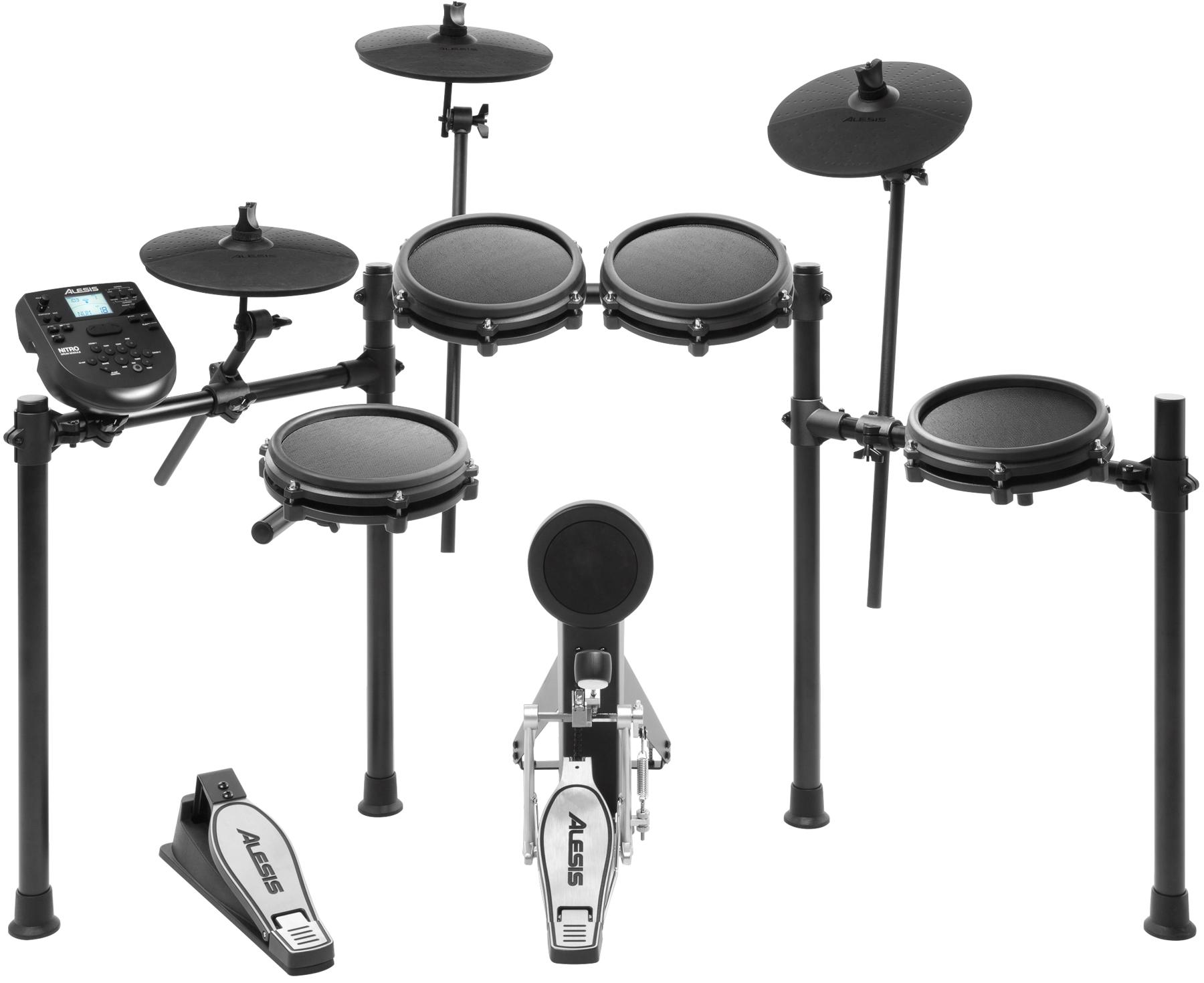 A Popular Entry-Level Set from Alesis
Entry-level kits are right in the wheelhouse of Alesis. Take the Nitro Mesh for example. It is much cheaper than Roland's starter e-kit but offers way more. There are 40 kits and many more sounds. Also, it includes accessories like a kick pedal, sticks, keys, and everything else you need to get started.
View Price at Sweetwater
View Price at Amazon
Alesis Strike Pro SE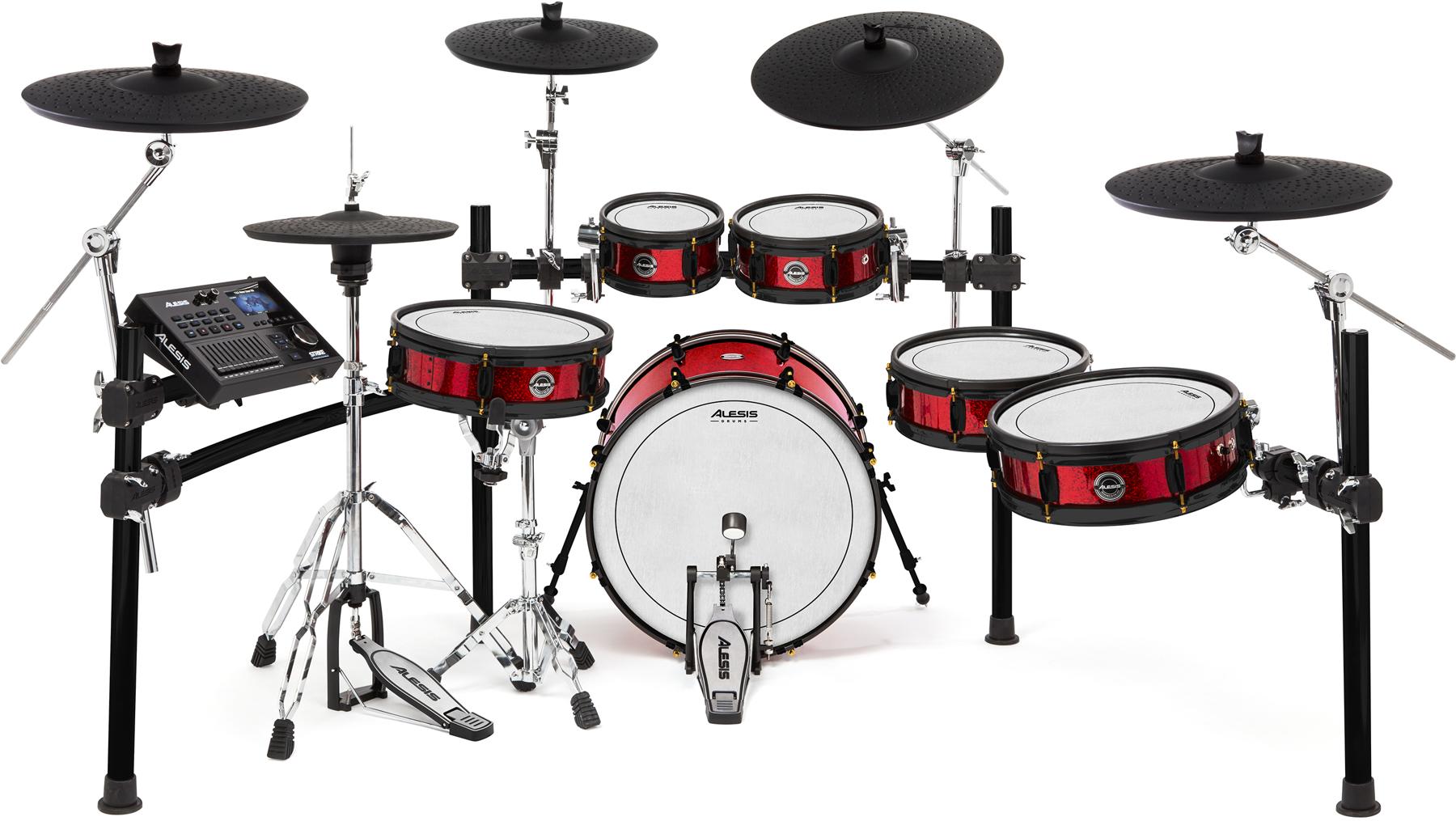 A Serious Competitor for High-End Electronic Drums
The Alesis Strike Pro SE is the real deal in the high-end segment of e-drums. The kit goes up and beyond as a staggering 11-piece kit including the pads and cymbals. The look is pretty realistic and the sounds are good enough to be played as a pro kit. The Strike Pro SE is Alesis's answer to Roland's high-end kits.
View Price at Sweetwater
View Price at Amazon
Which Sounds the Best?
As far as their in-build sound is concerned, Roland kits have great triggering, sensitivity, and low latency. However, some drummers simply don't like the included samples on even high-end Roland v-drum sets, even if the triggering is better.
On the other hand, Alesis' flagship drum module (Strike Pro module) has some really great sounds included (though you need to weed through some fairly average ones), even though the triggering isn't quite as good as on Roland's main counterpart module (the TD27 module). However, as you go further down the budget into mid-level and entry-level kits, the sound quality and variety will decrease, particularly for the likes of the Alesis Turbo or Alesis Nitro Mesh Kit.
That being said, neither Roland nor Alesis kits capture the best possible sound of drum modeling. Pro drummers find themselves using drum VSTs (or those in AU format for Max users, or AAX plugin formats for Pro tools users) as they are currently the best option by far. There are many VSTs like the Superior Drummer 3 and Addictive Drums 2 for incredible sounds.
Drum modules certainly have improved a lot over the years, but they have some way to go. If you are a professional drummer for recording, you'll end up using a drum VSTs anyway.
Which is More Cost-Effective?
The downside of Roland v-drums is that they cost a lot. Many drummers who do seek a good e-kit often can't because of how pricey Roland kits can get.
This is where Alesis kits come to the rescue. Alesis e-drum sets are cheaper across all segments. They give you high-end features like a bigger kit, more sounds, and mesh heads at a lower price which is great when you're running on a budget. In this sense, Alesis has made life easier for many aspiring drummers.
If you're looking for an electronic drum set to use a MIDI controller for drum VSTs, then getting a mid-ranged one with great triggering like the Roland TD-17 or TD-27 might be a better option instead of going for the highest-priced Roland kits. Alternatively, if you're looking to use your gear solely for music production without getting a full e-drum set then perhaps a electronic drum pad or beat pad might be a better option.
Are Alesis drums reliable?
Reliability is one of the more critiqued aspects of Alesis electronic drums. While they do fare better than ultra-budget brands, they fall short of Roland and Yamaha. Both of the latter brands are known for their brilliant build and durability.
However, there are also plenty of success stories with Alesis e-drums. So, you might want to take a few kits for a spin before you come to a conclusion.
Why are Roland drums so expensive?
Roland drums are expensive as their brand reputation can command a higher price and their quality control, manufacturing, and research and development processes are costly.
Roland is kind of like the Apple of the electronic drumming world. You know what you're getting, but you're paying a premium price for it.
How long do Roland mesh heads last?
Roland mesh heads are manufactured by Remo, who is an industry giant. The mesh heads are quite durable. So, if there is no accident or you're not playing with pointy, worn-out sticks, the mesh heads on a Roland kit are expected to last for many years.
Are expensive electronic drums worth it?
Expensive electronic drums are worth it if you are a serious drummer and intend to keep the kit for the long hall. If so, it's better if you focus on the quality of the drums rather than having to buy another set a year down the line.
Cheaper drums may be more affordable but it's not worth it if you aren't enjoying the playing experience. With that said, you also don't want to blow out a fortune on an e-kit for the sake of it. Assess your needs first.
Summary
Roland has a reputation for very high-quality electronic drums with great triggering and pad sensitivity, whereas Alesis tend to offer much more value sometimes at a fraction of the price.
Which choosing between electronic drum sets, try to focus on the pros and cons of the models themselves rather than looking solely at the brand name.